*This post is sponsored and I was compensated for my time. All opinions as always are my own.
Are you ready for some football?!
I wouldn't call football a casual enjoyment, something to put on in the background while you putz around the house. Not in this house. No, here it is an emotional commitment, a vortex of passion, including lots of loudness and large gestures. Needless to say, football is more than a sport. It's a part of who we are. We are a house divided though, especially when it comes to NCAA football.
I always cheer for the right team, the Fighting Irish and my husband cheers for that other team…USC. My kids side with me and that makes our house Irish not that other mascot. The princess says they cheer for the Irish because I am always right. Clearly, she gets her smarts from her mother. Every season we take our respective sides on the couch and cheer our teams on with the same ferocity you would expect of their coaches. Win or lose, we enjoy the game and the friendly back and forth smack talk that naturally occurs!
Do you love a good competition too? Then I have the game for you! Only in this one you get more than just one game day to prove your prowess. Visit Unilever today for your chance to win an Xbox One with the Save Your Season QB Challenge! 
Get in the zone and bring your A game to this challenge. Recruit friends, if there is such a thing in football, to play against you. But make sure they know you are king or queen by sending smack talk e-cards. My favorite: "Greatness exists in everyone. But mostly us." Yeah I'm talking to you honey! Where was I? Oh yeah. See how worked up I can get? You can play more than once so keep at it and you just might win that brand new Xbox One!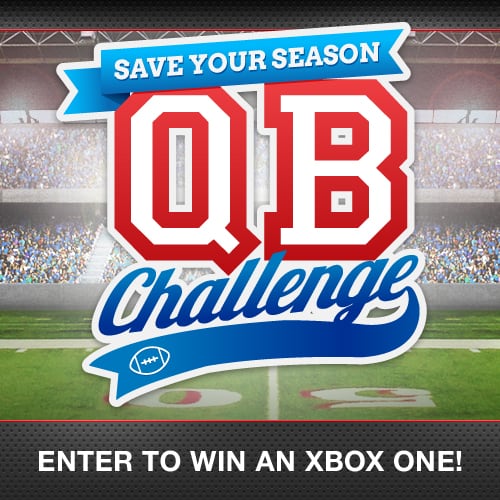 Then head to Target so you don't miss out on this awesome deal. Target and Unilever have teamed up to give you a great offer. For every three participating Dove Men+Care™, AXE® or Degree™ Men products you purchase from 10/20 – 11/9 you'll receive a $5 Target gift card!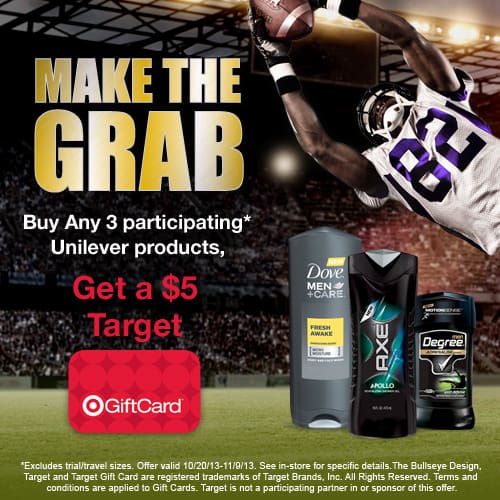 ***Want more ways to win? Check out @ResourcefulMom's Twitter party with. Kick off on 11/4 at 8pm EST. Use the #TargetNCAA to get in on the action!***
Enter to Win a $20 Target Gift Card!