FTC Disclosure: This post is sponsored by IVL Products. I was compensated for my time all opinions are my own.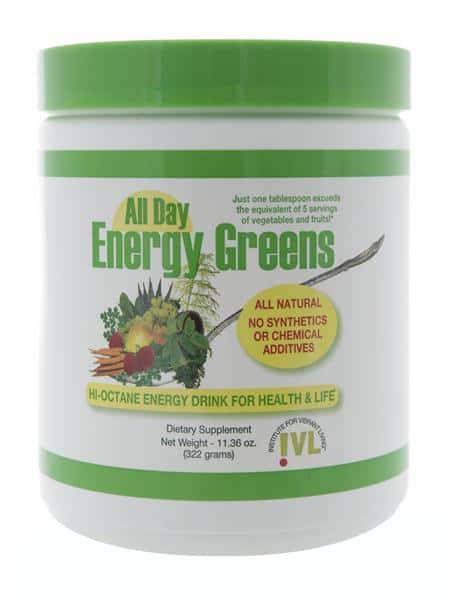 All Day Energy Greens from IVL Products is a natural energy green drink supplement. Green Energy? I definitely need that. What parent doesn't? Best of all you can feel good about using this product. All Day Energy Greens (ADEG) is 100% free of pesticides and herbicides! Also, ADEG contains no common allergens: wheat, garlic, MSG, yeast, egg, dairy, animal products, coloring, alcohol or preservatives. No fillers and sweetened naturally with stevia, ADEG is the perfect companion for your busy day.
I really enjoy using ADEG everyday for the energy to keep going. Aside from the awesome health benefits, I loved that it dissolved completely in my water and juice. Who likes having chunks of powder goo in the bottom of their glass or that gritty texture when drinking? Yuck, I don't! All Day Energy Greens tastes great too. I didn't feel like I was drinking any veggies which is a good thing because I do not like the taste of vegetables in my drinks!
Back to the health benefits. All Day Energy Greens gives you 38 super foods in one shot. ADEG has more potassium, calcium, and iron then your typical food sources. Also, it contains a power pack of vitamins A, C, E, and B. All that and more in just one serving. Each serving size exceeds the equivalent of 5 servings of vegetables and fruits!
My favorite and easiest way of using ADEG is in my daily smoothie. Adding ADEG gives me a great start to my day with sustaining energy to get me through whatever this crazy life of mine brings! Below is my favorite smoothie concoction with ADEG. Feel free to substitute fruits according to your taste buds!
All Day Greens Tropical Smoothie:
1 tbsp of ADEG
1 cup of plain Greek yogurt
Orange juice or fresh slices
Pineapple juice or fresh slices
Blend together and enjoy! Little umbrella on the side is optional 😉
From IVL Products:

All Day Energy Greens® is absolutely packed with vitamin a, vitamin c, vitamin e all the essential b vitamins and more protein than you can get from steak and eggs – without the fat… Without the cholesterol and… Without the calories. With the instant energy and the long-term healing that All Day Energy Greens® brings you, you'll experience:

Boost your energy reserve
Reach your ideal, healthy weight
Regulate your blood sugar
Increase your mental clarity
Restore clear, bright eyes
Rejuvenate your skin
Restore clockwork digestion
Protect your heart healthy ph balance
Lower cholesterol and triglycerides
Visit IVL Products today to order your All Day Energy Greens. Get connected on Twitter, and Facebook for the latest updates, health tips, deals, and more!