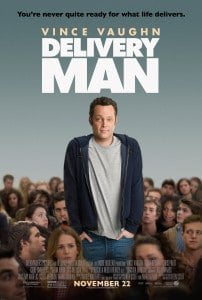 This month one of my favorite actors is starring in a new movie and I can't wait to see it. I am excited to share a little preview with you. Coming to theaters November 22 is the comedy "Delivery Man" starring Vince Vaughn. Delivery Man also stars Chris Pratt, Cobie Smulders, and Britt Robertson. The film is directed by Ken Scott, and based on "Starbuck," his original screenplay co written with Martin Petit. 
Vince Vaughn plays David, a guy who seems to be going through life just doing what he has to but not much else. He finds out that a donation he made to a fertility clinic 20 years ago was involved in a mix up. Now all 533 children are suing to find out his identity. Could you imagine finding that out? As someone who grew up without a father I can relate to the wanting to have that someone be there for you in a way only a father can. Delivery Man is not only funny but touching at the same time. This movie is definitely on my list of must sees this holiday season!
Official Synopsis:

DreamWorks Pictures'"Delivery Man" stars Vince Vaughn as affable underachiever David Wozniak, whose anonymous donations to a fertility clinic 20 years earlier resulted in 533 children. David must now embark on a journey that leads him to discover not only his true self but also the father that he could become.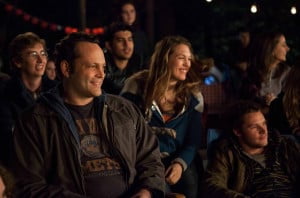 Some of the kids!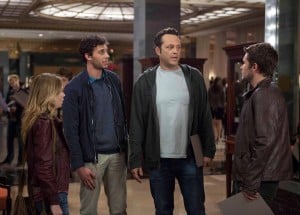 This is one of my favorite Vince Vaughn faces!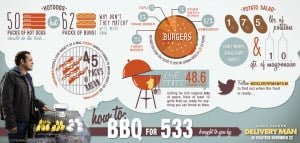 On the odd chance you are having a BBQ for 533 people.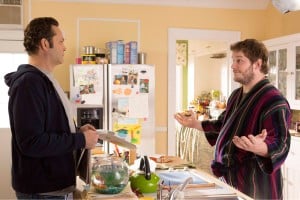 Chris Pratt plays Vince's lawyer and a father of 4.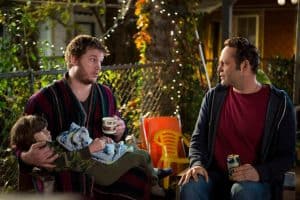 Delivery Man hits theaters on November 22, 2013. In the meantime, get social and join the conversation by liking DELIVERY MAN on Facebook: https://www.facebook.com/DeliveryManMovie and following DELIVERY MAN on Twitter: @DeliveryManFilm #DeliveryManMovie
 Delivery Man – Featurette "Guardian Angel"
[youtube ZzJ_pMPG5VI nolink]
Delivery Man Official Trailer
[youtube V1lZKDNJ4aQ nolink]
I can't wait to see the rest of the movie. How about you?