Anyone else ever been jealous of a pig? How about a muppet? I know I am, after seeing this gorgeous gown donned by Miss Piggy. Yes, the trendsetting, diva commissioned Vivienne Westwood to design her wedding gown as well as other costume pieces for her new movie The Muppets Most Wanted. The wedding gown is a Vivienne Westwood couture Long Ivory Court wedding gown, with corset detailing and paillettes made from recycled plastic bottles, accessorised with an ivory tulle veil. As you can see below, absolutely beautiful!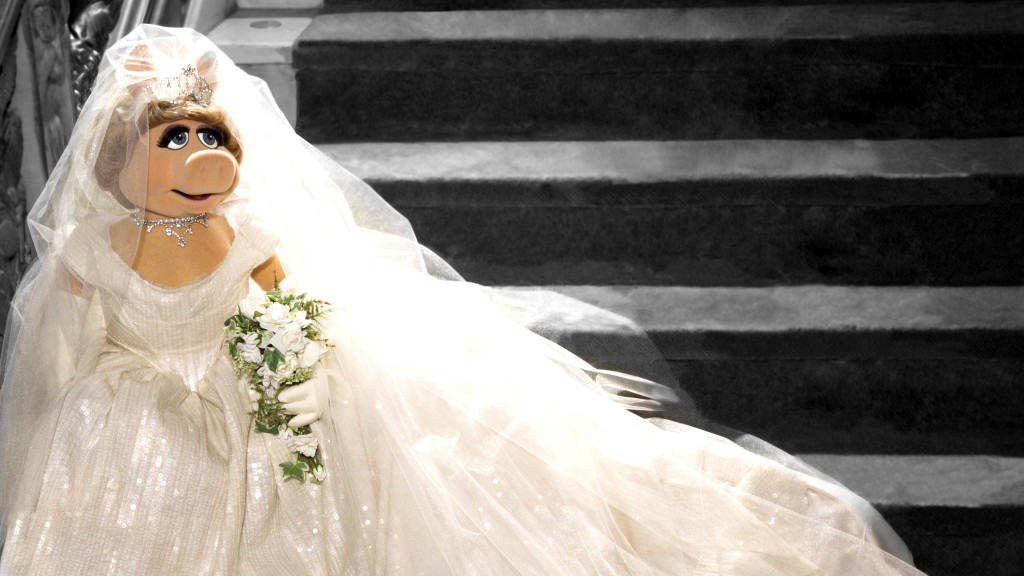 In an upcoming issue of US Harpers' Bazaar, Vivienne Westwood sits dow in an exclusive Q&A about designing this gown. Click here to read the story www.harpersbazaar.com/misspiggy. I wonder what it was like working with Piggy!
Miss Piggy was quoted saying "Vivienne Westwood is fabulous—just like moi. When I asked her to design this wedding dress for moi's new movie "Muppets Most Wanted," she was thrilled and I was thrilled. The only one a bit 'iffy' about it was the Frog." Sounds like the Miss Piggy I know and love. I cannot wait to see her and the rest of the Muppets in action this March!
The major and most important question is…
Will we finally see Miss Piggy and Kermit walk down the aisle?! Find out March 21st when The Muppets Most Wanted hits theaters everywhere!