Shaving.
We all have to do it and I would guess that most of us are not fans of it. At least I know I'm not. It is a necessity though but having sensitive skin makes it quite an unpleasant one. Legs can be bad enough but I really dislike how my armpits look after shaving. Armpits aren't the most attractive thing on anyone, probably right below elbows on the list of qualities you find good looking on someone else. Shaving is harsh on sensitive areas like armpits. I know mine always look bumpy, rough, dry, basically NOT PRETTY. I've tried putting lotion on them, don't laugh, but it didn't do anything but burn so I resigned my hopes of better looking armpits.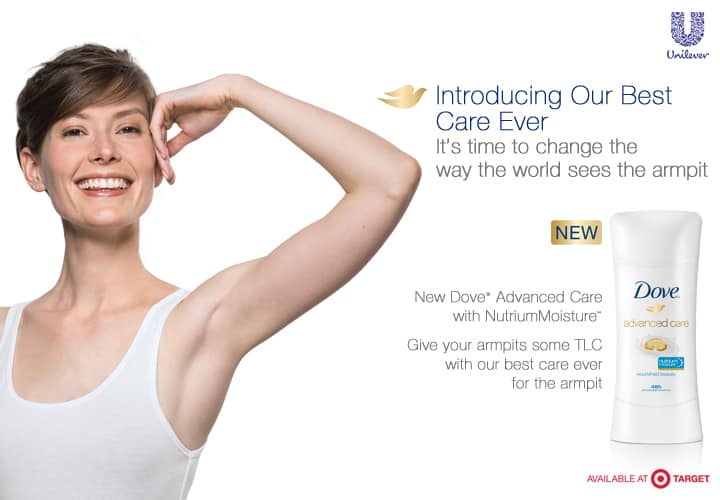 While we are talking armpits, have you ever responded My Armpits! When asked what's your favorite thing about yourself? Hah no I didn't think so. No one loves their armpits, or wants to show them off. Poor little things. Although I do not think it will ever be listed as a sexy attribute, it should get a little more love right? After all, we need them! But like I said, nothing seemed to help so what are we girls to do? Get the new Dove NutrimMoistureTM Deodorant.
This year join Dove® Deodorant and Change the Way the World Sees the Armpit!
Dove® Deodorant wants to help you care for the sensitivity of your armpits. That's why they developed the new NutriumMoistureTM deodorant. It has the same quality you would expect of a Dove® product with the added bonus of a formula meant for one of your most sensitive and neglected areas. You can find this great new deodorant at Target today!
About Dove® NutriumMoistureTM
Use Dove® Deodorant NutriumMositureTM after shaving to heal and protect sensitive skin. Dove® NutriumMoistureTM repairs and nourishes sensitive underarm skin, while offering 48-hour protection.
Dove® NutriumMoistureTM is now available at Target. Print this $1 off digital coupon and give your armpits some love!
Share your newfound love of your armpits with Dove on Facebook and Twitter.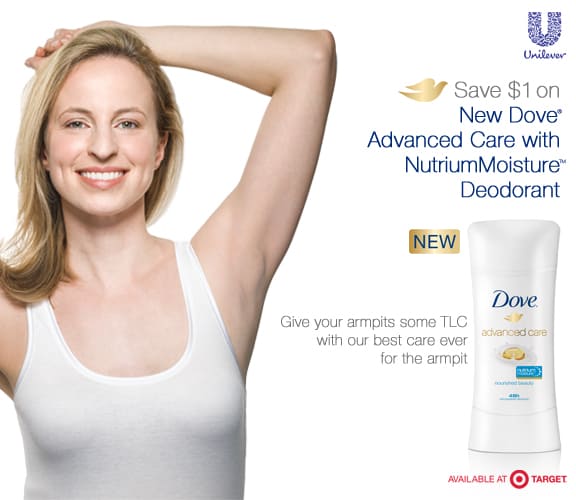 What is your LEAST favorite part of your beauty regimen?
This post is sponsored by Dove. Although I was compensated for my time, all opinions are my own.