Being the healthy minded momma that I am doesn't mean I don't crave that occasional not-so-good for you food. Or the husband begging me to let him have something deep fried. Coming up with tasty and nutritious dishes can be a pain, especially if I want something specific like a big greasy burger. Enter Fresh Express to keep me from derailing my eating plan!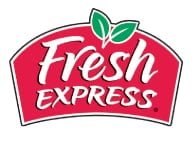 I'm a big fan of Fresh Express for a few reasons. Their products are picked fresh and bagged without the use of nasty preservatives. They also offer salad kits which I find perfect to take to dinner parties and playdates. Fresh Express offers organic salad bags as well that won't break your food budget.
Now I can add another reason to love them. The new Salad Swap site and app! Fresh Express is making it easy for all of us to keep those health goals and enjoy keeping them. With Fresh Express Salad Swap I don't have to sacrifice tasty for good for me, it's a win-win!
Getting started is simple.
Join me in the Fresh Express 30-Day Salad Swap! Sign up at SaladSwap.com to find delicious recipe ideas and download the app from iTunes or Google Play to have access to recipes, calorie tracking, and more! Enter codes found on Fresh Express bags for the opportunity to receive additional Fresh Express coupons.
What I really like about the Salad Swap site and app is the innovative way they help you swap meals. Instead of just saying oh hey don't eat that burger eat a salad, Fresh Express matches the flavors you're looking for with a yummy, healthier version of the foods you're craving.
For example, I love pizza. Today I am really, REALLY wanting pizza. However, the races I'm training for are saying yeah you shouldn't be eating pizza. *sigh* So what's a girl to do? I selected pizza from the Salad Swap selections and was suggested Pizza Antipasto Salad.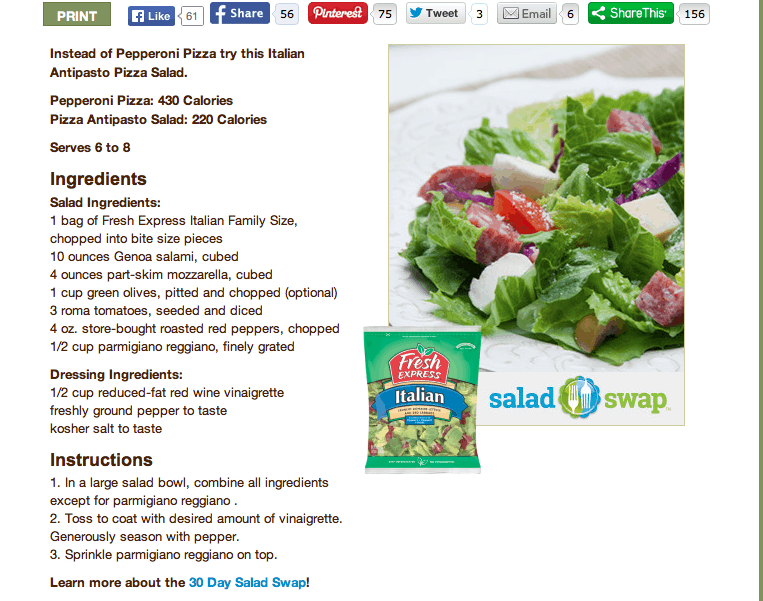 I feel a lot better about 220 calories per serving than 430!
My husband loves chicken salad sandwiches for lunch. I made my own Salad Swap, and packed him this healthy chicken salad with Fresh Express Spring Mix and Baby Spinach to take to work. He loved it and thought it was more filling than his usual sandwich. Score one for the healthy wife!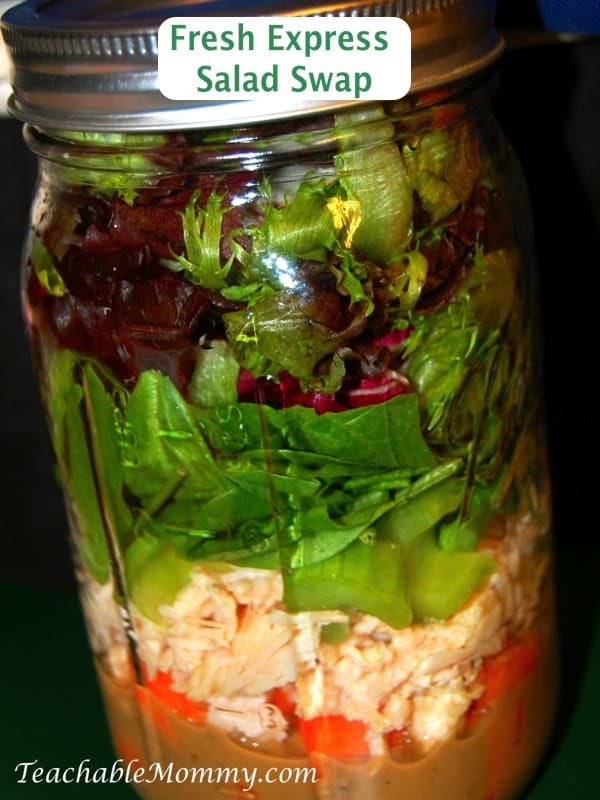 A big
Thank You
to
Moms Meet
for allowing me the opportunity to share Fresh Express with my friends and my readers. If you are into natural products and green living check out
Moms Meet
.
Kiwi Magazine and Moms Meet are here to unite eco minded parents like you and I, making the world a healthier greener place to live!
Just the facts
Fresh Express salads are thoroughly washed, rinsed, and gently dried, then sealed in patented "Keep-Crisp®" breathable bags to keep their just- picked freshness, without preservatives.

Fresh Express has a wide variety of products, including refreshing mixes and ready-to-eat Kits. They also have a special USDA-Certified Organic line.

Fresh Express salad mixes can vary in price, depending on the retailer, but typically cost between $2-$4 per bag.
Find Fresh Express today at Target's and other retailers nationwide. Before you go shopping, head over to Moms Meet for an exclusive Fresh Express coupon! Get social with Fresh Express for more salad ideas, exclusives, and more on Facebook and Pinterest.
What meal can you make the #SaladSwap with?
I received Fresh Express for free from the sponsor of the Moms MeetSM program, May Media Group LLC, who received it directly from the manufacturer. As a Moms MeetSM blogger, I agreed to use this product and post my opinion on my blog. My opinions do not necessarily reflect the opinions of May Media Group LLC. or the manufacturer of the product.