As much as I love coffee, I equally love tea. And just like my coffee, I am very picky about my tea. It has to be flavorful and leave me feeling ready for whatever may come my way. When I received an email from an entrepreneur about trying out his new tea blend I was intrigued. On paper, er screen, it sounded great- organic, fair trade, brain boosting, all the right words were there. But would it pass the test of these particular taste buds?
CogniTea is an all-natural tea that is meant to promote mental clarity and focus. It is make with a unique blend of teas, herbs, and L-Theanine, an amino acid extracted from green tea.
I typically would not reach for herbal tea, since I have tried it before and it never really gave me the get up and go feeling I needed. But CogniTea is not your average herbal blend. It has a specific ratio of the Caffeine to L-Theanine. That means it helps reduce stress while promoting mental health, creative thinking, and cognitive performance.
My worse time of day is the afternoon. Around 3pm I am d-r-a-g-g-i-n-g. Therefore, it was the perfect time to put this tea to the test. I steeped mine for 10 minutes (they recommend steeping it for that long or longer). I sweetened it with a natural non-GMO zero calorie sweetener and a squeeze of local honey.
The taste was crisp, refreshing and not bitter. I felt re-energized and more alert. The dragging feeling that was pulling on me went away. After the initial peak of the tea, I did not feel a crash. That in itself was amazing because typically you feel that crash after the energy burst.
I repeated this experiment the next 2 days with the same results. My afternoon drag turned into my afternoon take on the world! Herbal tea, who would have thought right? CongiTea made a believer out of me and now I don't have to suffer through another afternoon feeling completely exhausted!
From the founder of CogniTea, Alexander Kravets:
I created CogniTea to help 'power' people through their days with a healthier alternative without coffee loaded with sugar and cream, or harmful energy drinks. My main goal is to help motivate and support people in the pursuit of their goals. Our motto – "I CAN. I WILL." really exemplifies this. We stand for ambition, resilience, and persistence and helping people in the pursuits of their goals. So our hashtag is #ICANIWILL which has resonated really well with everyone working towards something! We make a tea that helps you focus, but the important thing is what you are focusing on!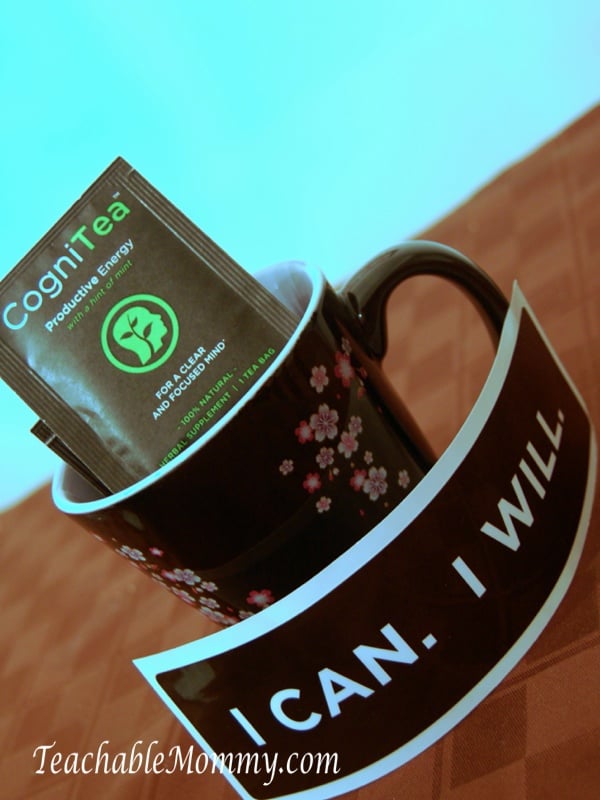 Just the Facts:
Made from 11 Organic Ingredients
100 mg of L-Theanine, an amino acid extracted from green tea
Contains polyphenols and catechins, antioxidants that detoxify cell-damaging free radicals
No fillers, colors, flavors, or artificial sweeteners.
Organic and fair-trade (when available) teas and herbs from all over the world
Buy your own CogniTea today at CogniTea.com
For more information and to join the #ICANIWILL Movement, connect with CogniTea on Facebook and Twitter #ICANIWILL
I received complimentary CogniTea in exchange for my honest review. All opinions are my own and any facts listed are from the company.