A month ago, I unapologetically broke the kids out of school to check attend the Road to the Races Tour. At the event, they showed us an exclusive clip from Cars 3. My son is all about cars and sat on the edge of his seat the entire time. It may have only been a 10 minute clip but I have heard about it every day since. Race down the road to June and the moment he has been waiting for finally arrived. Cars 3.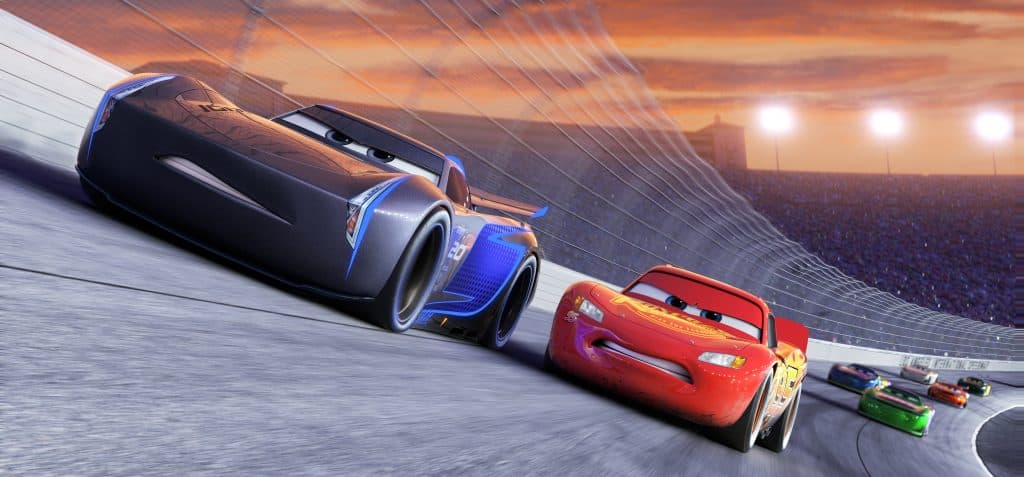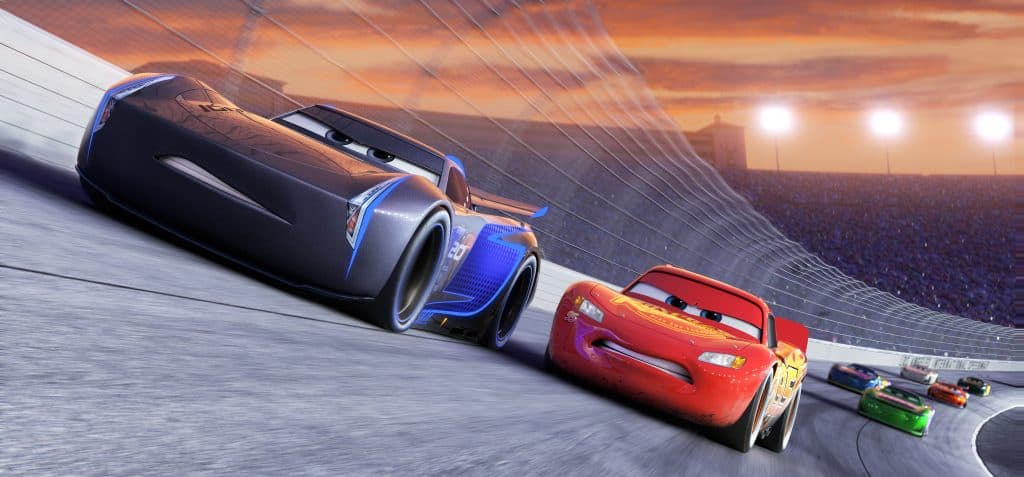 New Pixar Short: Lou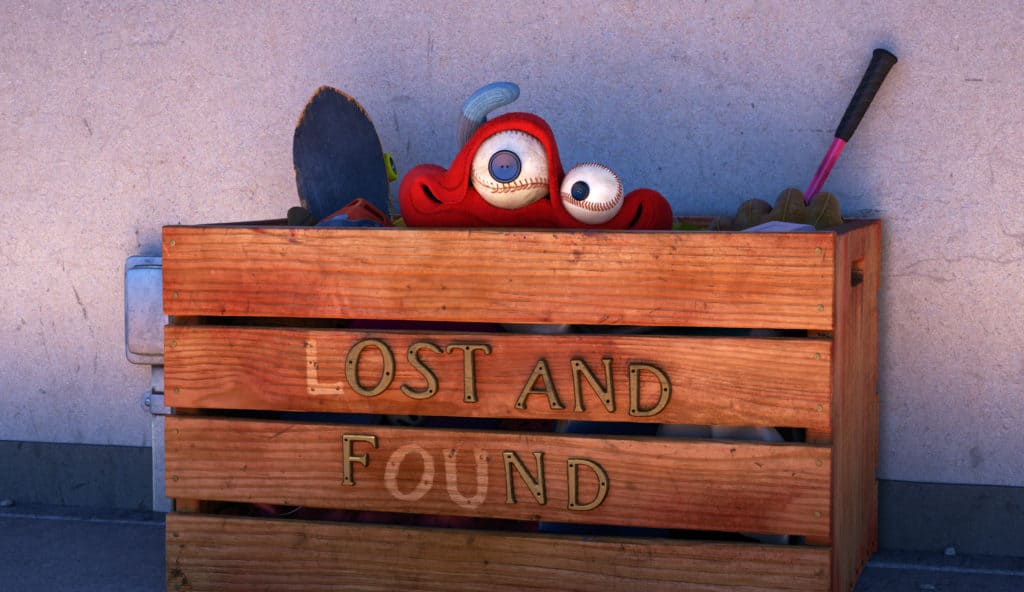 We previewed this short at Disney Social Media Moms and loved it. I was also thrilled that I got to meet Dave Mullins, the genius behind Lou. It is funny and definitely tugged at my heartstrings. I'm pretty sure Lou is now my favorite Pixar short. Just give it all the awards now because it deserves them!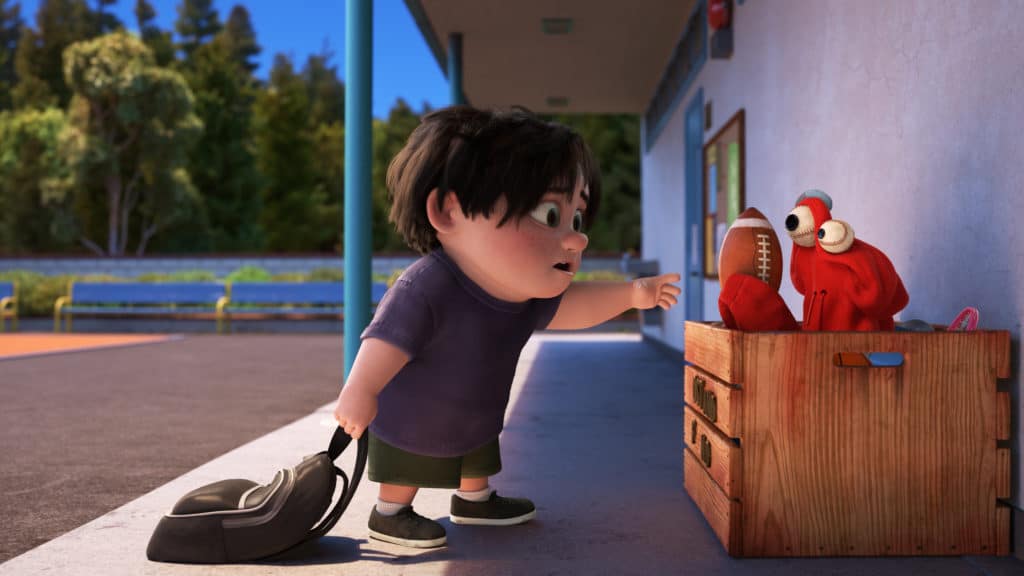 Lightning is down but not out yet. All of his friends, the old school racers, are either retiring or getting fired. He is determined not to let anyone tell him when his racing days are over. But he also must realize that his way of doing things isn't going to cut it anymore. McQueen must accept that change has come and you either adapt or get left in the dust.
Jackson Storm reminds the characters in the movie, and the audience, of a young Lightning McQueen. He's great at what he does, but also arrogant and callous. To beat him, Lightning must give up the idea of being faster than Storm, and instead focus on being smarter.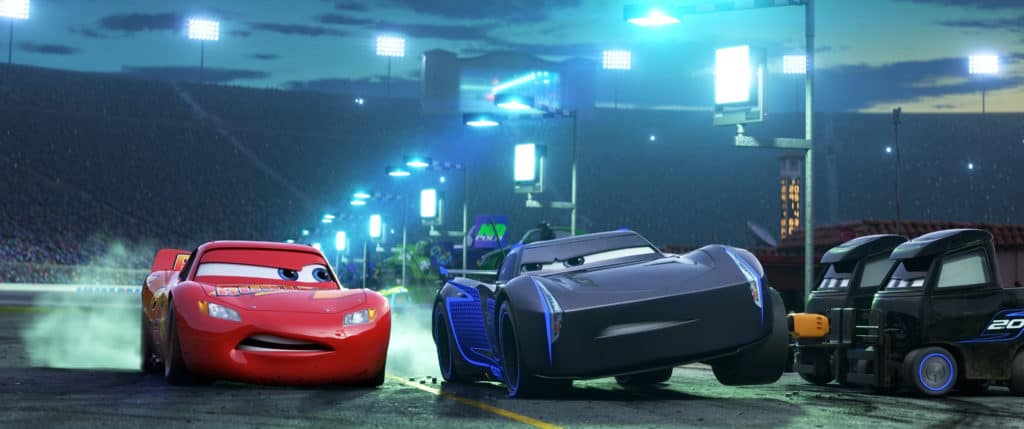 Enter Cruz Ramirez. This energetic young trainer wants to help Lightning but he doesn't think he needs her help. After all, he's a Piston Cup winning star, what does this car know about racing? There are not shortcuts in life McQueen. Ain't that the truth. This pair's relationship changes throughout the film, and Lightning learns that being a great race car means so much more than winning races.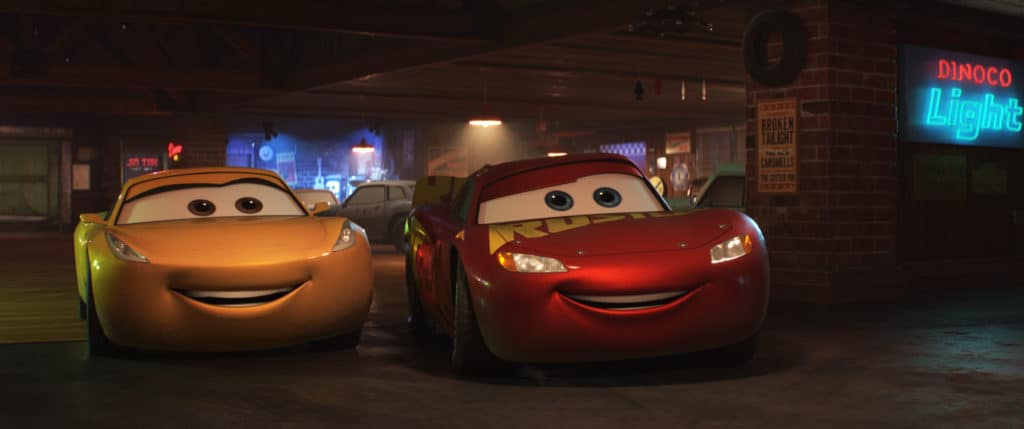 Nostalgia:
This film definitely gave us all the feels of watching the original. You can tell they went back to what made the first Cars such a lasting hit. We have all grown during Lightning McQueen's life and Cars 3 matured right along with us.
The flashbacks to Doc Hudson were touching and yes had my eyes a bit teary. I could relate to McQueen missing Doc and wishing he was there. That's how I feel about my grandmother.
We also learn more about Doc's history, how he became the Fabulous Hudson Hornet, and what gave Doc a lot of joy. You might be surprised!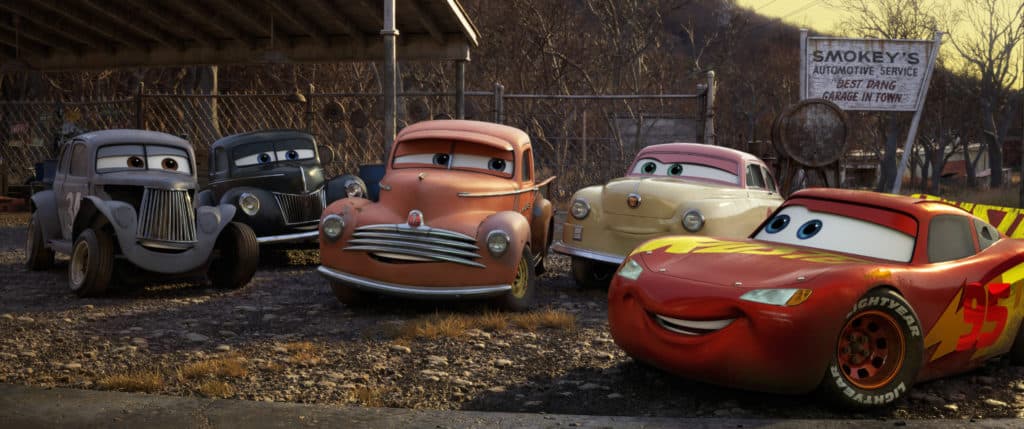 Girl Power:
Sally is still her sharp witted, lawyer self who helps push Stinky, I mean Stickers into getting off his tires and doing something about his career after the crash.
Cruz isn't just the fun sidekick. She embodies the struggle a lot of women face in male dominated spaces. She learns to believe in herself and not to let any man car stand in her way.
We even meet an older female race car who didn't let the boys stand in her way. Life is too short to take no for an answer she tells Cruz!
Friendship and Acceptance:
It is important to surround yourself with people who believe in you. Lightning has the whole Radiator Springs crew, Doc had Smokey and his friends, and now Cruz has Lightning. There is such a big difference when someone believes in you, it helps you to believe in yourself. I think that lesson stuck out a lot for the parents. We are our children's first cheerleaders and we need to take care that we are encouraging them, accepting of them, and helping them preserver through life.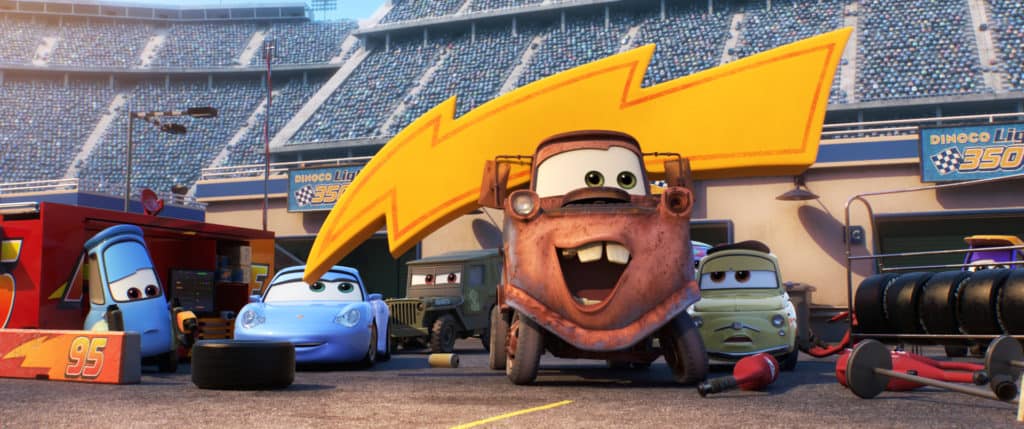 What the kids had to say:
My son: You shouldn't give up. You have to keep racing, like Lightning, and try hard. My favorite new character is Ms. Fritter. She is funny and cool. I would drive fast too if she was chasing me! I like that Lightning learned to be a good friend. Cars 3 is my new favorite Cars because I like Lightning McQueen and Cruz and all the new cars. They are so cool and the derby wow! Crash! Yes!

My daughter: I love love Cruz. She reminds me of me. Cruz is smart but sometimes doesn't feel like she can do things but she can. She just needed some friends to tell her she can do it like you tell me that I can do anything I make my mind up to do. I really liked the movie and I want to see it again.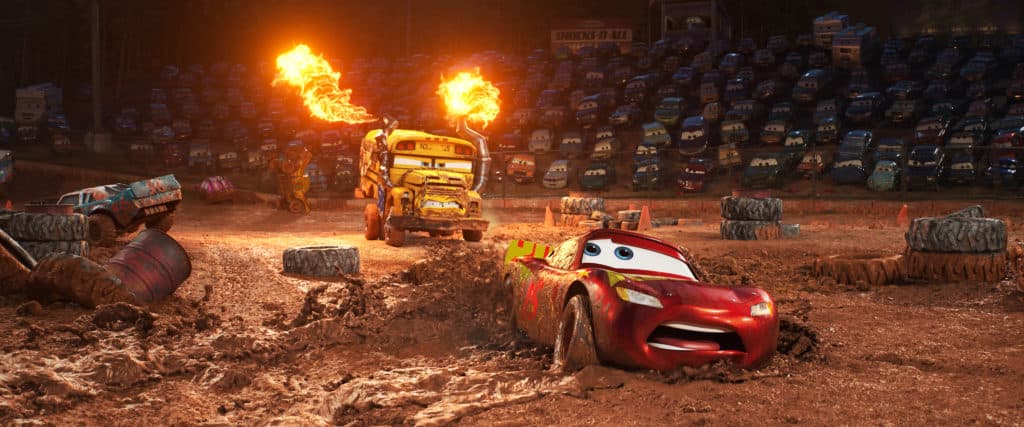 The Big Crash Scene:
When the teaser was released I read a lot online that the crash scene seemed graphic and traumatic. In the film, the scene doesn't seem drawn out and you know quickly Lightning isn't dead or horribly maimed.
Post Credit Scene:
Stay through the credits for a fun little scene with Mater.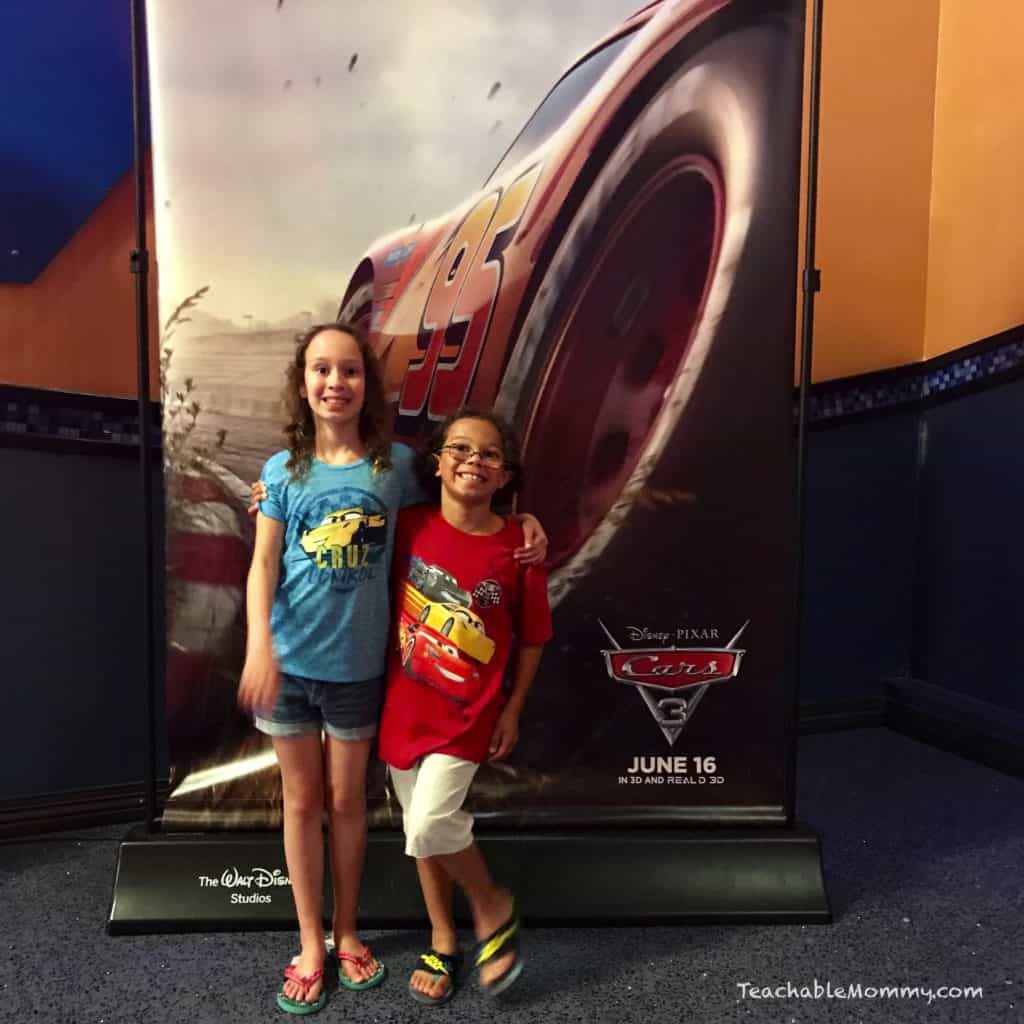 In the end, the audience cheered. The kids talked about the movie the whole way home, and the next day and every day since. We are seeing it again this weekend and I hope you will too!
Cars 3 is in theaters everywhere!