Buckle Up Baby, SOLO a Star Wars Story is coming soon on Digital HD September 14th on Digital and on Blu-Ray September 25th!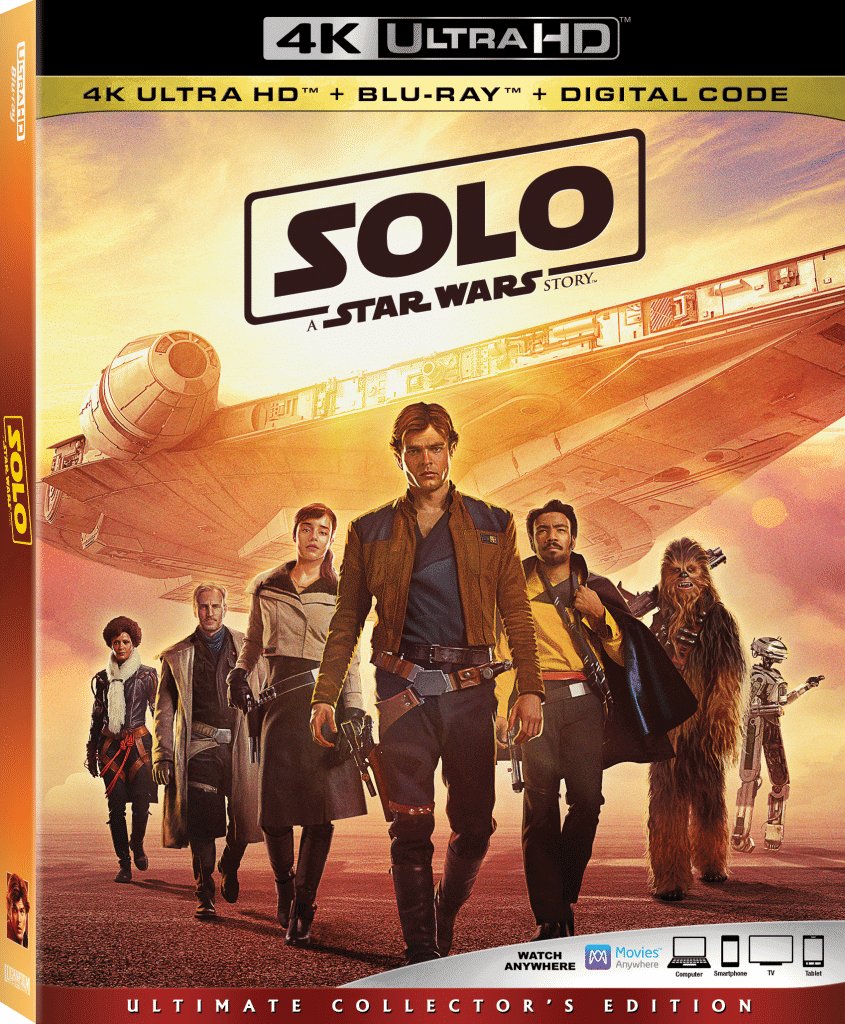 Thank you Disney and LucasFilm for sending over all the Solo: A Star Wars Story fun
Solo: A Star Wars Story is available September 14th on Digital and on Blu-Ray September 25th!
In May, Ron Howard and the crew of the Millennium Falcon took us on a wild ride through the galaxy. We watched a young Han Solo, expertly portrayed by Alden Ehrenreich, meet his best friend Chewie, escape Corellia, and learn what it means to be the best smuggler in the galaxy. Plus we got to see that insanely awesome Kessel Run! After all, when you round down it totally only took 12 parsecs.
Also along for the ride are Lando Calrissian, gambler and swag extraordinaire (is that a thing? it is for him) and Qi'Ra, Han's former girl and first love of his life.
Solo is a true love letter to Star Wars fans. Not only is Solo a great addition to the Star Wars franchise (seriously stop listening to the haters), it is heck of a lot of fun for everyone in the family.
Solo: A Star Wars Story Bonus Extras:
Solo: The Director & Cast Roundtable – Sit down with director Ron Howard and the stars for an intimate and entertaining discussion of the film's making.
Team Chewie– See what it takes to bring your favorite Wookiee to life in this lighthearted look behind the scenes.
Kasdan on Kasdan– Iconic Star Wars screenwriter Lawrence Kasdan and son Jonathan share what it was like to write the movie's script together.
Remaking the Millennium Falcon– Track the transformation of the most famous ship in the galaxy, from Lando's swank and impeccable pride and joy to Han's stripped-down hot-rod freighter with "special modifications."
Escape from Corellia– Get behind the wheel for the making of this high-octane chase through the streets of Corellia.
The Train Heist– Explore the challenges and thrills of creating this action-packed sequence, including its remote location and spectacular effects.
Becoming a Droid: L3-37– Meet the newest droid and the talented actor who helps bring her to life.
Scoundrels, Droids, Creatures and Cards: Welcome to Fort Ypso– Take an in-depth tour of the rough-and-tumble bar where strangers mix and gamblers risk all in the legendary card game, Sabaac.
Into the Maelstrom: The Kessel Run– Join Han and Chewie at the controls of the Millennium Falcon to see how this legendary moment in Star Wars history unfolds.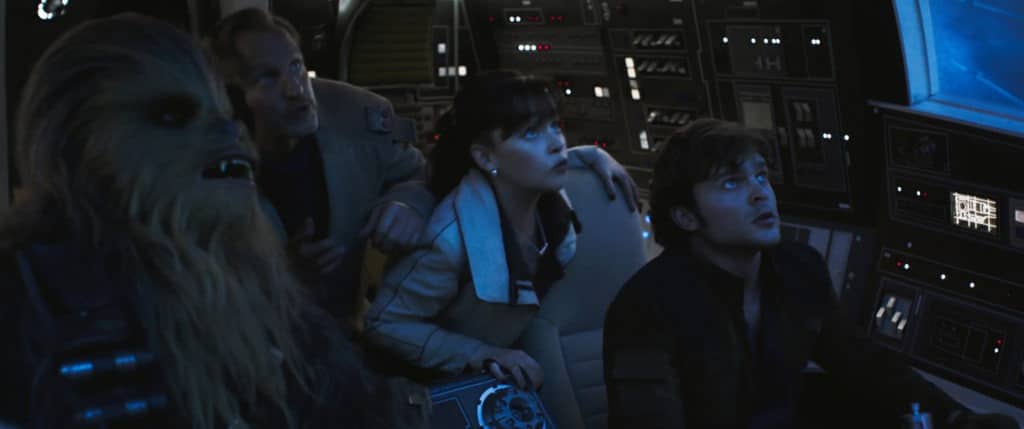 Deleted Scenes
Proxima's Den
Corellian Foot Chase
Han Solo: Imperial Cadet
The Battle of Mimban: Extended
Han Versus Chewie: Extended
Snowball Fight!
Meet Dryden: Extended
Coaxium Double-Cross
The Millenium Falcon: From Page to Park- An exclusive look at the history of the most famous ship in the galaxy, its origin and development, and how it will translate in one of the most anticipated expansions in Disneyland's history.
Back-to-School blues got you down? Then you and your little co-pilots need a pick-me-up Han Solo style!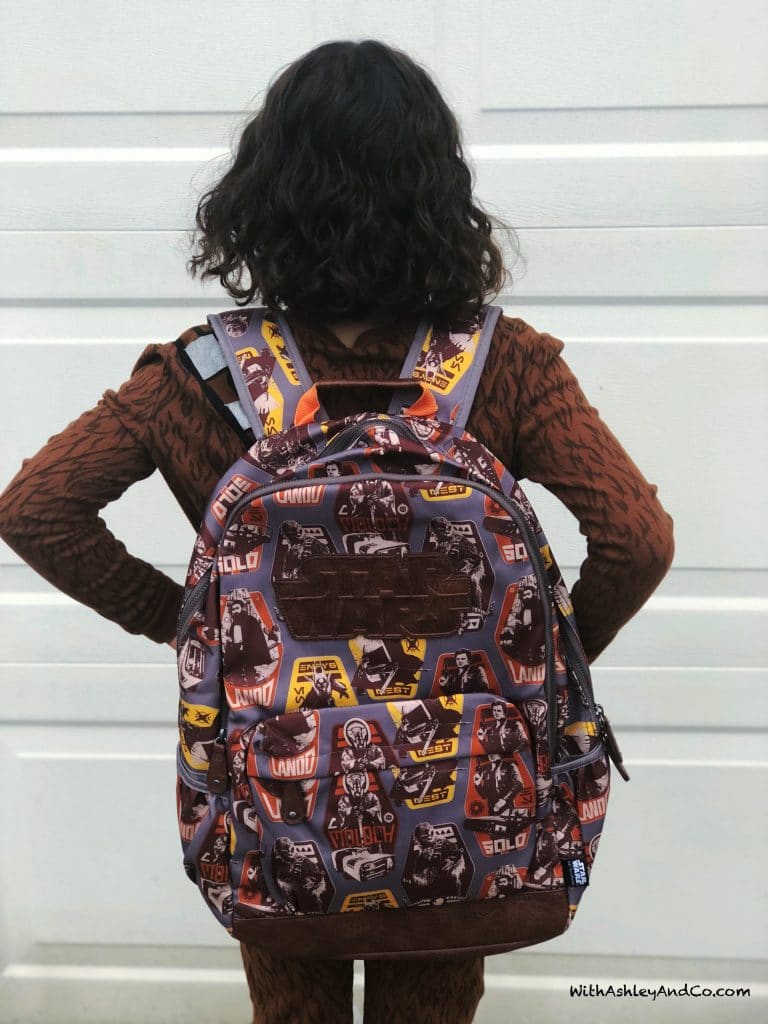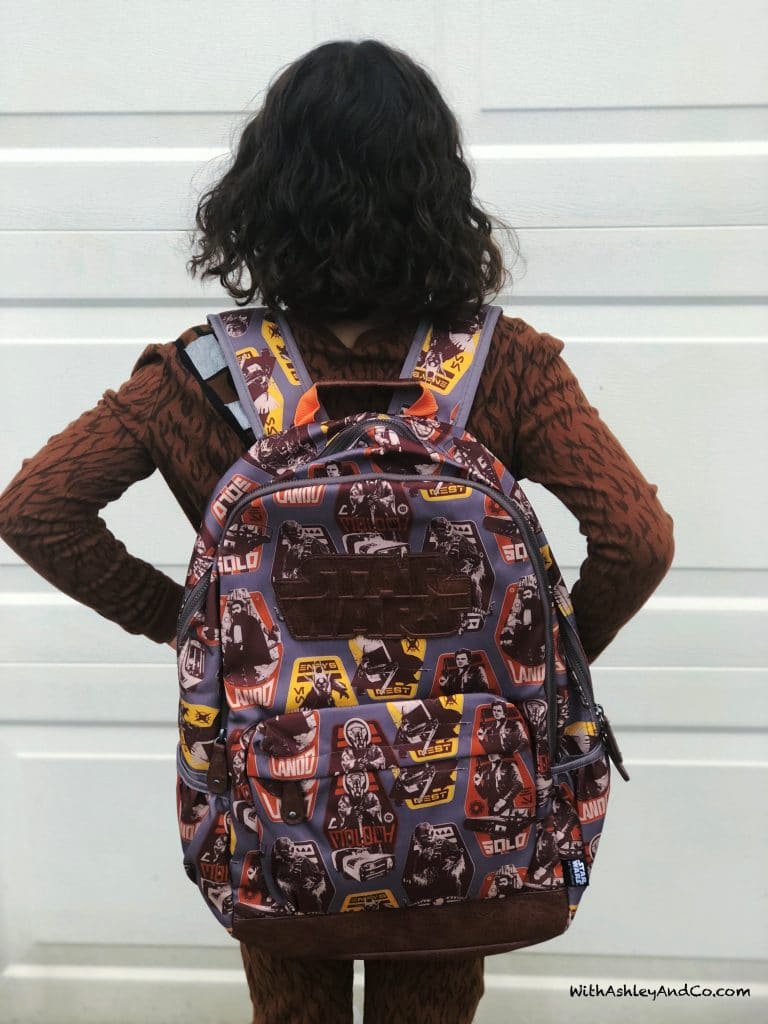 Solo: A Star Wars Story Must Haves
Star Wars Ultimate Co-Pilot Chewie
New from FurReal Friends is this adorable, interactive Chewie! He has over 100 sound and motion combinations. Chewie responds to external movements and sounds. Speak Wookie and Chewie will roar back! He is soft and his legs are poseable as well. From nap time to galaxy exploration, the kids are going to love him. As a matter of fact, I don't think I want to share him with my kids. Sorry not sorry kiddos!! Get your own Co-Pilot Chewie at ShopDisney.com!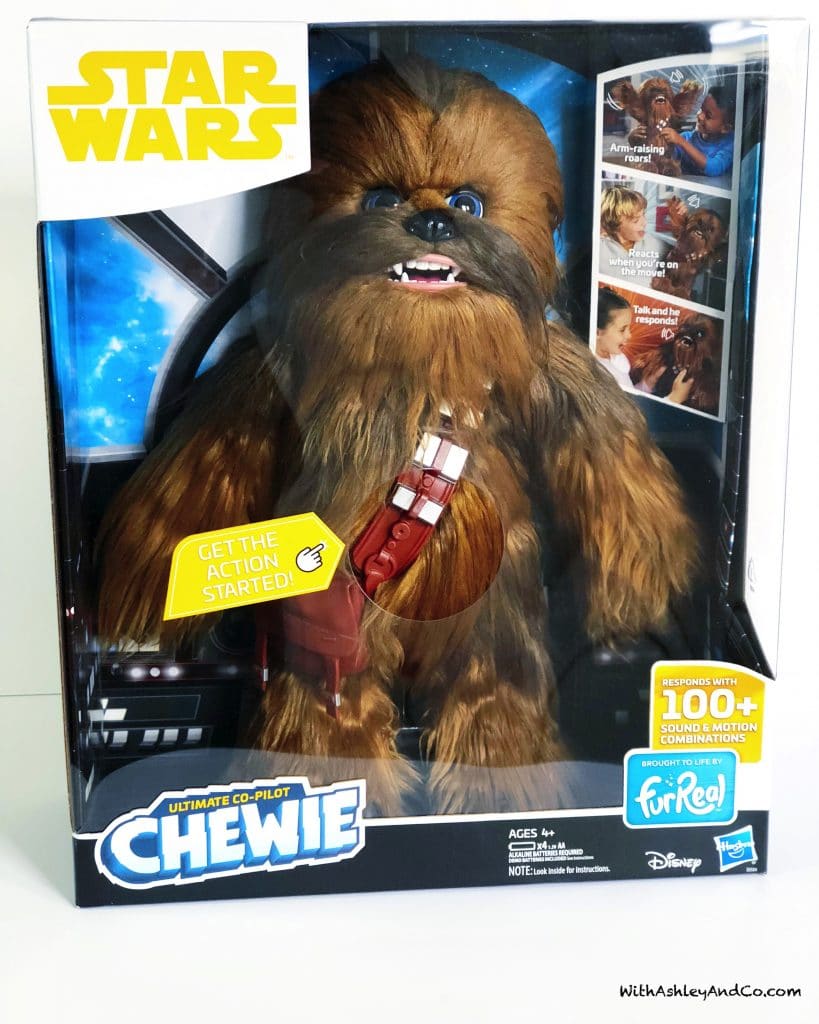 Chewbacca Electronic Mask
Transform your voice into one that every Wookie in the galaxy will understand. Growl, howl, and of course roar with this mask.
Solo: A Star Wars Story Nerf Glowstrike Han Solo Blaster
Every smuggler needs a blaster. Lights and sound effects accompany your Nerf blaster. Fire on targets up to 70 feet away! Get your Nerf Glowstrike Han Solo Blaster at ShopDisney.com
Star Wars: Han Solo Card Game
Challenge your Jedi mind with this Han Solo Card Game. Players draw cards in an effort to score as close to zero as possible, so they can collect bounty tokens. The one with the highest bounty in the end wins the Millennium Falcon token. No cheating Lando! Take a chance with the Han Solo Card Game at ShopDisney.com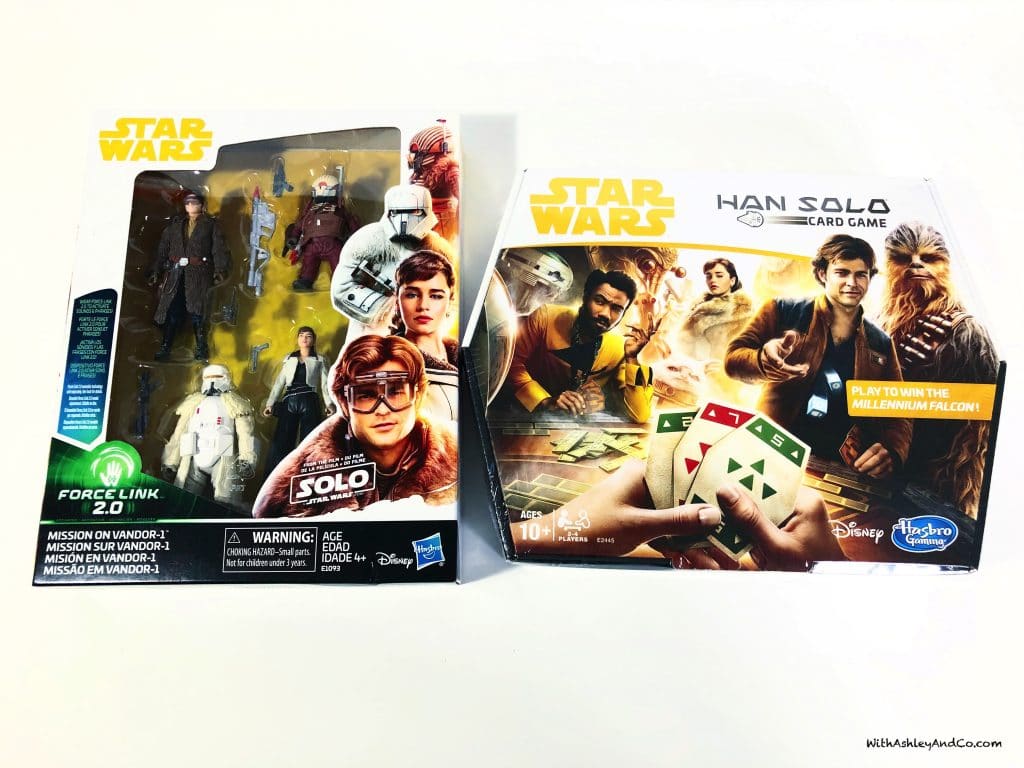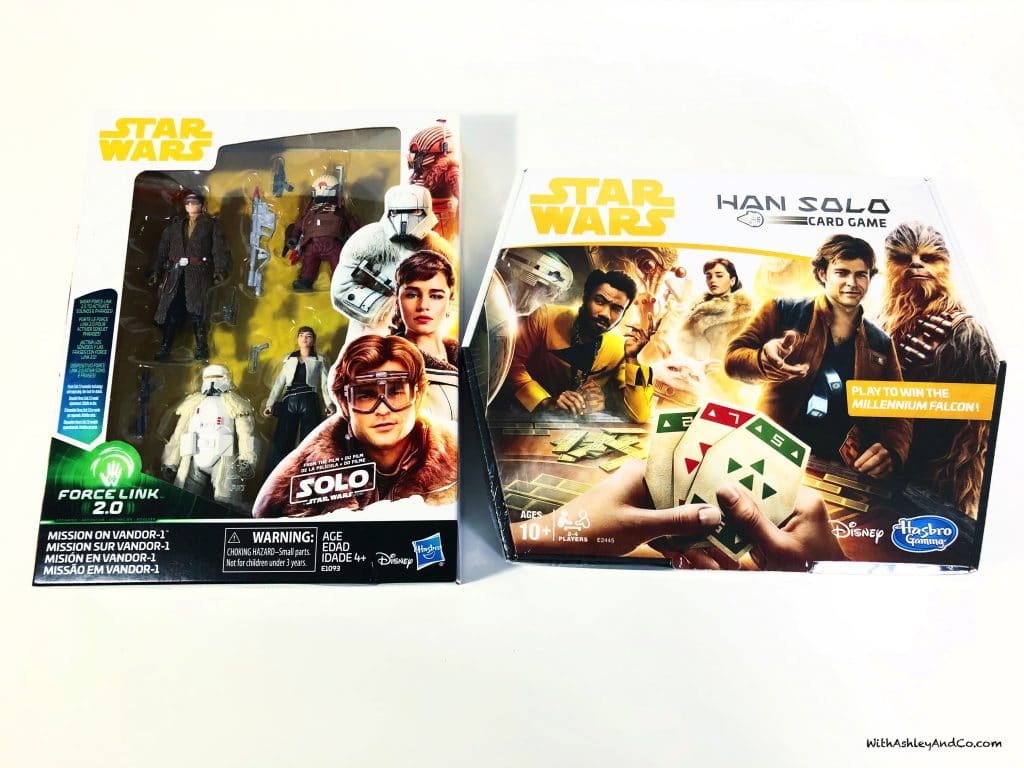 Star Wars Force Link 2.0 Mission on Vandor
When your children wear their Force Link technology and pick up any of these figurines they activate authentic phrases and sounds.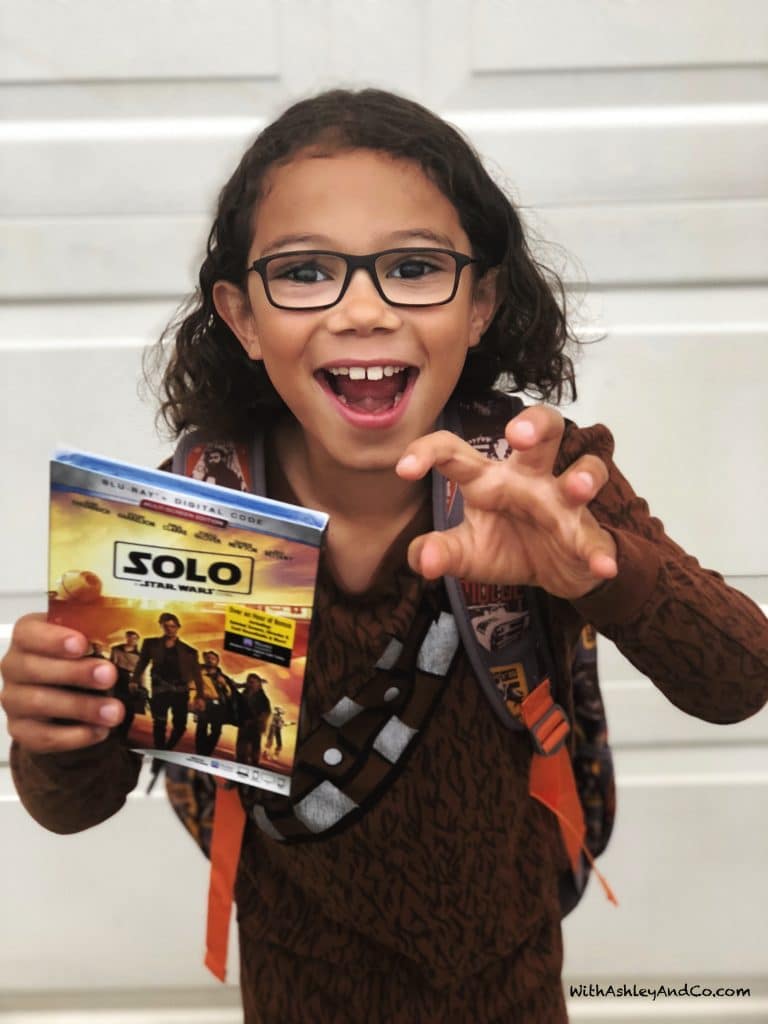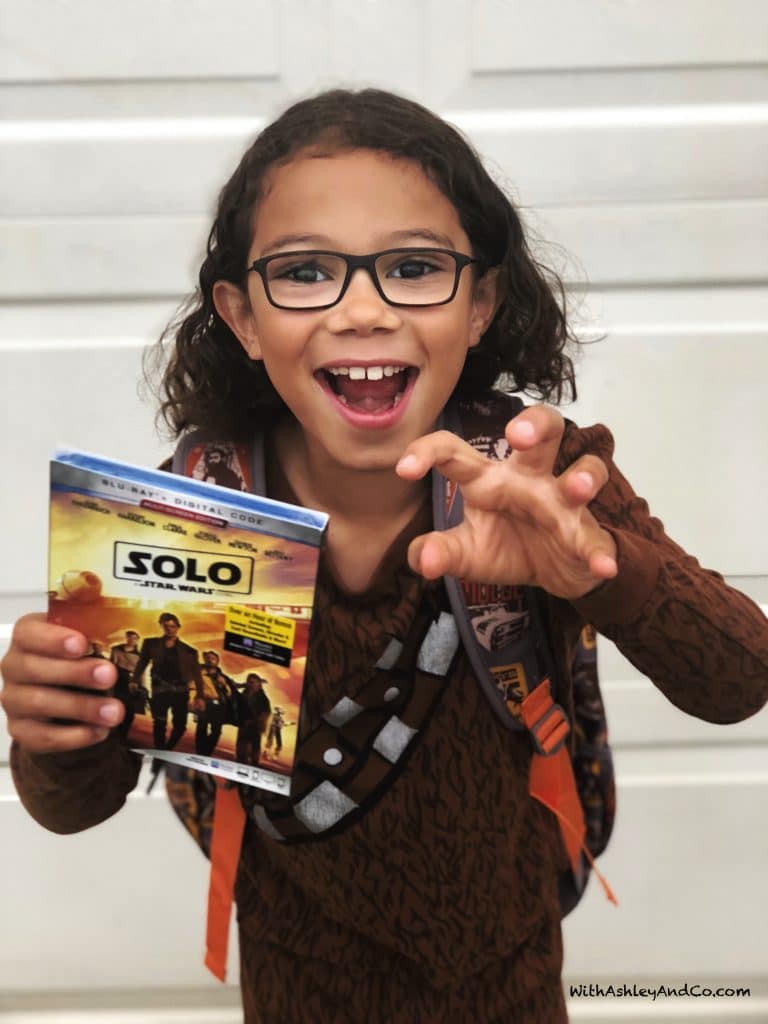 More Smuggler's fun for Solo: A Star Wars Story:
25+ Solo: A Star Wars Story Easter Eggs
Worried about Solo? Solo a Star Wars Story Review
Solo: A Star Wars Story is available September 14th on Digital and on Blu-Ray September 25th!