We recently went to our first Marvel Universe LIVE show and it was awesome! These Marvel fans had a blast cheering on all our favorite heroes and villains. Hey Loki is a complicated guy okay?!
The special effects, lasers, stunts, and story all made for one epic night. Before the fighting began we had a minute to hangout with our friendly, neighborhood Spider-Man. Despite his lack of motorcycle skills, Peter Parker definitely thwipped those bad guys all over the arena. Go Spidey!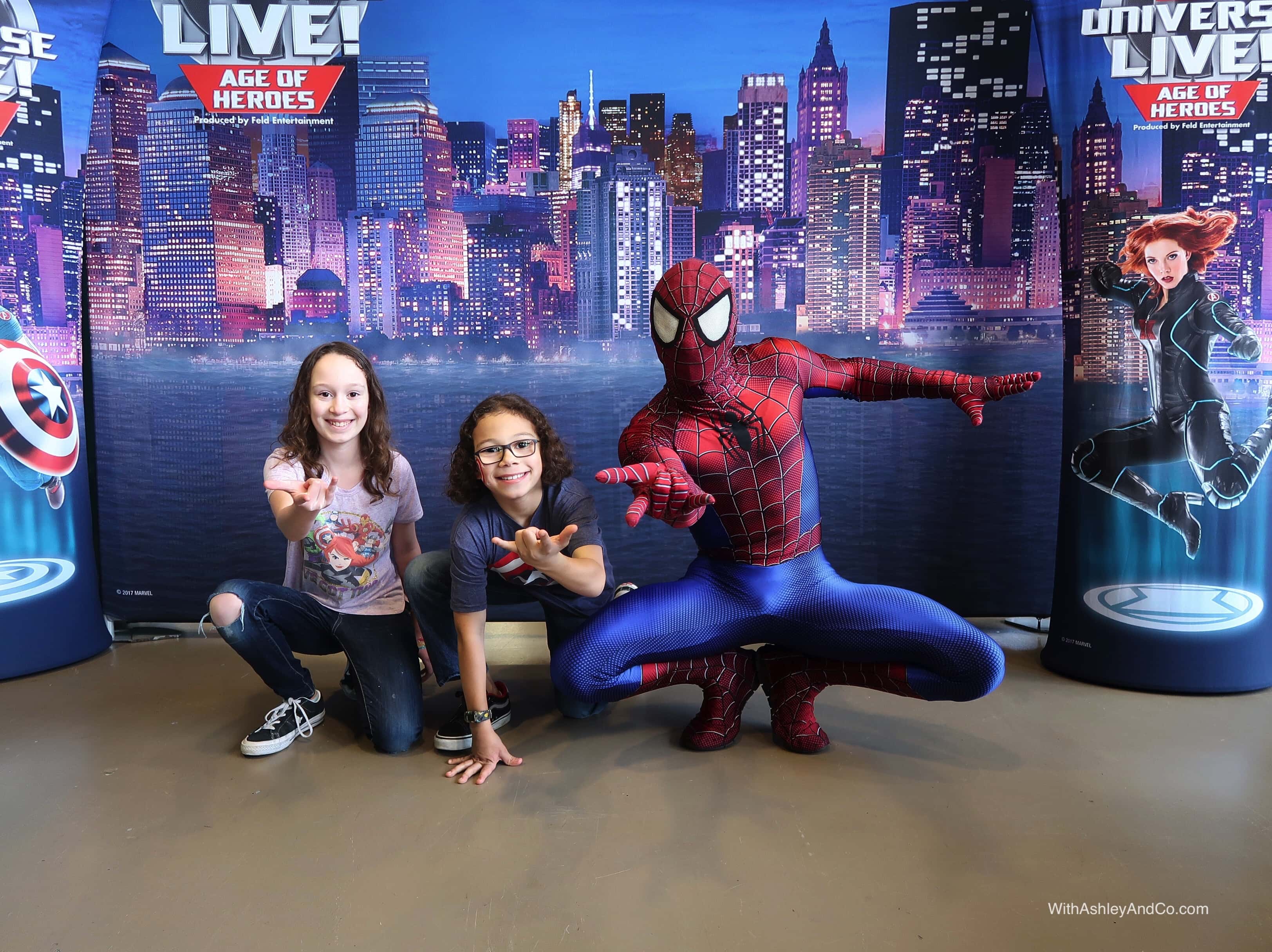 I am a Feld Family Ambassador, and in exchange for this post and all time and efforts put into sharing my opinions and anything Feld Entertainment is offering, I was provided with complimentary tickets to this Feld show.
Are you ready to suit up with your favorite Avengers? If so, then this is the show for you. Read on for our Marvel Universe LIVE Age Of Heroes Review, grab an exclusive discount on tickets, and see why this is a must see show!
Marvel Universe LIVE Age Of Heroes Review
From start to finish the kids were enamored with everything going on. Okay, my husband and I were too. It was so cool to see our heroes in action. From web-slinging Spider-Man to my personal fave Captain America and his motorcycle tricks, this show really had it all.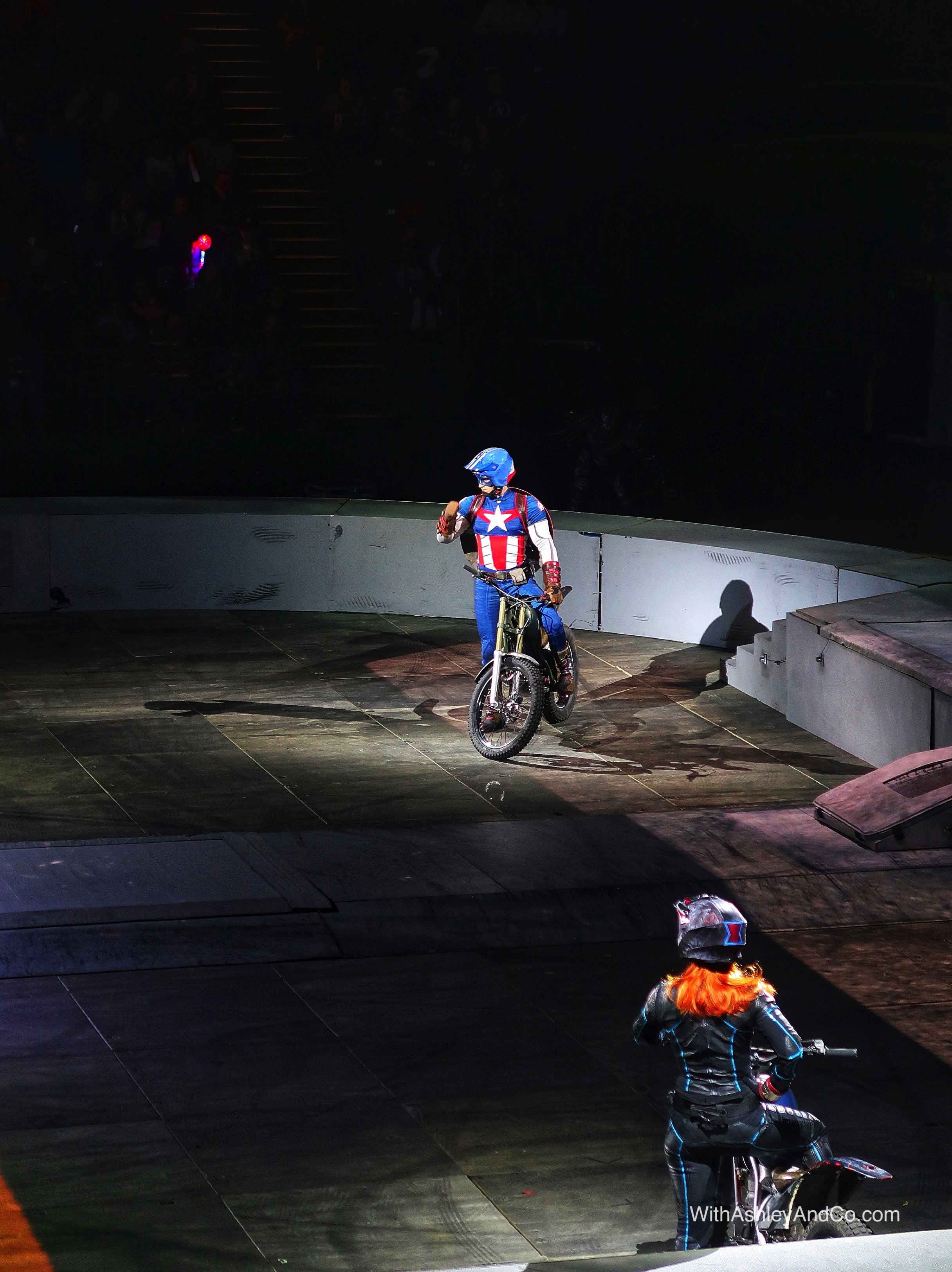 Loki is up to another scheme and the Avengers need to ban together to stop him. When is he going to learn these things never work out for him? He did learn something from his last encounter with the team and figured out a way to take out Hulk. Poor Banner!
Iron Man and Thor arrive a little late, but after getting debriefed about the situation, the Avengers Assemble to form a plan to take down Loki.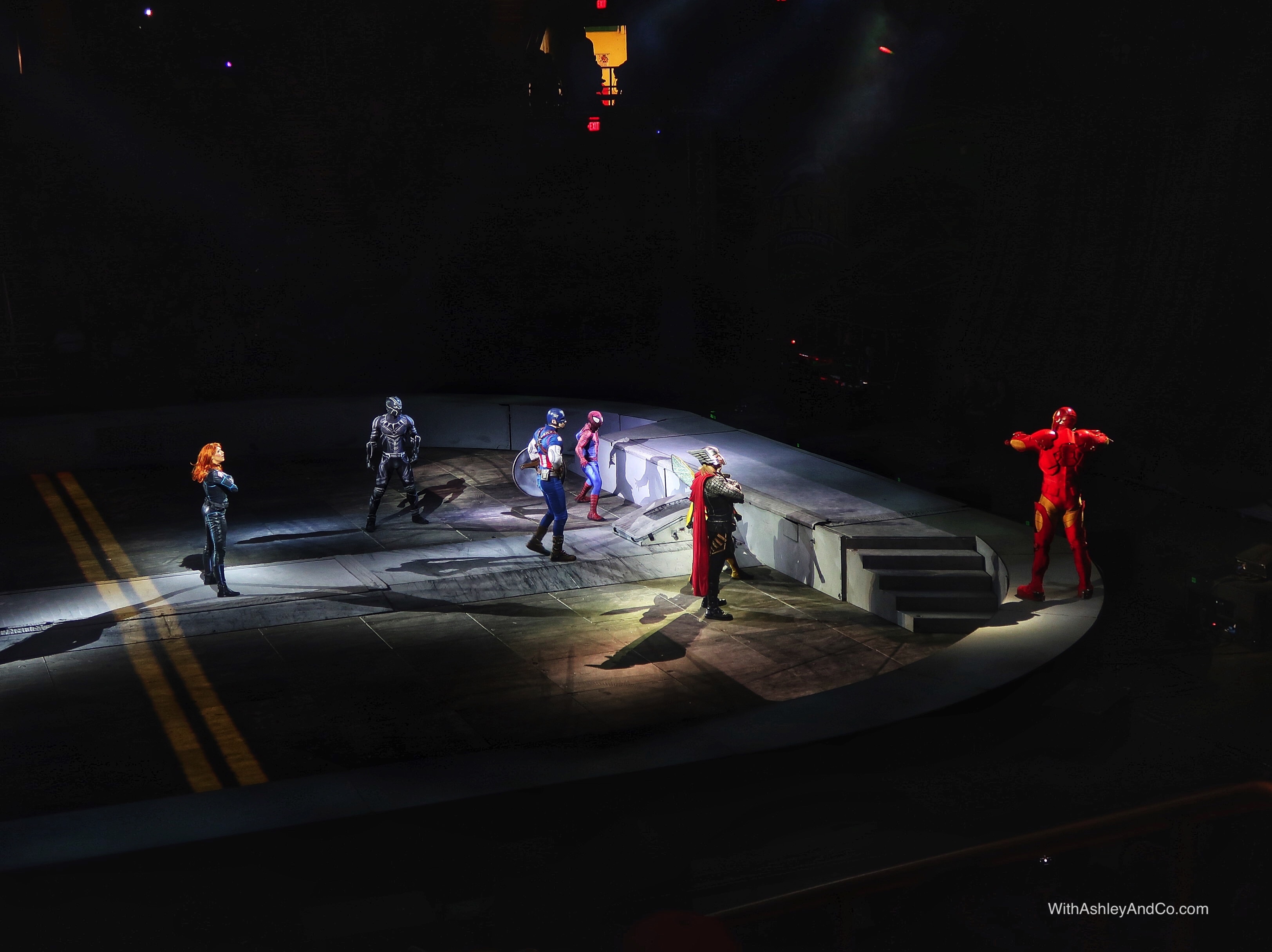 It's not going to be easy however, especially with not just Loki but Spidey villains to contend with as well as Nebula and The Ravengers.

The Guardians of The Galaxy join in on the fun and butt kicking. And all I can say is I Am Groot.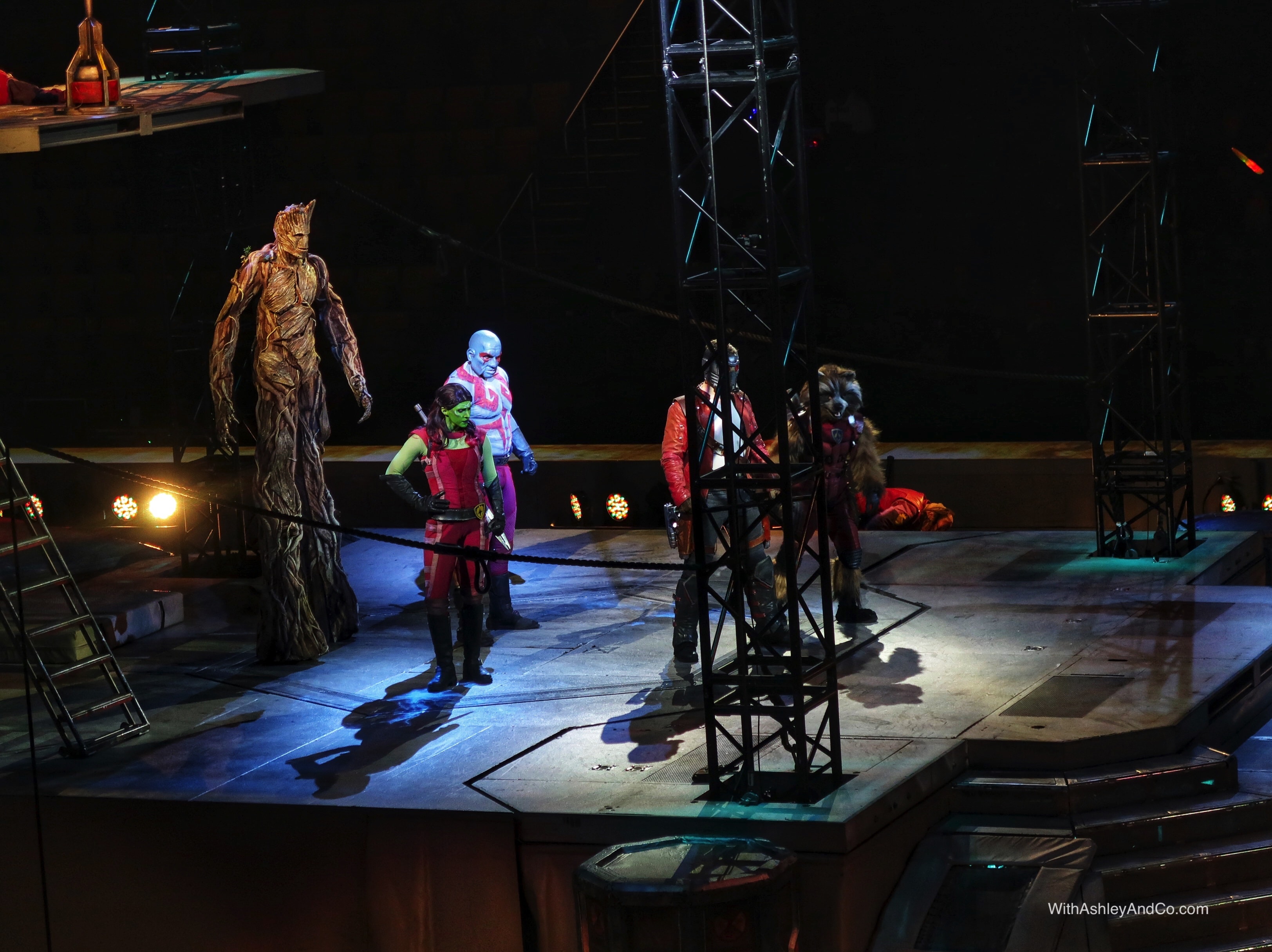 During the show, tweet out your pictures and you may just see yourself up on the big screen. My little man and I were rocking our Team Cap gear while my daughter was all about Rocket Raccoon.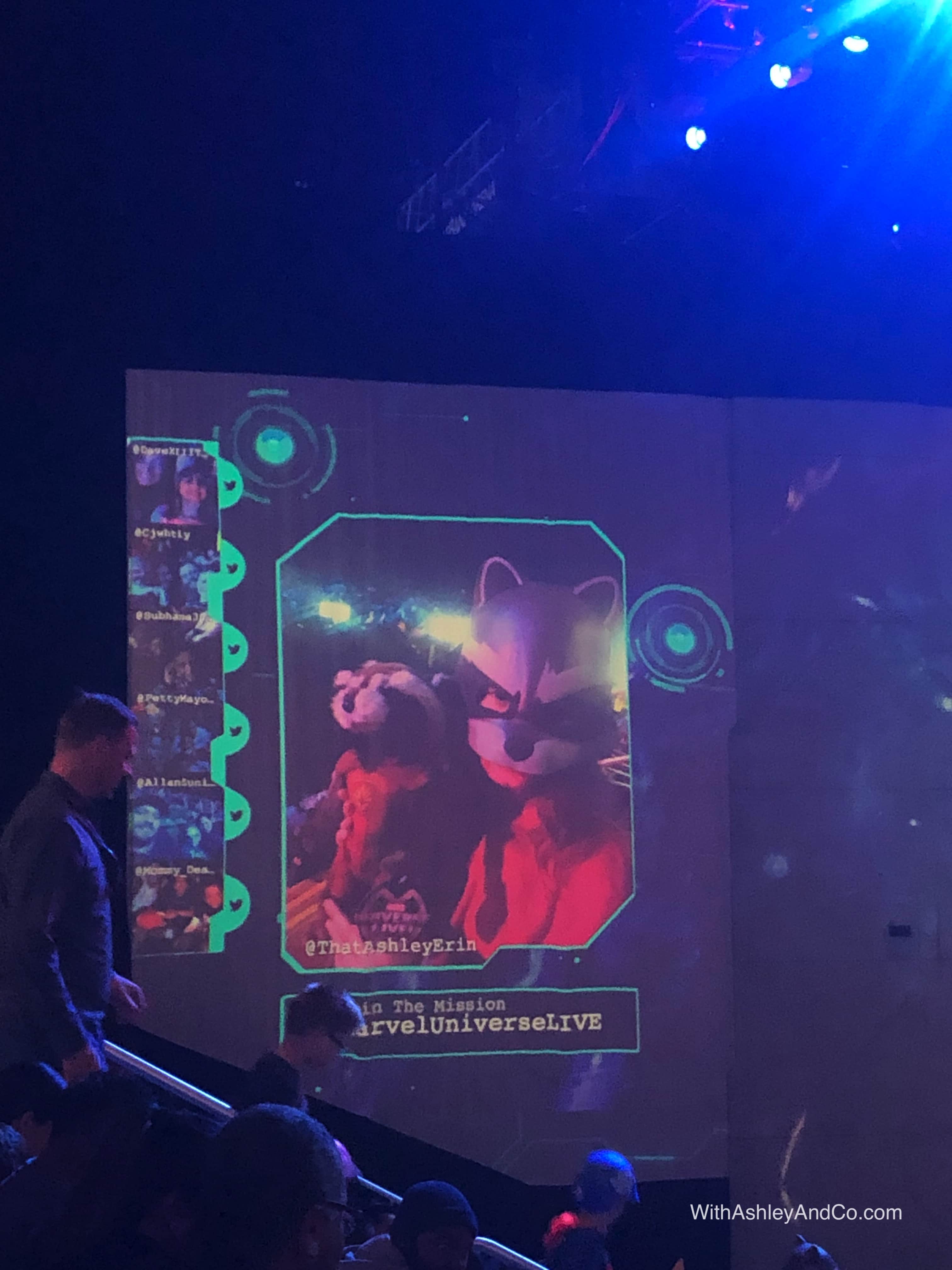 My favorite part was the end, when they traveled to Asgard to face Loki once and for all. No sign of Heimdall, Loki must have gotten to him first.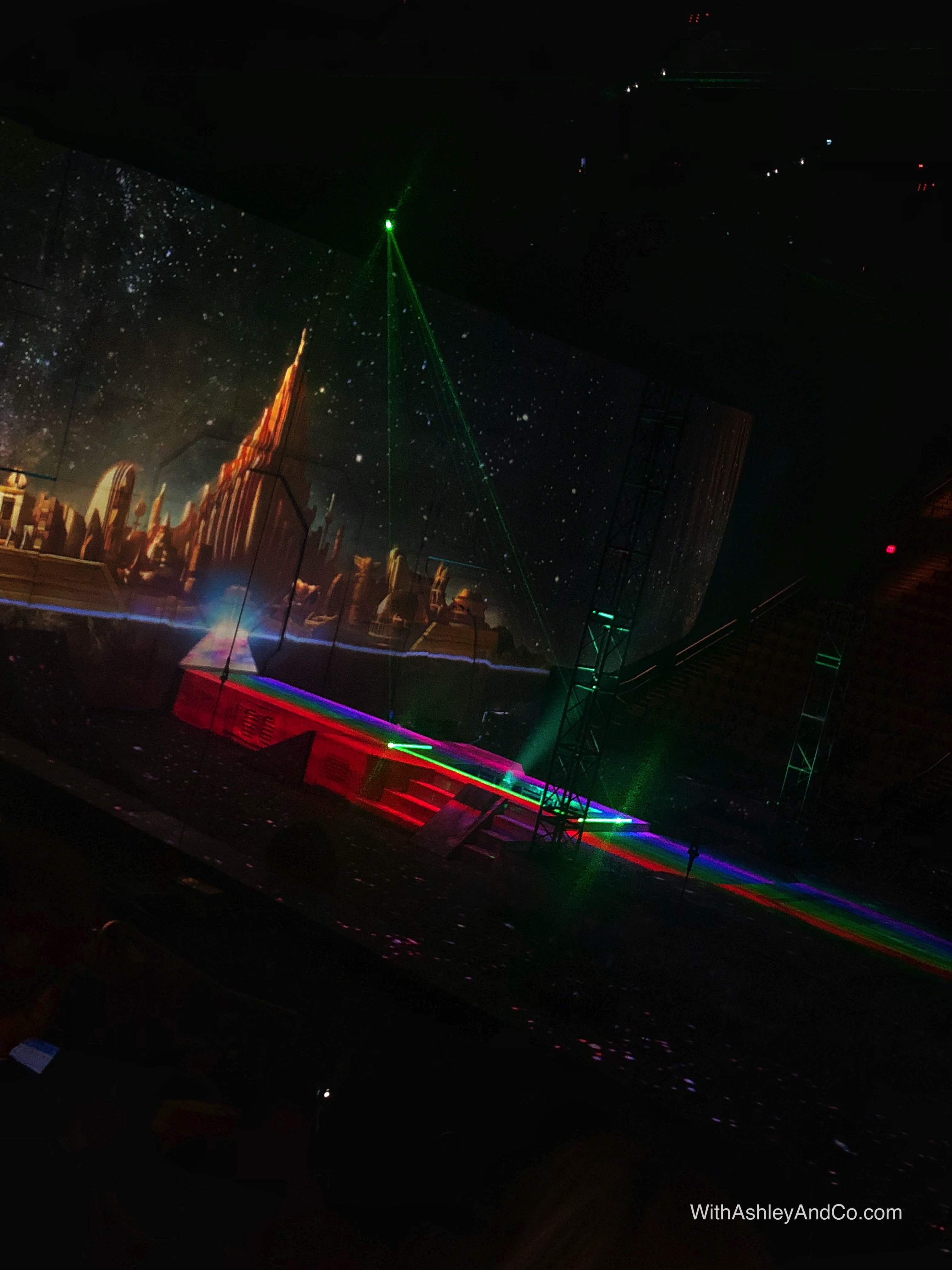 The biggest prop for the show is Loki's throne and boy is it massive. I bet Loki thinks it is intimidating.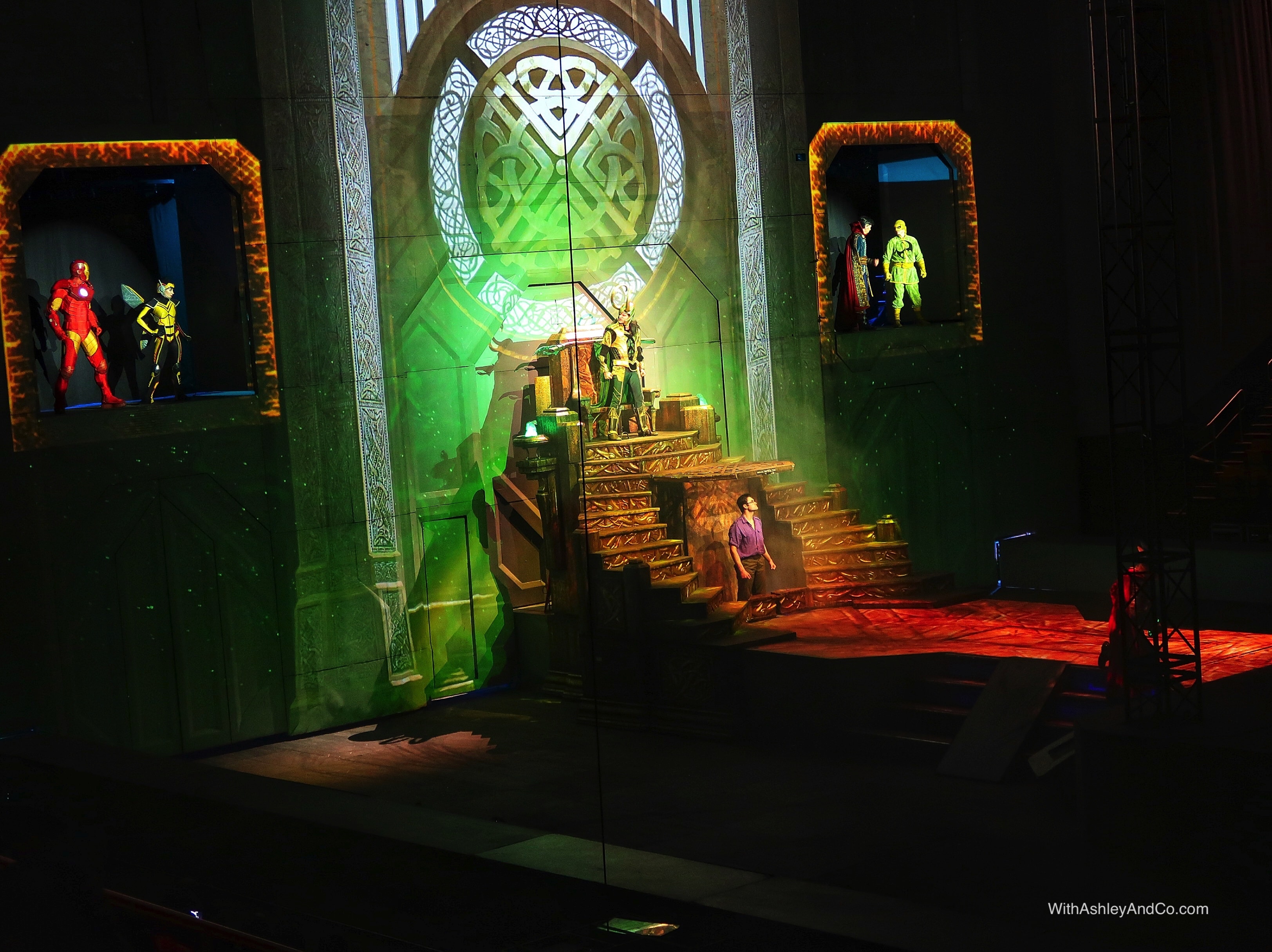 Whether it is or not, that doesn't stop our Avengers from storming the throne room and showing Loki who is in charge of the Marvel Universe.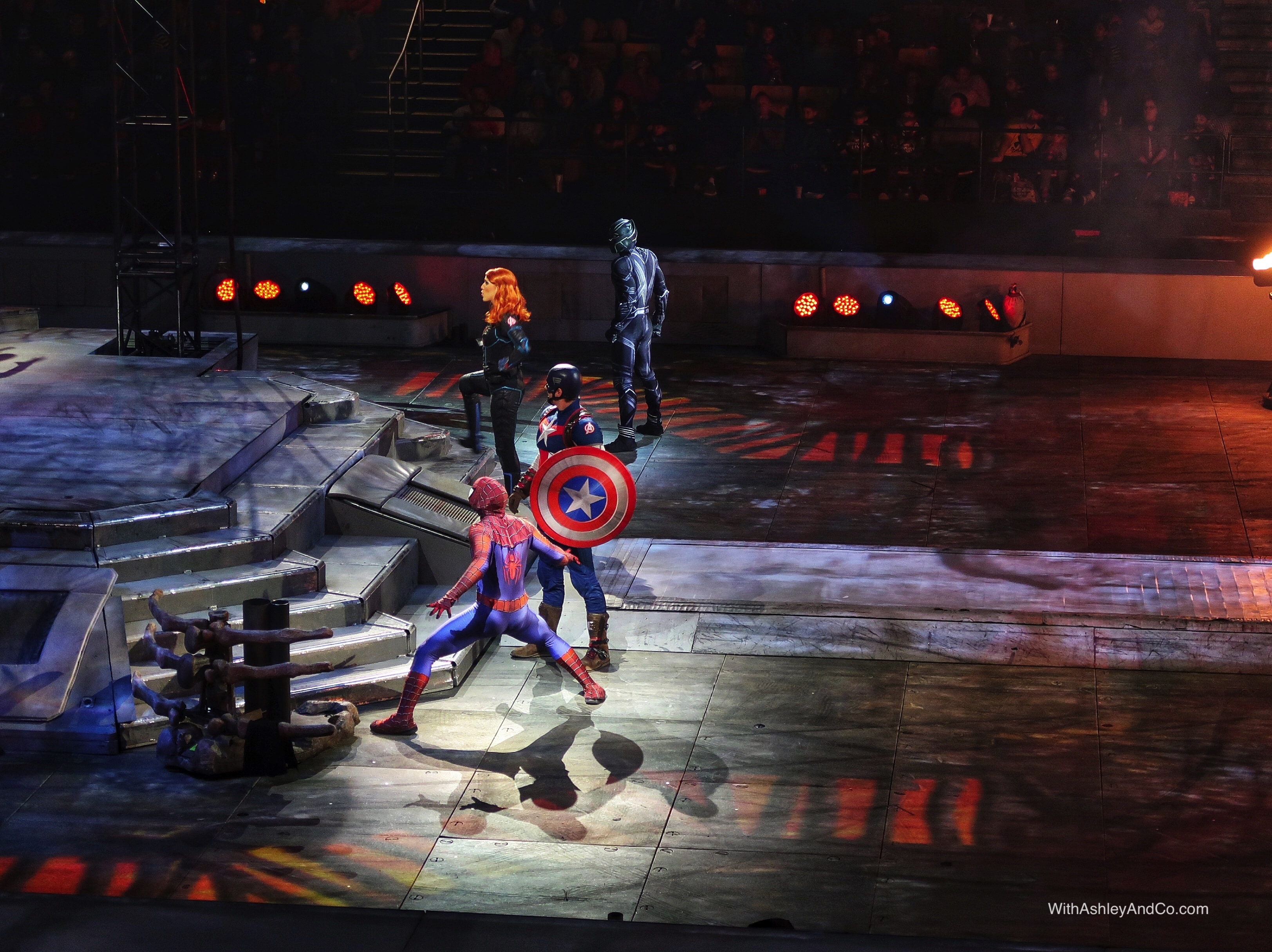 Avengers Assemble!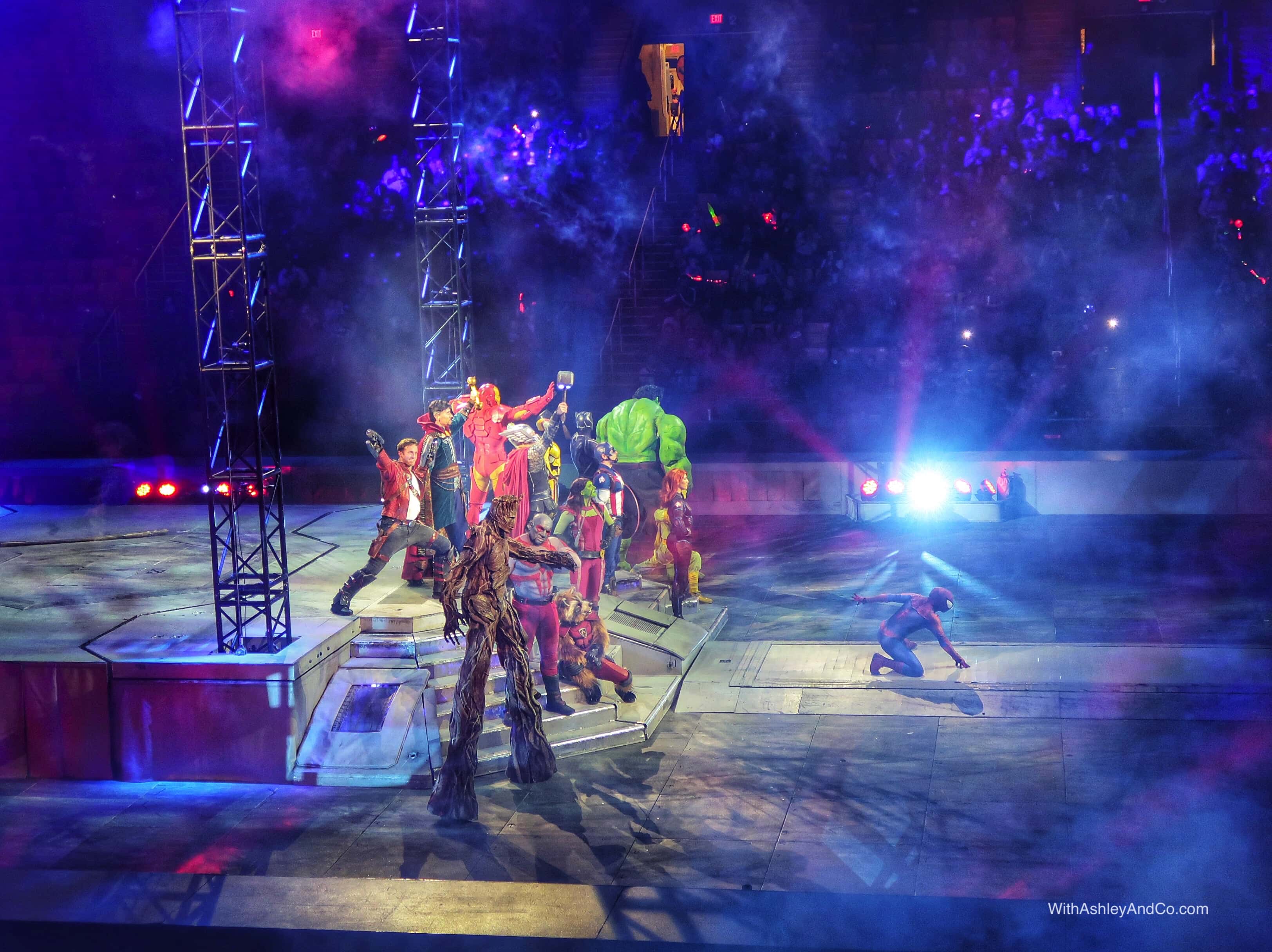 Marvel Universe LIVE Age of Heroes is a must see show for the whole family. With all the cutting-edge special effects, aerial maneuvers, pyrotechnics, martial arts, motorcycles stunts, and vast video projection every fan from the youngest to the oldest will be on the edge of their seats. Get immersed in the Marvel universe like you never have before with Marvel Universe LIVE!
Venue
EagleBank Arena, 4500 Patriot Circle, Fairfax, VA 22030
Tickets
Tickets start at $20*
Order them by phone: (800) 745-3000 or online
*Ticket pricing is subject to change based on market demand.
Marvel Universe LIVE Fairfax Show Times:
There is still time to catch the show Washington DC, Virginia, and Maryland fans!
Friday, March 22nd 7:00 p.m.
Saturday, March 23rd 11:00 a.m., 3:00 p.m., & 7:00 p.m.
Sunday, March 24th 1:00 p.m. & 5:00 p.m.
Saturday, March 30th 11:00 a.m., 3:00 p.m., & 7:00 p.m.
Sunday, March 31st 1:00 p.m. & 5:00 p.m.
Marvel Universe LIVE Discount
Save $6 on tickets with the code BLOG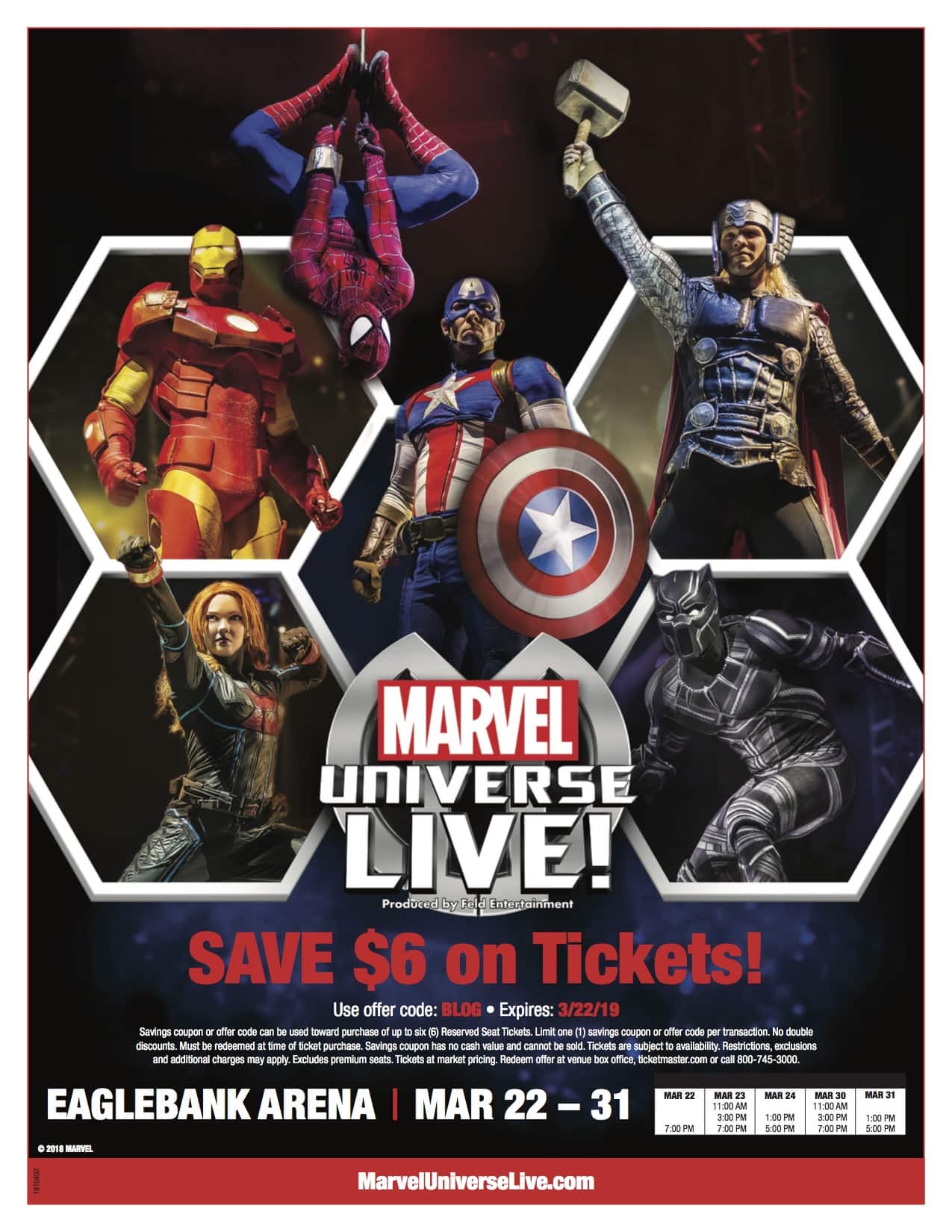 For more Marvel Universe Live check out their website | Facebook | Twitter #MarvelUniverseLive | YouTube | Instagram