Have an especially fly evening with a 90s inspired Captain Marvel movie night! Captain Marvel is now available to own on Blu-ray, which is all that and a bag of chips. So grab your BFFs and get ready to rock out 90s style while watching your girl Carol Danvers kick some Kree tail. Plus check out all the bonus features on the Captain Marvel Blu-ray available now!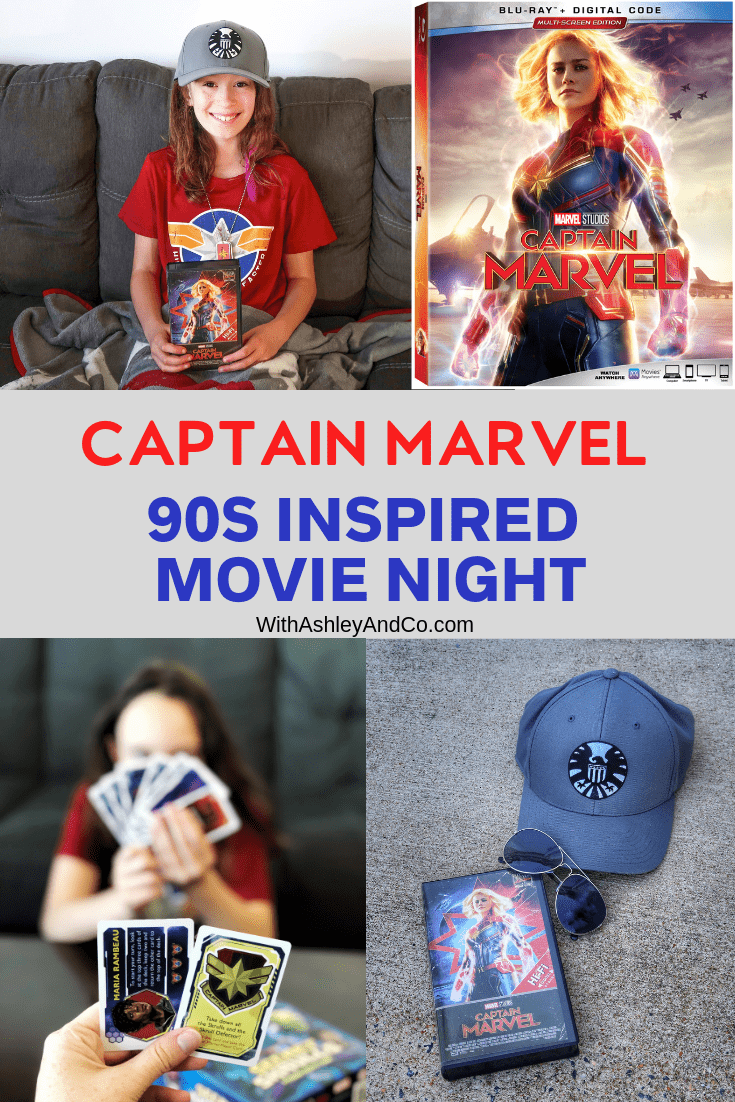 Thank you to Marvel for all the 90s goodies. All opinions are our own. Affiliate links below.
90s Inspired Captain Marvel Movie Night
What would an epic 90s movie night include? Popcorn, ice pops, blanket, your fave band's t-shirt, and the latest movie release on VHS. Or as my kids said, um where is the blu-ray? The disc? Is it inside the tape?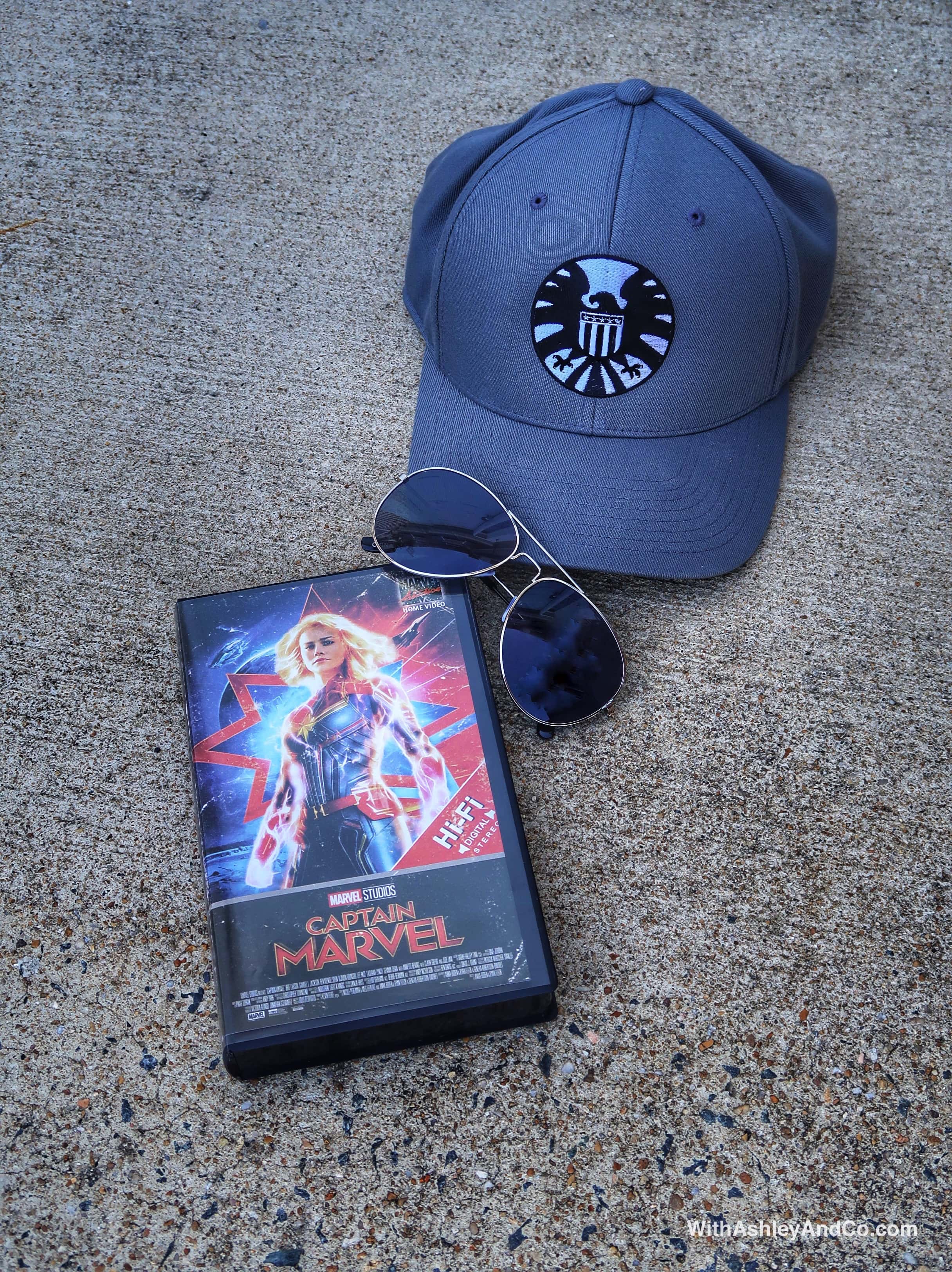 Back in the day kids, your favorite movie was on a tape. And if you wanted to watch it again or skip to your favorite part, you had to sit forever and rewind/fast forward. No skipping scenes or table of contents. At least you would be comfy in this Captain Marvel Blanket.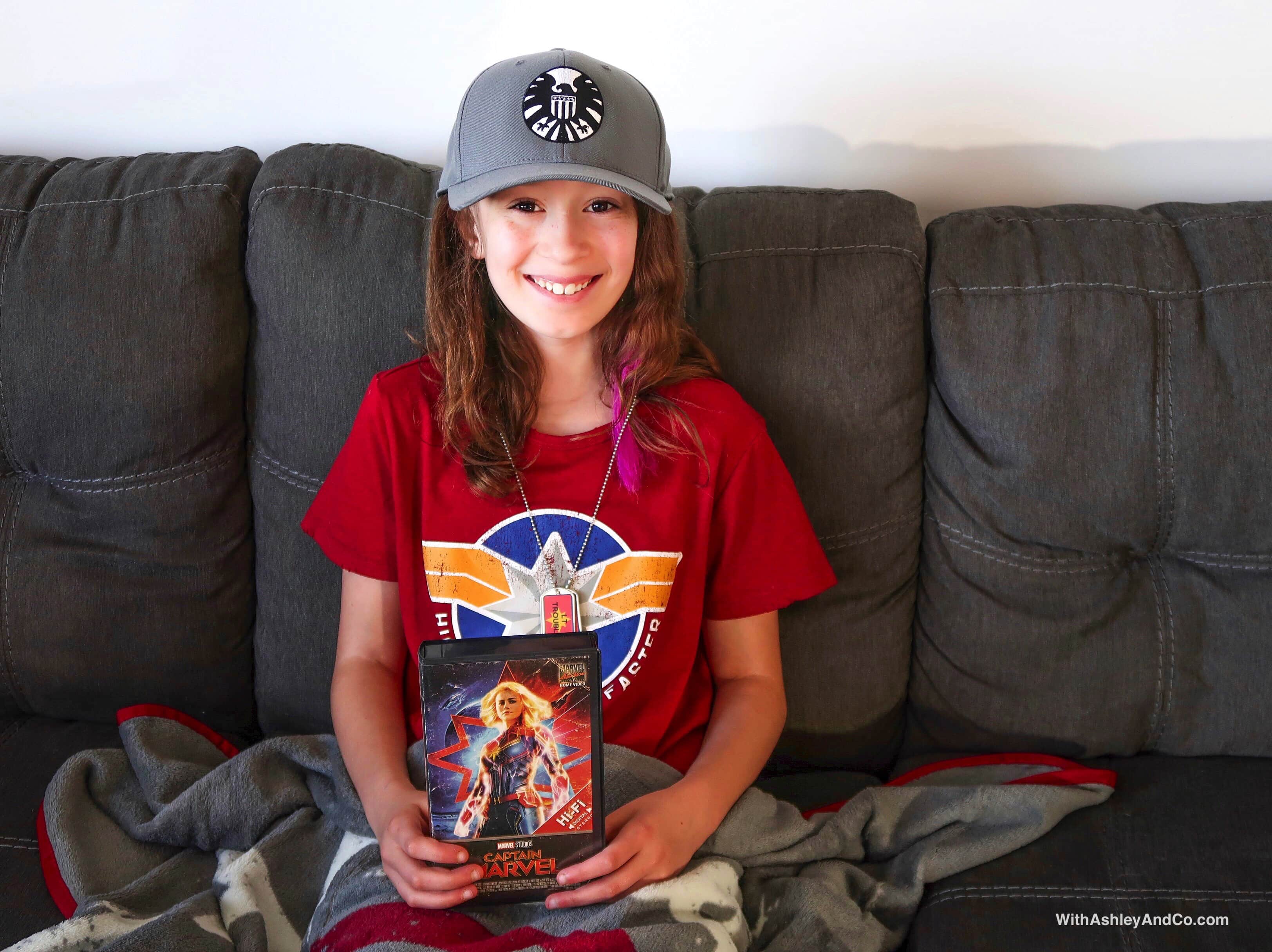 So bring on the Kree Army, because we are ready to go Higher, Further, Faster with Carol Danvers, Goose The Cat, and Nick Fury. While these aviator glasses aren't technically needed to watch the Blu-ray, you'll look way cooler when you wear them. Facts.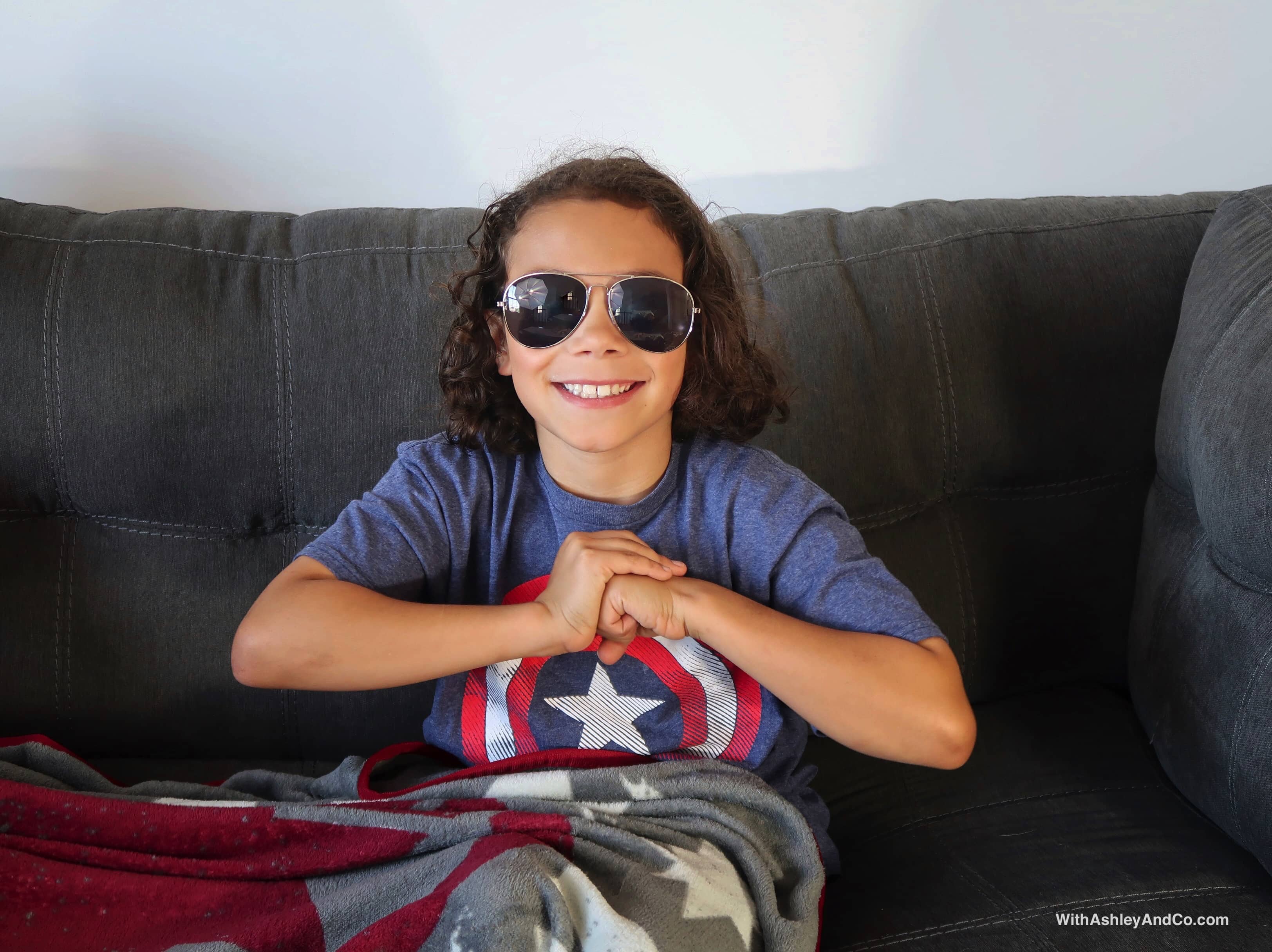 Captain Marvel Crafts and Games
Level up your movie night with these Captain Marvel crafts, games, and toys. Every Carol Danvers fan is going to want to rock this Captain Marvel Hala Star Necklace. Or show off your callsign with these Captain Marvel Dog Tags.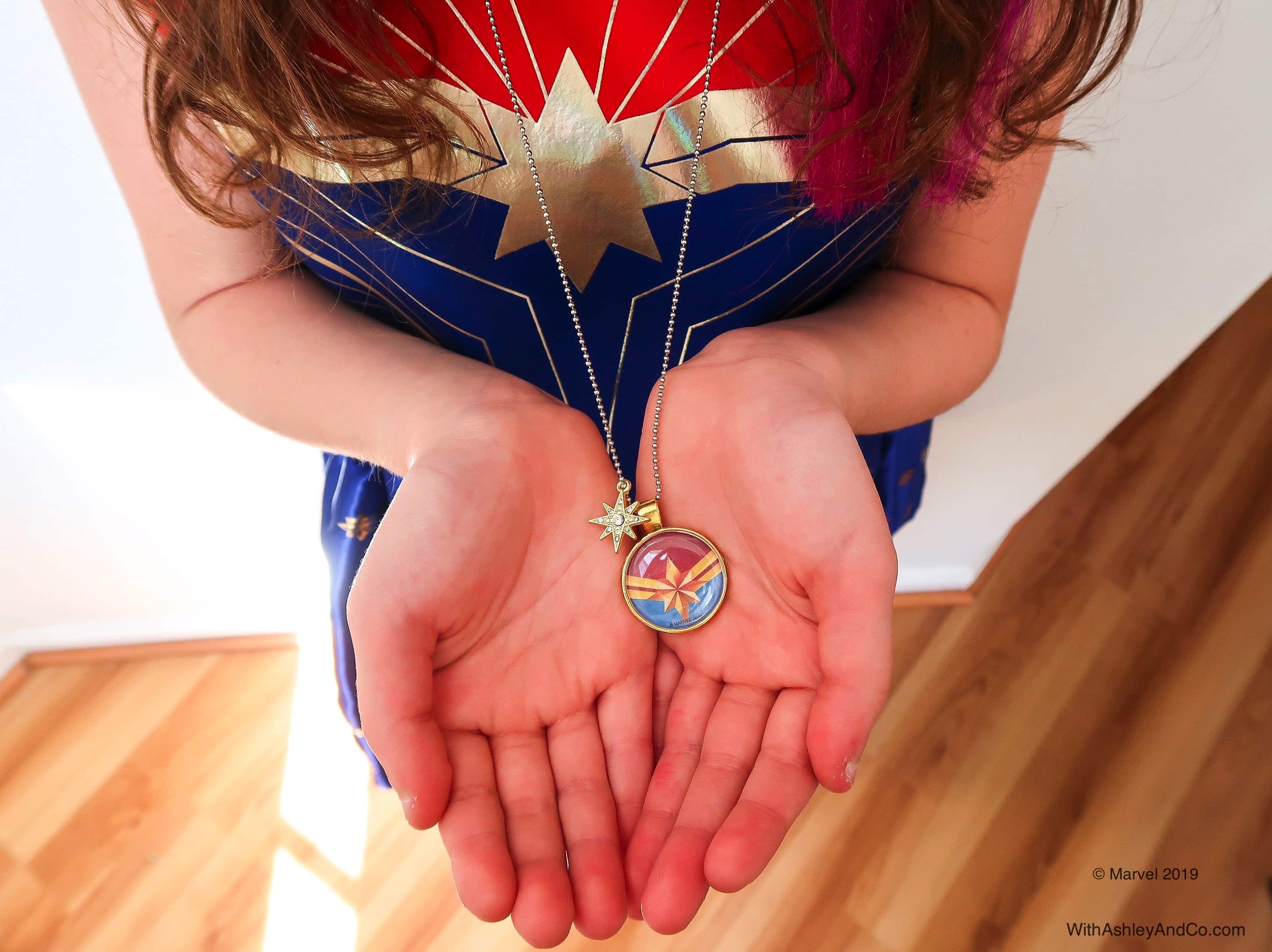 Or maybe shooting photon blasts sounds more up your alley. Then pick up the Captain Marvel Photon Power FX Glove. Rock this while watching Captain Marvel take out all the Kree to the tune I'm Just A Girl. Feel free to act out your favorite butt kicking parts.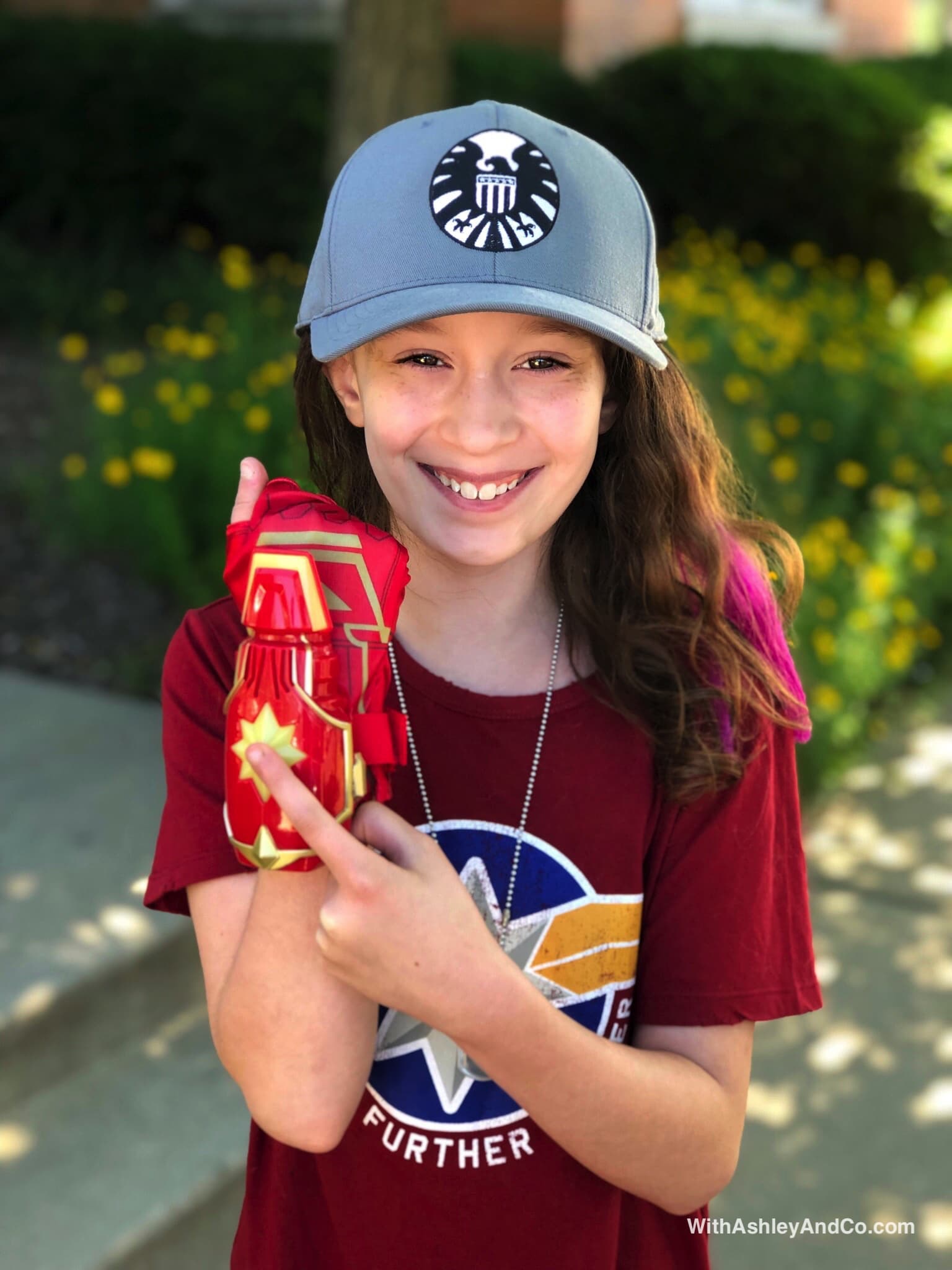 After the movie is over, challenge your family and friends to the Captain Marvel Secret Skulls Card Game. The right to be called the Queen of movie night is on the line. Spoiler alert, I'm here to win. Sorry not sorry kids.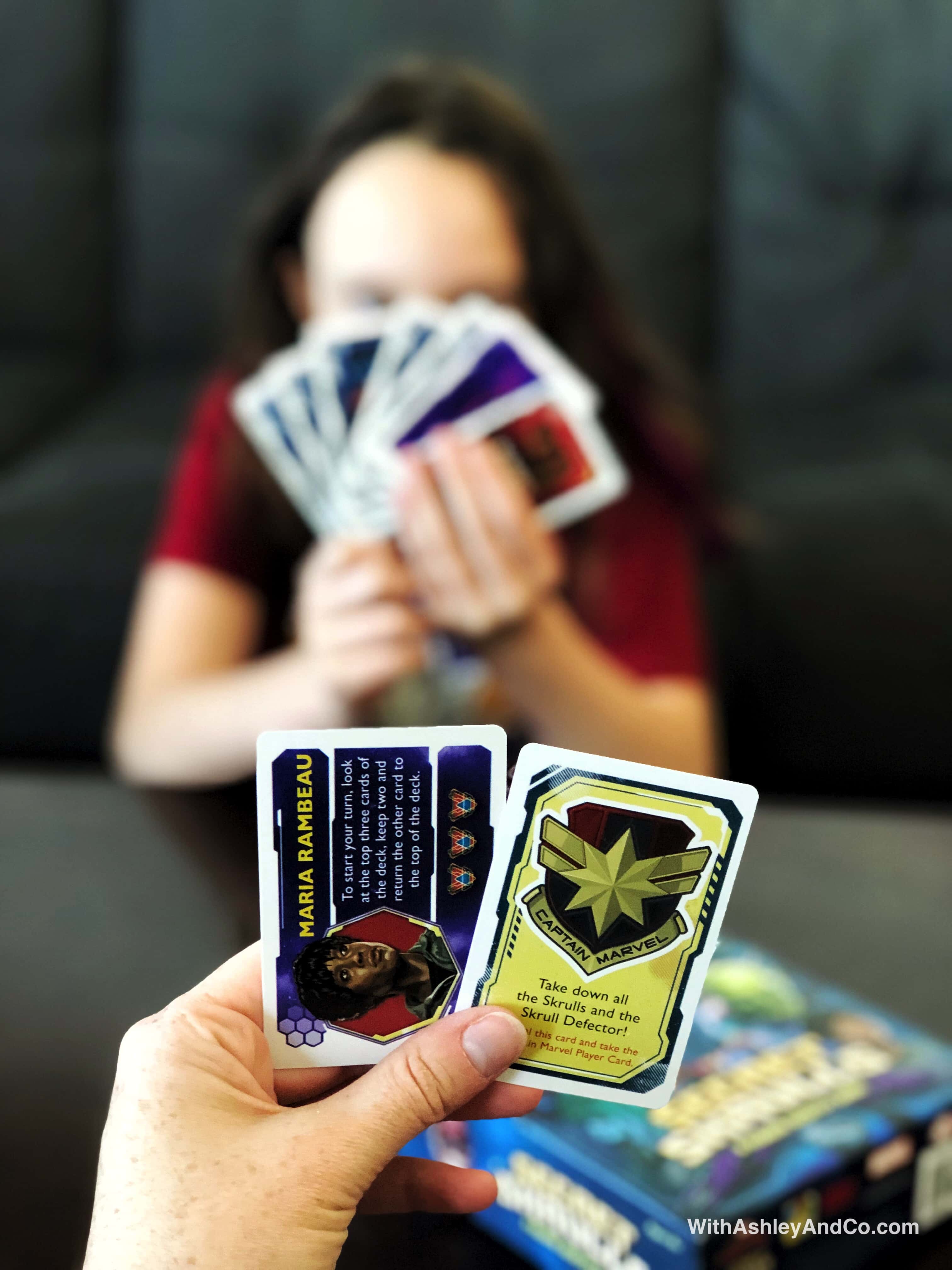 Captain Marvel Blu-ray and Digital HD Bonus Features
Blu-ray & Digital:
Movie with Intro – An introduction by directors/screenwriters Anna Boden & Ryan Fleck.
Movie with Commentary – Commentary by directors/screenwriters Anna Boden & Ryan Fleck.
Becoming a Super Hero – Follow Brie Larson's journey as she joins the MCU, and see what it takes to be a Marvel Super Hero in every sense of the word.
Big Hero Moment – Explore how impactful Captain Marvel's entrance into the MCU is, and how she inspires audiences around the world.
The Origin of Nick Fury – Witness some of the MCU's most significant events through Nick Fury's eyes, and see how his influence helped shape the MCU.
The Dream Team – Discover why Anna Boden & Ryan Fleck are the perfect pair to direct Marvel Studios' most powerful hero.
The Skrulls and the Kree – Take a deeper look into the Skrulls and the Kree, their ongoing conflict, and the importance of shifting perspectives in the film.
Hiss-sterical Cat-titude – The cast and crew dish on working with Goose and the raw talent it takes to portray such a complex character on-screen.
"Who Do You Admire Above All Others?" – Kree Commander Yon-Rogg must answer to the Supreme Intelligence, who questions his leadership ability.
Starforce Recruits – Yon-Rogg lectures a roomful of students on the Kree's mission to defend all nations from the scourge of the Skrulls.
Heading to Torfa – Vers (Danvers) and her fellow Starforce members banter as they prepare for their rescue mission to Torfa.
"What, No Smile?" – In this alternate version of a scene from the movie, Vers is consulting a map when she receives a dubious offer of assistance.
Black Box – Keller attempts to track Vers and Fury after their escape in a quadjet from the Joint USAFA Facility.
Rookie Mistake – Novice S.H.I.E.L.D. agent Phil Coulson helps Director Keller out of an embarrassing situation.
Gag Reel – The fate of the universe hangs in the balance as the cast battles props, flubs and Flerkens in these outtakes from the set.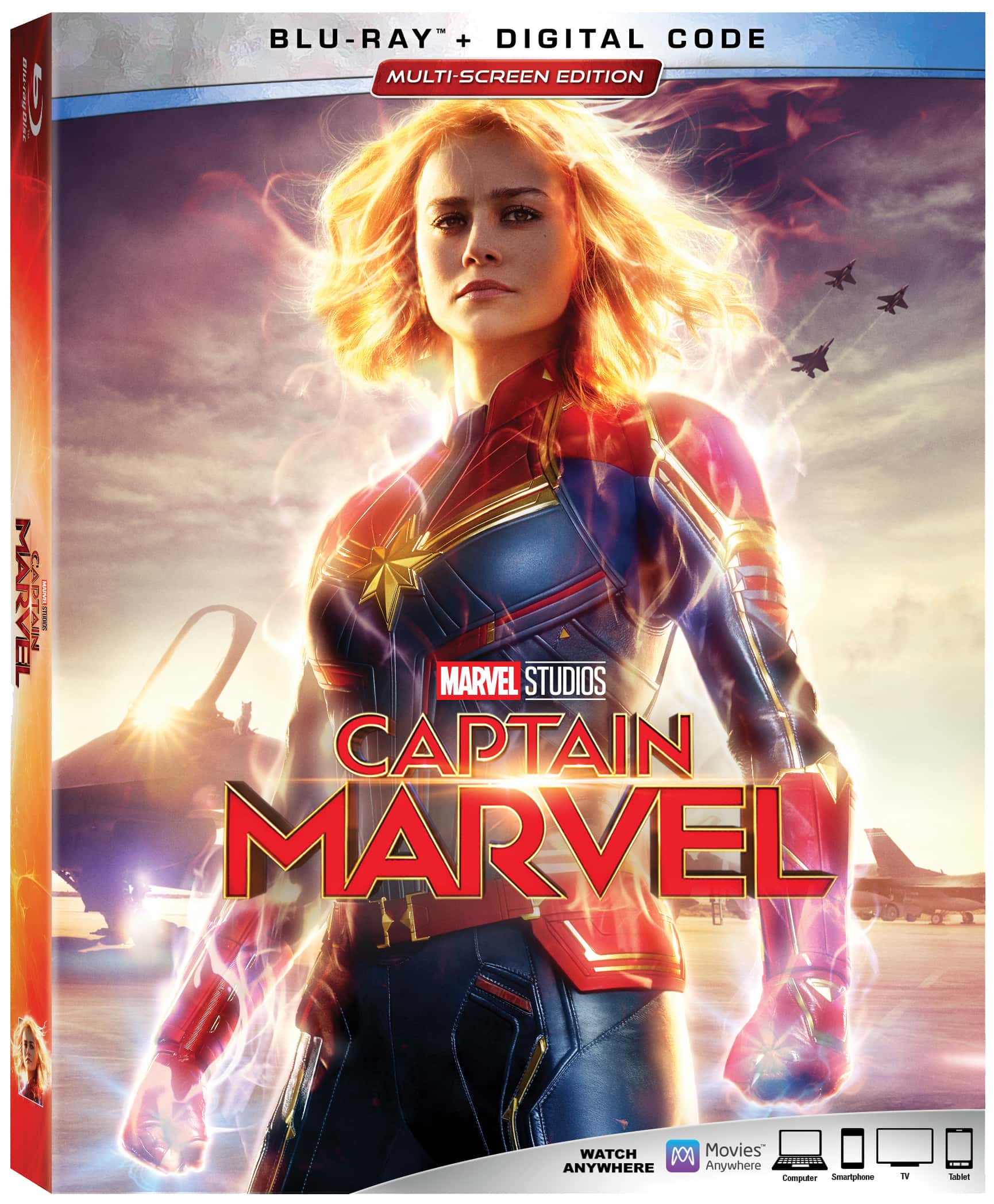 Digital Exclusives:
Journey into Visual Effects with Victoria Alonso – Experience how filmmakers' visions of the MCU come to life on-screen through the skill of the Visual Effects team.
What Makes a Memory: Inside the "Mind Frack" – What does it take to craft an action-packed sequence for a Marvel Studios film? Nothing short of an epic team effort!
Concept Art – Explore artwork from "Captain Marvel" and trace the visual development of characters.
On-Set Images – Uncover a trove of behind-the-scenes and production photography.
Where To Buy Captain Marvel
You can buy Captain Marvel on Digital through Movies Anywhere, iTunes, Google Play, and Amazon. Or purchase your Blu-ray at Amazon, Target, Best Buy, or wherever movies are sold.