Spider-Man Far From Home might be my favorite Spider-Man movie to date, and I was all about Homecoming. Not only was it everything I expected in a follow-up to Homecoming and the world changing events of Avengers Endgame, but it was full of some awesome Spider-Man and Marvel references. From Zombies and Star Wars to Captain America and Shakespeare there was a lot hidden throughout the film. Read on for all the Spider-Man Far From Home Easter Eggs you may have missed.
Related: Spider-Man Far From Home Post Credit Scenes Explained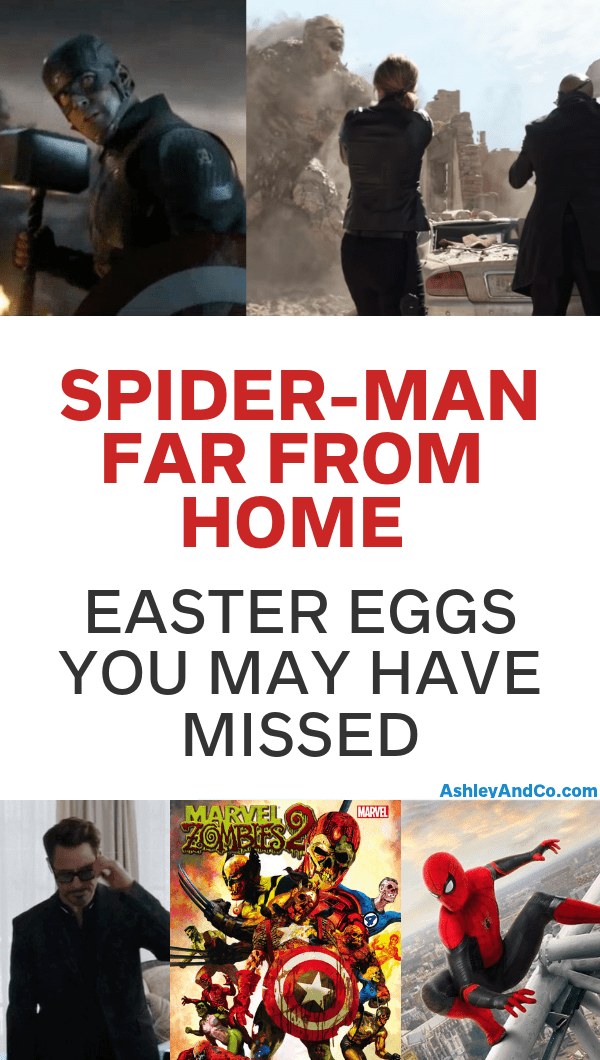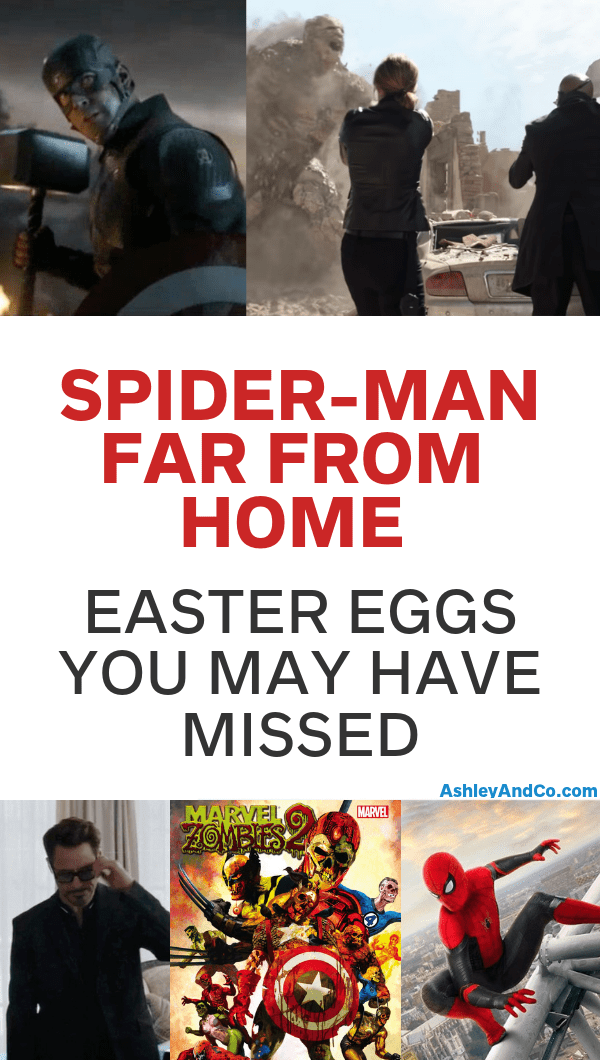 Spider-Man Far From Home Easter Eggs
Throughout the movie look for bridges. This imagery foreshadows the final battle between Peter and Mysterio. It's also a callback to Mysterio's debut in the Spider-Man comics.
Sandman is the first Elemental we see in the film. Look closely at the silver car's license plate of 463 to see the reference to The Amazing Spider-Man #4 published in 1963 which introduced Sandman.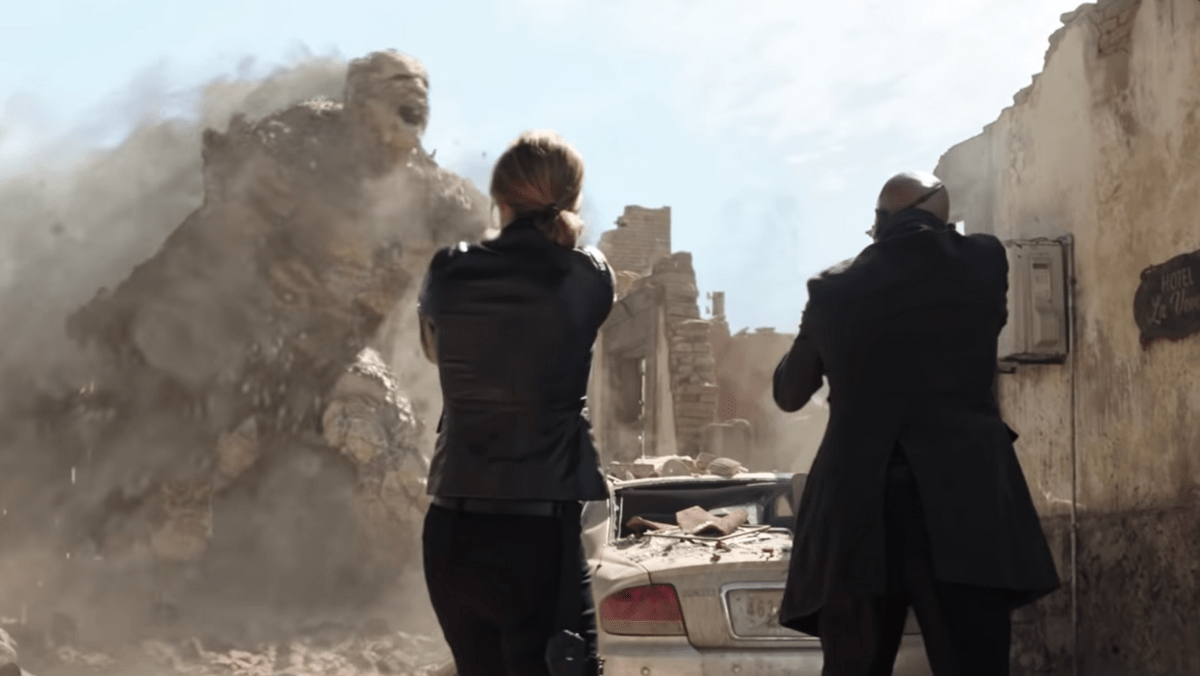 During the In Memoriam video we see Captain America. Since Steve Rogers ended up as an old man, the world may think he died as well.
There are drawings of Iron Man covering one wall of Peter's art class.
Peter is wearing the Iron Spider suit. This is the last suit Tony Stark gave him.
Look for a poster of Crusher Hogan. Joseph "Crusher" Hogan is a wrestler whom in the comics Peter Parker tests out his new found Spider-Man powers on.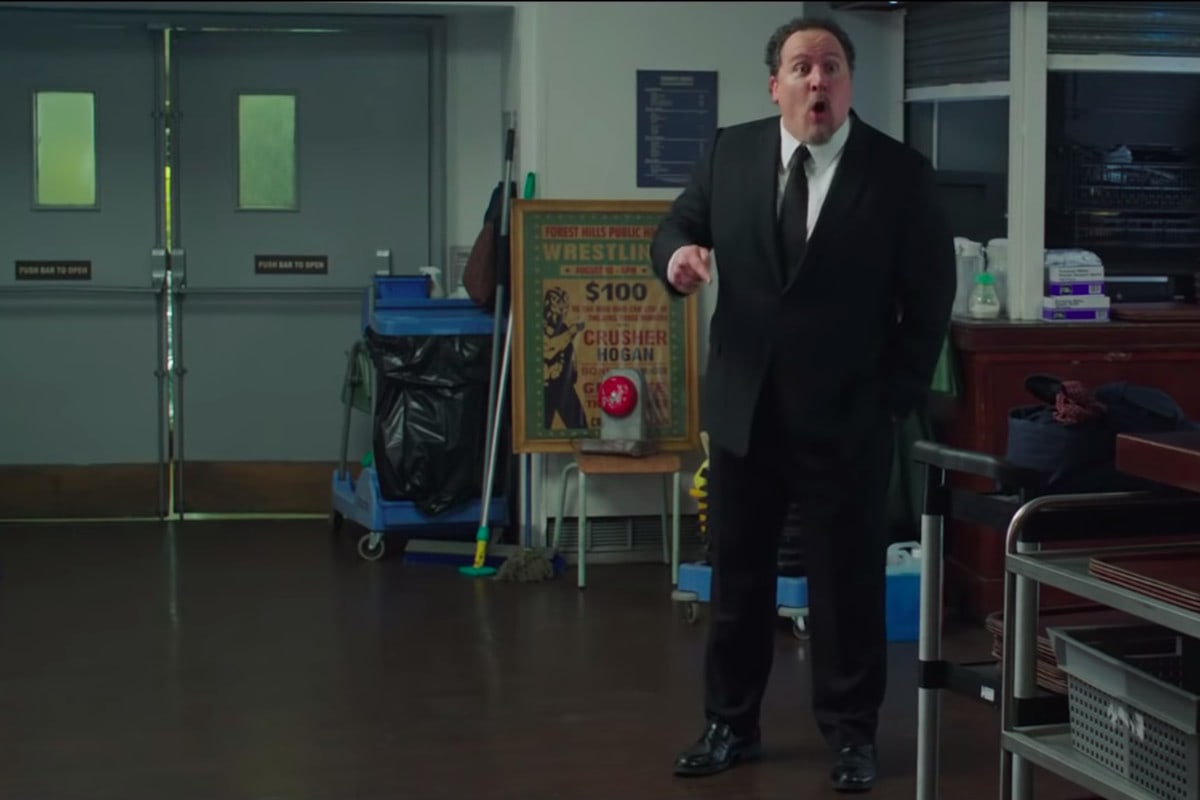 Peter sends Nick Fury to voicemail, a classic Tony Stark move. He did this to Secretary of State Ross at the end of Captain America Civil War.
Mike Piazza pennant hangs on the wall in Peter's room. Mike Piazza played for the New York Mets among other teams. Peter is a Mets fan.
We also know Peter loves Star Wars. Look for a Tie Fighter on the shelf in his room.
Peter's luggage has the initials B.F.P. showing this suitcase belonged to his Uncle Ben.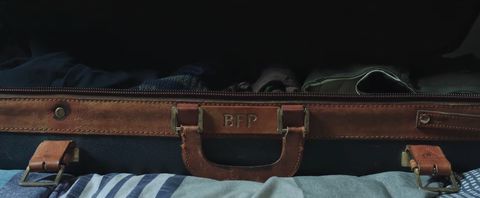 Midtown School of Science & Technology heads to Europe
On the plane some the movie choices include The Snap, Finding Wakanda, Hunting Hydra, NOVA: Einstein Rosen Bridges with Dr. Erik Selvig, and Heart of Iron: The Tony Stark Story.
In Italy when Betty is taking a photo of Ned, look at the boat behind him. It says ASM 212. Hydroman, who attacks them on this portion of the trip, was introduced in The Amazing Spider-Man #212.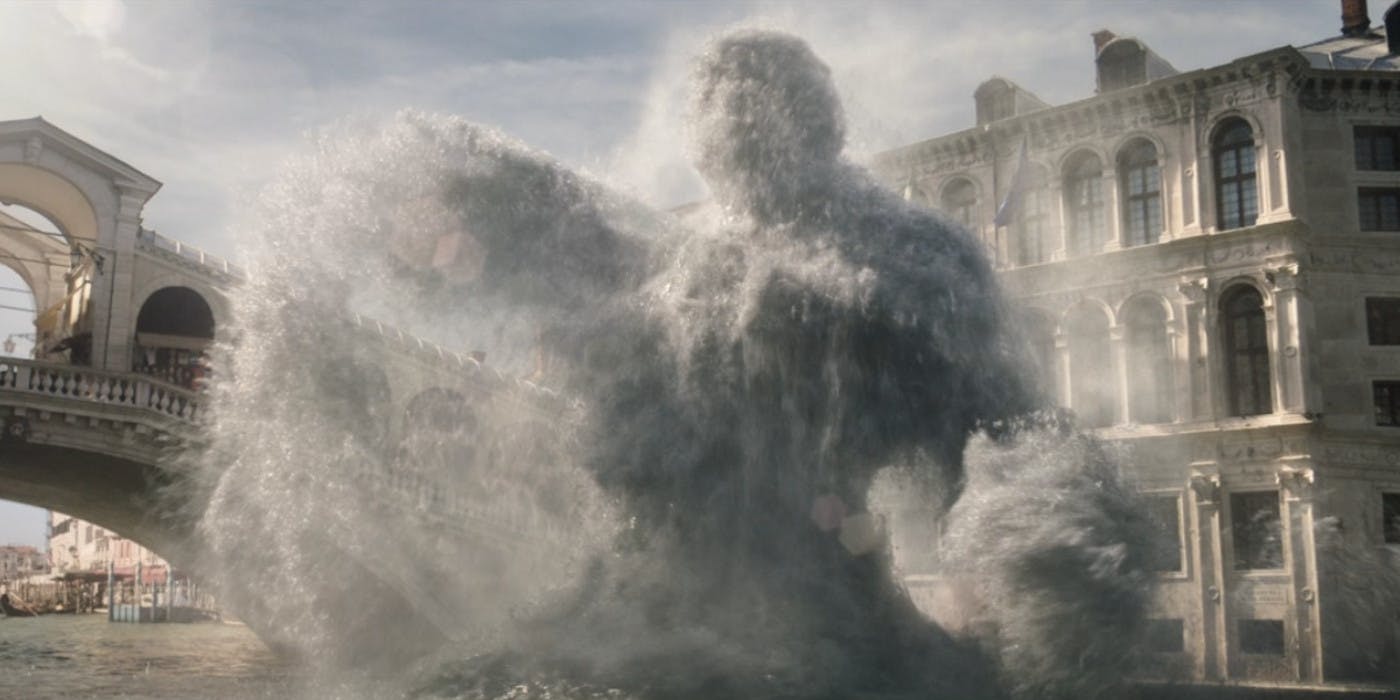 Flash mentions a guy name Morris Bench as a possible answer to who/what is Hydroman. Morris Bench is Hydroman in the comic books.
Nick Fury makes his entrance similar to how Steve Rogers found him in The Winter Soldier: sitting alone in a darkened room.
Confirmation that those are in fact Tony Stark's glasses we saw Peter wearing in the trailer.
"Uneasy is the head that wears the crown" is a quote from Shakespeare's Henry IV. Which is not a Star Wars reference. Previously Peter has made other pop culture references while on missions, including one about The Empire Strikes Back, a Star Wars film.
Nick Fury (Talos) says "he's from Earth, just not yours." A clue that Fury isn't Fury.
Earth 833 – is the Earth in Marvel Comics home to Spider-UK.
Earth 616 – is the Earth most of the Marvel Comic stories take place. It also refers to EGO.
Ned and Peter share their best friends handshake.
EDITH– Even Dead I'm The Hero. Tony loves his acronyms. That's a hint at what is to come later.
The Spider-Man Stealth Suit is a nod to Spider-Man Noir and the Big Time suit.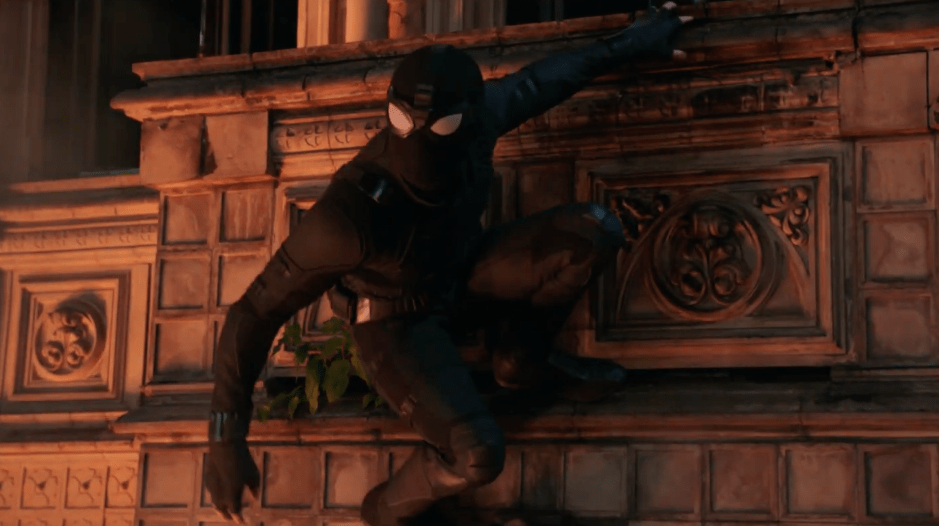 Peter not knowing how to use the tech he is given is a recurring theme. In Homecoming he activates Instant Kill by accident. This time he launches a drone strike on his bus.
"I'm still the guy in the chair!" Ned was Peter's guy in the chair in Homecoming.
Captain America Civil War Flashback: Tony introducing BARF to the students at MIT. Turns out it was Quentin Beck who had worked so hard on that technology only for Tony to use it in a way Beck hated.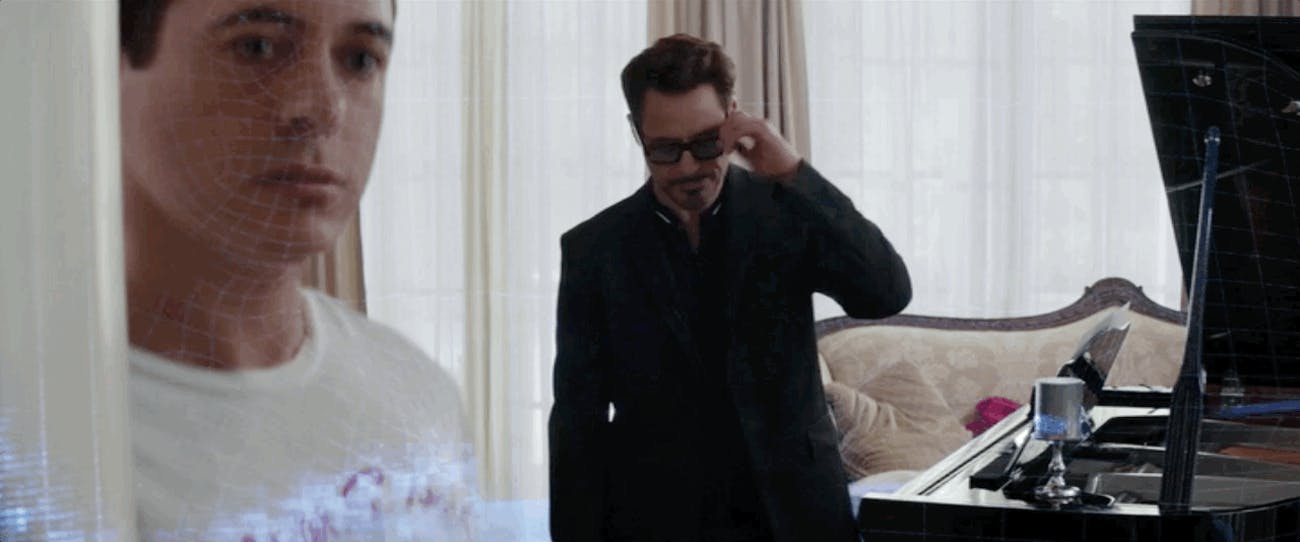 Mysterious crew members are seen throughout the film, specifically in each scene where an elemental shows up.
In another flashback we see William Ginter Riva being yelled at by Obadiah Stane in the first Iron Man. Beck, William, and countless other former Stark employees have teamed up to bring the world Mysterio.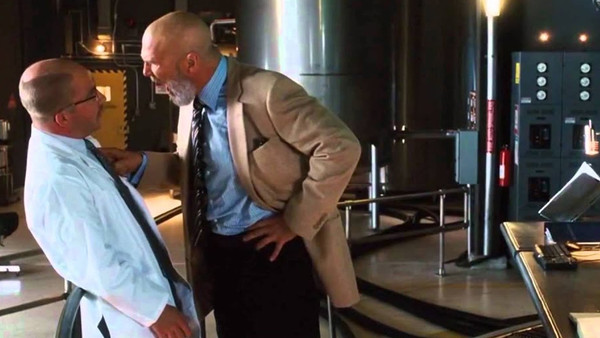 During the first drone fight with Mysterio:
Peter is seen in several different suits. Including the traditional Blue and Red Spider-Man suit, his homemade suit that Tony finds hiding in the ceiling, and of course the stealth suit.
A broken Captain America Statue is seen lying on the ground in front of Mysterio's Statue.
At Tony's grave, a Zombie Iron Man crawls out of the ground. This is a nod to the Marvel Zombies comics by Robert Kirkman (The Walking Dead).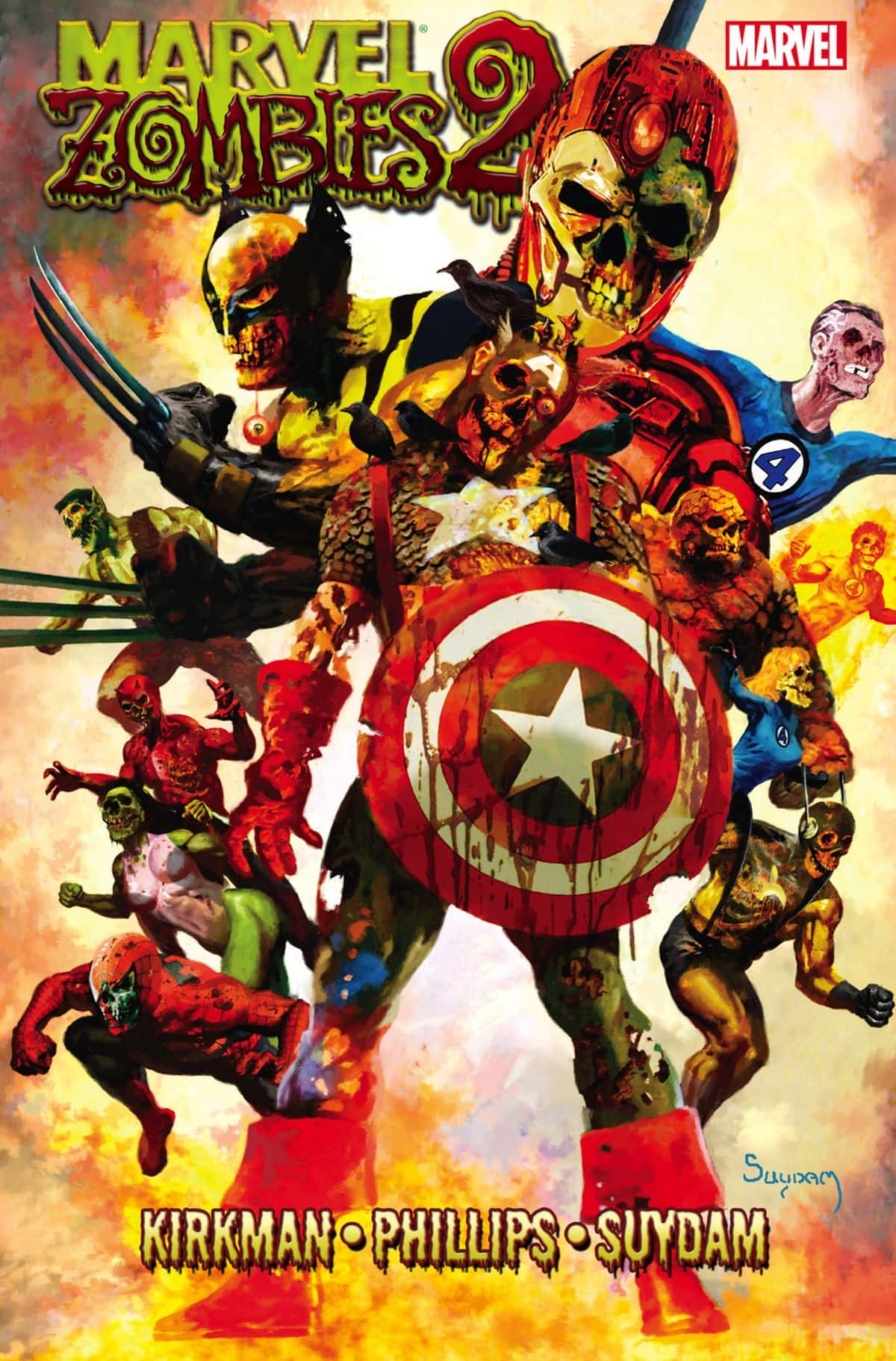 Heading to London
Nick Fury (Talos) makes a comment about Kree Sleeper Cells. This could be a clue as to what is to come in the future and/or why the real Nick Fury is in space on a Skrull ship.
Peter asks Happy to tell him something only the real Happy would know. This is similar to how Captain Marvel determined if Fury was a Skrull or an actual person.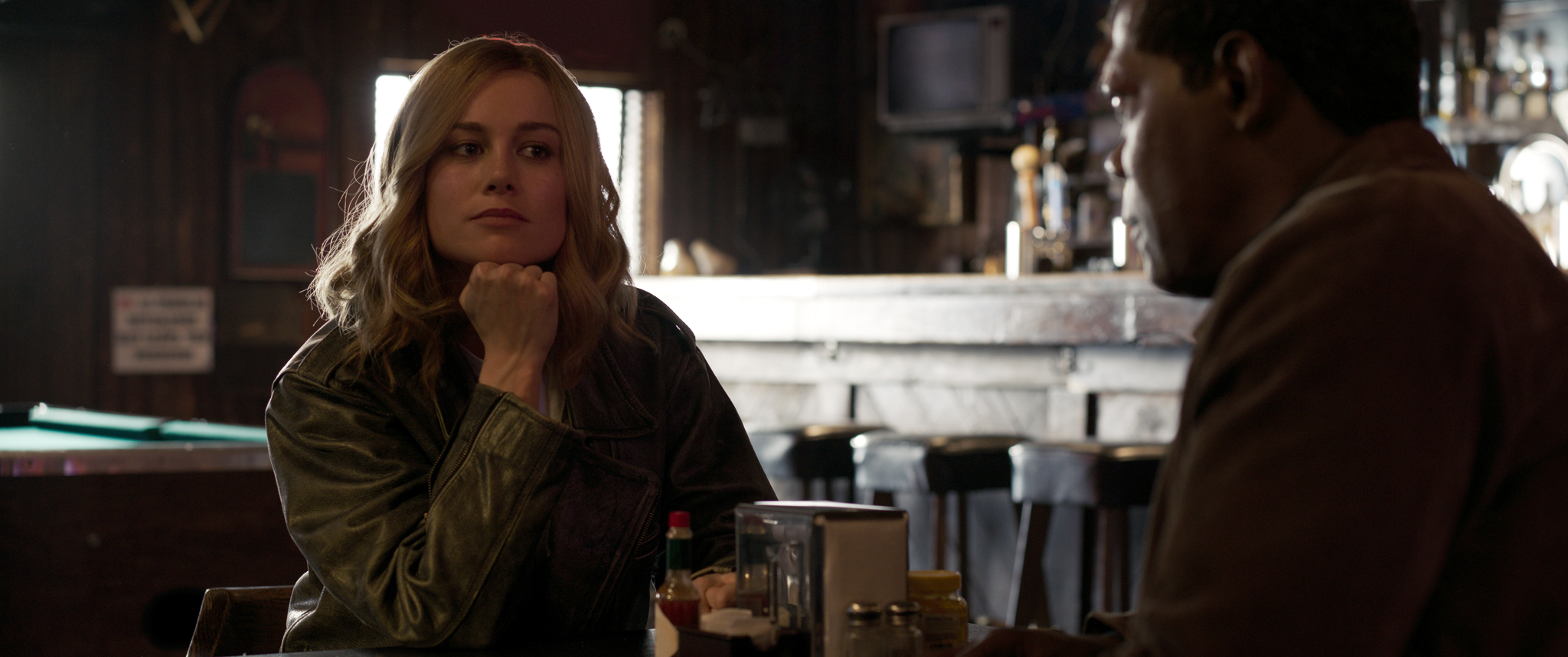 The Avengers Theme is heard when Peter Parker approaches the back of the plane.
The suit Peter designs using Tony's tech ends up being red and black. Spider-Man's original design by Steve Ditko was a red and black suit.
Happy plays Back in Black by AC/DC, Iron Man's theme song. Peter remarks I love Led Zeppelin! Led Zeppelin's Immigrant Song is heavily featured in Thor Ragnarok.
The Fight For London
On the bridge as MJ, Ned, and Betty are seen running away, look for the black Audi. The license plate says 2865 SEP. Molten Man debuted in The Amazing Spider-Man #28 released in September 1965.
The final battle occurs on and around the Tower Bridge. In The Amazing Spider-Man #13, Mysterio's premiere issue, he battles Peter on the Brooklyn Bridge, messing with Peter's Spidey Senses, and ultimately causing Peter to lose the fight.
Related: 6 Comics To Read Before Spider-Man Far From Home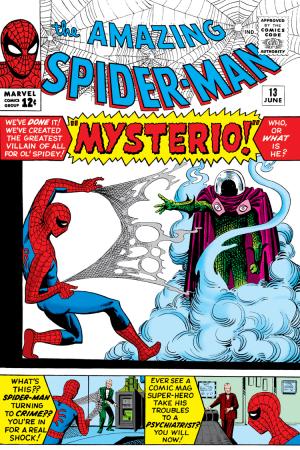 When the Elementals seemingly combine into one massive baddie, Mr. Dell remarks it's like the Power Rangers. Mr. Harrington tells him it's Voltron he's thinking about.
Peter picks up the Tower Bridge Sign and his modified Drone. He heads out to battle all the drones like Captain America holding both his shield and Mjolnir in Avengers Endgame.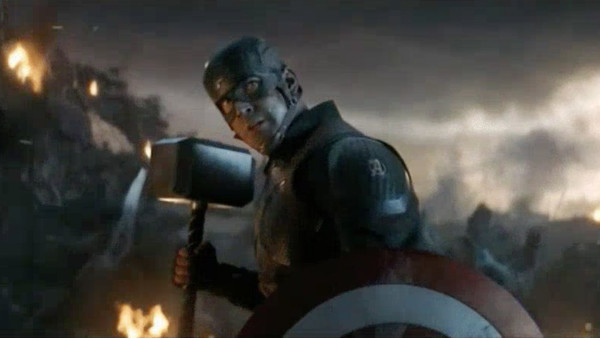 Happy throws a shield, poorly, and wonders how Cap does it.
MJ and Peter are standing in front of Grand Central. This is a famous MCU location, as it is where we see the superhero spin of the original Avengers assembling in Avengers.
Look closely at the green construction banner in front of Grand Central. It says "We are so excited to show you what comes next." It also features the numbers 1, 2, and 3 with the circle for 4 being a question mark. Spider-Man Far From Home is the end of Phase 3 of the MCU.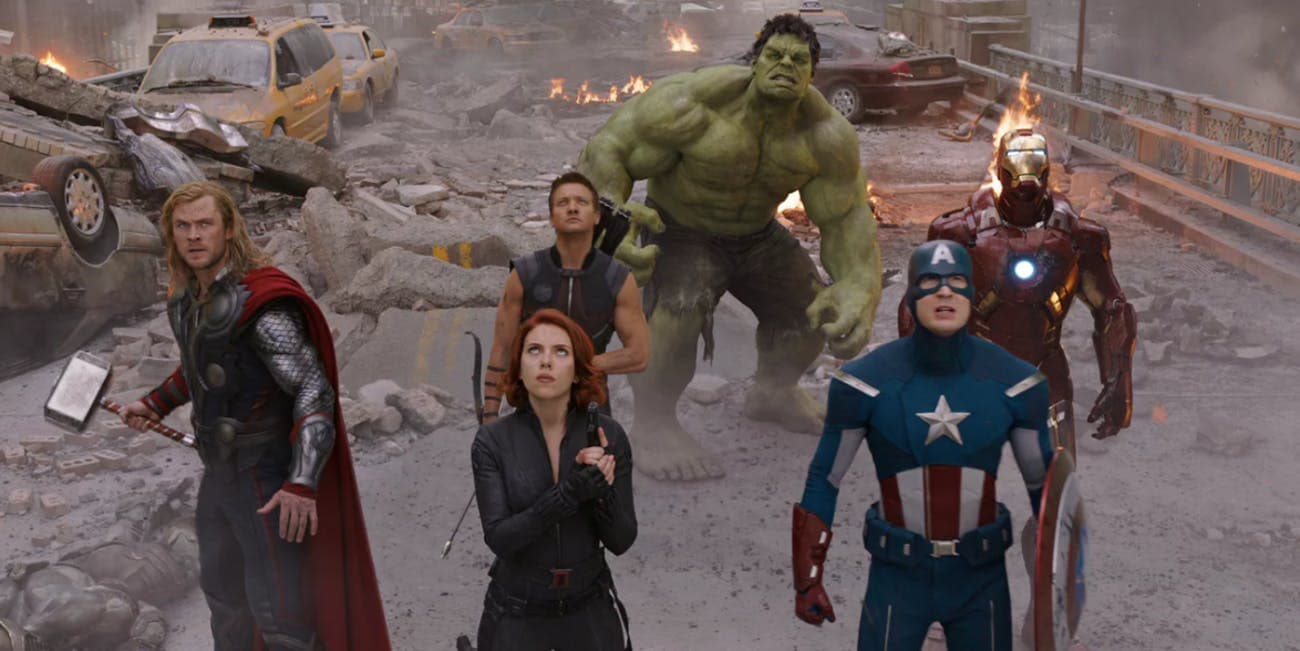 Related: All The Avengers Endgame Easter Eggs, Cameos, and Callbacks You May Have Missed
Spider-Man Far From Home Mid Credit Scene Easter Eggs
Mysterio frames Spider-Man for the attack on London and his death. In the comics he frames Spider-Man for robbing the Midtown Museum.
When Peter Parker is revealed to be Spider-Man, Peter says what the f… and is cut off. In Homecoming this is May's reaction when she sees Peter in the suit.
J. Jonah Jameson is the editor and chief of The Daily Bugle: a New York newspaper and known in the Spider-Man universe as a hater of all things Spider-Man. JK Simmons is portraying Jameson in the film, making him the first making Marvel character to be portrayed by the same actor in both their MCU and non-MCU live-action depictions. It seems like The Daily Bugle this time is a website like TMZ meets InfoWars.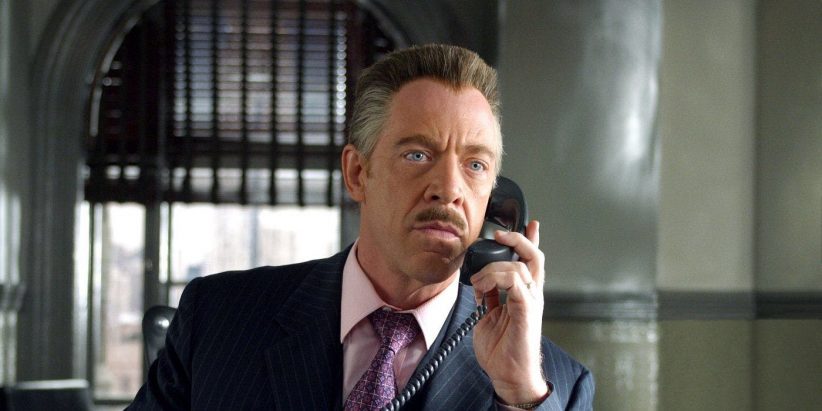 Spider-Man Far From Home Post Credit Scene Easter Eggs
Talos and Soren have been masquerading as Fury and Hill the entire film. As stated above their were several clues. Also note, Maria is heard calling Fury, "Nick." In Captain Marvel he makes it clear no one calls him Nick.
Nick Fury is in space on a Skrull ship relaxing while also building up the Skrull army. This could be to combat the Kree Forces Talos mentioned earlier in the film.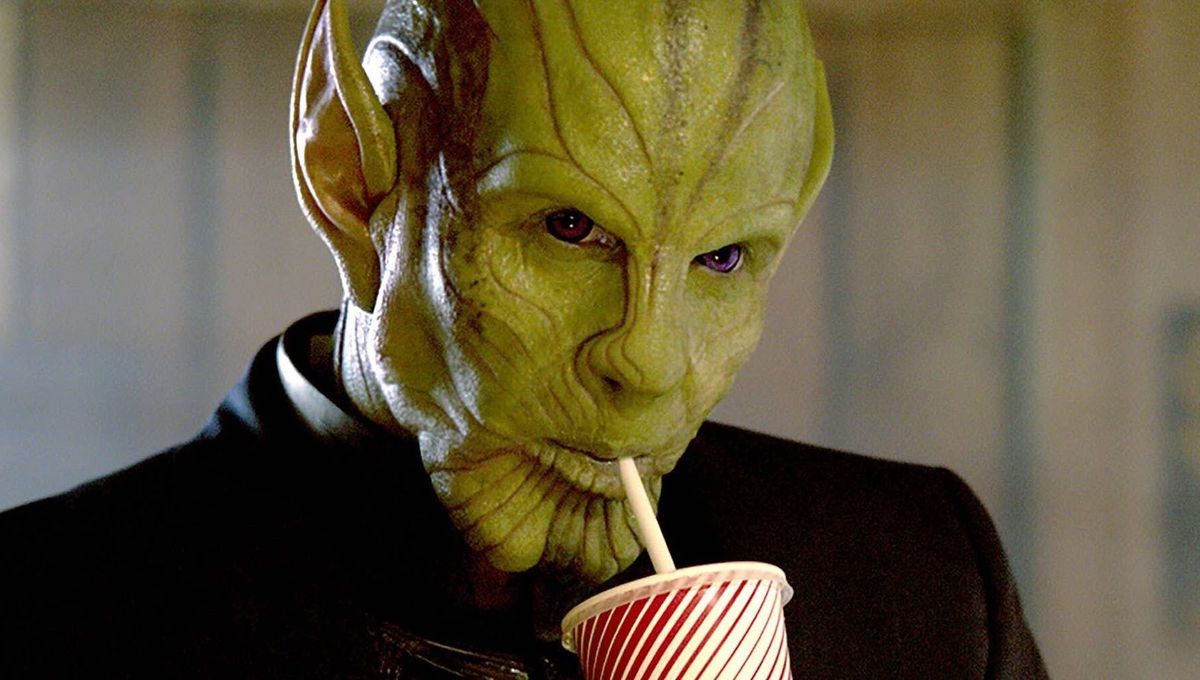 Did you spot any I missed? Leave them in the comments below.
Spider-Man Far From Home is now playing!