These easy chicken fajitas and guacamole recipes are not only delicious but are low carb friendly, hello Keto friends! Serve on their own, together, on chips, or just on the plate, anyway you go your family is going to ask for more.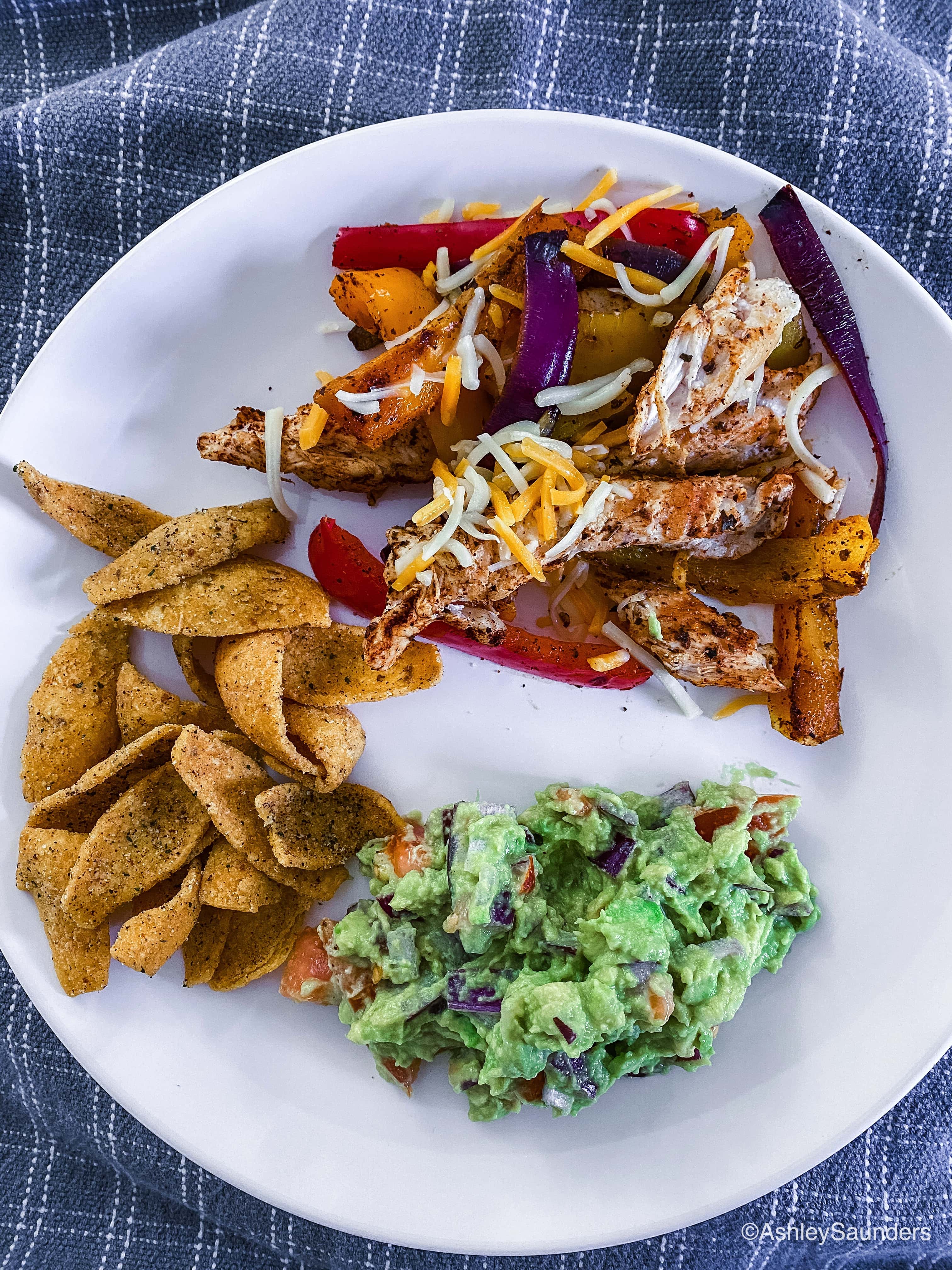 This post is in partnership with Perdue Farms. Affiliate links below. All opinions are my own.
Easy Chicken Fajitas and Guacamole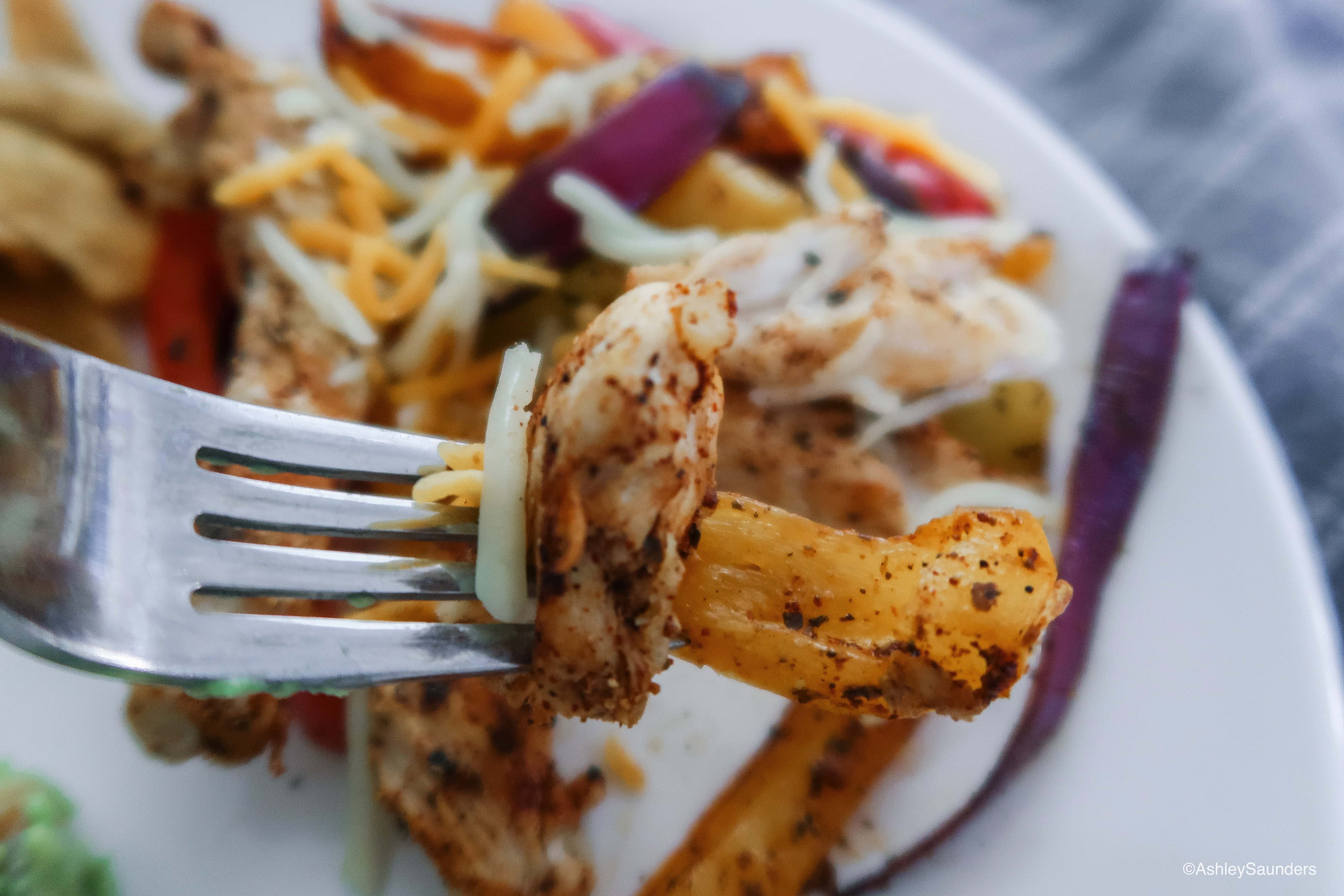 Easy Chicken Fajitas
Whether you are low carb, trying to do the Keto thing like me or love Spanish themed food, these easy chicken fajitas are the perfect meal. They go great by themselves or with tortilla shells, chips and guacamole. I make them for lunch, dinner, or anytime I need a quick meal with lots of flavor.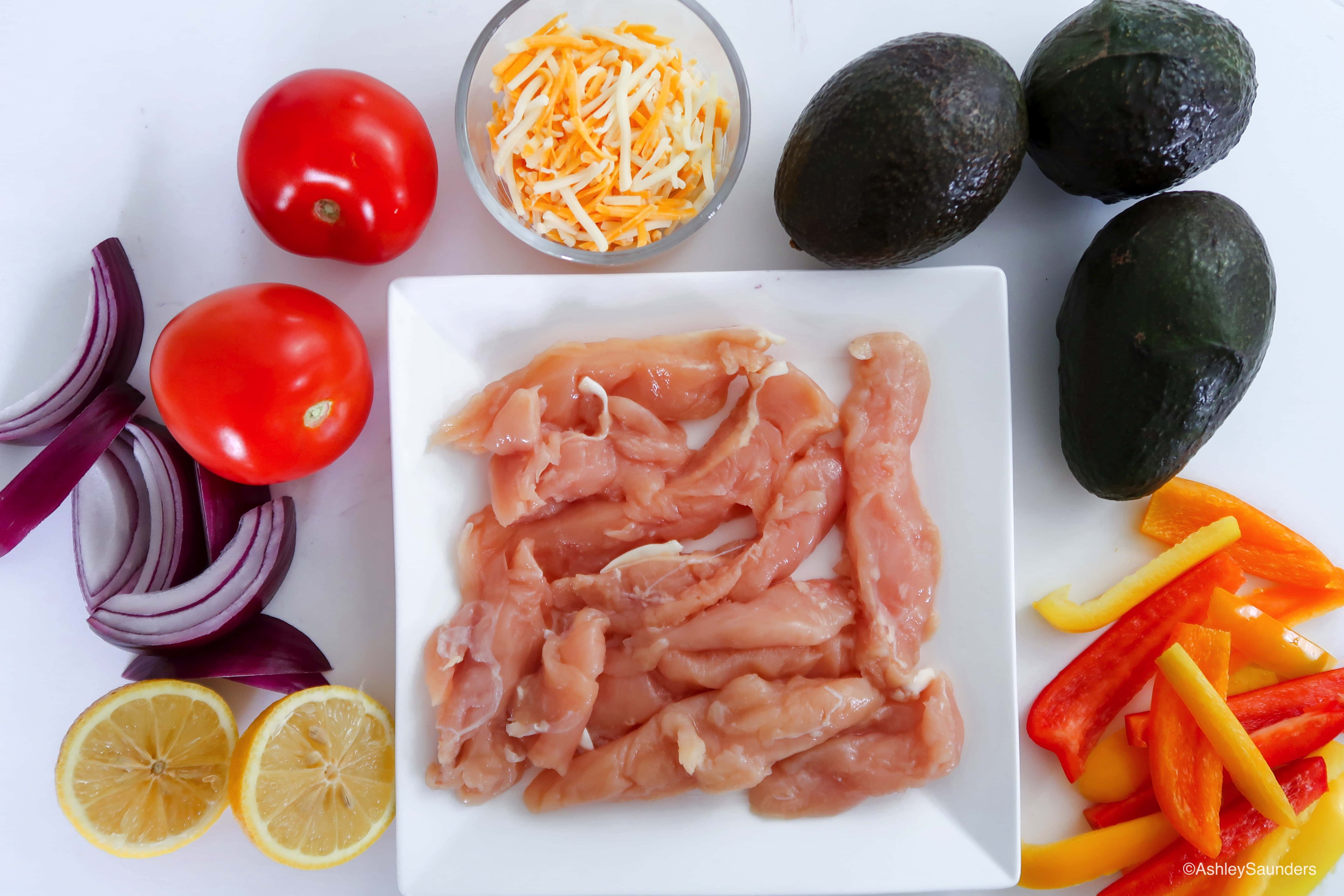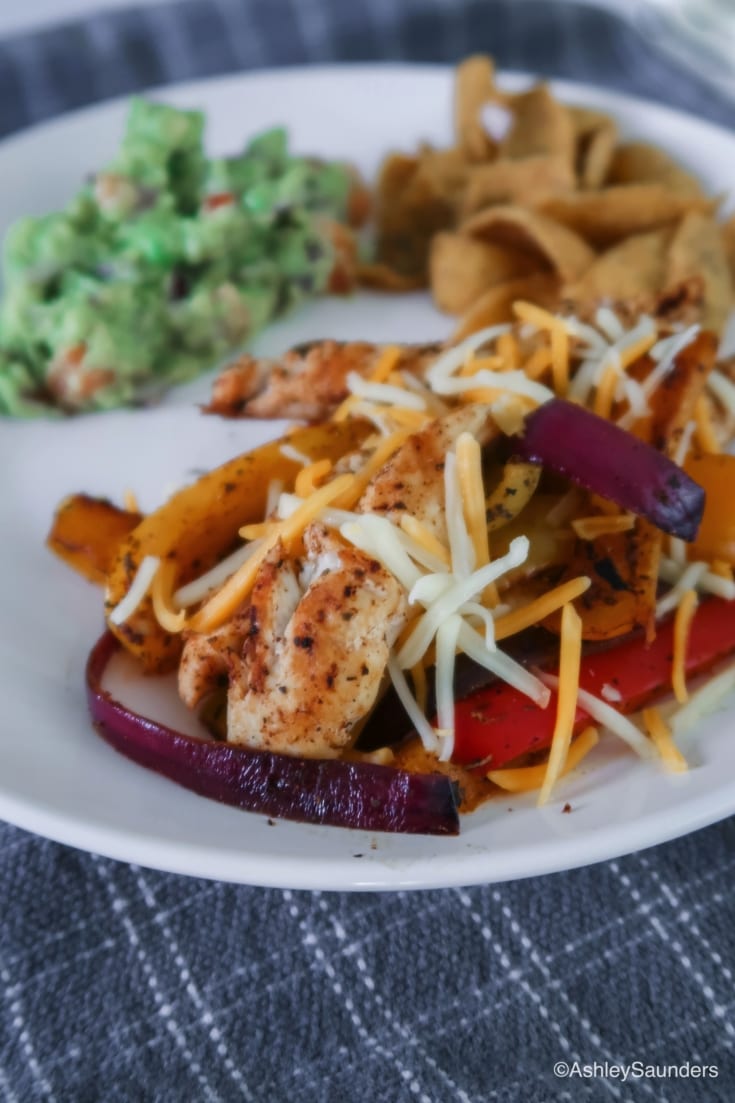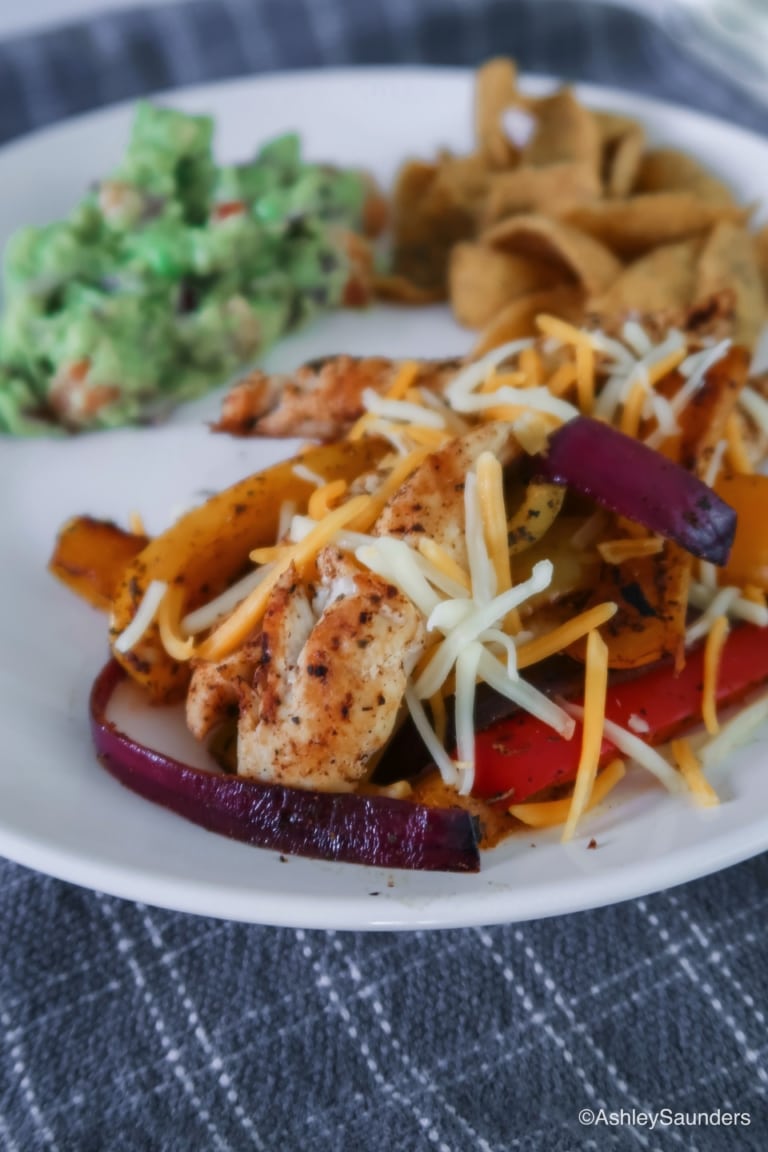 Easy Chicken Fajitas
Easy chicken faijtas perfect for low carb diets like keto. Pairs great with the guacamole!
Ingredients
3 Bell Peppers Sliced
1/2 Red Onion Sliced
Shredded Cheese
1/2 TSP Garlic Powder
1/2 TSP Cumin 
1/2 TSP Chili Powder
1/2 TSP Basil 
Avocado Oil
Salt 
Sour Cream 
Instructions
Drizzle the avocado oil onto both the skillet and griddle, heating it up before adding the chicken and vegetables.
Place the Perdue Chicken Tenderloins on the griddle and sprinkle with salt.
While the chicken cooks, begin to saute the peppers and onion. Season them with the garlic powder, basil, cumin, chili powder, and salt (to taste).
Once the chicken is cooked to an internal temperature of 165 degrees, add it into the pan with the peppers and onion. Toss well to coat the chicken with the spices.
My family enjoys a spicier meal, so I end up adding more garlic, chili powder, and cumin to the chicken once it is in the pan with the vegetables.
Serve with optional sour cream, shredded cheese, and my easy homemade guacamole.
Notes
Be sure to fully cook your chicken, use a meat thermometer to test internal temperature.

Always check for allergens before cooking anything.
Recommended Products
As an Amazon Associate and member of other affiliate programs, I earn from qualifying purchases.

Other Chicken Recipes:
Keto Parmesan Crusted Chicken Drumsticks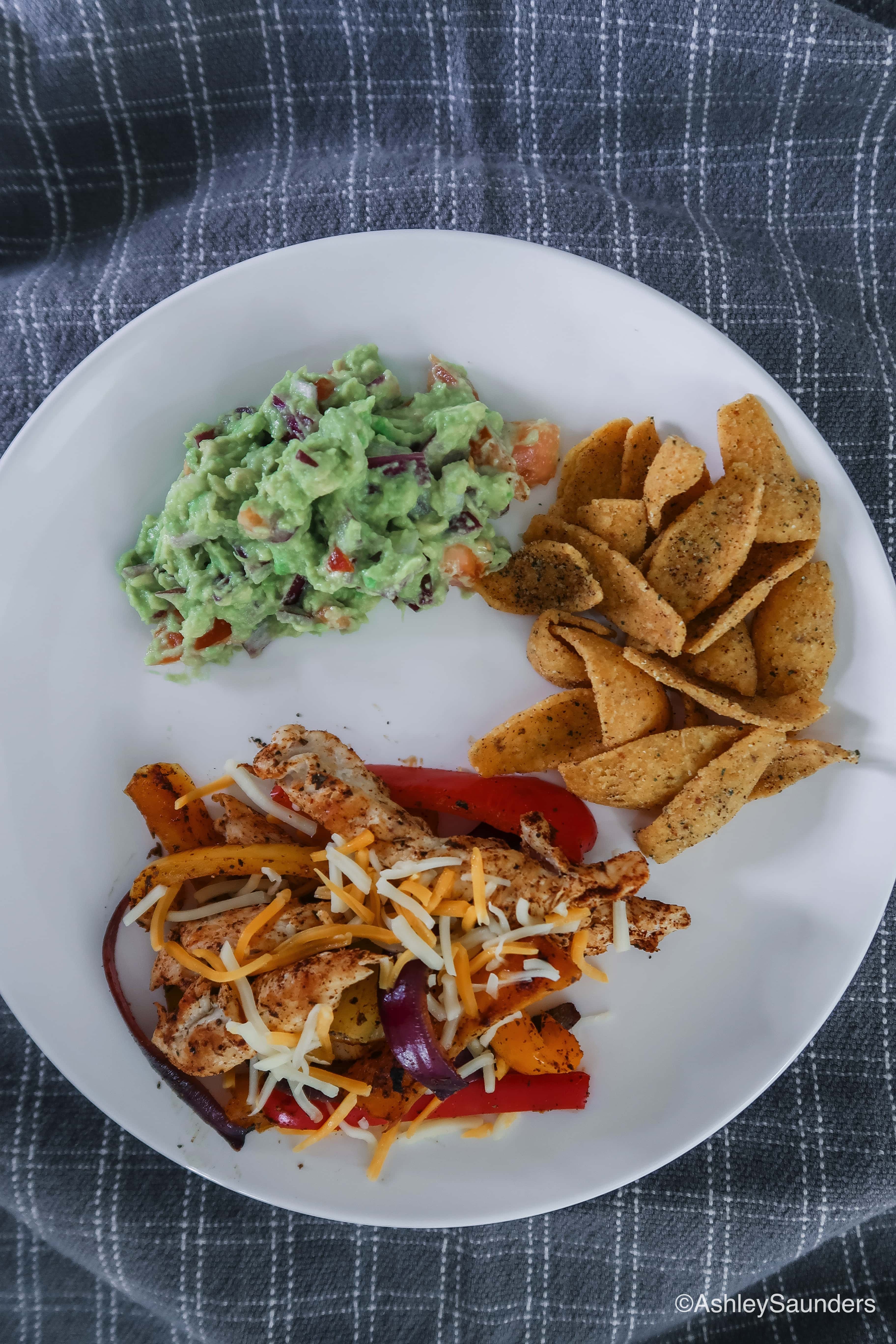 Easy Guacamole
I don't know about your family, but mine loves to eat guacamole. The kids eat it with dinner, take in their lunch, and ask for it at snack time. Making your own guacamole is easy to do and in a few shorts steps you will have a mix that the whole house is going to devour.
The perfect guacamole for any occasion!
Ingredients
3 Haas Avocado
1/2 of Red Onion (diced)
2 Tomatoes (diced) 
1/2 TSP Salt 
Lemon 
Instructions
Place peeled avocado halves into a large bowl.
Using the Mix N Chop, chop up the avocado to desired smoothness. Are go to is chunky guac.
Add in the diced onion & tomatoes and salt.
Cut the lemon in half and remove seeds.
Squeeze one half of the lemon into the bowl.
Either using a spoon or the mix n chop, combine all the ingredients.
Serve with Chicken Fajitas and Corn Dippers. We recommend the Trader Joe's Mexican Street Corn flavored organic Corn Dippers.
Notes
Always check for allergens before cooking anything.
Recommended Products
As an Amazon Associate and member of other affiliate programs, I earn from qualifying purchases.
For over 100 years, Perdue has worked with small family farmers to raise animals with care. Perdue Farms is passionate about farming, land preservation and healthy and nutritious food. And now, Perdue Farms has launched a home delivery box service to bring the products of small family farmers directly to your door.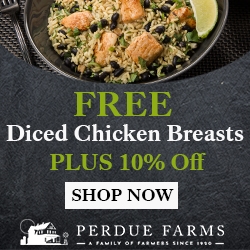 Perdue is more than just chicken.
Over the last 10 years, Perdue Farms has transitioned from conventional chicken and turkey products to becoming the #1 supplier in the U.S. for Organic Chicken as well as a leader in premium Beef, Pork, Lamb, Pasture Raised, Grass-fed, Heritage Breed, Antibiotic Free (No Antibiotics Ever), Non-GMO, Certified Humane, and more.
Perdue is also not just Perdue. Their brands include Niman Ranch, Coleman Natural, Perdue Chicken, Perdue Harvestland, Panorama Meats, Spot Farms, Full Moon and more.
How is Perdue's Home Delivery Box different than others?
Every box is made out of 100 percent recyclable cardboard and insulated with Green Cell Foam®. Green Cell Foam® is eco-friendly packaging and is biodegradable, compostable, and made from high-grade non-GMO cornstarch that is dissolvable in water.
You'll receive a reusable and recyclable grocery bag with every purchase. Reach for your Perdue bag next time you go to the store to avoid using paper or plastic.
A pollinator seed packet is also included in every box. Perdue wouldn't be able to produce the food they do without bees and butterflies, which help to make one out of every three bites of food we eat. Plant the seeds to create a robust pollinator habitat near your home!
For every bundle shipped, Perdue will donate to the Arbor Day Foundation, which is working to replant damaged areas of our nation's forests. This donation will help reduce the carbon footprint required to ship our products to you.
Learn more about the progress Perdue has made in the areas of food, environment, animal care, people, community and their partners at perduefarms.com/responsibility.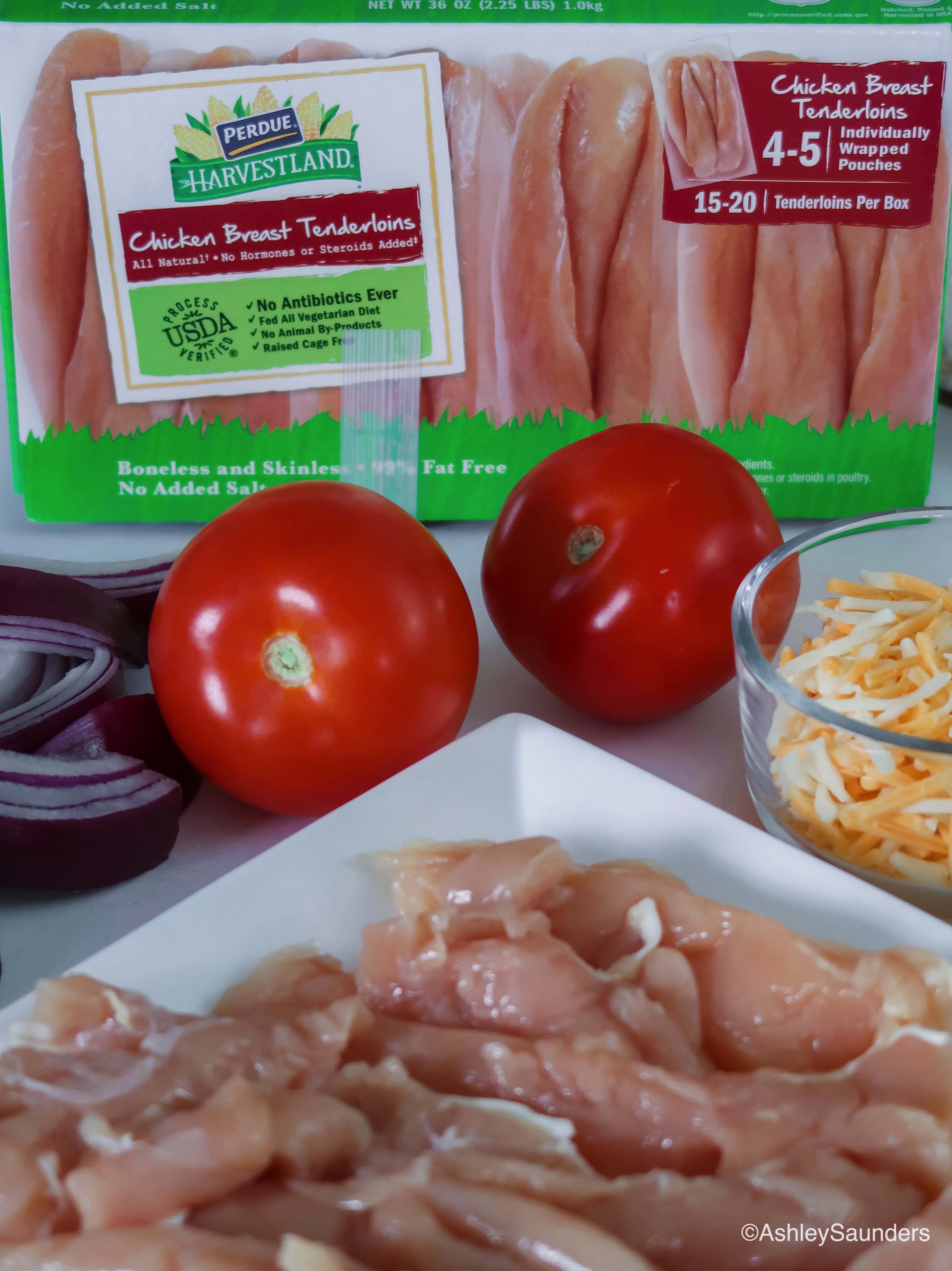 What comes in the Perdue Farms Family Bundle Box?
This Perdue Farms pack includes everything you need to please the entire family! Buy it online today and have it shipped straight to your door. This one bundle has plenty of food that allows me to keep my family fed without running to the grocery store for more meat.
Get your Perdue Farms Family Bundle Box for just $64.99! That's a 17% discount vs purchasing all products individually. Plus get free shipping on orders over $119! Shop Perdue Farms now!

Pin to Pinterest