Looking for a tasty Keto friendly chili recipe? After trying several variations this is the one we landed on and it is a crowd pleaser. No beans and made with beer, this Texas style keto chili is a winner.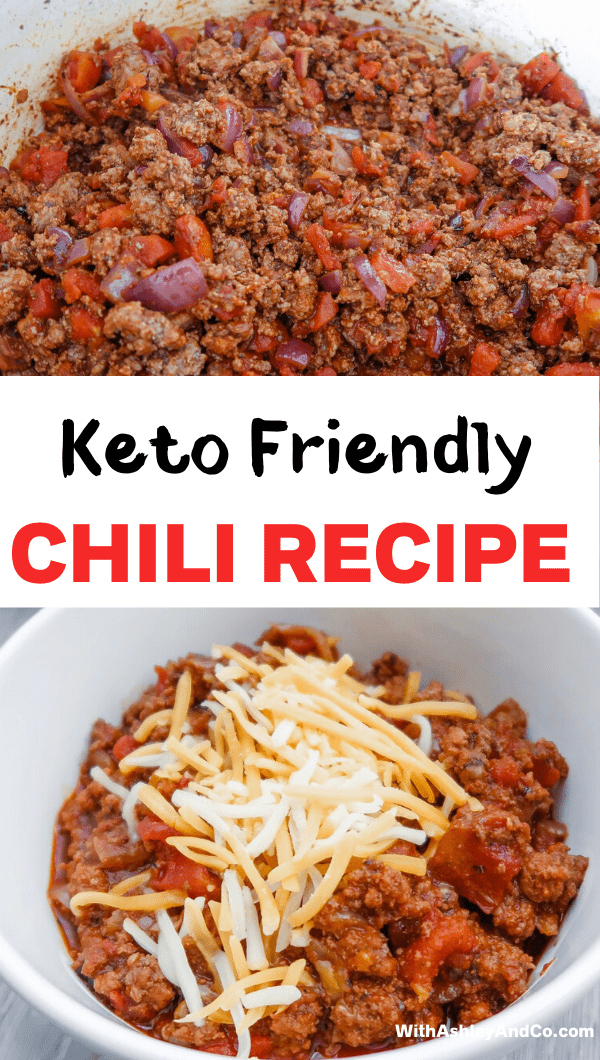 Tasty Keto Friendly Chili Recipe
Chili is one of my favorite comfort food recipes. I grew up eating it during the winter, football games, and even at cookouts on hot dogs. Sometimes I would make it and throw it in a slow cooker, other times a giant stock pot on the stove. Either way it was coming out just the right level of spicy and delicious.
At least until we decided for a more Keto friendly diet. The first thing I did when my husband and I decided on keto was figure out which of our favorite recipes could we modify to make them low carb. Taco night was easy- cheese shells instead of flour ones check. Pasta based meals- grab those zoodles and check. Need rice? Cauliflower rice is where it is at.
Has any vegetable had a glow up quite like cauliflower? I don't think so. I use it in so many recipes but not in chili so lets get back to it.
Chili… well that was my hard one. No beans?! Less tomatoes?! But isn't that what makes chili chili? It was so I thought but I was about to learn there was a whole world of chili this girl had never seen.
Chili Recipes Without Beans
I grew up eating chili with beans, there was no other way. When we switched over to keto I had the hardest time with chili. I didn't want to eat it without beans. Turns out that chili without beans is not just a new keto thing. A lot of people eat their chili without beans.
Texas style chili is unique from other chilis because it does not contain beans, tomato sauce, or any tomato product. It is more like a thick stew than a saucy chili. Our keto friendly chili is Texas inspired. It contains some tomatoes but the consistency is definitely more stew-like than soup.
Like I mentioned, I struggled with the no bean thing. I tried making several chili versions without beans but they all felt like they were missing something. This recipe is the work of 2 years of trying and failing to find something we all liked and didn't make me miss the beans!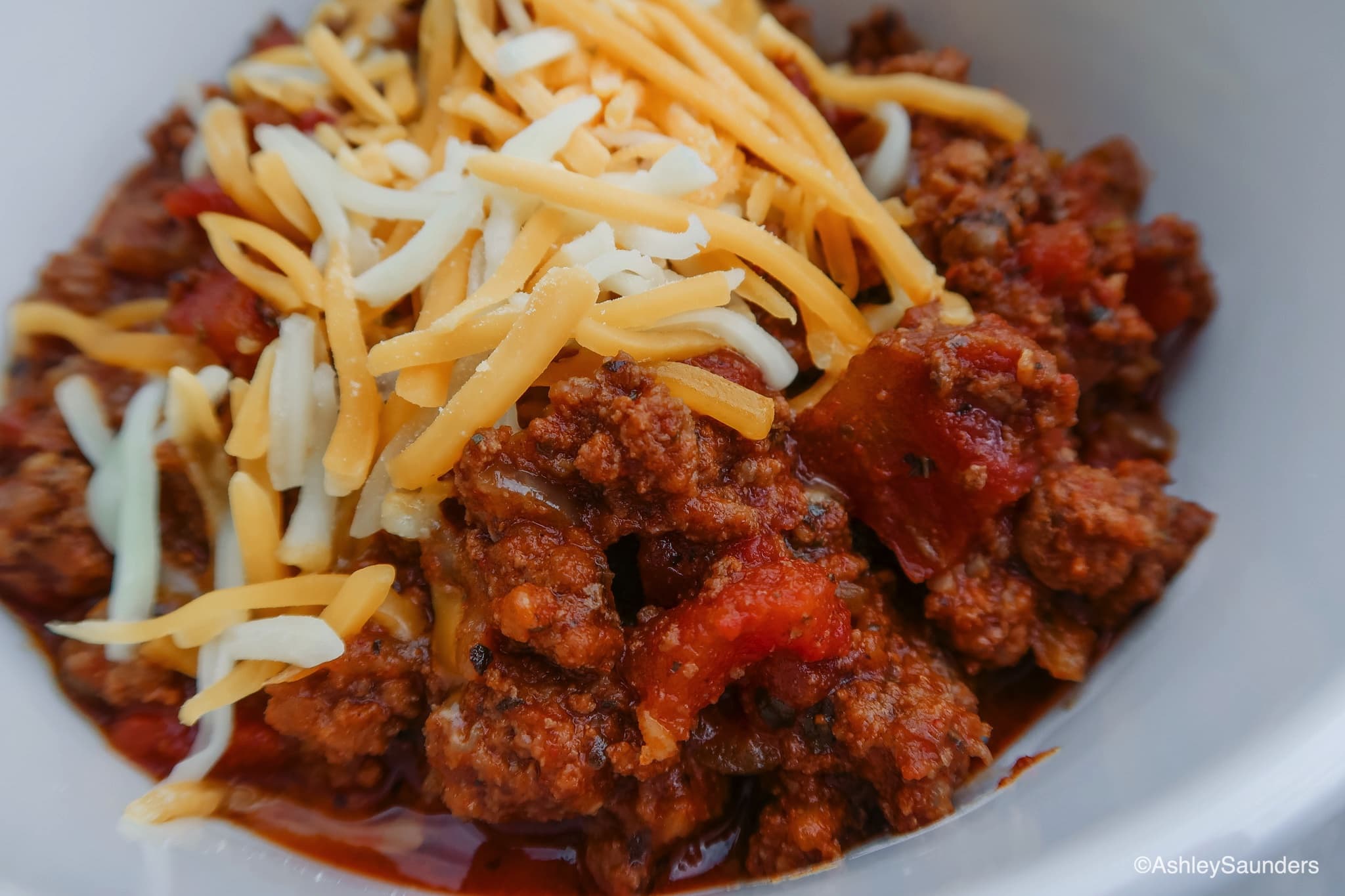 Chili Recipes with Beer
Chili with beer, that was a new concept to me as well. But after researching it seemed it was another chili practice that chefs use a lot. I personally have never cooked with beer, wine yes, beer no. I was intrigued to add it into the mix along with the stock in order to achieve that perfect chili flavor.
Why should you use beer in chili? Beer adds a rich, earthy flavor to chili and other meals. It is an ideal component to recipes that have a longer cooking time. Water occurs naturally in a lot of foods, by adding water you are essentially diluting flavor. Beer on the other hand adds a depth to the flavors while keeping the spices intact.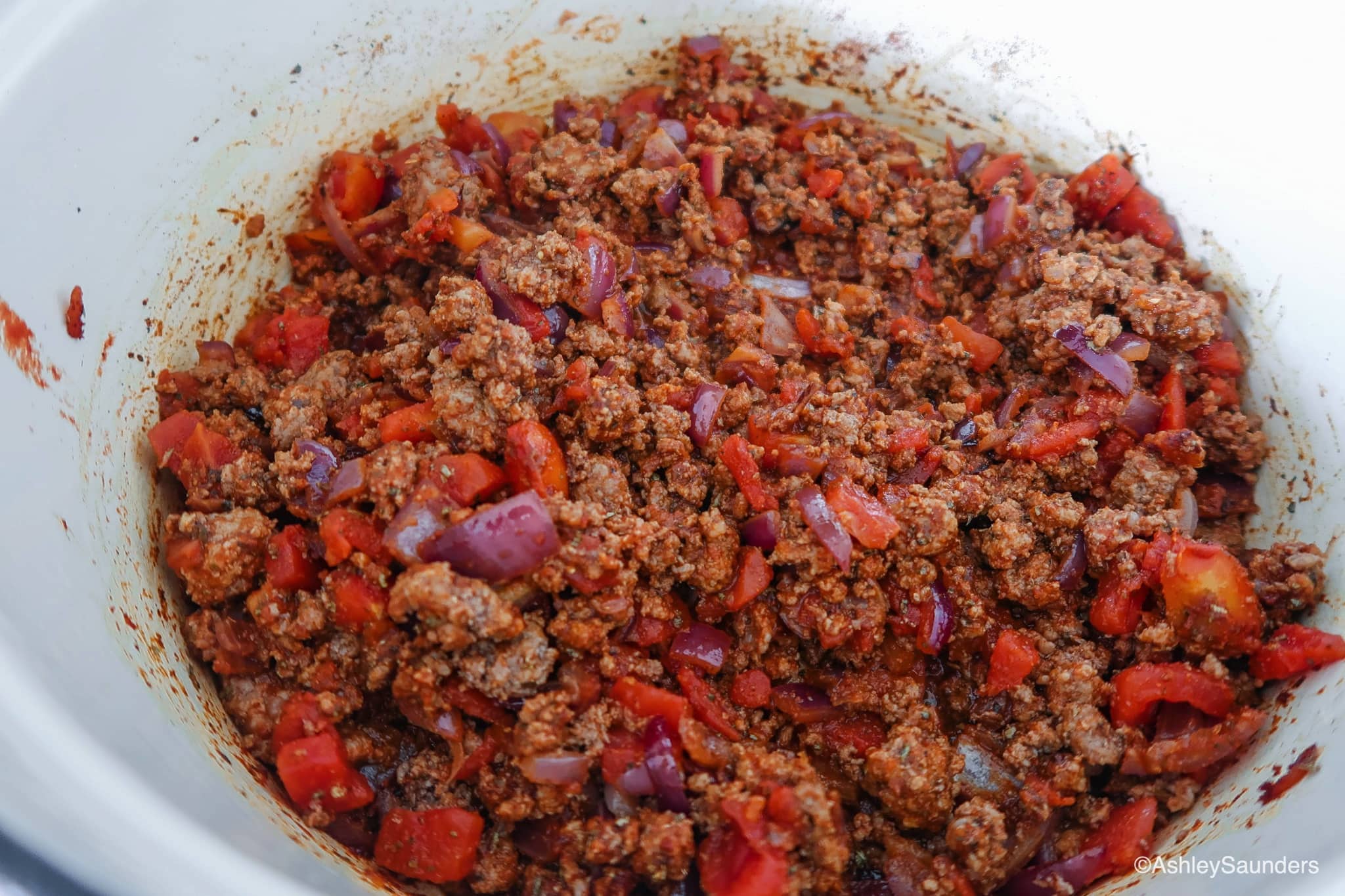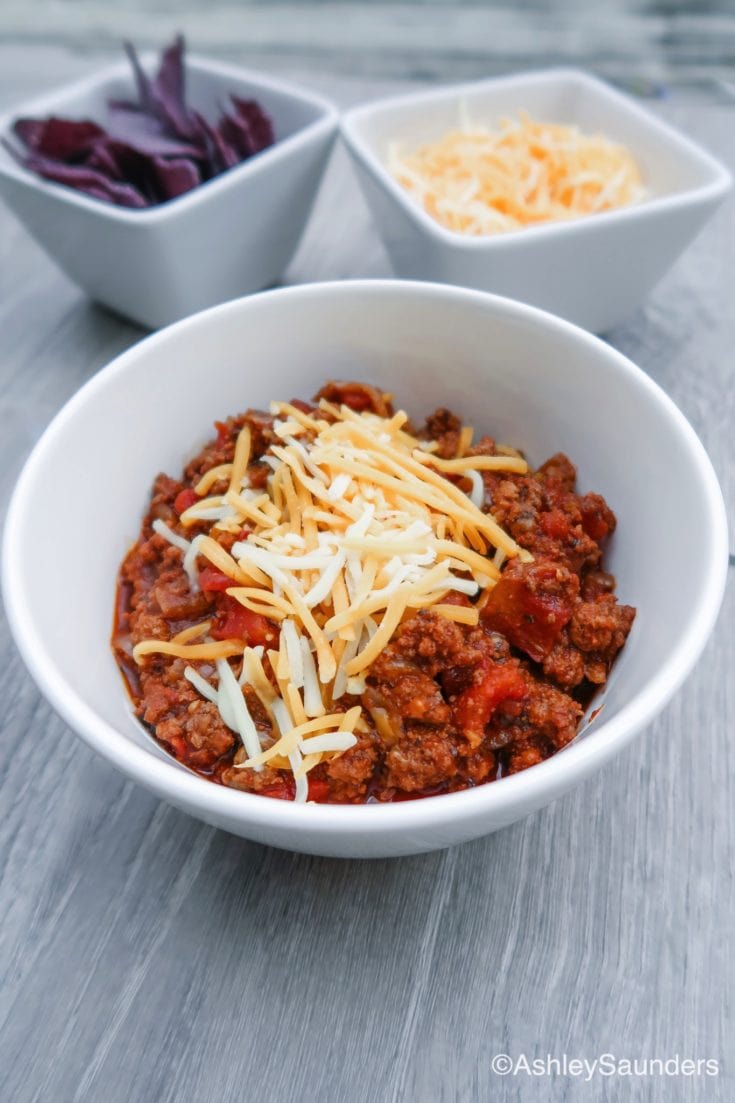 Tasty Keto Friendly Chili Recipe
Looking for a tasty Keto friendly Chili recipe? Try this one! No beans and made with beer for that perfect Texas style keto chili!
Ingredients
3 Garlic Cloves
1 Medium Red Onion
1 Pound of Ground Beef
14oz Can Diced Tomatoes 
1 1/2 TBSP Paprika
3 TSP Basil 
1 TSP Cumin
1 TSP Chile Ancho* 
1/2 TSP Garlic Powder
1/2 TSP Cayenne Pepper*
1 TSP Salt
1/2 Cup Gluten Free Amber Beer
1 Cup Beef Stock (or broth)
Instructions
Heat a tablespoon of oil in a skillet to brown the beef. I season my beef with garlic powder, salt, and onion powder to taste. While that is cooking, in a dutch oven or large pot, heat up another tablespoon of oil. I use Avocado Oil.
In the large pot, add the crushed garlic cloves, sauteing until golden brown. Then add in the chopped red onion, cooking for 12-15 minutes, or until fully browned.
Add the ground beef, salt, tomatoes, beef stock, and spices, stirring to combine. Bring to a simmer then reduce heat to low for 15 minutes, stirring occasionally.
Add in beer and cook on low for 3 to 8 hours.
If needed, add in 1/4 cup of water or beef stock at a time to prevent the chili from drying out.
Before serving, let the chili stand for 10 minutes. Serve with your favorite toppings.
Notes
* The Chile Ancho and Cayenne Pepper can really give your chili a kick. If you are not a fan of spicy, lessen both of these by 1/2. You can always add more in later.
*You can make this recipe all in on pot if you want. I like to drain the grease from the ground beef before adding it into the dutch oven. If you choose to cook it all in one, add the ground beef to the pot after step 2.
Recommended Products
As an Amazon Associate and member of other affiliate programs, I earn from qualifying purchases.