The Christmas Chronicles 2 is Netflix's gift of festive, holiday fun for the whole family. Kurt Russell again reminds us why he is one of the best Santas around while Goldie Hawn is absolute perfection as Mrs. Claus.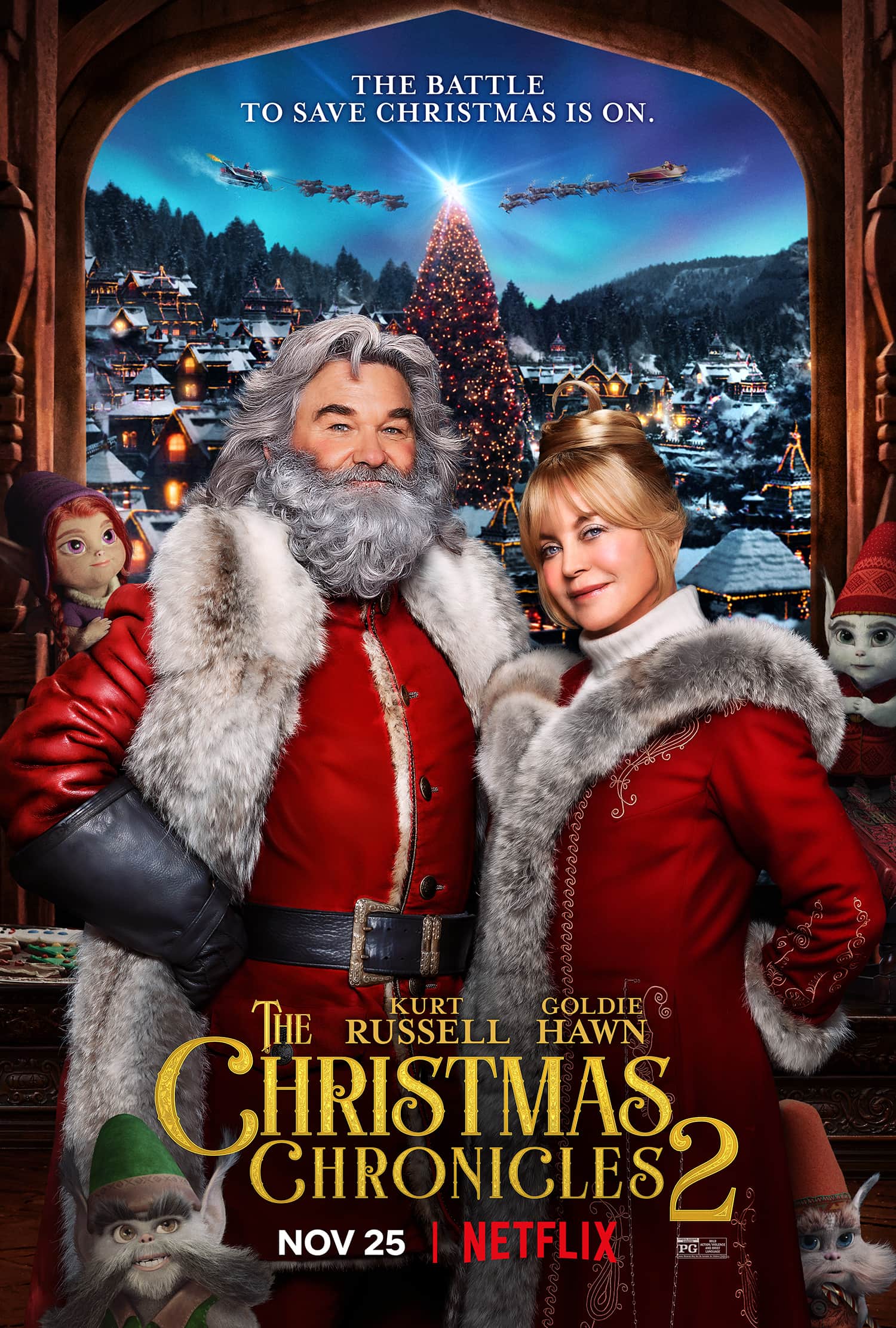 The Christmas Chronicles 2 Review
Two years after Katy (Darby Camp) and her brother Teddy (Judah Lewis) helped Santa (Kurt Russell) save Christmas, Katy is no longer a happy go-lucky kid. She is a grumpy, cynical teen who is not thrilled at the idea of her mother (Kimberly Williams-Paisley) moving on from her father to be in a relationship with Bob (Tyrese Gibson). To make matters worse for her, the family is spending Christmas in Cancun. She laments about spending the holiday in a warm climate much like director Chris Columbus' other Christmas-loving friend- Kevin McAllister.
Katy makes a decision to runaway but doesn't realize that she is being followed by Bob's son Jack (Jahzir Bruno). Too late she realizes that not only is Jack with her but that the helpful bell-hop Belsnickel (Julian Dennison) from the hotel is actually a troublemaker who is using her "True Believer" status for his own nefarious plans. Katy and Jack soon find themselves in the North Pole and it's up to them plus Santa and Mrs. Claus (Goldie Hawn) to save Christmas.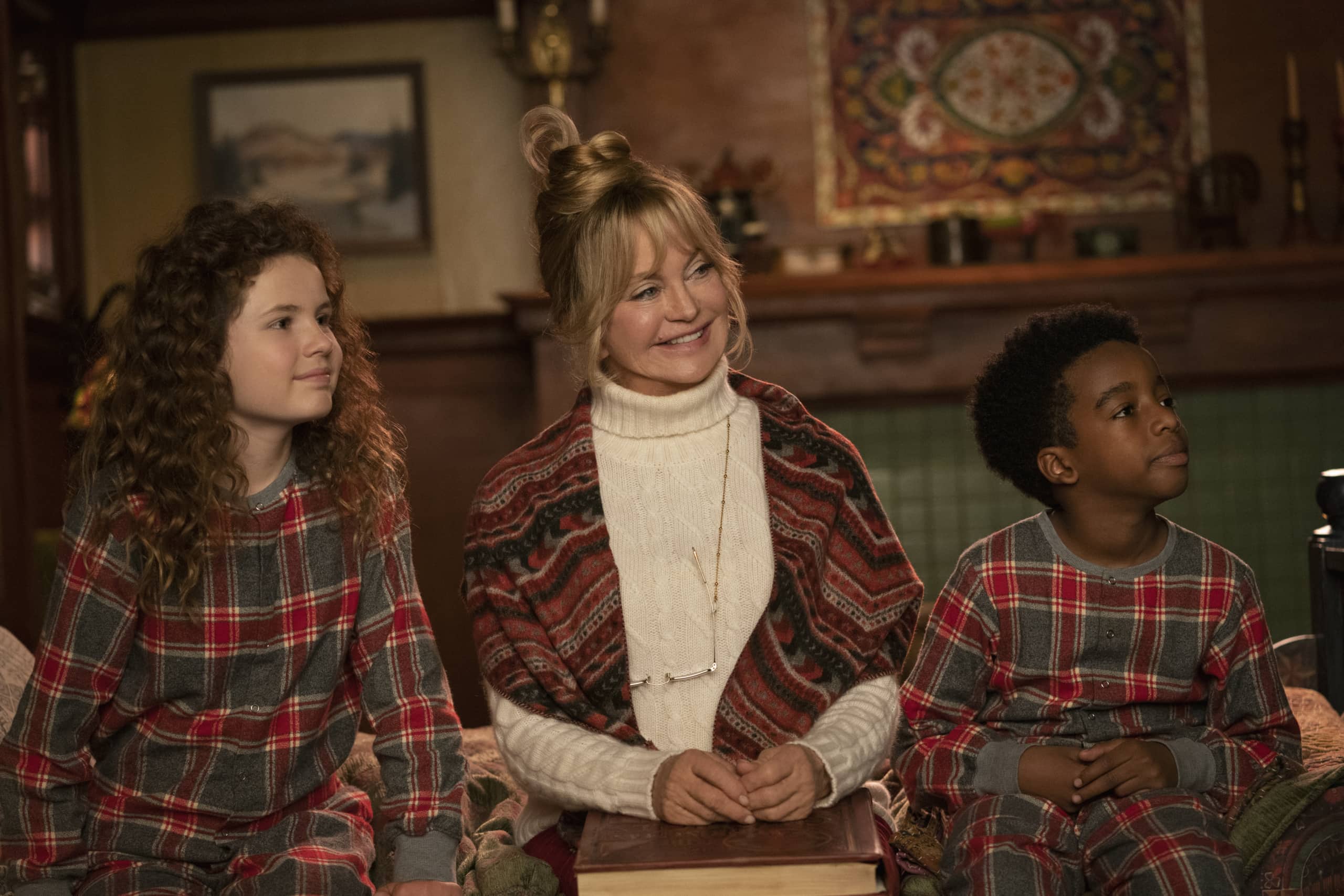 In this story, Christmas isn't threatened by children messing with Santa's schedule but rather a disgruntled former friend of Santa, Belsnickel. Dennison portrays the antagonist in a way that shows he is not pure evil. In fact, he is a different sort of villain for a holiday film and that is a welcome change.
Camp reprises her role well. She makes the transformation from spunky little girl to troubled teen without losing the spirit of Christmas that made her endearing to the audience and Santa in the first film. Lewis' Teddy doesn't have as much screen time this go round but manages to still be memorable. Bruno's Jack is pure sweetness and being afraid of his own shadow, must overcome his fears to do his part to save Christmas. You can't help but root for the little guy watching him take on all sorts of obstacles in the North Pole.
It's been 34 years since Kurt and Goldie co-starred in a film together (Overboard). Seeing them together again on screen is a treat. Their real life love and admiration for one another shines through in the subtle looks they give to the playful banter hinted at in the first film. Hawn's Mrs. Claus brings a warmth and grounds the children's time in the North Pole. She ensures Mrs. Claus finally gets her due, that Santa might get all the credit for delivering toys but it's really her who steers the ship er sleigh.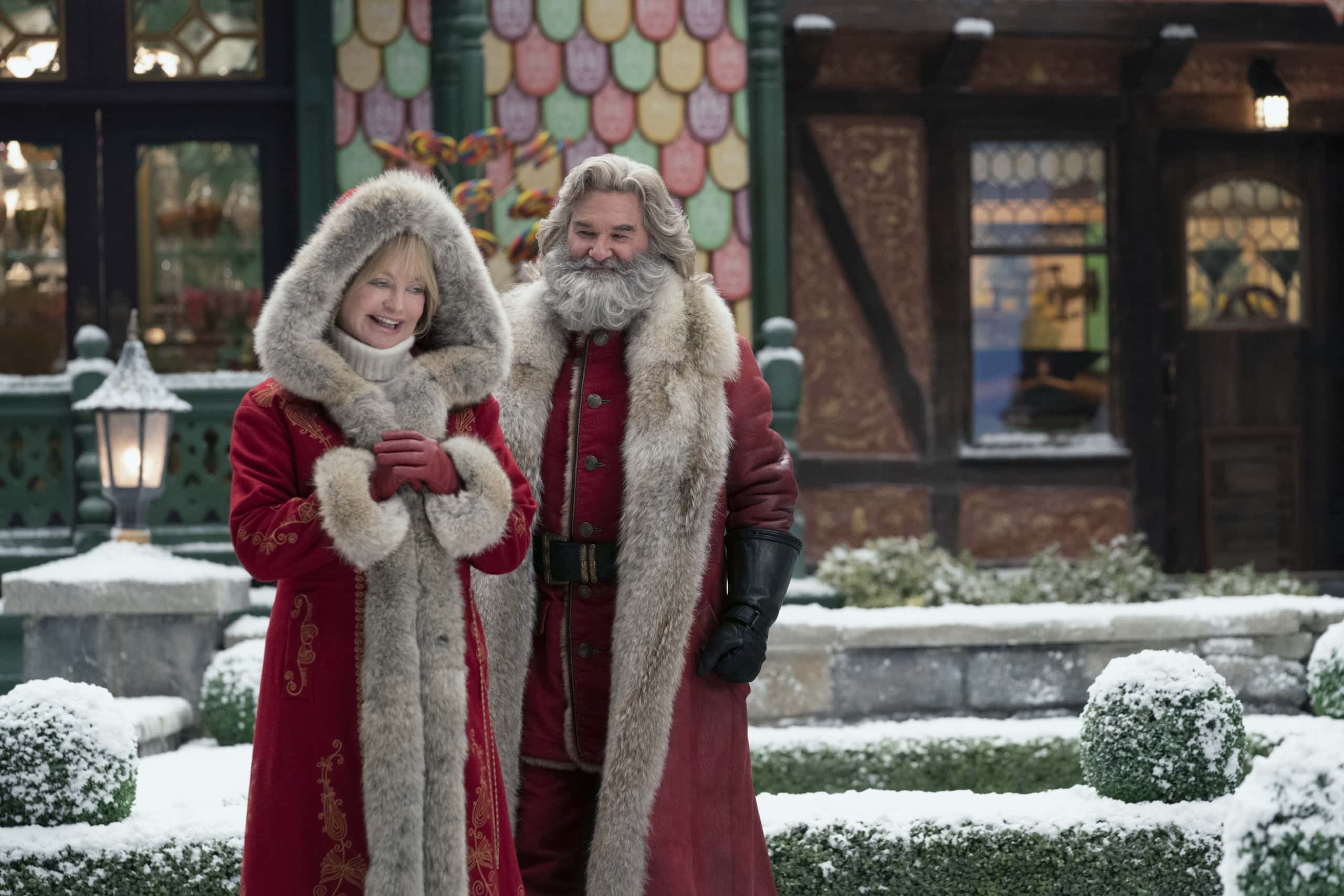 If you were hoping for another musical number for Kurt Russell to display his singing chops you won't be disappointed. One of the films highlights is when Santa and Kate get stuck at an airport on Christmas Eve. Christmas cheer is at an all-time low thanks to canceled flights and typical bad airport vibes. That is until Darlene Love, singer of the classic "Christmas Baby (Please Come Home)," joins Santa for a massive song-and-dance routine from Steven Van Zant called "The Spirit of Christmas."
In addition to the human stars, the elves and reindeer demand attention. There is a lot more for the elves to work with and giggles are sure to erupt watching their hijinks. There is one scene with the reindeer that might scare younger viewers but just remember it is Christmas, and everything always works out.
The design of Santa's Village is unique yet familiar and absolutely idyllic. It will have everyone wishing they could spend time traversing the shops and enjoying snow in not-so-frigid conditions. A thank you for that goes to Mrs. Claus. And yes, it should be called Mrs. Claus Village since she did all the work.
In the first film Santa had a crazy car chase scene. Not to be outdone, this time around he has a "Santa Claus and The Last Crusade" style sleigh race through the sky. It is just as thrilling as the car chase, maybe more so seeing how it is in the air. The Christmas Chronicles 2 doesn't skimp on the action or the energy while maintaining the story of family, love, and healing.
The story of family, the story of Christmas is one of love. Love that is unconditional and ever present. The Christmas Chronicles 2 delivers a film that reminds us of just that. And hopefully Netflix has more chronicles to tell.
The Christmas Chronicles 2 is available on Netflix November 25, 2020.