A new day is dawning on the MCU and the universe is expanding. WandaVision officially kicks off Phase 4 when it begins streaming on Disney+ January 15. This is Marvel Studios' most ambitious, original offering yet that will instantly draw you in with its nostalgia, humor, and intrigue.
WandaVision Review | The Most Ambitious Original MCU Offering Yet
WandaVision, starring Elizabeth Olson as Wanda Maximoff and Paul Bettany as Vision, takes place after the events of Avengers: Endgame. Vision is currently dead, or at least that's they way it seemed after Avengers: Infinity War. How is he alive then in the show? For now that question has not been answered but the answer is likely to come at some point this season.
Wanda and Vision are trying to have a nice, quiet, suburban life in a small town named Westview. However, it doesn't take long before odd things happen and Wanda and Vision realize something is not quite right. Who or what is behind the strange occurrences has yet to be revealed but whatever is going on the implications for the rest of Phase 4 are massive.
The entire show will pay homage to iconic sitcoms of the past, with each episode crafted to fit into a certain time period. This will include seeing them in settings like Bewitched, I Love Lucy, The Brady Bunch, Full House, and even The Office. If the nostalgia that came with the first three episodes is any indication, the entire series has nailed it when it comes to emulating those shows.
Related: WandaVision Trailer 2 Breakdown | 21 Things You May Have Missed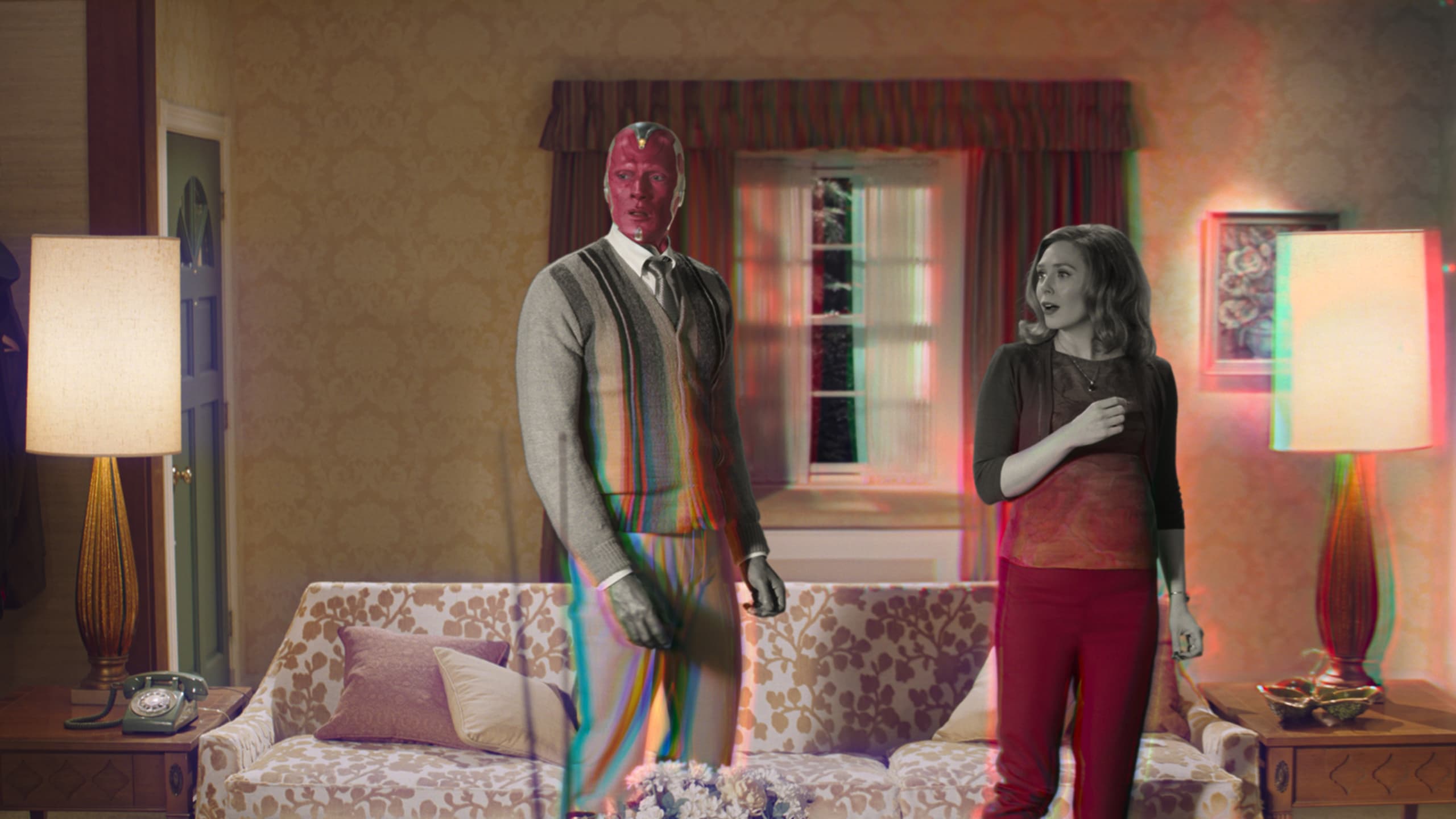 Olson and Bettany are fully committed to their characters' sitcom versions and it shows. They clearly had fun on set and it is felt by the audience. In fact, you could almost forget you're watching a superhero outing but then something happens that brings reality glaringly back into focus.
The starkness of that reality comes off incredibly tense and engrossing thanks to the sitcom feel of the rest of the show. It adds a layer of intrigue that will have fans wanting and needing more. What is going on in Westview? And who is controlling everything? Every time WandaVision teases an answer something else happens that will have even the most keen observers second guessing their theories.
Marvel fans will delight in looking for easter eggs from previous Marvel films, especially during the "commercial breaks" Kevin Feige mentioned during the WandaVision press junket. Comic readers will also find some satisfying moments, like the House of M wine seen in the trailers. And then of course are all the sitcom nods brilliantly placed throughout the series. Each episode will take multiple viewings to uncover all of its secrets.
Related: WandaVision Premiere Breakdown and Easter Eggs
Overall, WandaVision is an original, ambitious, bold, and extremely gratifying entry into the Marvel Cinematic Universe. Although it wasn't meant to be the original opener for Phase 4, after viewing the first 3 episodes, it's hard to believe that wasn't the case. It sets the tone for what is sure to be an epic year of Marvel. I love what I have seen so far and I can't wait to watch the rest. It will be interesting to see how it sets up Doctor Strange 2, Spider-Man 3, and possibly even Loki.
WandaVision premieres Friday, January 15 on Disney+.