The wait is over and WandaVision is finally here. Everything starts out perfectly idyllic in the 1950s. But by the end of episode two there is unseen trouble lurking around the corner threatening to disrupt everything around Wanda and Vision. Let's breakdown the episodes 1 and 2 of WandaVision.
WandaVision Premiere Breakdown and Easter Eggs
Spoilers ahead if you have not watched the premiere of WandaVision.
WandaVision Episode 1 Breakdown and Easter Eggs
As mentioned in my WandaVision trailer breakdown, the license plate on Wanda and Vision's car reads 0102 which in computer code means an "abnormal end." A nod at what is to come? Likely.
Wanda and Vision's house number is 2800. This is a reference to Earth-2800 which is the Earth of the MCU.
Vision carrying Wanda across the threshold and through the chair is a nod to the Dick Van Dyke show.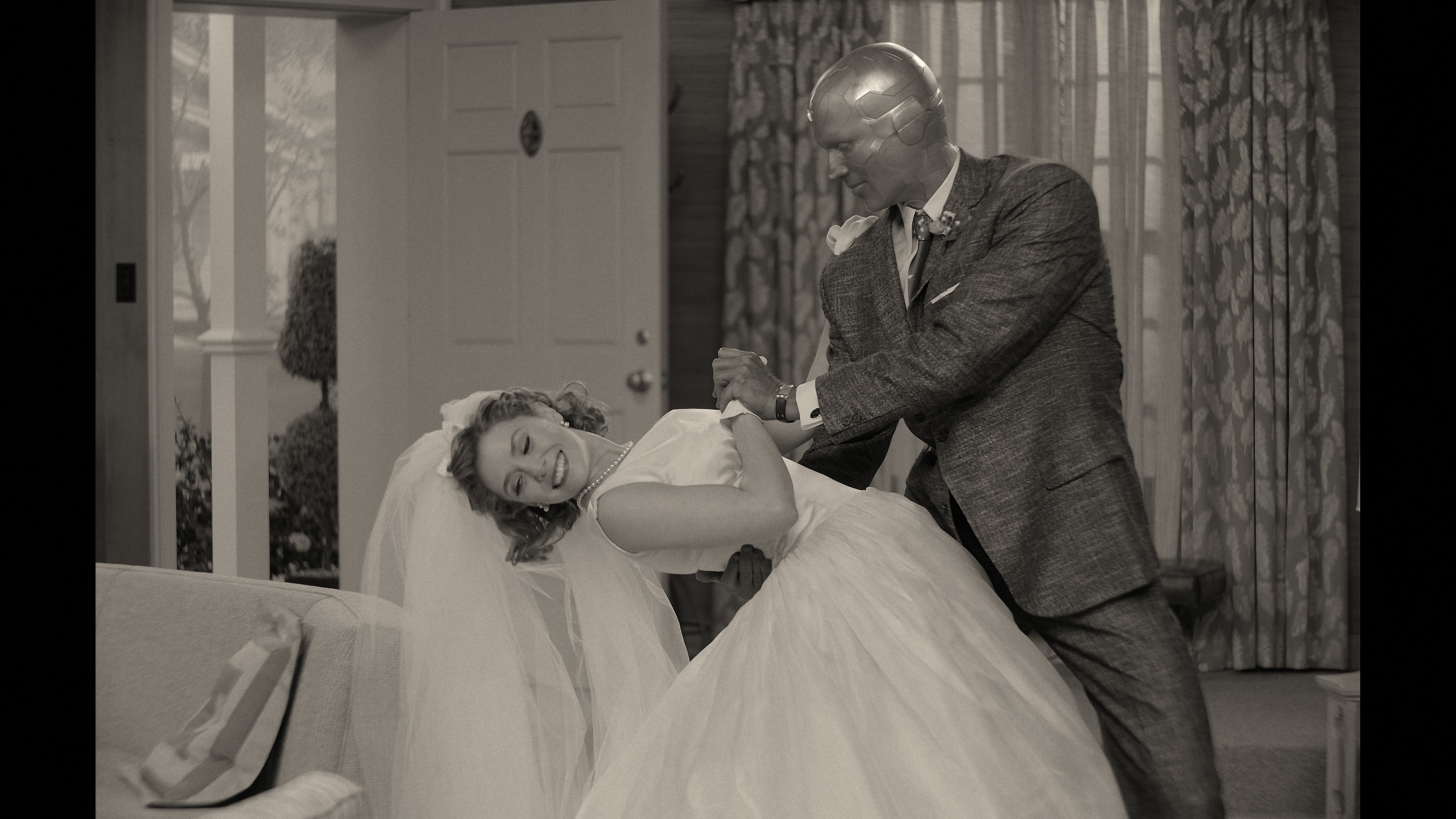 What is so special about August 23? Well in Marvel history Adventures Into Terror #7 was published in 1951. While it doesn't relate to Wanda or Vision, the idea that there is a terror or as the cover features "where monsters dwell" could point to the sinister presence that has been looming over the trailers.
Agnes uses multiple phrases/words that allude to her being the witch Agatha. Including saying charmed, trick, etc. Also she is seen wearing the brooch in every episode so far, albeit in different positions.
Related: WandaVision Review | The Most Ambitious Original MCU Offering Yet
The symbol on Vision's Tie is an interesting one. It resembles a certain type of monitor/computer cable. Fans will remember back in Avengers: Infinity War, Shuri was actively trying to separate Vision from the Mind Stone. It had appeared at the time she wasn't 100% successful however she was very close. After his encounter with Thanos, Vision's body was damaged but not completely destroyed. Vision could very well be plugged into something, somewhere waiting to be rebooted.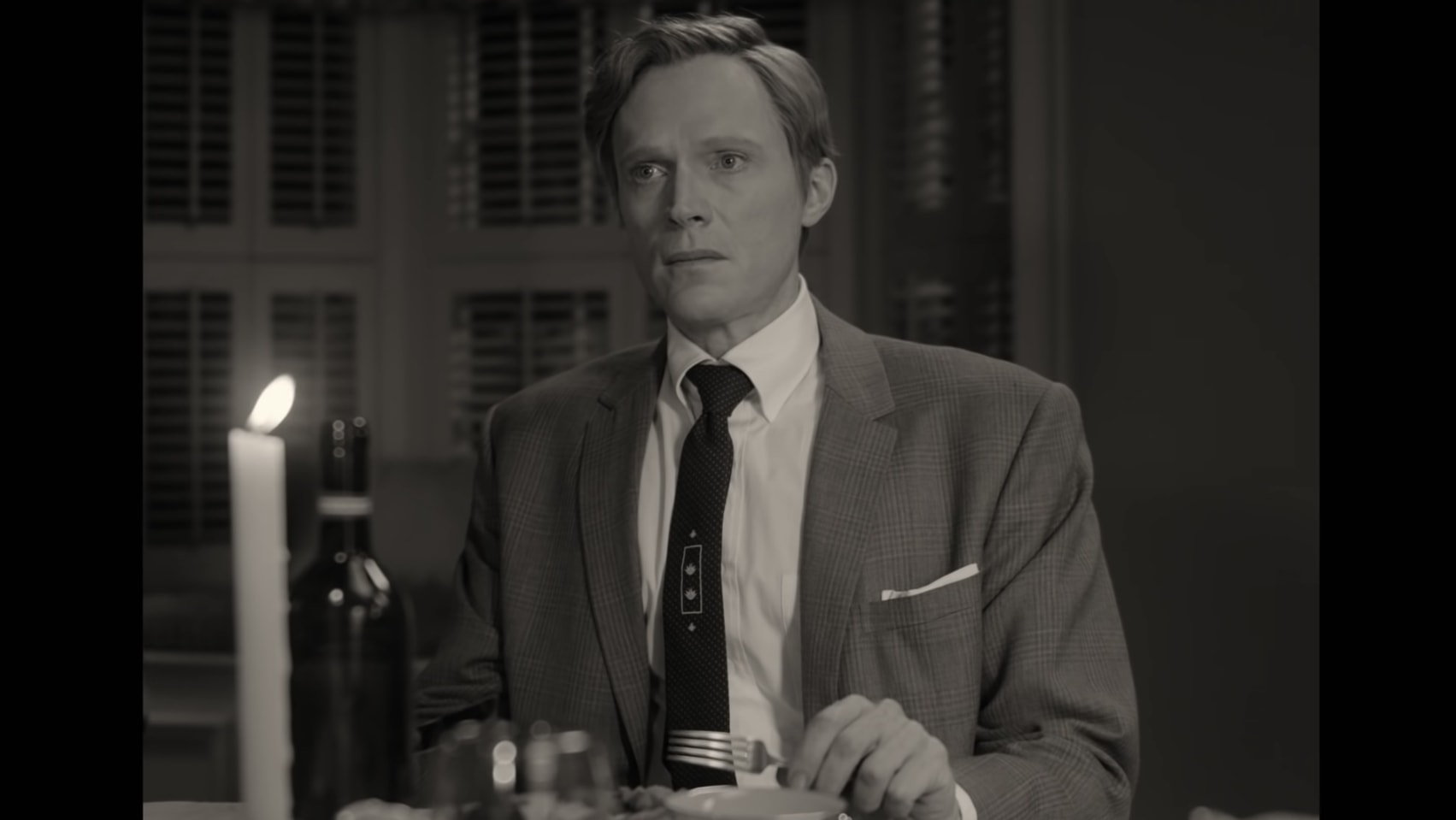 Vision works for Computational Services– running gags about being human and most definitely not an android are throughout the episode like "walking computer," "human husband," "I don't have a skeleton," etc.
His co-worker Norm could be named after the comic book character Norm Webster whom sold Vision and Wanda a house.
Who is Mr. Hart? In Marvel Comics, there is an Agent Hart and a Mr. Hart. Agent Hart is part of GenForm an organization intent on capturing and weaponizing Omega-Level mutant Maddie. The Hart on the show doesn't seem capable of capturing mutants, at least for now. The other comic character, Mr. Hart is a normal human that is the stepfather of Toby Goodman. Toby is also a regular human who happens to travel to Earth 616 after finding a transdimensional portal. At this time I don't believe either of these characters are informing the show's Mr. Hart but time will tell if that changes.
Related: WandaVision Trailer 2 Breakdown
Each WandaVision episode features a fake commercial that callback to previous MCU films/characters. The first commercial features a fancy new toaster from the infamous Stark Industries. This is also a nod to Tom King and Gabriel Walta's Vision #7, in which Wanda calls Vision a toaster.
At dinner, Wanda serves"Maison du Mepris" wine. That's French for House of Contempt. This of course is a nod to the popular House of M comic series which is said to have informed parts of this show.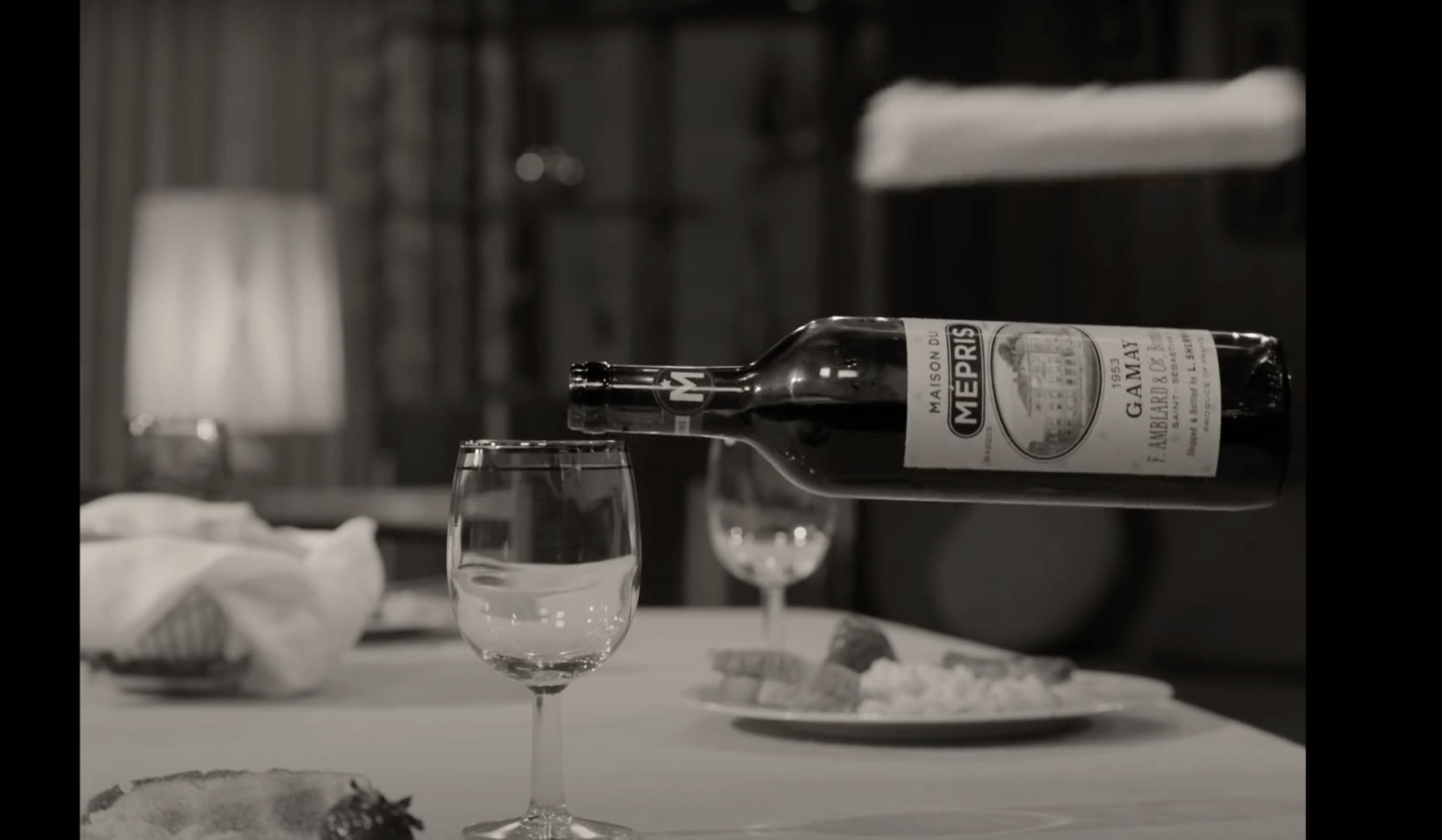 When Mr. Hart begins to choke his wife at first tells him to "stop it." However as the choking continues she looks in Wanda's direction asking her to "stop it." Each episode of the show features at least one character who lapses/glitches pointing out something is wrong.
Mrs. Hart also complains of head pain. Could be a hunger induced headache, could also mean she's struggling with whatever mind control is occurring in the town.
During the fake credits for the show there are several names listed. At this time none of them are directly related to anything we have seen or read other than these two.
Abe Brown is an alumnus of the Midtown School of Science and Technology and a former member of the decathlon team. The same school and team Peter Parker was on. If he didn't blip he would have already graduated and possibly have gone on to work for SWORD.
Delia Kane was another name of interest simply because it is very similar to the name Delia Childress, a scientist who worked for A.I.M. Another former A.I.M. member is Garrison Kane. Might be a stretch but with Marvel we've come to expect that everything means something and combining names could definitely happen.
As the camera pans out from the old TV screen, a person from S.W.O.R.D. is actively watching the "show" WandaVision. The symbol for the organization is seen on the monitors. Keep an eye out for that logo, it appears in every episode.
In the show S.W.OR.D. stands for Sentient Weapon Observation Response Division instead of Sentient World Observation and Response Department from the comics.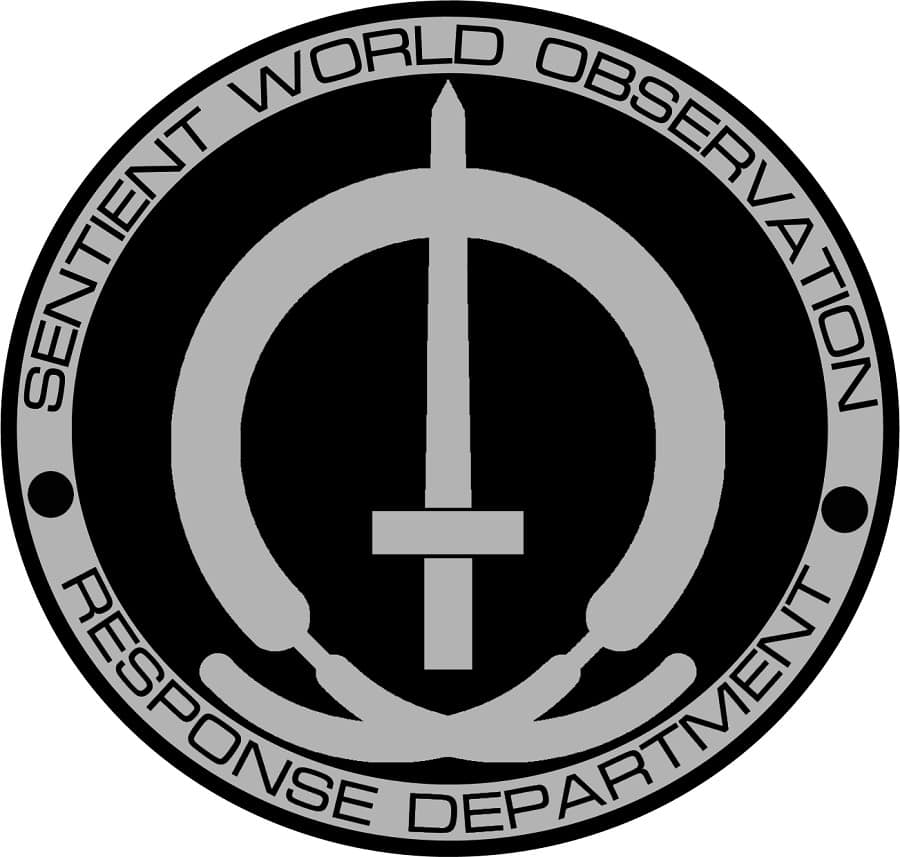 WandaVision Episode 2 Breakdown and Easter Eggs
The opening credits pay homage to Bewitched.
While Vision phases through the floor a helmet is shown that belongs to Grim Reaper, Eric Williams, the brother of Simon Willaims, aka Wonder Man.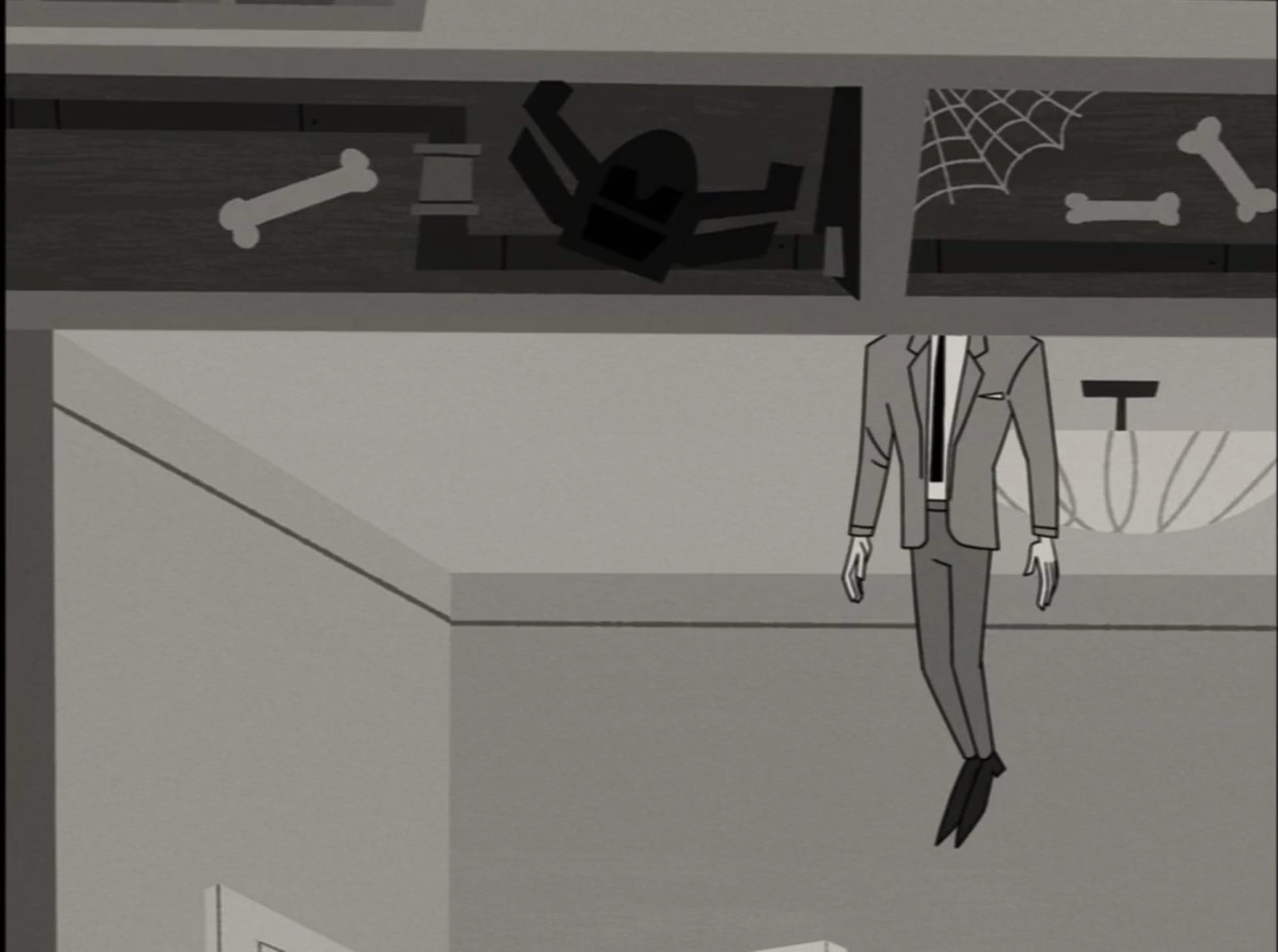 In the supermarket part of the intro there are ads on the wall. Wonder Oats breakfast cereal, which is a reference to Wonder Man. When he was believed dead, Wonder Man's memories and behavior patterns were used to program Vision. Later after being revived, he joined the Avengers and he and Vision were considered brothers.
Second is Bova Milk. Bova Ayrshire is a genetically engineered Guernsey cow. She is a humanoid creature who served as Wanda and Pietro's mother's midwife.
The third one is Auntie A's "Kitty Litter That Lasts", a clear nod to Agatha Harkness and her feline familiar Ebony.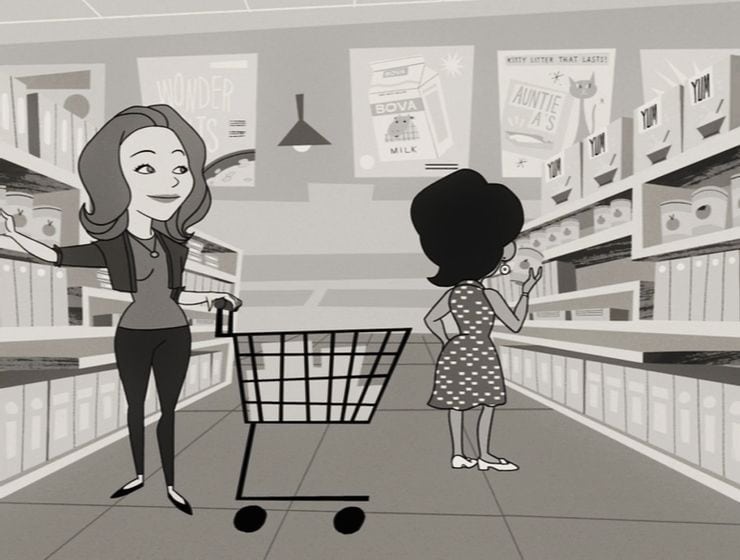 The two newlyweds are asleep in their bedroom, naturally in two separate beds like I Love Lucy.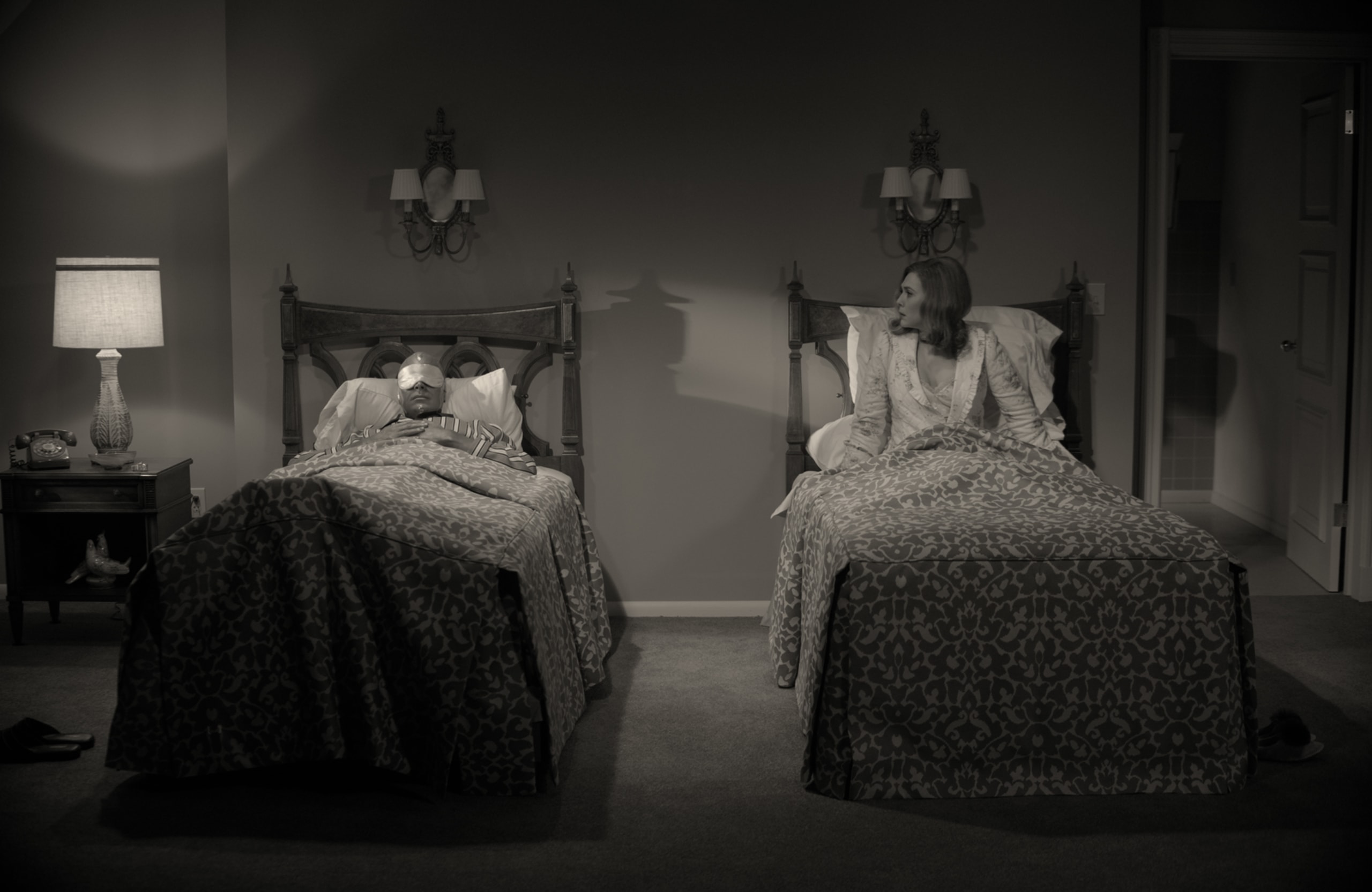 Vision is practicing for the town's Talent Show. His Cabinet of Mysteries features a very prominent Mind Stone design.
After hearing another disturbing noise, Wanda finds a red and yellow helicopter with the SWORD symbol on it. The helicopter is the only thing in color in the scene.
Agnes shows up to walk with her to the HOA meeting about the talent show. She is wearing the brooch.
Dottie remarks at the meeting, "the devil is in the details." And Agnes replies "that's not the only place he is." This could be referencing Mephisto and his involvement with whatever is going on in the town. In the comics, Mephisto is directly linked to Wanda, her children Speed and Wiccan, and Agatha.
Another nod to Mephisto comes in the unlikely form of Agnes' rabbit Señor Scratchy. Nick Scratch is one of the aliases used by Mephisto. Nicholas Scratch is also the name if Agatha Harkness' son.
Monica Rambeau is also at the meeting but using the name Geraldine. It is unclear if this is her alias or if she doesn't remember her real name.
Geraldine is wearing a brooch in the shape of a hurricane swirl. This is the same symbol Marvel Studios has used in their tweets about WandaVision. This could be a bit of foreshadowing that Wanda's life is about to be put through a storm.
Wanda and Dottie have a confrontation where Dottie makes it clear she doesn't trust Wanda. The radio picks up Agent Jimmy Woo, from Ant-Man and the Wasp, calling out "Wanda, can you hear me? Who is doing this to you?"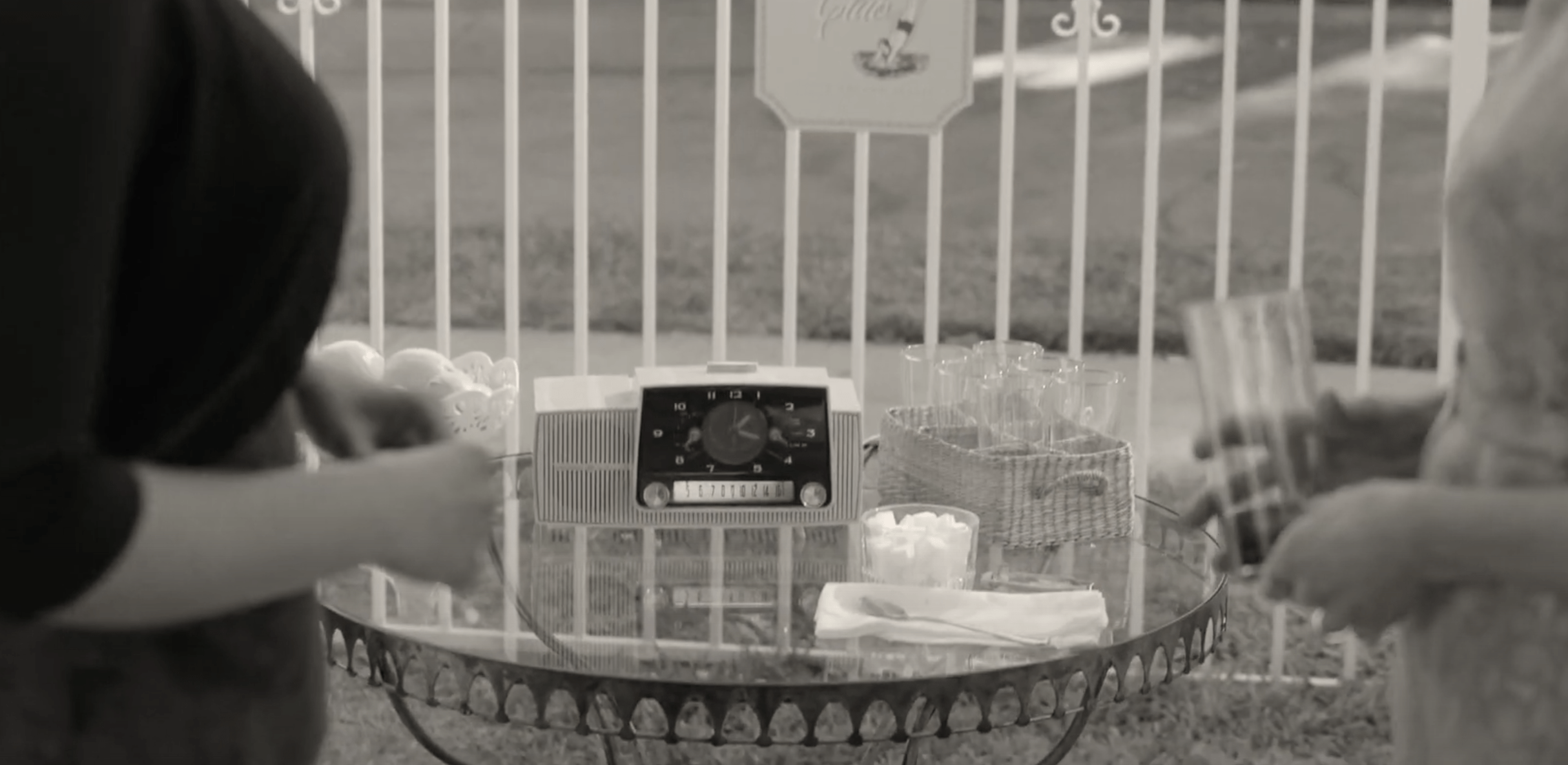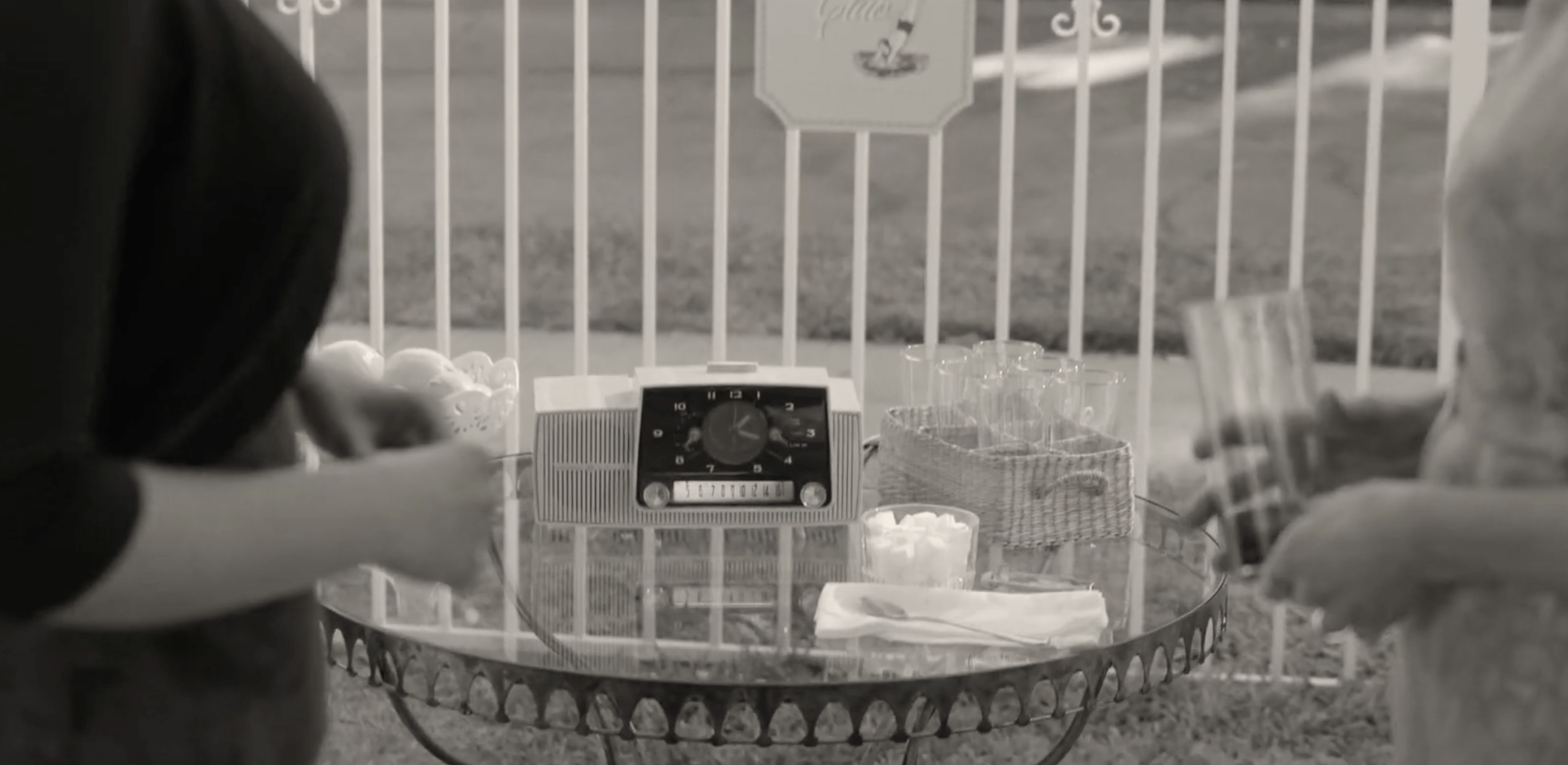 Immediately after his message becomes clear, the glass Dottie is holding shatters and bright red blood is visible. Dottie then seems to forget their previous conversation and walks away after a quip about housewives getting stains out.
During the members' only meeting of the men at the Westview Library, Norm tells the guys that Mr. Hart got all his bowling trophies from a yard sale in Hackensack. Westview is a fictional town but Hackensack is in New Jersey. Camp LeHigh where Steve Rogers trained is also in New Jersey, in the fictional town of Wheaton.
Episode 2's commercial is for Strucker Watches made by HYDRA. Dr. Wolfgang von Strucker was one of the leaders of HYDRA and the one who oversaw the experiments on Wanda and Pietro that made them into miracles. He was killed in Age of Ultron.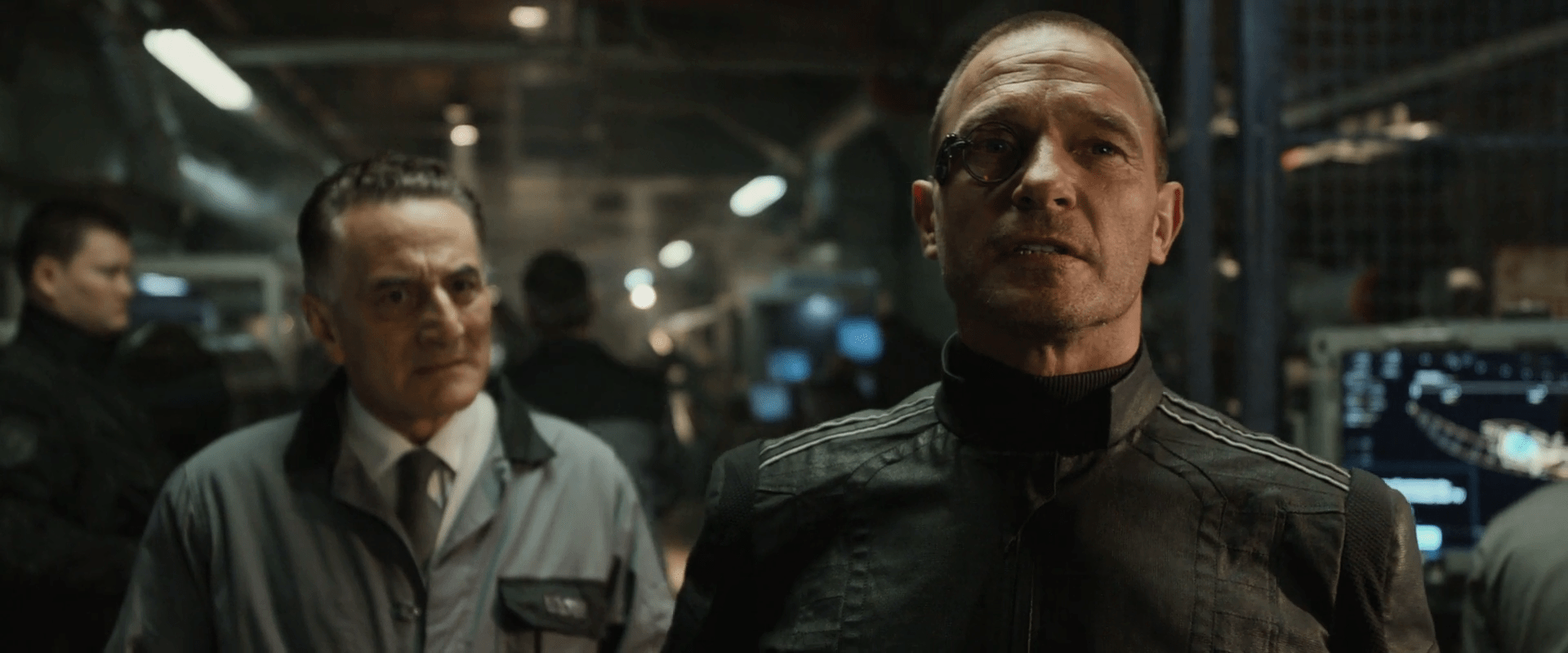 At the talent show Vision under the influence of gum behaves in a way much like Baymax when he has a low battery- drunk. He almost reveals their secret powers to the town but thanks to Wanda's quick thinking no one seems the wiser. The final trick goes awry and instead of making Wanda disappear, she makes Geraldine appear in the Cabinet of Mysteries. Geraldine questions this a bit but not nearly as much as one would expect. This could mean she knows Wanda has powers or her mind is also being controlled like the other residents.
Back at home Wanda and Vision are sitting on the couch discussing the talent show. Wanda goes to get popcorn when Vision is shocked to find she is pregnant. She asks him if it is real and he says that it is. In the comics Wanda and Vision have twins, Speed and Wiccan.
Another sound is heard and they go outside to discover the Beekeeper emerging from the manhole cover. The SWORD logo is seen on his suit. Wanda, feeling threatened, rewinds the situation back to the house.
The episode ends with them content knowing that Wanda is pregnant and that it is "real."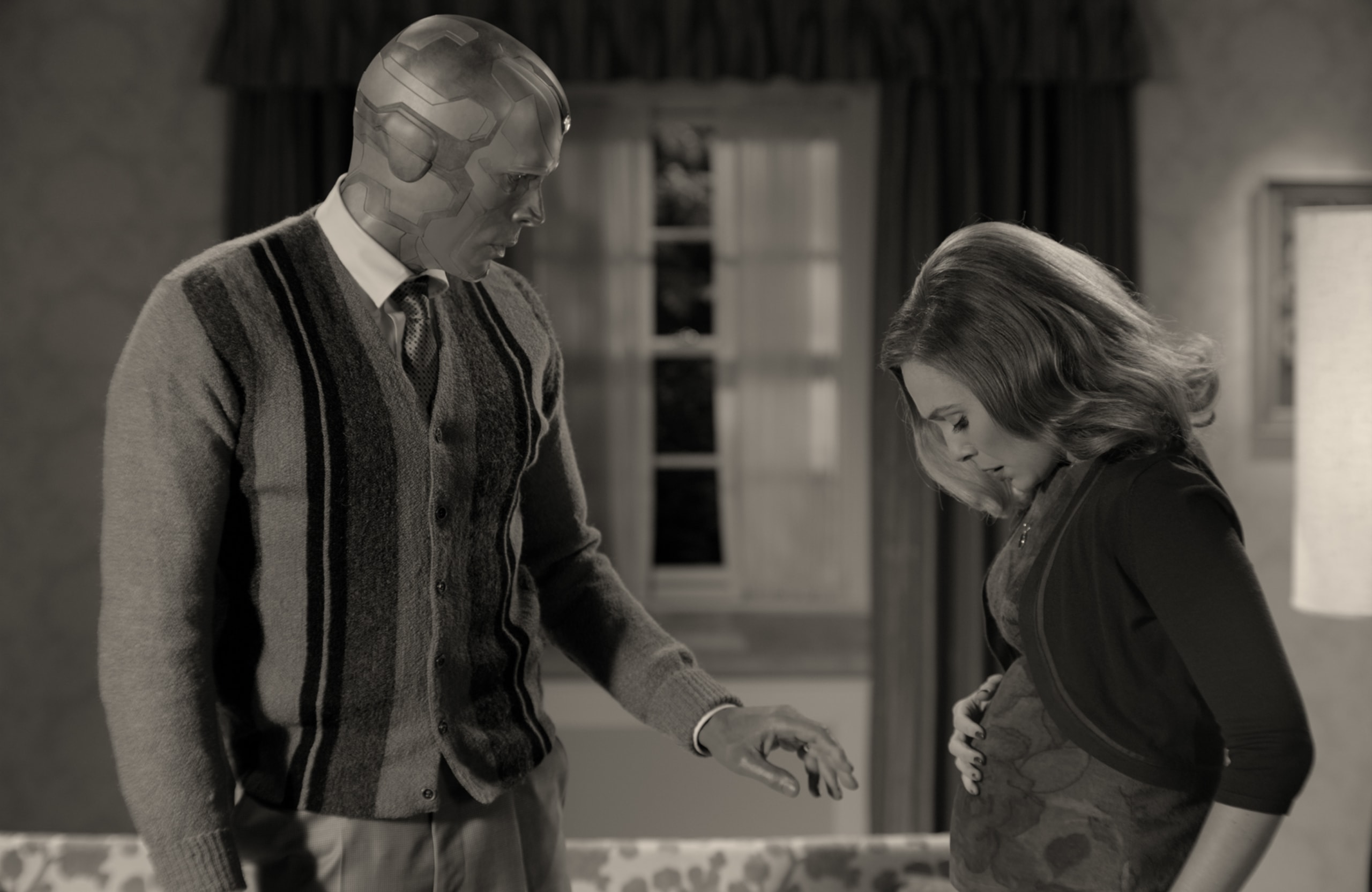 WandaVision is now streaming on Disney+.