Just like in You vs Wild, Bear Grylls is ready to take audiences of all ages on a choose your own adventure. This time he is upping the stakes with more animals, excitement, and yes gross food choices. Animals On The Loose is an adventurous and interactive movie for the whole family.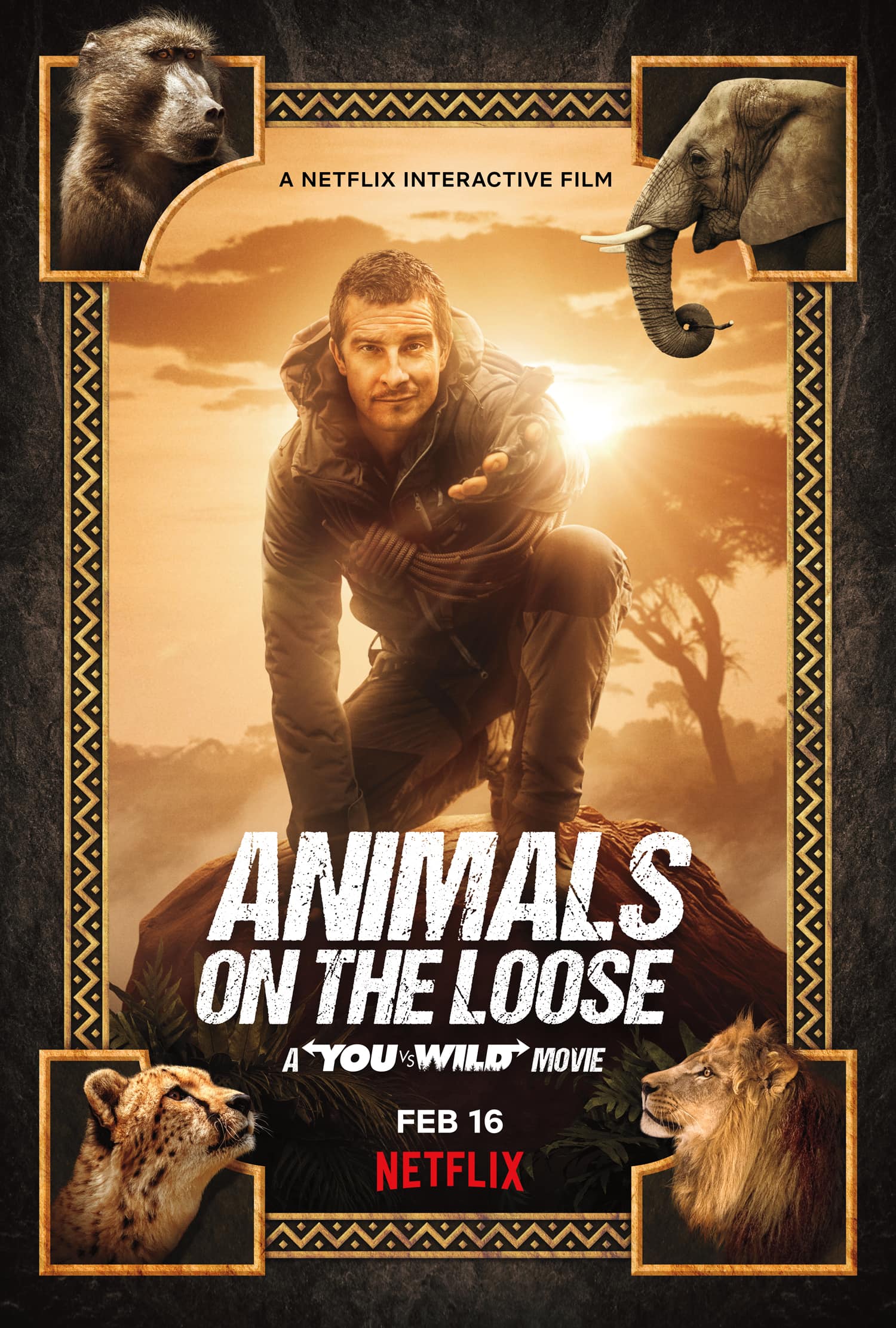 Animals on the Loose Movie Review
Animals On The Loose takes place at a South African animal preserve. When Bear Grylls notices a hole in the fence and some lion fur he quickly radios the rangers to alert them a lion is on the loose. He then learns the power to the fence has been cut and another animal, a baboon has also escaped. It's up to Bear and the audience to rescue the animals and restore power before it is too late.
The first decision comes quickly- which of the three tasks should Bear complete first? Save the lion? Rescue the baboon? Or restore power to the fence? Time is of the essence and if Bear can successfully complete all three missions there is a chance to unlock a bonus mission.
Everything that makes Grylls' Netflix show You vs Wild entertaining is present in Animals On The Loose. Viewers get the thrill of helping him survive in the wild coupled this time with rescuing beautiful African animals. There is also educational moments where Grylls teaches audiences about the animals, basic survival techniques, and the best way to eat leeches. Gross yes but they are a great source of protein so there is that.
RELATED: A Babysitter's Guide To Monster Hunting Review
Moments like eating a leech or picking up dung opens the door for hilarious conversations and what if scenarios. Children especially will have a lot to say about the odd things Grylls chooses to eat in the show. Bear Grylls has always seemed like an avatar in an adventure game since he starred in Man vs Wild. In this, he takes on that mantle literally and kids will be wanting to know if they can get a Bear Grylls action figure.
Animals On The Loose takes every advantage of multiple camera types and angles to place audiences right in the middle of the action. The close-ups on Grylls show just how much strength and determination is needed to climb things like a ravine. While the wide sweeping looks at the gorgeous African plain will have people yearning to book a safari tour as soon as it is safe to do so. From start to finish viewers are drawn into Grylls' world where every second counts and every decision matters.
Given the various options presented throughout the movie, you can roughly double or even triple the entertainment by going back and choosing different combinations. This ability to rewind and make other choices will help temper the disagreements between siblings and even partners who might not always agree on the best way forward. Those decisions make watching Animals On The Loose a unique experience and one that you can change up each time.
Bear Grylls is an accomplished adventurer, survivalist, and teacher. Longtime fans have known that he has always been fascinating to watch whether he was drinking his own pee or eating questionable things. Now, with this new movie families can come together to watch as Grylls does what he does best while they enjoy pizza sans worms. Animals On The Loose is a game-changer for family offerings and it is just a lot of fun to watch.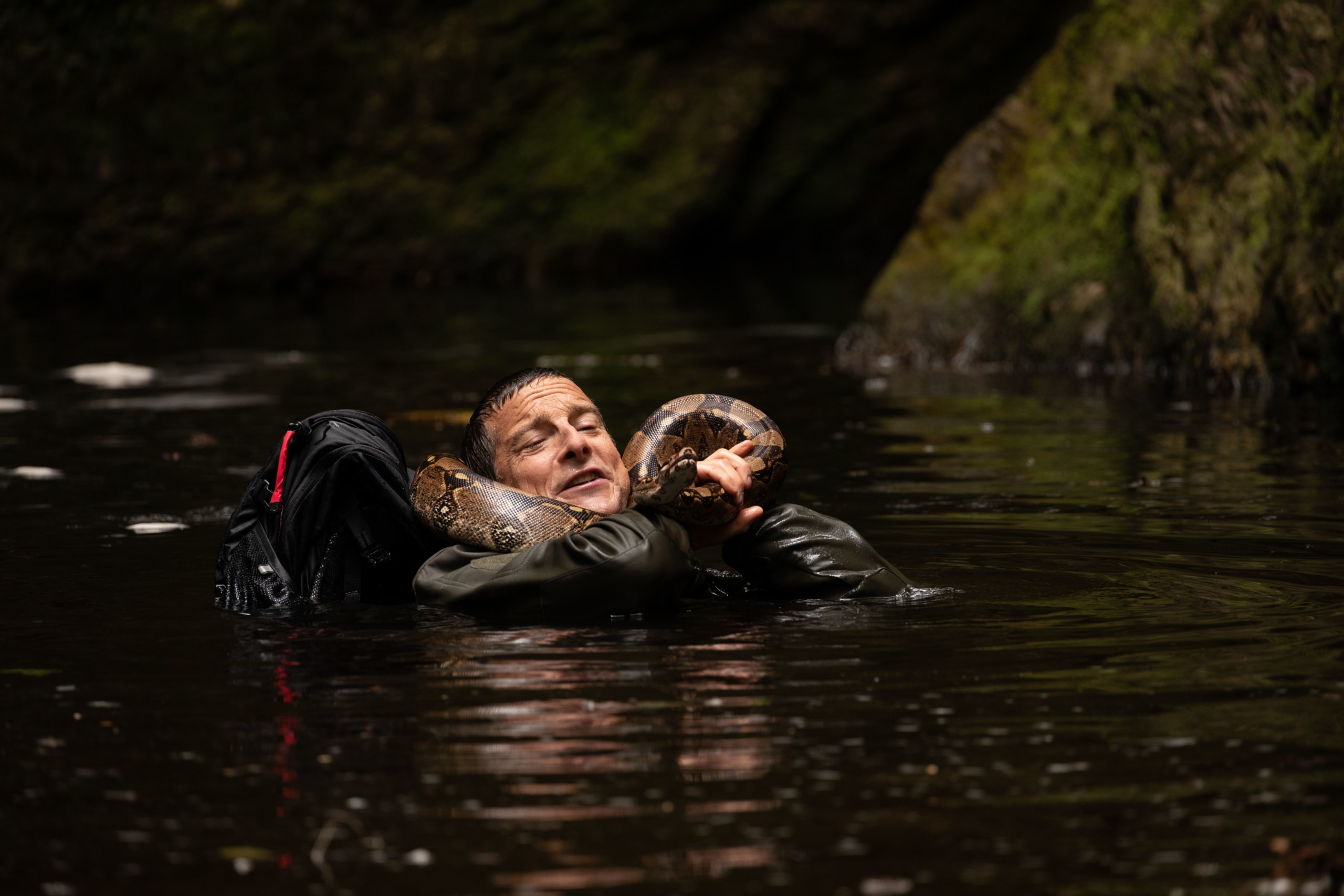 Animals On The Loose: A You Vs. Wild Movie is available globally on Netflix February 16th, 2021.