I recently had the opportunity to talk to the incredibly funny and sweet Karla Souza about her new show, Home Economics premiering April 7 on ABC. Her character Marina is my absolute favorite so far and I couldn't wait to learn more about her and the show itself.

Interview with Karla Souza
Karla Souza is probably best known for co-starring opposite Viola Davis in ABC's hit international drama How to Get Away with Murder. She was most recently seen starring as Rosario for Amazon Prime's Spanish language drama El Presidente. Karla also appeared in Netflix's The Sleepover and starred in Everybody Loves Somebody. She has starred in three of Mexico's top grossing films of all time: ¿Que Culpa Tiene El Nino?, Instructions Not Included, and Nosotros Los Nobles.
In Home Economics, Karla plays Marina the snarky, wine-loving wife of Topher Grace's Tom and mother of three. Those three include a set of infant twins, hence the wine.
What was it like going from a dark drama like How to Get Away with Murder to a comedy like Home Economics?
Karla: It's so much better! I mean, don't tell my Murder family but I'm like how will I ever go back to drama after this? I'm so in love with laughing at work all day. We're so lucky to have been able to continue to work and to be putting out a project when people are so hungry for things right now and so hungry to just lay back, relax, and have a few laughs and stuff.
It's crazy cause I also forgot how hard comedy is, like it's hard. It's kept me on my toes. Sasheer is from SNL and Jimmy does his own (comedy) program on YouTube so they came (in) full force, all warmed up. And I had to kind of warm up again because I'd come from (doing) How to Get Away With Murder for so long, it was a really fun way to kind of shed that skin and sort of start afresh on TV with something like this.
RELATED: Home Economics Show Review: A Hilarious New Offering From ABC
I think Marina is my favorite character because she is very relatable to the moms watching, or at least this mom. She is an absolute blast to watch. What aspects of Marina do you find are a lot like you?
Karla: I wish I could have a glass of wine for every diaper I changed. (laughs) Further on, she says that she's coming clean with her husband Tom and says sometimes I say I'm taking a shower but I actually just locked myself in the restroom and I'd go to sleep on the bath mat. There's a lot of me in her. Look, I love my kids, don't get me wrong. Sometimes we get notes from the network (saying) does Marina love her kids? I said look, no one will doubt we love our kids, but there is just so much exhaustion.
Also, you know, she uses Spanish against her husband who doesn't really speak it and talks to her daughter in Spanish. And the really, inappropriate comments she gets from her In-Laws like the Cafe Con Leche and she says yes, those are Spanish words. I have people in my family who literally every time they see me they're just like Oh Karla, tortillas, tequila, Mexicanos.
I can relate with the sibling rivalries, I have a brother and sister. We definitely grew up competing for everything- grades, our parents' affection, all that stuff. I know that a lot of people are going to relate to that in the show.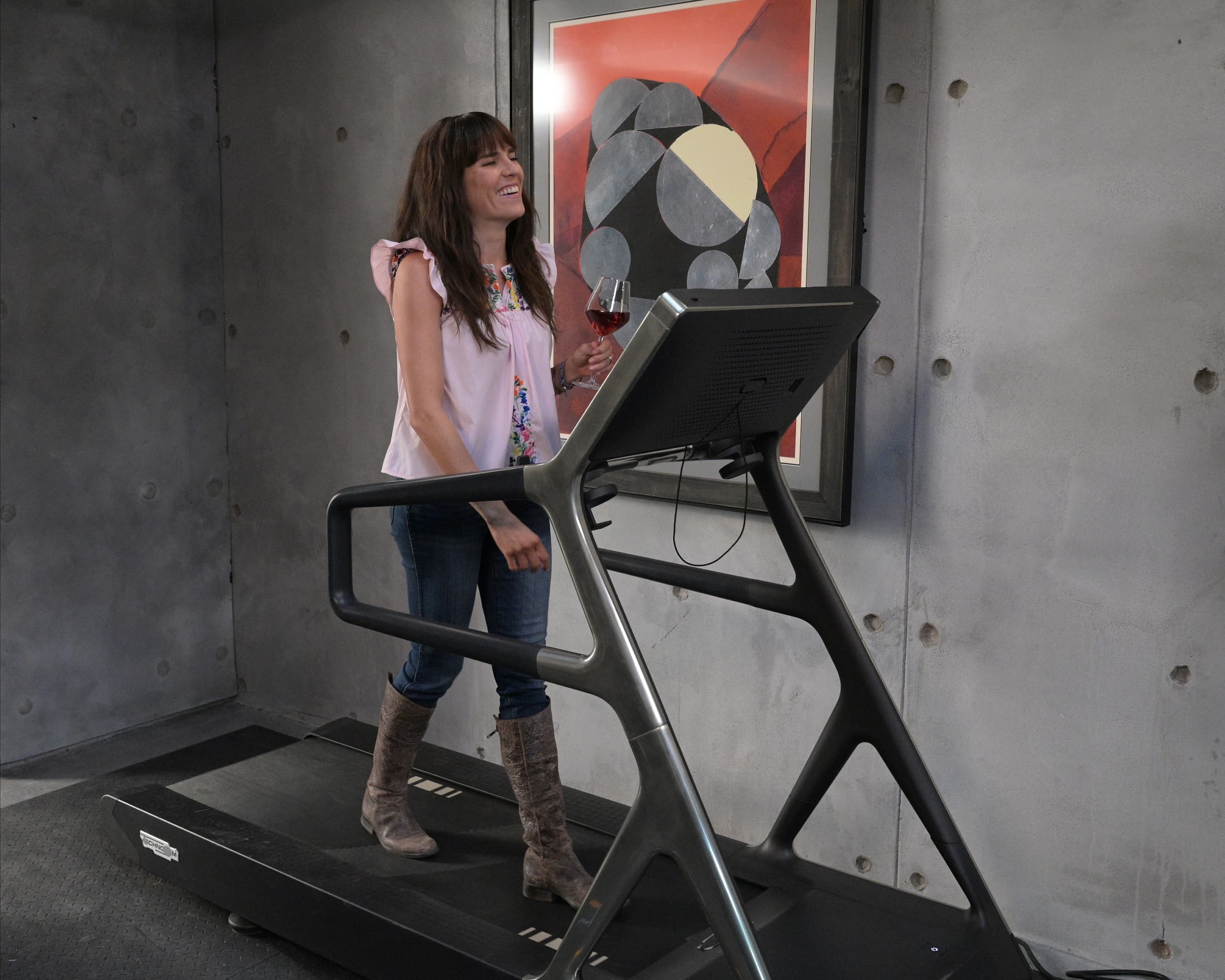 Marina is a Mexican American woman married to a white man. Was that always the plan for her character or did you influence her in any way?
Karla: The show is based on Michael Colton's life and his wife is from Peru. But when they were talking about casting me and we were in those conversations, I told them that however much I am obsessed with Peru and have a lot of friends from Peru, I said, I can't laugh at Peru, make those jokes, if I'm not Peruvian. That is not okay. I said if you want someone to play a Peruvian, you guys need to cast a Peruvian. I also specifically asked for there to be writers that are Spanish speakers, mothers, and women.
I peppered in Spanish as much as I could and who knows what's gonna make it in or what doesn't but for this one (episode 1) it did and I was very happy to see that. I just feel like it's very fun and authentic and specific to her.
The onscreen chemistry is one of things that stands out about the first two episodes of the show. What was it like working with Topher and the rest of the cast?
Karla: Topher sent me some flowers (before filming started) basically like please be my wife. (Laughs) They are all so funny that it's so hard to keep a straight face.With Topher, I was very surprised at the amount of commitment, discipline, and just determination to make every scene count. He will not let go of a moment or a scene until it is the best. He was so lovely with compliments as well from day one. Sasheer, Caitlin, Jimmy were such a pleasure. Sasheer comes from like SNL and I mean, oh my gosh, her and I connected immediately. She's so funny and she brings just a different dry humor than the other characters.
I feel like we all have such different humor. Jimmy has been doing comedy on YouTube, he's a good actor. He's just hilarious. Caitlin has done drama and comedy but we all got along so well. We had, I don't know, about 2 months or something of filming so we never really got tired of each other. We were just having so much fun.
Home Economics premieres on ABC Wednesday April 7 at 8:30pm EST. Catch up on any episodes you miss the next day on Hulu.