I recently sat down with Sara Gilbert and her on-set son Ames McNamara to talk about tonight's episode of The Conners. In it, Mark is stressed and exhausted from studying for an important entrance exam so Darlene steps in to help, but in true Conner fashion, the plan backfires.
Photos courtesy of ABC
Interview with Sara Gilbert and Ames McNamara
Talking about the struggles of distance learning with both Sara and Ames made me realize, again, that we are all struggling with this. It was nice to hear I'm not the only parent who has at least one subject they loathe helping their kids with. Sorry children, I graduated so I wouldn't have to do hard math anymore.
You have both dealt with the stressors your characters are facing in this episode. What has it been like being a student and a parent in this new learning environment? How did it allow you to relate to your characters?
Ames: I've definitely experienced a lot of, [LAUGHS], virtual school. The problems with virtual school is it's really not the same as in person school, but it's the best that we can do right now. I was able to relate to everything that Mark is going through because it's stuff that's happening to me and so many kids across the country right now, and across the world. I feel personally lucky to have had amazing teachers who have helped me through my virtual school experience.
Sara: I feel fortunate that I've just had meetings, and I have more breaks than what my kids are dealing with. There were definitely times of "my computer's not working right" or "my my charger isn't working right." My youngest, I think he checked out a decent amount because being six years old, sitting on a screen all day, it's exactly the opposite of what we try to do for our kids.
We use it when we're in a pinch, but we don't like them sitting on screens all day. So, it's definitely been a struggle, but I'm happy to see things slowly returning back towards what we think of as normal, for that and obviously a multitude of even more serious reasons.
RELATED: Roseanne Set Visit
Since this episode is going to be relatable to so many parents, what are you hoping the audience gets from watching this one?
Ames: I'm sure many, many people in the audience, the viewers who will be watching this, already know that this is a problem, but I think our episode helps to illuminate more of the problems, and it shows also how it doesn't just affect the kids, but it affects everyone in the family.
Sara: I think it shines a light on the inequities in our country. I think we've all seen how people with less means were struggling, but (the pandemic) put a spotlight on that and it furthered those struggles. It almost widened the divide between people who have more and people who have less.They didn't always have tablets or computers, or Wi-Fi access, and so their kids would be falling further behind.
And so what I really like is that this episode talks about how unfair that is, and that it's really not a level playing field, and how much stress that causes a parent who just wants the best for their kid. And something that I love about our show is that we get to address the fact that although this is obviously a fictional group, they represent a lot of people who are very kind, smart, intelligent, funny, good people that cannot break the cycle of poverty, and cannot break through the levels of how unfair things can be in this country.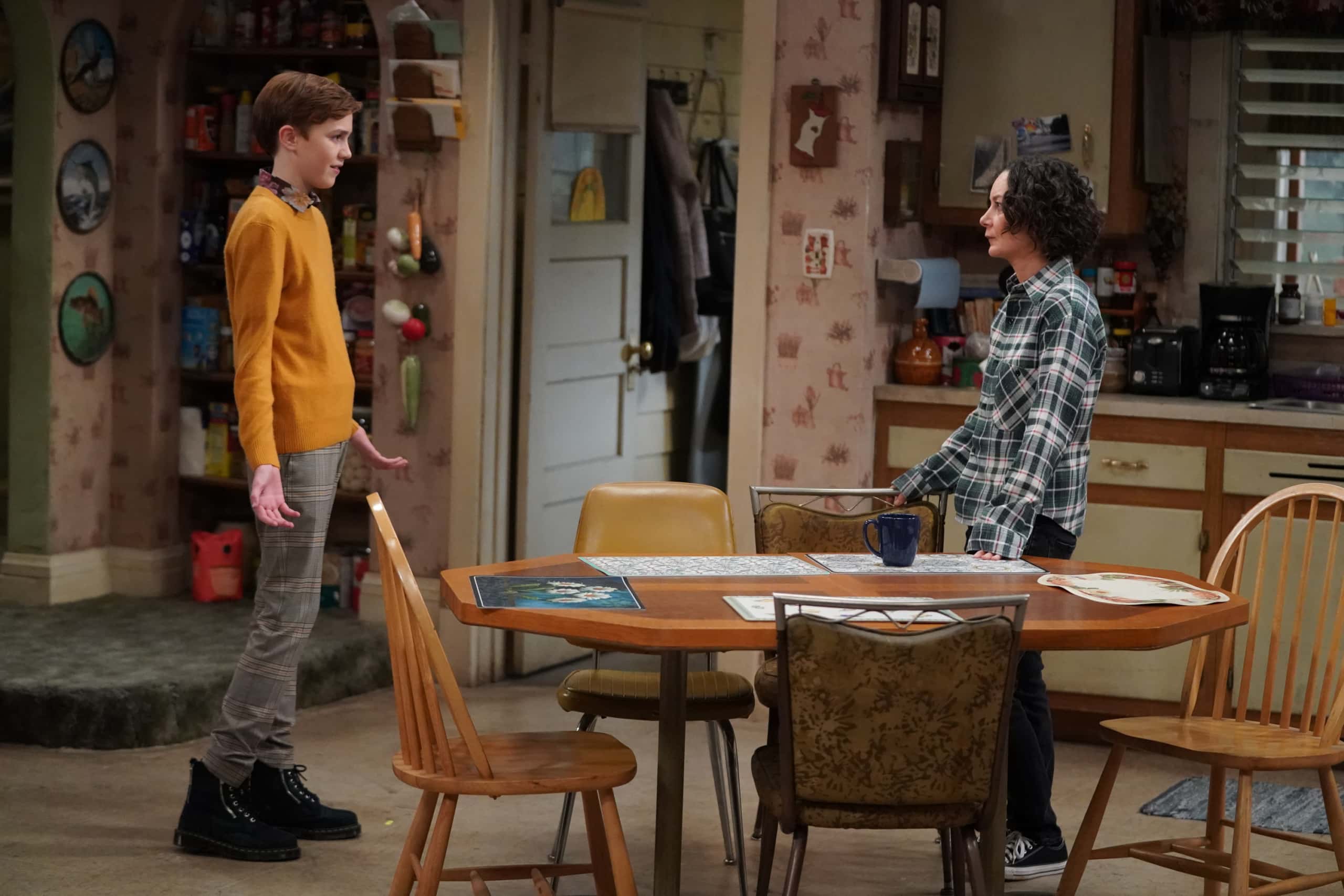 œLike I mentioned, math is the subject I hate the most. Sara, what is your least favorite subject to help your kids with? Ames, what class is the hardest in virtual school?
Sara: They don't even come to me, [LAUGHS]. I really am challenged when it comes to history. I know a lot of people don't like math or science but those are a bit easier for me. History, for some reason, I cannot keep track of when they say there's three reasons that this happened, and three reasons that this other thing didn't happen, and it happened between these dates. It just becomes information stew in my head. I cannot keep track of that.
So one time my daughter was asking for my help with something, and we just started laughing because she understood it way before I did, and I was still caught reasoning it out. So that's definitely an area where they know not to approach me.
Ames: That's a tough one. Every subject has its different challenges in distance learning. At my school, we have this really great program for languages. The language that I take is French, and it's a lot harder to learn a language online. There's something about being in person, face to face, and just being able to talk in a classroom that makes learning a language a lot easier.
Fun Fact: Ames is a better student than Sara or Lecy ever were on the original set of Roseanne. He even has the same on-set teacher they did!
RELATED: Interview With Sara Gilbert, Lecy Goranson, and Michael Fishman
Having to go through distance learning yourself, is there any advice you have out there for kids who are feeling the pressure and stress of this school year?
Ames: I know it's really tough now. We've already lost a year of being able to hang out with friends and family, and socialize, and it's not ideal at all to be doing school long hours, and then homework on the computer. But I think there's light at the end of the tunnel.
On The Conners, Mark is a gay, cisgender character. This was met with a lot of positive and important conversations about gender identity and how to speak with kids about their own feelings. What does playing a character like that mean to you?
Ames: It's great to have representation and like you were saying it's bringing up conversations about how to talk to your kids about how they're feeling. That's one of the great parts about playing Mark is that you can see someone who's coming to terms with himself and who he is, as he's growing up.
Seeing how his family has really been super supportive of him, and how they're trying to navigate it is something that's really good to be shown on TV. And I think that's one my favorite parts about playing Mark, and I think it's also one of my favorite parts about the show.
Is there anything you can share about the future of Darlene and Mark?
Ames: I think Mark will have more conflicts with Darlene and Harris as he gets older and more into the teenage years. And I think that will be something that I'll look forward to doing and I'm sure will be fun to see onscreen. As I grow up, I think also Mark will grow up as a character, too, which would be interesting to see.
Sara: Darlene is not in a great place with her relationship right now with Ben, so I think that's gonna have to unfold. She hasn't been completely honest all the time and has pushed him away to some extent. So I think she's gonna have to do a bit of soul searching, and a bit of damage repair in that situation.
I think she's also been dealing with aging and the loss of some dreams. The kids growing up and getting closer to having their own lives that aren't entangled with hers is going to bring up some of the feelings. She's not quite yet an empty nester, but she's bridging into that territory. I like to bring a lot of my life to the show.
And although I do have a younger child, I have teenagers. It's sad in a way, the loss of their youth, and you kind of look at them and think where did my babies go? And so I think that brings a lot of self reflection with it and I like to bring that sort of reflection to Darlene as she continues on her journey.
Watch Cheating, Revelations and A Box of Doll Heads tonight from 9-9:30pm EDT on ABC. Catch up on any episodes you miss the next day on Hulu.

About Sara and Ames
Sara Gilbert endeared herself to millions of television viewers with her portrayal of the sarcastic yet lovable Darlene Conner on the long-running, hit series Roseanne, a role which garnered her two Emmy® nominations among numerous other accolades. Gilbert reprised her role as Darlene in the series revival in 2018, which premiered to record-breaking numbers, and she continues in her role as both Darlene and executive producer on ABC's hit comedy The Conners.
Ames McNamara is a high-schooler from Hoboken, NJ. He has been acting in local musical theater since age 5 and professionally since age 8. He stars as Mark Conner-Healy on The Conners and also voices a lead role in a new animated show for pre-schoolers.