Oh darling. Cruella is a deliciously dark, absolutely wicked good time. With brilliant acting, gorgeous visuals, and a soundtrack to die for, this devil will have you coming back for more.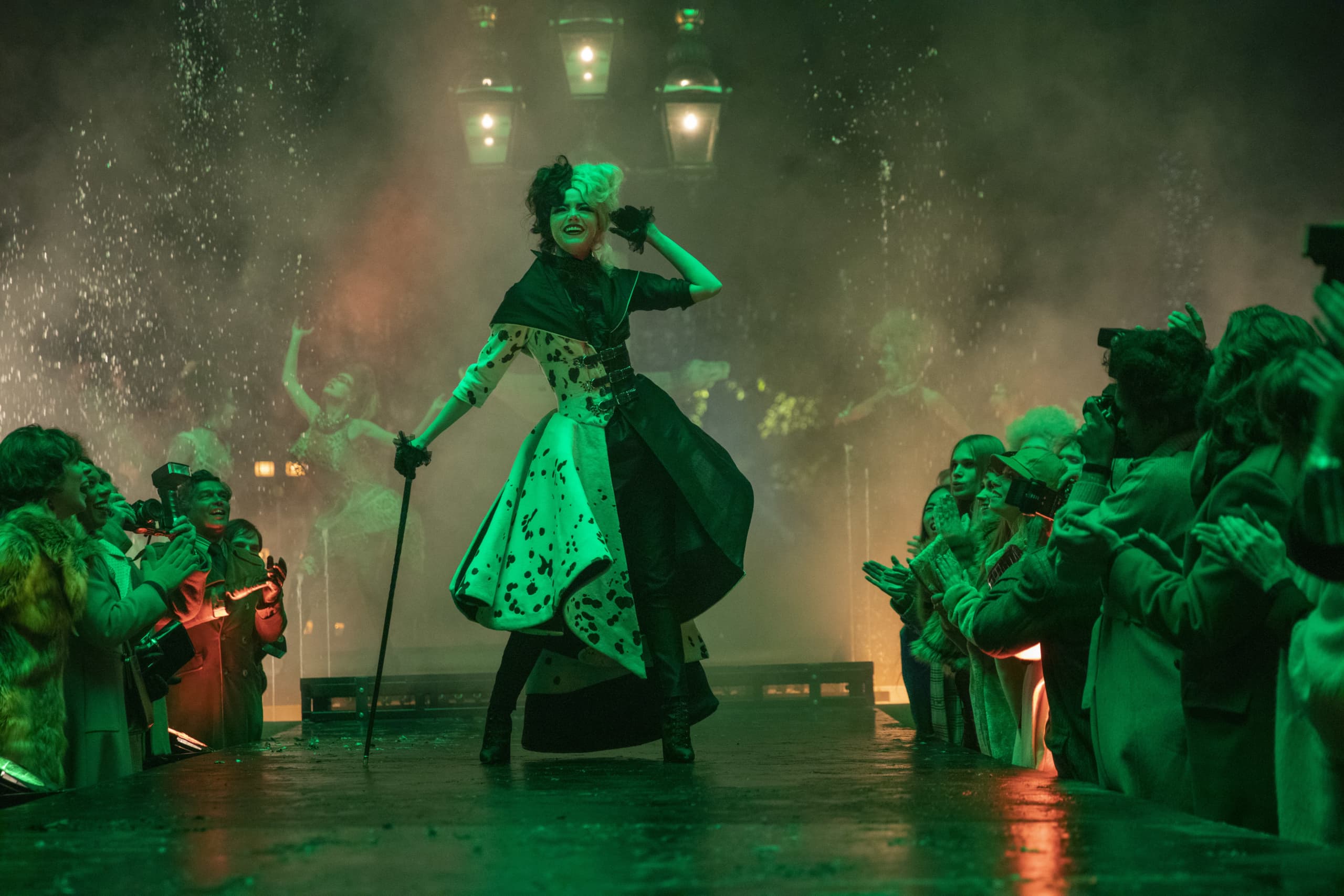 Cruella Movie Review
This origin story starts at the beginning, the very beginning. Cruella was born with her signature hair and very quickly she grows into a young rebel with a tendency towards the extreme. At her school, Estella (the more compliant version of Cruella) makes friends with Anita Darling and enemies of just about everyone else. Her dreams of becoming a fashion designer won't happen in their small town so they make a plan to go to London. However, before they go they must stop to visit an old friend of her mother's in order to get some money to help them get started. Things don't go as planned and Estella finds herself alone with her puppy on the streets of London.
There she meets a young Jasper, Horace, and Wink the dog. Together they become a family of grifters, growing up to become expert con artists and thieves. Estella (Emma Stone) uses her design skills to make disguises for their grifts. All that changes when she gets an entry-level position at Liberty, the premiere department store. Soon she catches the eye of the Baroness (Emma Thompson), London's most famous designer. Working for the Baroness leads to some revelations about her past that put her on track to becoming one of the most notorious villains of all time.
Cruella is a bold, deliciously dark, wildly entertaining good time. This film transports viewers to 1970s London and delivers breathtaking fashion and visually stunning sets while it tells the origin of one of the most villainous villains ever to grace the screen. Emma Stone is perfectly mad as the eccentric Cruella while Emma Thompson absolutely embodies the villainy of the Baroness. They along with the rest of the cast deliver powerhouse performances you won't soon forget.
RELATED: Interview: Emma Stone and Emma Thompson On All Things Cruella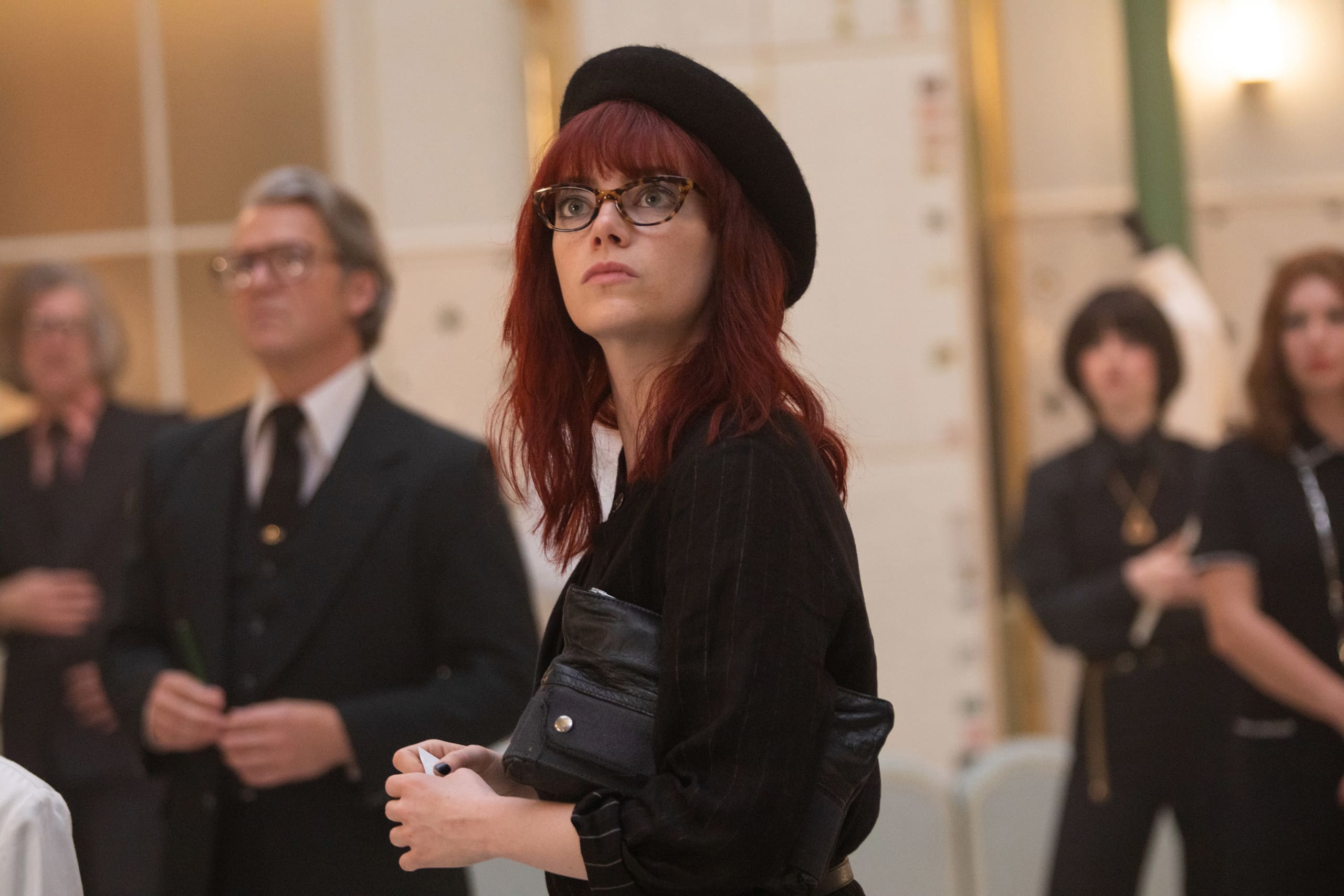 Director Craig Gillespie is known for taking on villains and showing a side of them that makes you almost sympathize with their choices. Just look at I, Tonya. His sharp direction coupled with his unique approach to this character truly bring Cruella's story to life in the most entertaining way possible. From the 360 camera views and alternating lenses, to the color palettes and punk rock glam, Cruella is just plain fun.
It wouldn't be a film about Cruella without fashion. Oscar-winner Jenny Beavan led the team responsible for bringing these incredible looks to life. While chaos rules Cruella's choices the Baroness is more controlled in her lines and her looks. Jasper (Joel Fry) and Horace (Paul Walter Hauser) go for the practical while Artie (John McCrea) slays in creations that match the fluidity of his character. Fashion in this film is not just about what looks good or what will wow, it is a weapon. Cruella uses it to attack the long-standing queen of designs, the Baroness. In this battle of creativity, the Baroness may be past her prime, but like any ruthless human being she refuses to concede defeat. While they engage in a battle of cloth, viewers will find it hard to pick a favorite look. Although for me, the trash truck dress and her motorcycle glam might win out.
RELATED: Behind the Scenes of Cruella: Interview With The Filmmakers
A visual feast not only in terms of fashion but also in the sets. The lighting, details, and color palettes help separate these two worlds, one of the rich and one of the grifters. It is exhilarating to see them collide. Cruella is a punk rock kind of girl, raging out against a system that wishes to silence her and the scenes showcase it all beautifully.
The fashion and visuals would only get so far without the committed and fearless performances of the cast. Emma Stone gives her all as Cruella, fully embracing the madness. While Emma Thompson's Baroness will make you think of Miranda Priestly in The Devil Wears Prada as a nice person. Together on screen they are outstanding, demanding attention that you willingly give. It is hard to look away from them but Hauser, as he is known to do, steals scenes.
Perfectly balanced with the dark, grungy vibe is the humor. Hauser delivers a lot of the comedic moments alongside his trusty dog Wink, another scene stealer. But that doesn't mean quips aren't thrown out by others. The Baroness has a moment where you can't help but laugh as she destroys a couple of men who dare to think they know better than her. Artie provides some lighthearted moments as well and even Cruella gets in a few laughs. Maniacal at times but there is nothing wrong with that.
In a film that already has it all in terms of visuals and performances it also delivers one of the best soundtracks I've heard in a long time. Gillespie really took care in what songs he chose to bring the London punk rock scene to life. It has such a range from Nina Simone to Queen, making it truly the perfect accessory to every scene.
Cruella is Disney's best live action reimagining to date. Punk Rock meets High Fashion, what is not to love? It is a satisfying hell of a good time that will hook you from start to finish. Personally, I cannot get enough of Cruella and I hope we see more of her perfectly mad self in the future.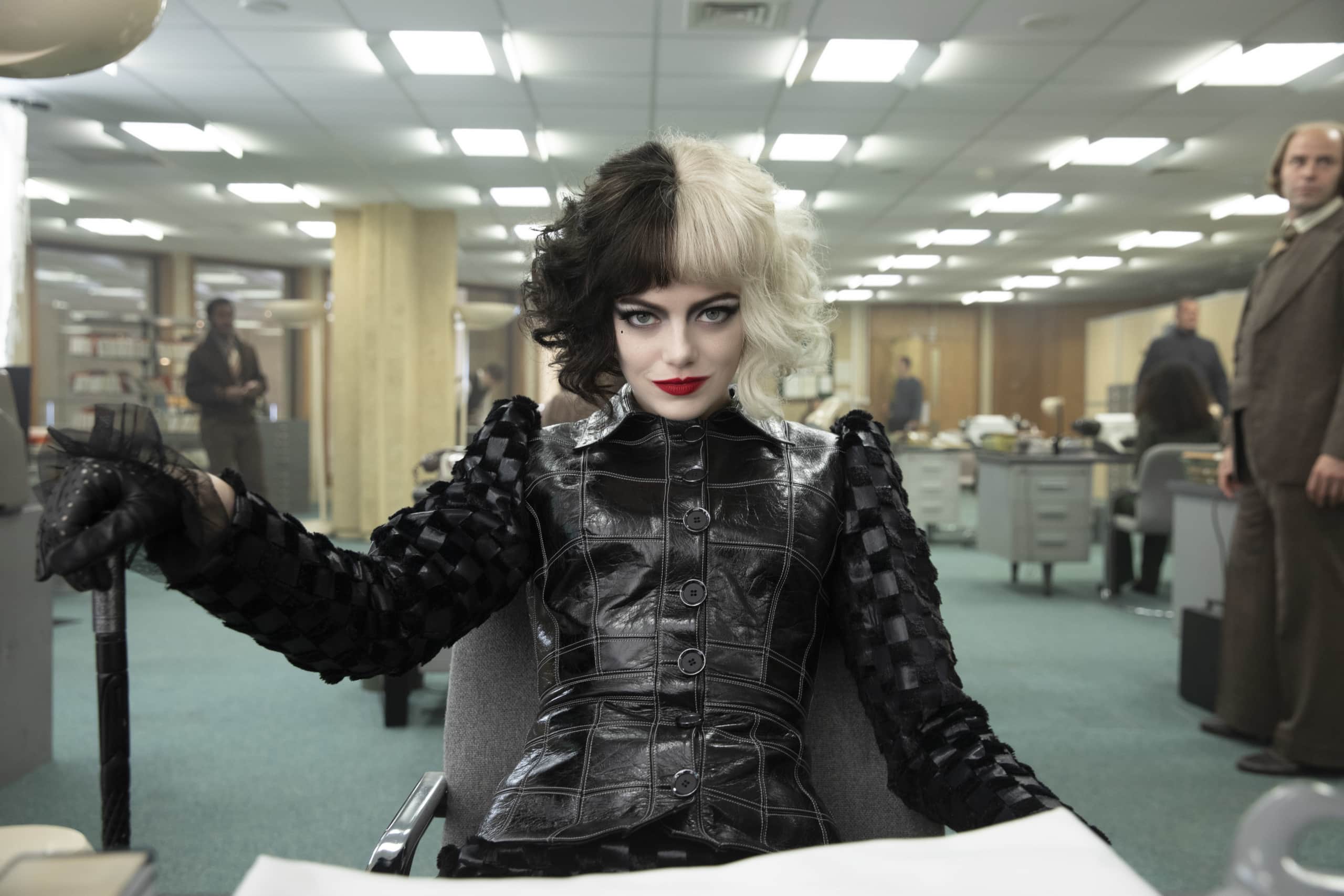 Cruella is in theaters and on Disney+ premiere access May 28. It is rated PG-13 for some violence and thematic elements with a runtime of 2 hours and 14 minutes.