The god of mischief is back and starring in his own Marvel Studios show now streaming on Disney+. It's no secret Loki is one of my favorite Marvel characters and Tom Hiddleston's portrayal of him makes him even more of a draw on the big screen. So you can imagine how excited I was to have the opportunity to interview Loki himself along with other cast members and the team that brought the show to life.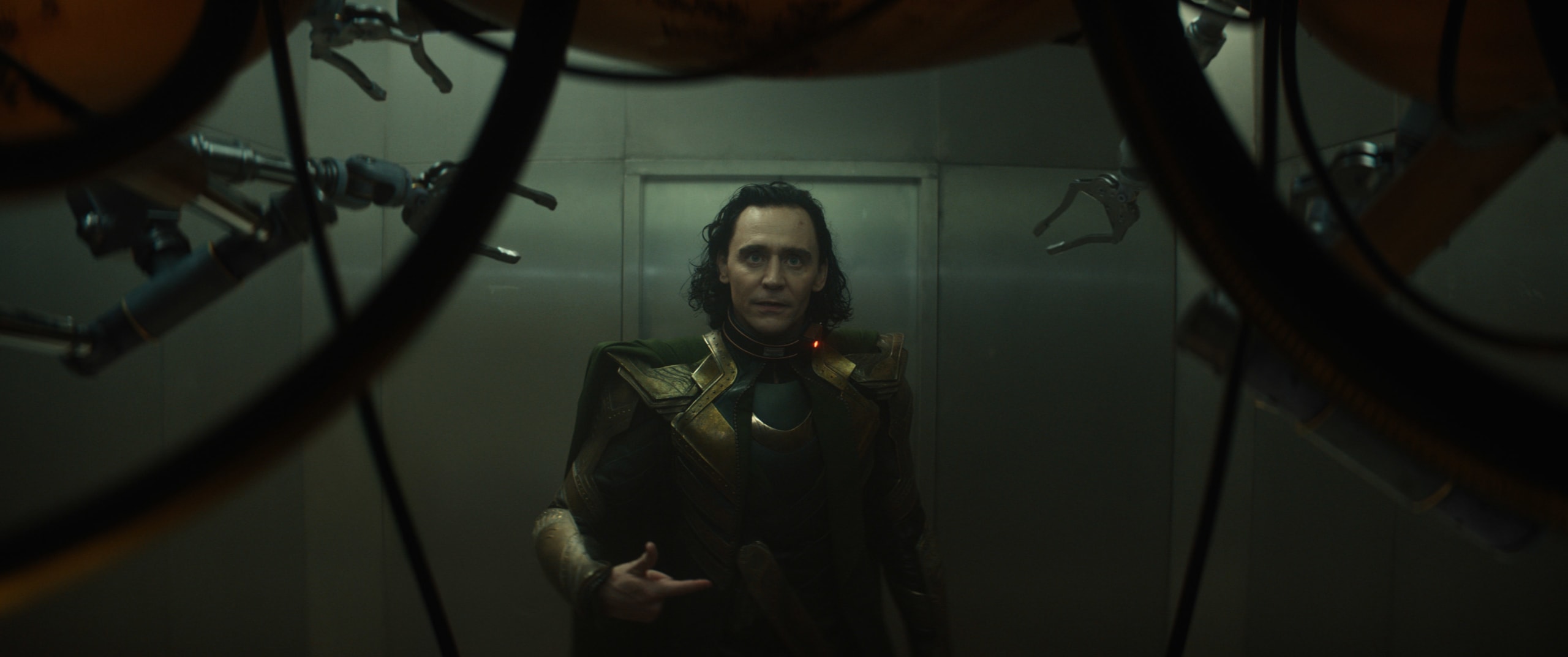 Behind the Scenes of Loki
During the interview with Tom Hiddleston, Owen Wilson,Gugu Mbatha-Raw, Wunmi Mosaku, Director Kate Herron, Head Writer Michael Waldron, and Producer Kevin Feige, there were a lot of interesting facts and behind the scenes info shared. No spoilers here, but if you ever wanted to know how Tom felt about coming back as Loki and what life was like on set, this is the post for you.
We all thought Loki was done after Avengers: Infinity War. You had to think that as well. Then there is a phone call saying hey, Loki is getting his own show. What went through your mind?
Tom: (Laughs) A combination of delight and surprise, I think is probably the accurate way of describing it. I was so excited by the idea. And also I had to scratch my head because that scene in Avengers: Infinity War had felt so final, so conclusive. But, I knew that Avengers: Endgame was coming around the corner and, in that film, Loki picks up the Tesseract and disappears in a puff of smoke. And where does he go? When does he go? How does he get there?
Kevin, Louis D'Esposito, and Victoria Alonso all reassured me that that would be the starting point of the series. And there were so many places we could go, so many possibilities to think about. Which I think is really exciting. And I'm happy to be doing it.
The fans of course were calling, demanding even for more Loki. A character like that is hard to say goodbye to. Kevin, when did you know you were going to bring him back with his own show? Did you know then, where and when he was going after Endgame?
Kevin: We did not know it when we shot Infinity War. But I think we did know it when we shot Endgame. What that meant and where that specifically would go, we didn't know. But one of my favorite things coming out of Endgame was people saying that we forget to tie up the loose end of Loki. Loki just disappears and we forgot to mention what happens to him at the end of that movie. And, at that point, we did know that there was Disney+ coming and the show coming. It became very exciting to make people wait until we figured out what the show would be. And now, finally, two days from it being unveiled to the world is pretty cool.
RELATED: Loki Review: As Brilliant, Fun, and Mischievous As Loki Himself
Michael, you are working on Doctor Strange In The Multiverse of Madness which ties into this show. When you heard there was going to be a Loki show, what went through your head? As head writer did you have plans of what you were going to do with Loki and where you were going to take him
Michael: I was just thinking Loki is DB Cooper. That's all I was thinking.
Tom: (Laughs)
Michael: I was so excited when I heard that there was going to be a series about Loki. He is my favorite character in the MCU. And it was going to have a time travel element which means opportunities for chaos and fun. It just seemed like it would be a great time as a writer. So I went after it.
Like Michael and many of us, Kate, you are also a huge Loki fan. How did you come on board as the director?
Kate: I just stalked Marvel, basically. I remember I found out they were making the show, and I told my agent to just call them every day until they caved. And it worked. (Laughs) Essentially, I was like, just get me in the room,just get me in the room. Persistence and being a pain in the butt got me the job. (Laughs)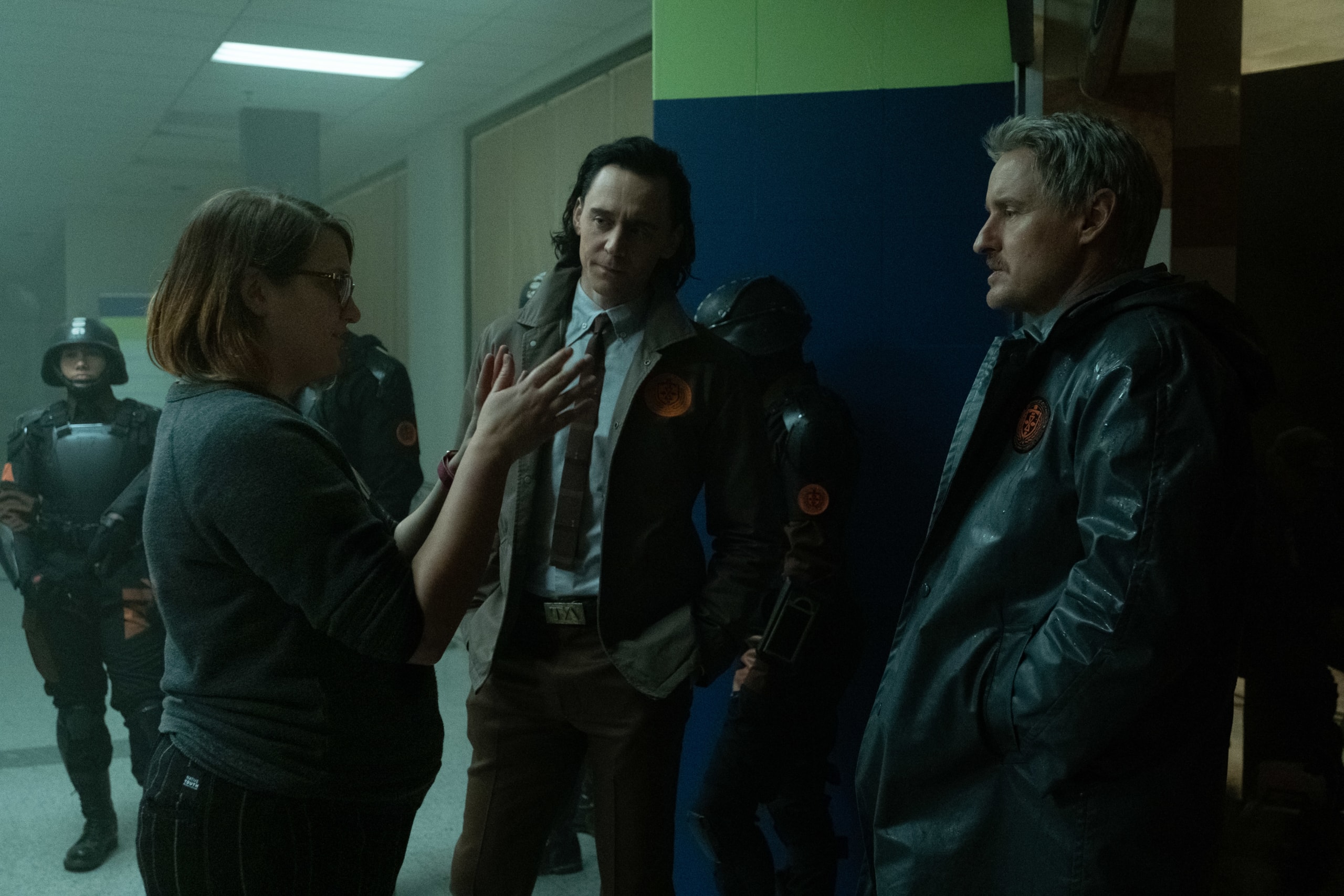 The show features three newcomers to the MCU, Owen Wilson's Mobius, Gugu Mbatha-Raw's Renslayer, and Wunmi Mosaku's Hunter B-15. How does it feel to be part of the MCU?
Owen: It's exciting to be a part of it. Just seeing the trailer come out and how excited people got. I've worked on a lot of things, but the sort of secrecy surrounding this, I didn't quite understand until I saw how the fan base is revved up and passionate.
Gugu, did you do any sort of research on your character? What was your approach to her?
Gugu: Lucky for me Kate explained to me that this was an origin story for Ravonna Renslayer. Predating some of the stuff in the comics. So all that stuff is there, but there was also the opportunity to feel like we were starting with something fresh with the TVA that hadn't been seen before by fans on screen. I feel like there's plenty of potential for her in the future as well.
Hunter B-15 is a brand new character. What was it like learning you got the role? And since she is new did that help having a clean slate for who she is and how she acts? Which gave you a completely clean slate to come up with who she is and how she acts.
Wunmi: I didn't know I was auditioning for Loki. I had been given some lines and sent it into the ether and thought, well, it's top secret, so it's probably really important. When I got a phone call in the middle of the night saying I'd been offered a part in Loki, I was like, when did I audition for Loki? (Laughs) And it was really exciting. I know Tom and Gugu, we went to drama school together, so I felt even though it was terrifying joining the MCU 'cause it's this huge thing, knowing that I was going to walk into the room and have friends there it felt really good.
No one's got any ideas of what they want her to be. I can just bring you who she is, and you have to accept it. (Laughs) I kind of like that because, you know, there does feel like a bit of pressure when you're joining the MCU. Being able to just have a clear slate and do whatever I want to do with Kate, it's great. It's fun.
RELATED: Loki Episode 1 Easter Eggs & Breakdown
What were some of the inspirations for the crime thriller aspects of the show?
Kate: Stylistically, we were really inspired by a lot of film noir films. You can see that in our lighting and how we approached it. Se7en is a very heavy influence. There's a little reference to Se7en in episode two which I'm sure fans of that film will recognize instantly.
Michael: I think David Fincher for sure.Zodiac and Silence of the Lambs were two specific ones that we were looking at a lot in the writers' room.
Kevin: The real answer is, the inspiration was Kate. We knew we wanted to do a Tom Hiddleston Loki series. We knew we wanted to have time travel elements. Our producers Stephen Broussard, Kevin Wright, and I were always fans of the Time Variance Authority from the comics for years and years. We've loved the idea of it.But just didn't know exactly what to do with it before Kevin and Stephen had the idea of putting it as a major part of this show. But it's really Kate's meetings with us and her pitch that brought in all those references and allowed us to look at this as a slightly different genre than we were anticipating.
Loki has always seemed to be a bit of a misunderstood villain. What do you hope the audience will take away from the extended story of Loki and his growth in this series?
Tom: What I love about the series is Loki is stripped of everything that's familiar to him. Thor is not close by.Asgard seems some distance away. The Avengers for the time being aren't in sight. He's stripped of his status and his power. And, if you take all those things that Loki has used to identify himself over the last six movies, what remains of Loki? Who is he within or outside all of those things? I think those questions for all of us, are really fascinating to ask. What makes Loki Loki? Is he capable of growth? Is he capable of change? Do his experiences within the TVA give him any insight into who he might be? This mercurial shapeshifter who never presents the same exterior twice.
Loki takes place throughout time and in various locations. How did you all arrive at which time periods and locations to include?
Michael: We had a whiteboard in the writers' room and said where's the craziest, most expensive places we can try to shoot something? (Laughs) People heard it's a show about Loki affecting historical events. I think everybody expects that Loki is going to be riding with Paul Revere. That's the lowest hanging fruit version of that. So, we wanted to subvert those expectations, and go to the places that maybe people knew but didn't know well.
Kevin: Early on, Michael calls it the low-hanging fruit. There were ideas about going back almost a decade with Loki in the '70s, running a Studio 54. I think we had some concept art of him on a horse. Thankfully, thanks to Michael and Kate, the show became infinitely more interesting than that. And the time periods are almost secondary to the story itself.
After years of making comedies and dramas, Owen, what convinced you to join the superhero genre?
Owen: It didn't take much convincing. It was really the conversation that Kate and I had where Kate really walked me through the whole idea for the show and the dynamic between Mobius and Loki. It really was such an engaging phone call, I think I signed on right then.
Loki is now one of the longest tenured characters in the MCU and clearly beloved by so many all over the world. How do you feel knowing that Loki just continues to grow in popularity?
Tom: I just love playing the character. I always have. I feel so fortunate that I'm still here and I think he's a character of huge range. So it never feels like the same experience. I think because of Loki's complexity, every time he's in a new dynamic, new stuff emerges.
There's no question that the reason I am allowed to continue to play him, is because he clearly means so much to so many people and for so many different reasons. And that is incredibly gratifying for me. I see that as a big honor. Over time, I've been made aware of the different things that he represents for people. Some people enjoy his playfulness and spontaneity and that inherent sense of mischief that he has. Some people enjoy his quality as an antagonist. Some people probably can't stand him. (Laughs) I know there are some people who are drawn to his vulnerability underneath all those layers of charm and charisma.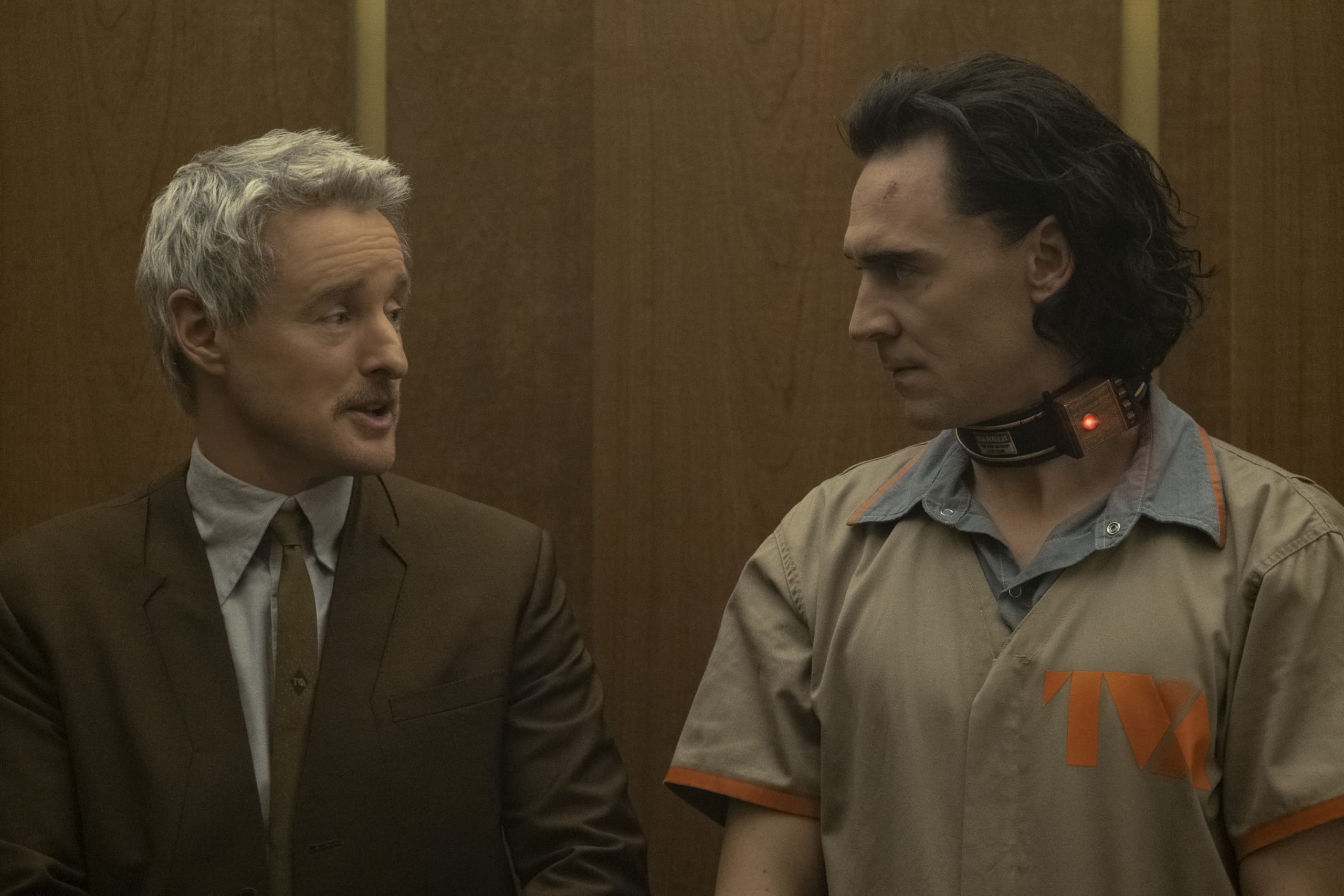 Mobius and Loki have a fun bond that is being explored in the show. Was there anything behind the scenes that happened to build that relationship?
Owen: Before we started filming, Tom generously and patiently took me through the whole MCU mythology and Loki. We were calling them the Loki lectures. I think that was really important and really helpful to our dynamic once we started filming the scenes. So that was really helpful to me, going to Loki school before we began.
Tom: (Laughs) It was such an interesting time trying to compress the experience of my time in the MCU and six movies. And, Mobius is an expert in Loki. He knows more about Loki than Loki does. So I was trying to help Owen with some of my memories about my experience. Owen asked such insightful, intelligent questions that made me rethink various aspects of the character. I think our conversations found their way into the scenes themselves which is really nice.
I love this idea of Loki Lectures. Gugu, Wunmi did you get those as well?
Gugu: I think I was in London when the Loki lectures happened. I think I missed it. But Tom helped me with some pronunciation of a few things. And it's great just to have Tom on hand, just as our sort of leader encyclopedia.
Wunmi: I missed all the Loki lectures. I got a Marvel lecture from Kate from Iron Man to the season finale of Loki, and how we all fit in.
How did the Loki Lectures come about? Tom, was that your idea or Kate's?
Kate: I think it was our walk around New York. It was because you were such an encyclopedia and I can't remember how we landed on it. I think we came up with it together, and it seemed like a good plan.
Tom: I remember there were lots of departments that were going to touch on so many different aspects of Loki's history. And I think they were curious about what had come before. From Kenneth Branogh and Alex Bryne and Bo Welch, to Charlie Word and Taika Waititi, and Joe and Anthony Russo, and all these people contributed to Loki's story. Things like why his costume changes, adaptations to his choreography, or changes in the dramatic arc.
I hope it wasn't that long (Laughs), I just hope it was interesting. I do remember this one…People wanted to know about the horns. There was a question of when does Loki wear the horns? Why does he wear them? It was kind of interesting to be asked these questions from outside the experience.
Loki episode 1 is now streaming on Disney+. Catch new episodes Wednesdays.