Launchpad, coming to Disney+ this Friday, is a collection of shorts created by dynamic and unique filmmakers. These short stories will inspire you and warm your heart. I had the chance to meet the directors of these films and learn more about the inspiration behind them.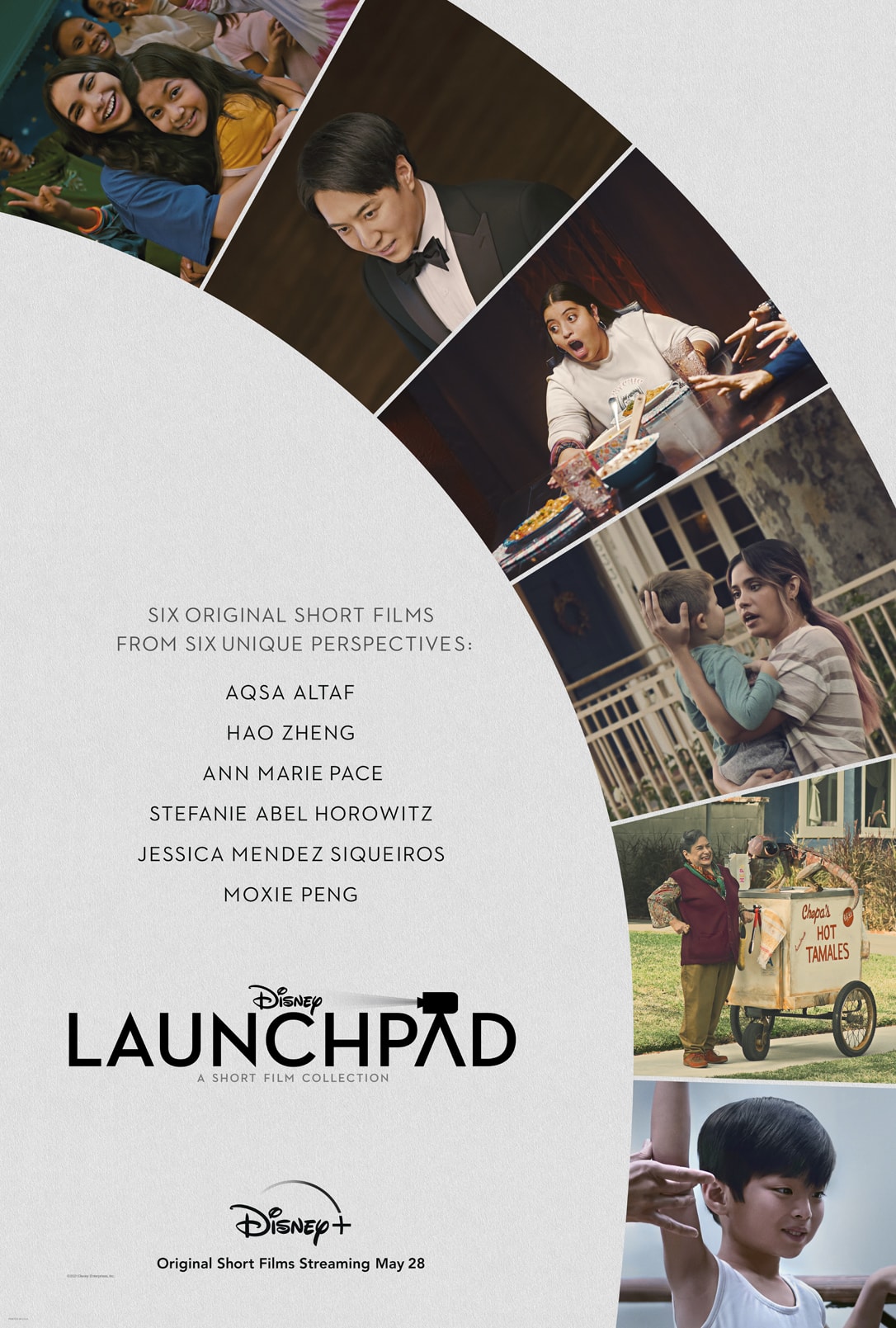 Disney's Launchpad is a collection of live-action shorts from a new generation of dynamic storytellers. Six filmmakers from underrepresented backgrounds were selected and provided with the opportunity to share their perspectives and creative visions that will show audiences what it means to be seen. Inspired by life's journey, these first six shorts for Disney+ are based on the theme, "Discover."
After screening the six shorts I wanted to know more about what inspired the filmmakers and what it meant to bring these stories to life. I got those answers and more when I had the opportunity to interview the directors behind each short as well as Mahin Ibrahim, Director of Disney's Diversity and Inclusion, and Phillip Domfeh Senior manager of Launchpad.
RELATED: Interview: Emma Stone and Emma Thompson On All Things Cruella
Interview: Launchpad Directors On Bringing Their Short Stories to Life
Mahin Ibrahim Phillip Domfeh started off the interview by sharing about these six awesome filmmakers, what makes them proud and how these individuals truly captured the theme of "discover."
Mahin: We're proud of our amazing filmmakers. They themselves have said that from day one that they are not just filmmakers but a filmmaker family. You can see that bond, that connection, even across Zoom, you can feel that collective heartbeat across all of them and so they have brought that to their films, as well as the spirit behind the collaboration on set. I love what one of our mentors Nicole Grindle from Pixar shared, "What you see on screen is emblematic of what happened off-screen and the culture of inclusivity and collaboration that they fostered behind the scenes." I'm very grateful to work with these amazing filmmakers.
Phillip: I think these filmmakers made amazing work. Honestly, it's been an honor to be able to support them and to be on this journey with them. I think when you watch this collection of films, there's so much beauty and life affirmation. Not at the expense of telling the truth or exploring tough themes like being true and honest and recognizing your pain on moments where you haven't felt like you belonged or understood. The way that they just so nimbly navigated all of that as storytellers is just something that I hope will lead to discoveries for our audience members.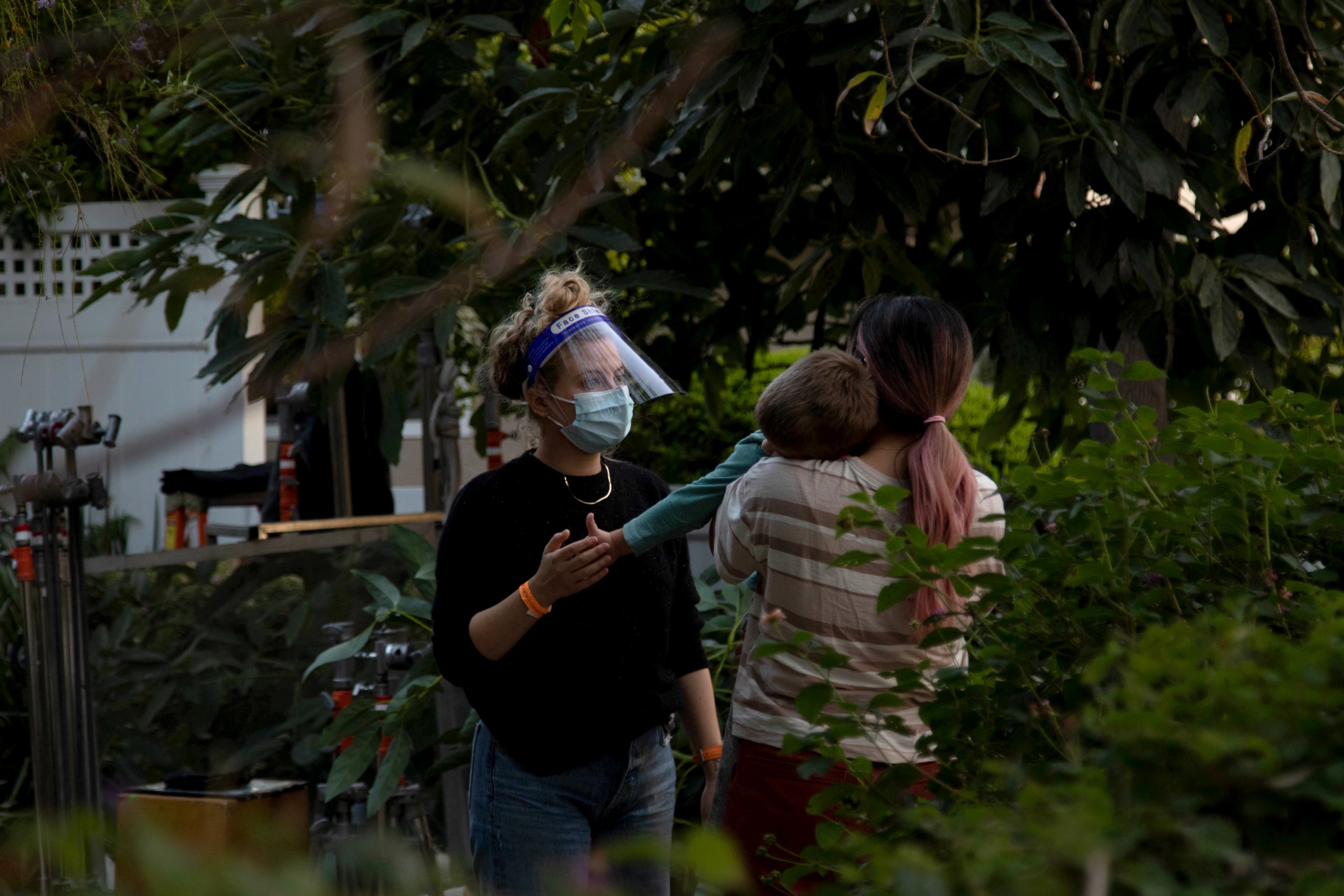 Each short story came from an experience in the filmmakers lives. They shared a little about what inspired them to create these films.
Jessica Mendez Siqueiros: The film was inspired by the fact that my great grandma lived till she was 100 years old. She died five days after her 100th birthday. I realized after she died, I had 25 years on this earth with her but that I didn't gather the information that I should have from her. That left me feeling like a bit of a failure to my own culture and really realizing that the responsibility is on us to keep our cultures alive.
Hao Zheng: Dinner is Served is about a Chinese student in an elite US boarding school trying to apply for a leadership position no international student has ever applied for. It's pretty much based on my own experience when I first came to the States. I was 15 back then. I went to a high school in New York, and I just felt like nobody knew me when I first landed. Pretty much, that's the story that I wanted to share with Dinner is Served, how we embrace our own voice even though it may be awkward, even though maybe nobody will understand.
Aqsa Altaf: I grew up watching films that did not represent people that look like me, or stories that were like mine, or even people that are around me. None of it was represented on the big screen. I started internalizing that thinking that we're not just important enough or valuable enough or "cool enough" to be on the big screen or be worthy enough and that is just such a toxic thing to think as a child. Then as I grew older I thought "If we don't do it, who will? If we don't start cracking that ceiling that was created for us one story at a time who will?" It's not going to be one story that's going to be enough to crack that ceiling, but it's a crack, and one crack will build another crack and eventually we will just have more of a nuanced dimensional, proper representation of my religion culture on screen, hopefully.
Stefanie Abel Horowitz: Inspiration was at the time that my grandpa was going to be 100, my parents were going to be 70 and my nephew was going to be four. I was just thinking about this passing of the baton of life that was happening. In my 20s, I was a babysitter and I took care of this really cute four-year-old kid who was so loving and so smart and so incredible and taught me about love, I think. One day he tried to shoot me dead with his finger gun and I said, "Do you know what that means?" He didn't and I said, "Well, if I was dead, I wouldn't be here anymore, and I won't get to spend time with you and we wouldn't get to play." He was really sad. As we would all be, that's a sad, sad thing. It just got me thinking about the simple tragedy of our lives: that we're all going to die, and everyone in our lives is going to die. In that, we're all going to experience suffering and loss over and over and over again. How do we talk about that in our culture? How do we share that? How do we talk to kids about difficult things?
More personally, I am the child of a therapist, and I'm very good at listening, but I'm a lot less good at sharing. I think that's really what the film is about. It's like a reminder to me and anyone else, that very brave act of sharing your sadness, or your pain, or your feelings of being unwanted or unloved or unheard, that is really something that creates community. It can remind you that you're not alone in those difficult moments.
Moxie Peng: To me, The Little Princess is very dear to my heart because it was based on my life experience growing up in China as a child. I was five. I was like Gabriel. I was very into feminine stuff, pink and princesses. I became friends with this kid and his dad started to have a suspicion of us and think I was a bad influence. One day he came to our dinner table and he told my dad that I was not normal and I needed to be fixed. I started to cry. My dad got very upset and he took my side and really stood up for me and said that he loved me for who I was. Then he said, "I don't like your kid anyways." (Laughs) Of course, I didn't keep that last part in the film, but I think that event really resonated with me because it was the first time I really discovered that the world can be unfriendly. I also discovered that there will be people who will accept you for who you are. I really wanted to bring that to the story and to showcase that queer and trans kids are not alone.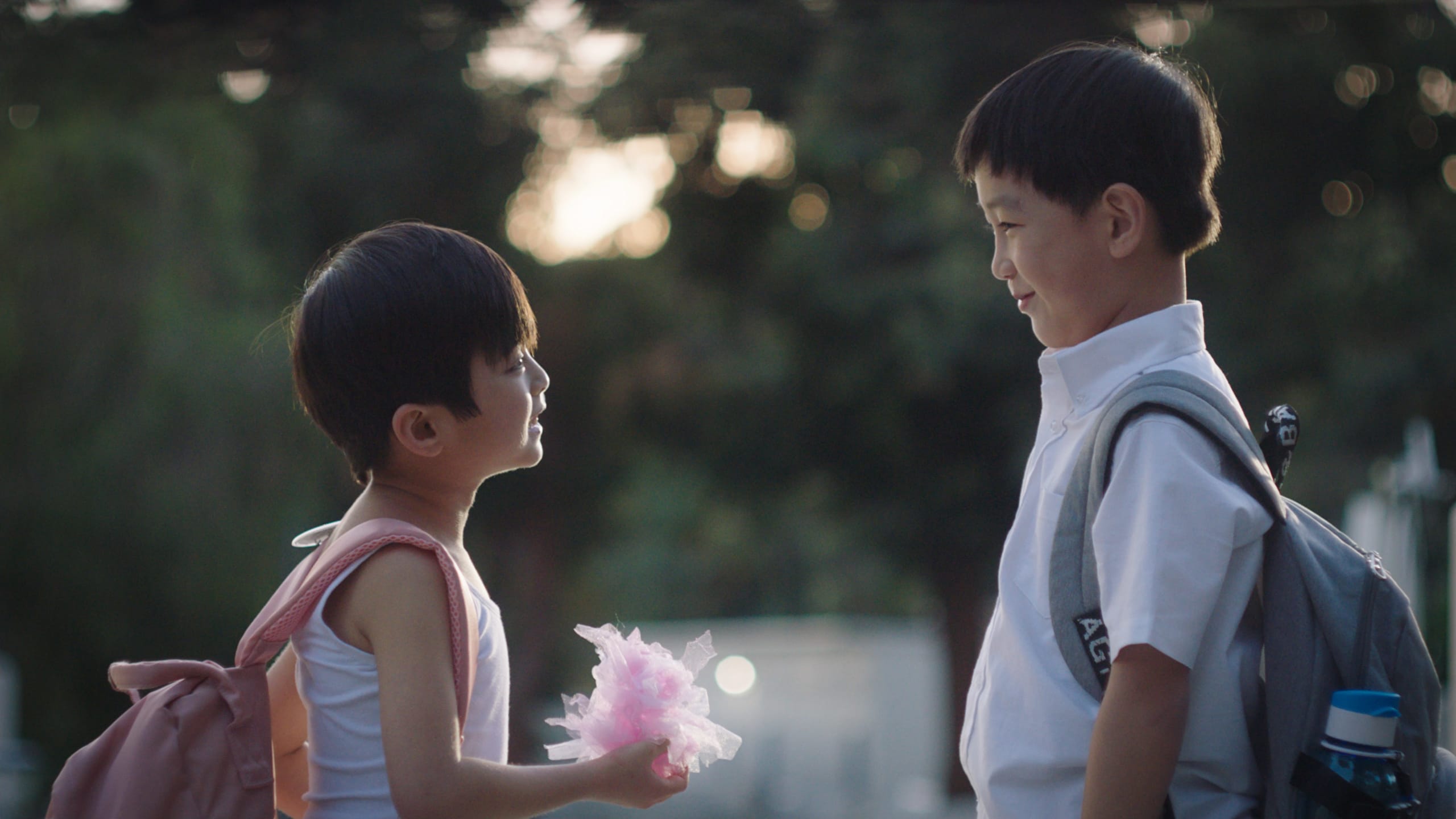 Anne Marie, your story was less personal experience and more metaphorical. Was there a moment on set that you will never forget?
Anne Marie Pace: I think a moment that will really stay with me was actually the first day of shooting. Something that Launchpad really encouraged was for us to hire a diverse cast and crew. On that first day of shooting, I remember looking around and I had never seen so much diversity on a set before. It was really profound for me to see. I had a realization that all of us on set together had experienced at one time or another, what it's like to be an outsider in our own way. To have those people together, making a story that they feel passionate about because they themselves have experienced it is really powerful.
As someone in a bicultural marriage I enjoyed seeing the representation played out on the screen. How does your life as a bicultural American inform your work?
Anne Marie: My story in and of itself is about being multifaceted in your identity. She's struggling with being half human and half vampire. It's something I grew up with being Mexican-American and bisexual and coming from these different identities and having my foot in either world and trying to figure out what that meant and what my identity was amongst that. I think something I had to learn later in life was that being a part of multiple identities doesn't make you any less of that identity, but it all compounds and makes you fully who you are.
With so many applicants for Launchpad can you share what the process was like choosing which filmmakers/shorts to showcase?
Mahin: For season one, we had over 1,100 applications. We're really lucky to work with these standout filmmakers from the very beginning. In terms of the selection process, it was a multi-pronged approach. We worked with over 50 people to get us down to our final six. That ended with interviews both over the phone and in-person.
Our creative executive mentors were part of the selection process as well providing valuable feedback. Also, participating in the interviews as well were their managers and even the studio heads weighed in. It really was a 360 approach from top to bottom that gave us these amazing six filmmakers.
Philip: Each of the filmmakers here have been harnessing and developing their craft for years. We're really looking for filmmakers in Launchpad who are ready for this moment, ready for these kinds of resources. They're artists, but they're also craftsmen. They're also practitioners and that's really what's elevated them to this moment.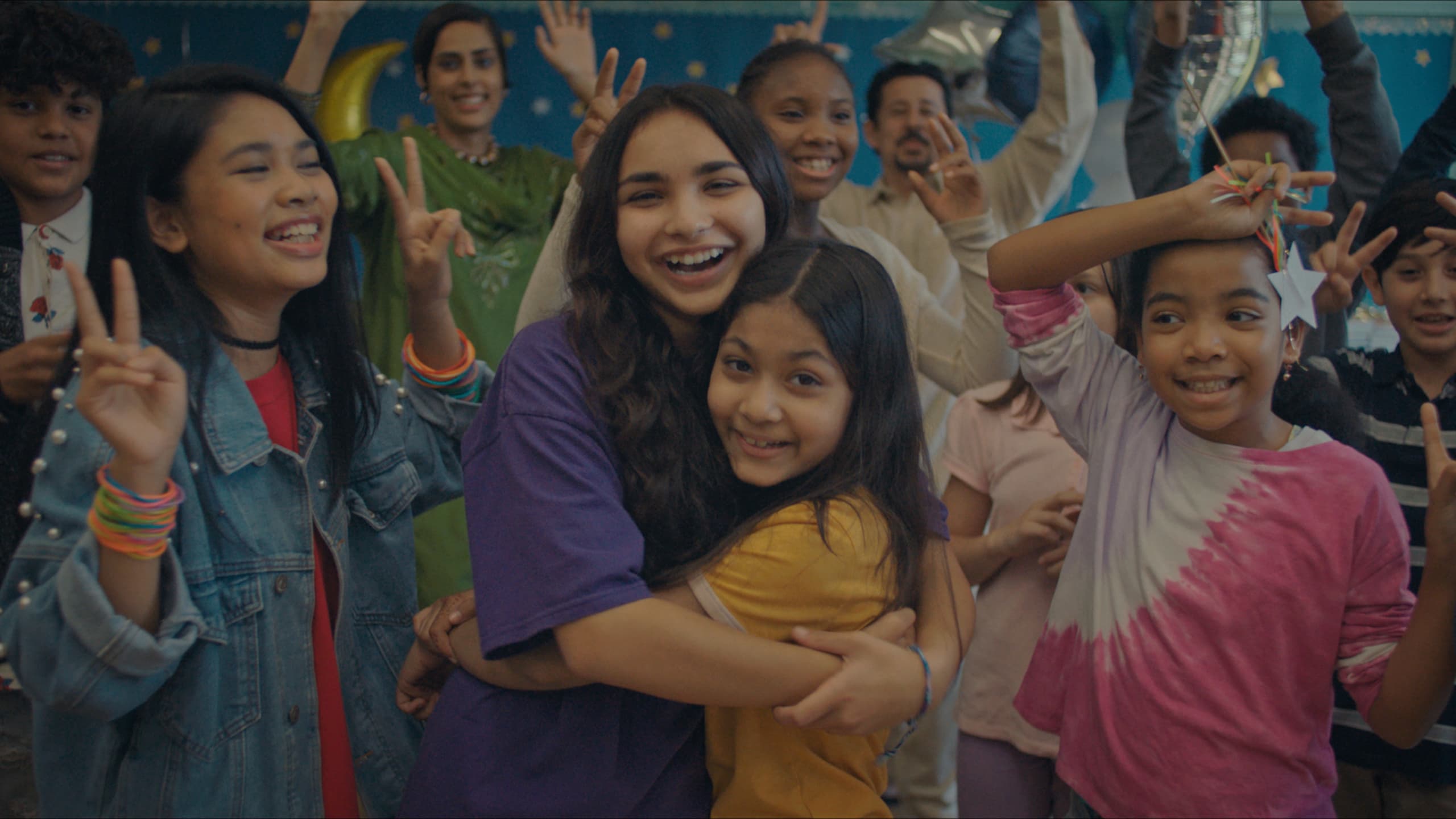 Each of you were paired up with a mentor during this process. What is something you learned from this that you will take with you and use on future projects?
Stefanie: One thing I'll take away from my wonderful mentor, Grant Curtis, who's at Marvel, was this conversation that we had where I was discussing the difficulties of studio filmmaking. He just said, "Yes, but isn't it rare air?" I think it was good advice and a reminder that so few people ever get to do something like this, and we are so lucky to have this opportunity. Yes, it's difficult and it was a big learning process and also wonderful.
Hao: I'm just very moved by their availability. Because I was very nervous coming into this program. I thought that they're not going to have much time for me, but then they were literally there all the time. They will have phone calls with me, and give me support. I think one piece of advice that moved me is that they made sure to let me know that, at the end of the day, it is your story, it is your film so make sure you have your voice and never lose that.
Aqsa: I had the privilege to work with three incredibly empowering women. Just to be under their shadow was such a learning experience at this point in my career. They have been empowering, inspiring, encouraging every step of the way. I recall one of one of the most important things during our script development was that they were constantly so good about giving notes in the sense that it was an objective soundboard for me. It was never this is what you have to do but what is the story that you want to tell? That is just so humbling to have that experience.
Any advice for future Launchpad applicants and aspiring filmmakers out there?
Aqsa: When I was in film school, I wanted to write so many things. The constant note I got was, "But who's going to see this? Who's going to buy it? Who is this for?" My advice for filmmakers is really just write what you really believe in and the market will find you. I really truly believe that the world is getting more and more global as we speak. I'm so, so excited for the future.
Stefanie: My advice is to make stuff. I didn't go to film school, so the only way I learned how to do any film stuff is to make stuff and to screw it up. Screw it up real big and learn from all your mess-ups. This is brilliant advice I know. But it is though, because you're always going to make mistakes, even when you're making your first studio film with Disney. The real thing about getting good at this is not about getting perfect, it's about learning to roll with your mistakes and figuring out how to make those mistakes into something great.
Season One Launchpad Shorts
American Eid
Dinner is Served
Growing Fangs
The Last of the Chupacabra
Let's Be Tigers
The Little Prince(SS)
Season 1 of Launchpad is streaming exclusively on Disney+ starting May 28.