Queenpins is a refreshing addition to the buddy film genre that reunites Kristen Bell and Kirby Howell-Baptiste. With a story loosely based on real events, it takes audiences into the dark side of extreme couponing which will make anyone who has ever used a coupon or three laugh out loud.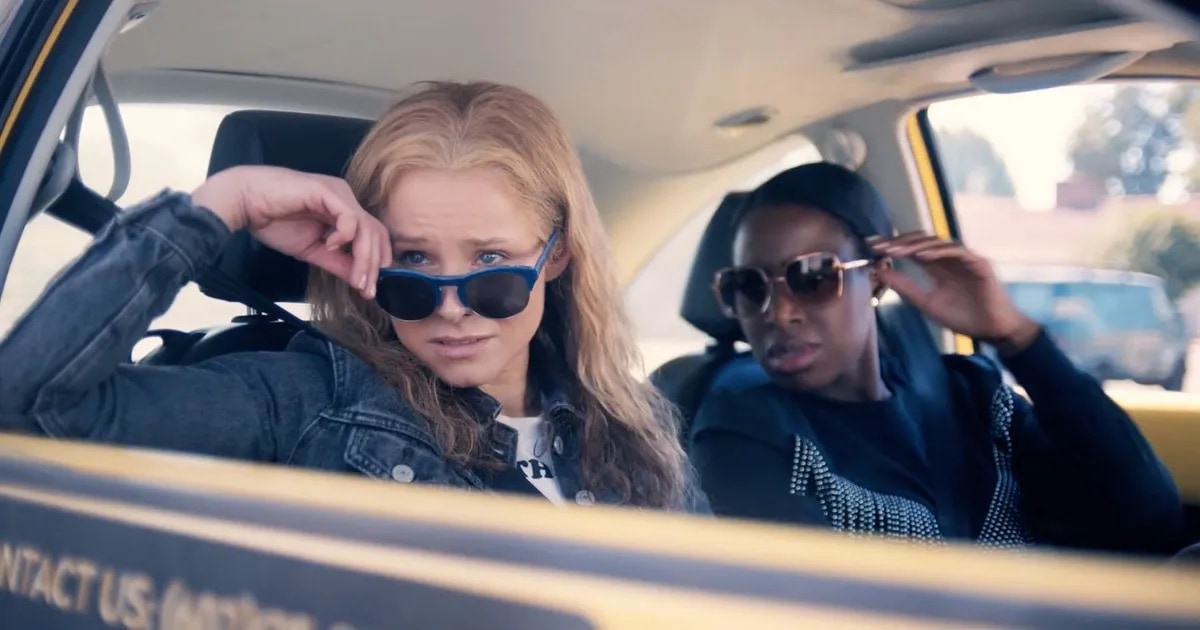 Queenpins Movie Review
Extreme couponing is one thing, committing a federal crime is another. Based on true events, Queenpins shows what happens when that line is crossed. Two best friends, Connie Kaminski (Kristen Bell) and JoJo Johnson (Kirby Howell-Baptiste), team up to create a fake-coupon ring. But soon draw the attention of a loss prevention expert (Paul Walter Hauser) and a U.S. Postal Inspector (Vince Vaughn) who are determined to track down these counterfeiters. Misadventures abound as the ladies navigate the criminal world while the guys learn to work together. However, when their crimes catch up to them, everyone learns a lesson.
Directors, Aron Gaudet and Gita Pullapilly, were looking for a human-interest type piece for their next film when they discovered the real-life story of three Arizona women who were arrested for selling fake coupons online. Amiko Fountain, Marilyn Johnson, and Robin Ramirez founded a "savvyshoppersite" where they earned millions. This dive into extreme couponing served as the inspiration for Queenpins. Although they approached this in a grounded way, there are plenty of over-the-top moments crime-comedies like this are known for.
However, at its core, Queenpins is about the bonds of true friendship. Unlike other buddy films, this one does not follow the overplayed trope of two best friends who seem inseparable face a conflict, they fight, then breakup, only to come back together in the end. In this case, Connie and JoJo never fall apart even when things get their darkest, these two laugh, cry, and support each other through it all. It is refreshing to see, especially with two female protagonists.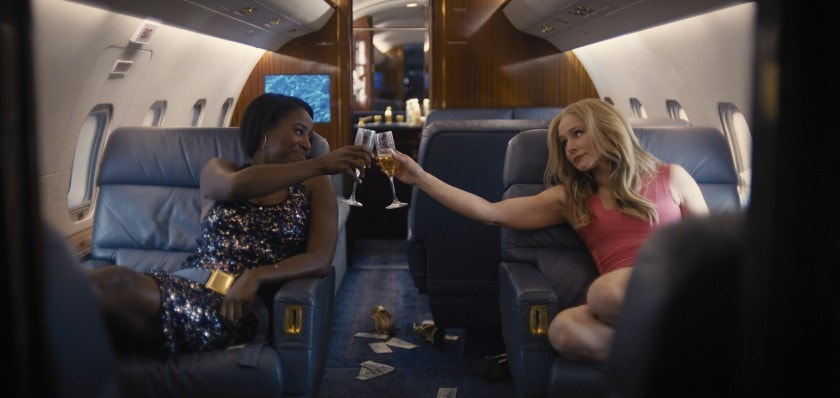 By tweaking the backstories of the main characters, Gaudet and Pullapilly make it easy to sympathize with these women. Sure they are committing a serious crime but how can you be that mad at them? Bell's Connie is a former gold medal winning olympic athlete (in the very real but low-profile event of race-walking) who after several expensive fertility treatments is left with an estranged husband (Joel McHale) and lots of debt. Married to someone who does not seem to notice or care that she is deeply depressed, Connie turns to couponing and the "high" that comes with saving money. Connie's best friend JoJo is similarly down on her luck after someone stole her identity and ruined her credit. She lives with her mother while she tries to sort her life out. See, you are feeling sorry for them already, so when they turn to crime it is almost impossible to actually get upset with them.
The real life friendship between Bell and Howell-Baptiste lends itself to the great onscreen chemistry their characters have. The shared scenes standout as some of the best moments in the film overall. Seeing Connie and JoJo fight the powers that be together while stumbling their way to success is just plain fun to watch. Particularly the part where they thought they knew how to "clean their money" but they definitely did not.
Not to be outdone by the ladies, the guys of Queenpins make for a genuine odd couple who also have incredible chemistry together. Hauser's LPO Ken Miller is an awkward loner, who no one takes seriously. Coming off his impressive showing in Cruella, Hauser proves he is seriously talented and not to mention hilarious. Miller is the manic to Vaughn's calm and collected Kilmurry. In the past Vaughn has been known to play the quick-witted, hardly serious talkative guy in comedies like this, but his turn as the more serious, irritated, and confident character balances nicely with Hauser's Miller.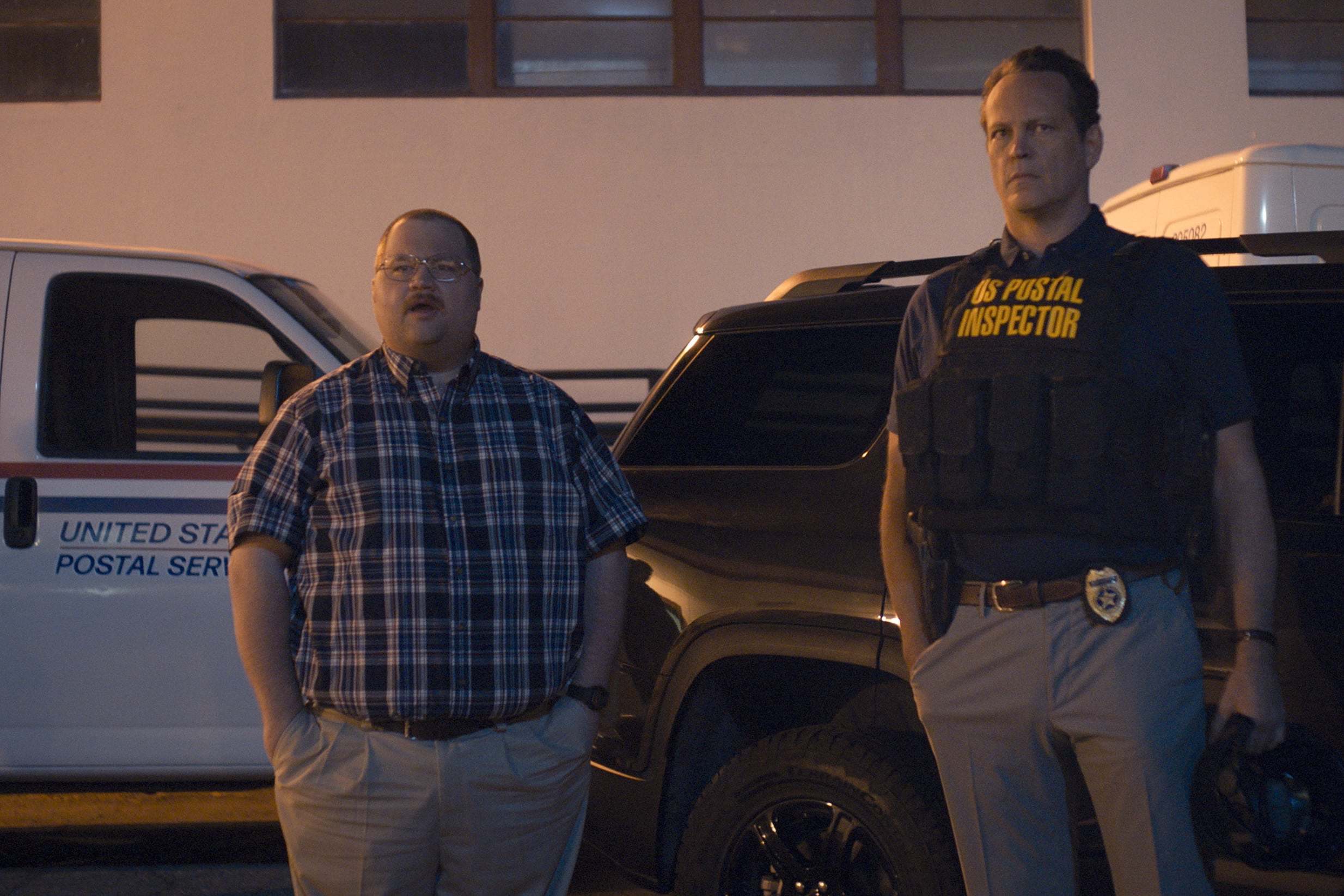 Queenpins is not only a story about coupons and how serious it is to commit fraud by mail, but also one that showcases the importance of human connection and how the way we treat others matters. The film opens with Connie, but closes with Ken, showing that these two (and humans in general) have more similarities than one might think. Just like the characters, everyone struggles with wanting to feel important and appreciated. And maybe if we all extended some kindness and understanding our world could be different.
Gaudet and Pullapilly put their documentary skills to work and delivered something that not only entertains but is ambiguous enough to leave it to the audience to decide who is to blame for the crime. Despite some shortcomings, like a potty humor scene that goes on a little too long, Queenpins is an enjoyable popcorn flick that will make you laugh and give you a nice break from the craziness of real life.
Queenpins opens in select theaters on Friday, September 10, 2021 and will be available to stream on Paramount+ beginning September 30. The film is 110 minutes long and is rated R for language throughout.