Marvel Studios dropped the trailer for Hawkeye, coming to Disney+ November 24. Set during the holiday season, Hawkeye looks like it is going to be a lot of fun and it may just introduce a new major player to the MCU. Plus we got a shot of pizza dog, what's not to love about him? Read on for my Hawkeye trailer breakdown and see everything you may have missed.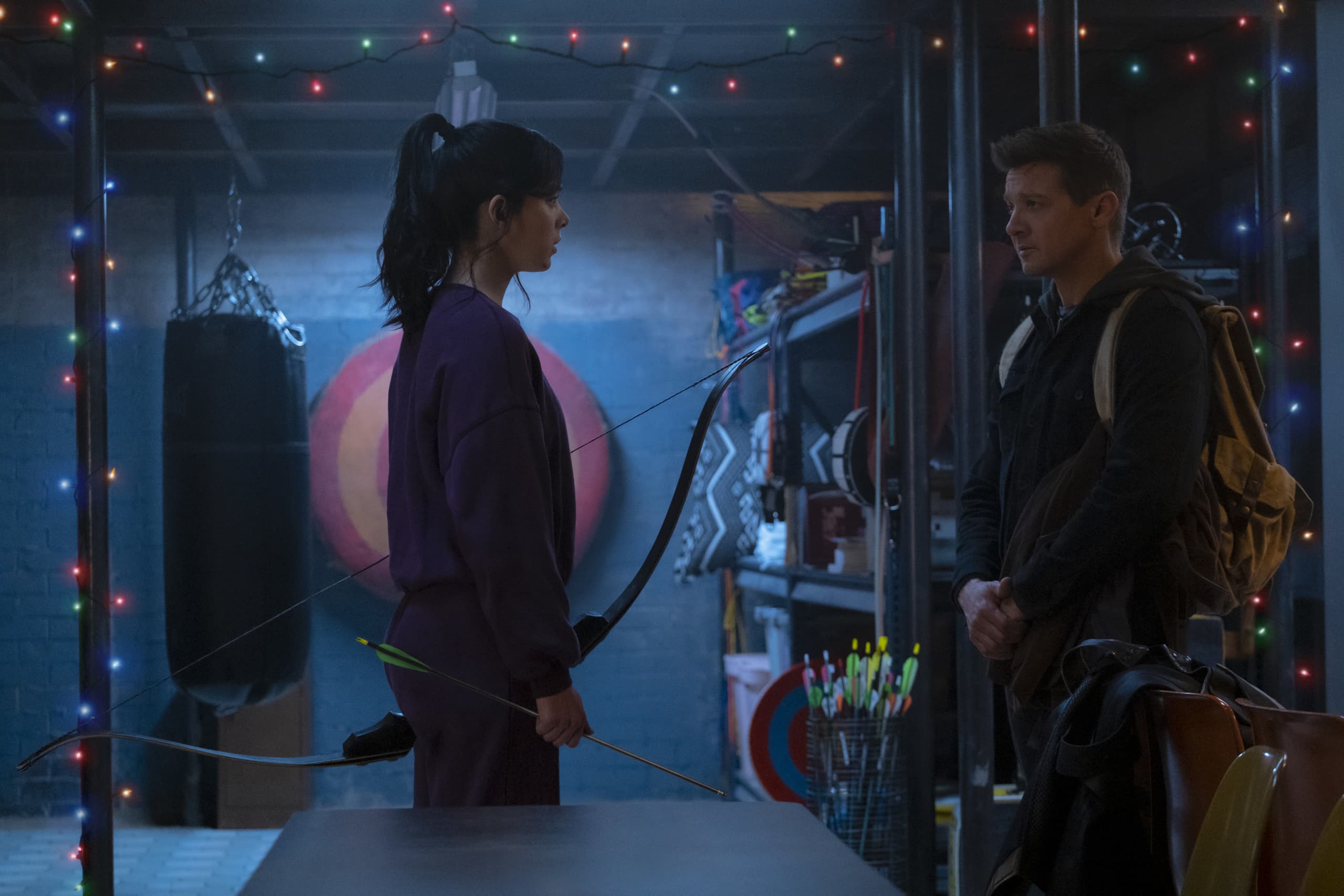 Hawkeye Trailer Breakdown
Clint is with his children at a restaurant. Lila Barton says this is the first Christmas they've had together in a long time. Laura Barton, his wife is not seen at the table. Ava Russo reprises her role as Lila.
A shot of New York's theater district shows a Rogers: The Musical is now playing and Clint is taking his kids to see it. The musical is clearly based on Steve Rogers time as Captain America.
This is the Lunt-Fontanne Theatre which is across the street from The Richard Roger's Theatre home of Hamilton.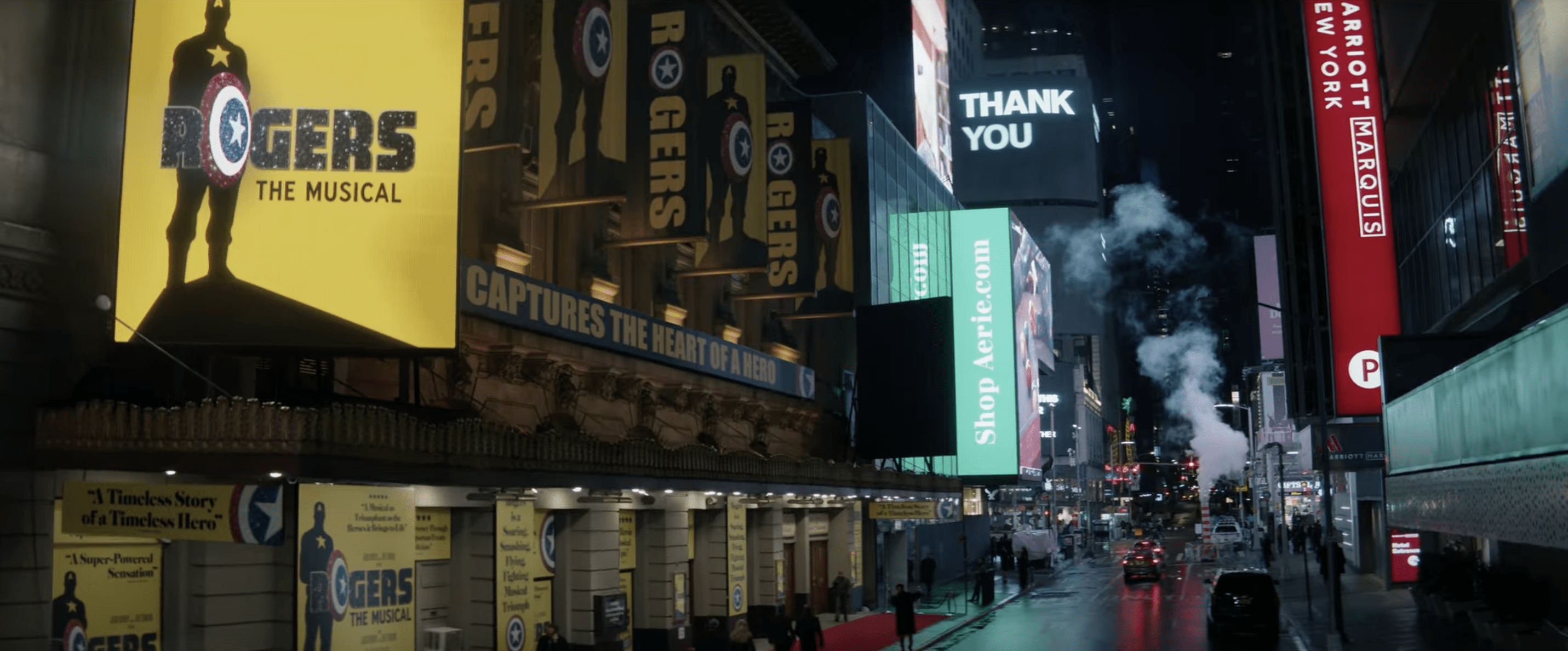 RELATED: All The Shang-Chi Easter Eggs and Cameos You May Have Missed
At his apartment, Clint sees that someone has taken up his former Ronin mantle. This is followed by a flashback if Hawkeye as Ronin in Avengers: Endgame.
When Clint sends his children away, promising to be home by Christmas, there is a clear shot of a hearing device in his ear. In the comics, Hawkeye became deaf after a sonic arrowhead blaster his eardrums. Although the his ability to hear has changed over the years, in 2014 Hawkeye lost his hearing again. This could mean we are getting a hearing impaired Hawkeye in the series.
Clint follows Ronin to find out who is under the mask. It is Kate Bishop, (Hailee Steinfeld) a big fan of his and a self proclaimed world's greatest archer.
The Tracksuit Mafia aka Tracksuit Draculas attempt to blow up the apartment Clint is living in. In the comics, they had several run ins with Hawkeye and Kate Bishop. That looks like Ivan Banionis throwing the bottle. Ivan is not only a member of the Tracksuit Mafia but in the comics he also owns the building Clint lives in. He is an abusive landlord led Clint to eventually buy the building from him.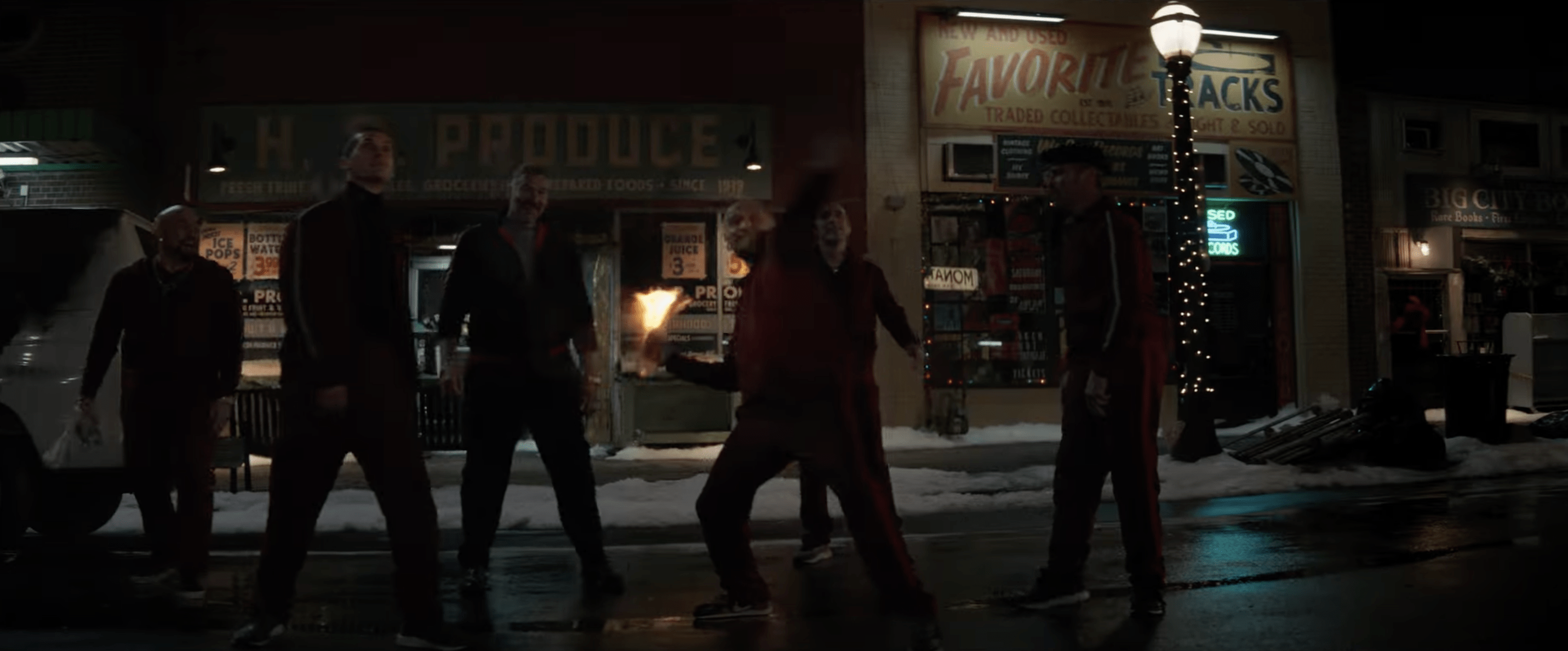 Clint icing down his wounds is one of the most relatable scenes in a Marvel property, like Natasha needing Advil after a fight.
He is captured by the Tracksuit Mafia and is saved by Kate Bishop, sorta. Her superhero landing could use some work.
Rogers The Musical features these Marvel Heroes: In what looks like a retelling of The Battle of New York from Avengers.
In the front from right to left
Thor
Loki
Steve Rogers Captain America
Bruce Banner Hulk
On the balcony from left to right
Hawkeye
Black Widow
Iron Man
Also on stage are Chitauri, some New York Bystanders, and a guy to the left of Thor who might be Spider-Man or Ant-Man even though neither were present in the original fight.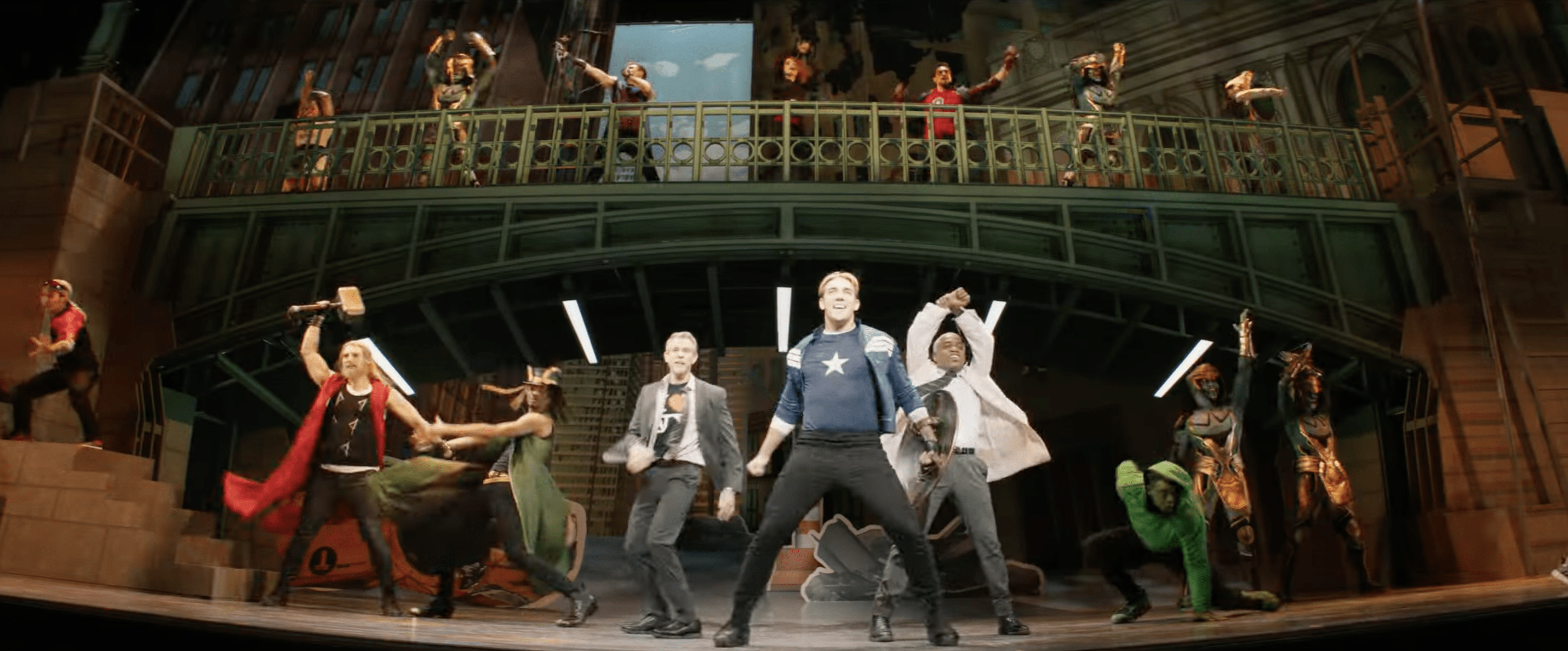 Lucky aka Pizza Dog makes an appearance too and is missing an eye. In the comics, Lucky, originally named Arrow, belonged to Ivan of the Tracksuit Mafia. Clint was kind to the dog and Arrow helped Clint when he was attacked by the Mafia. Unfortunately he was gravely injured. Rushing him to a veterinarian hospital, Arrow lived by lost his left eye. Hawkeye then took him home and renamed him Lucky.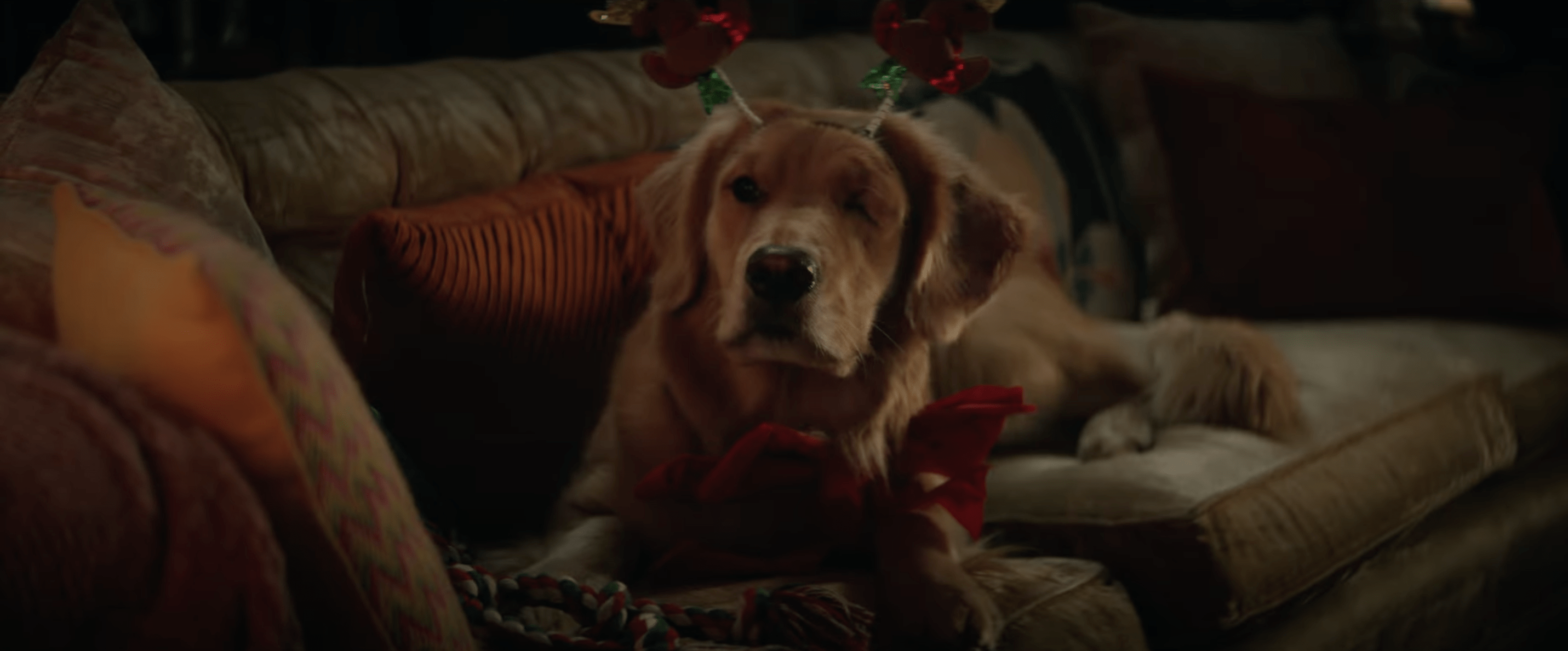 Hawkeye and Kate stand back to back and take on what looks like the tracksuit mafia. A quick shot though reveals a mysterious woman. This could be our first look at Madame Masque, a rumored villain set to debut in the show.
It ends with Kate shooting one of Hawkeye's "less dangerous arrows" that explodes the Trust a Bro van trailing them. This fake moving company is likely one a front of the tracksuit mafia.
Hawkeye starts streaming on Disney+ Wednesday November 24.