On our recent trip to Walt Disney World to celebrate the official kick-off to their 50th Celebration, I was able to book us a lunch at the new restaurant Space 220 located in EPCOT. There have been a lot of questions about what it was like, how was the food, and most importantly- is it worth the price? In our Space 220 restaurant review I will break all of that down and more.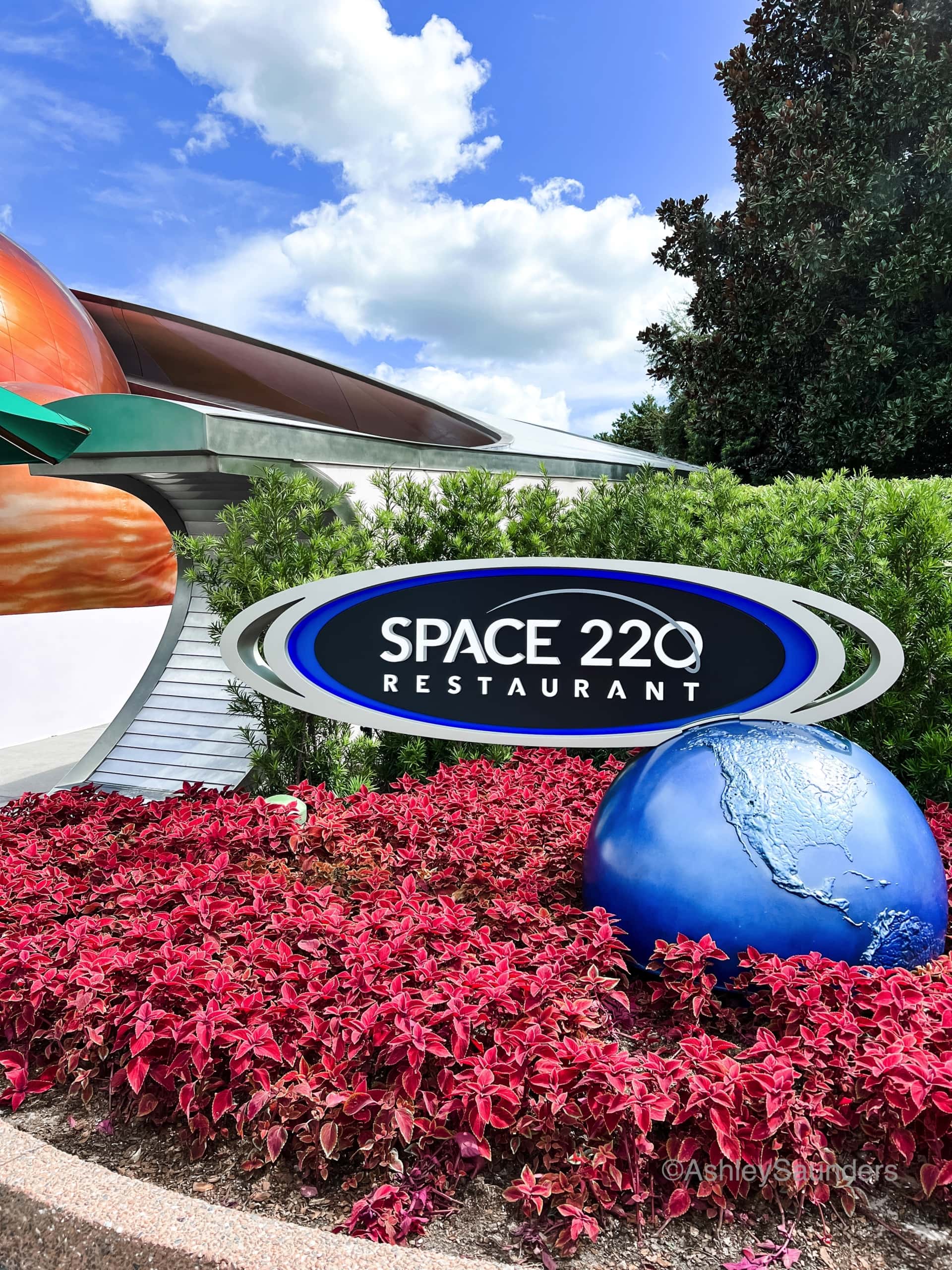 Note: I paid 100% out of pocket for this meal and got a reservation on my own.
Space 220 Restaurant Review
Located near Mission: SPACE you will find the standby line for lounge access and the first check-in area for Space 220. A Cast Member will give you a boarding pass for the Stellarvator, or space elevator, that will take you to the Centauri Space Station. There is a small waiting area with seats but honestly we didn't wait long at all. Soon it was time to board the Stellarvator and head 220 miles into space for our dining experience.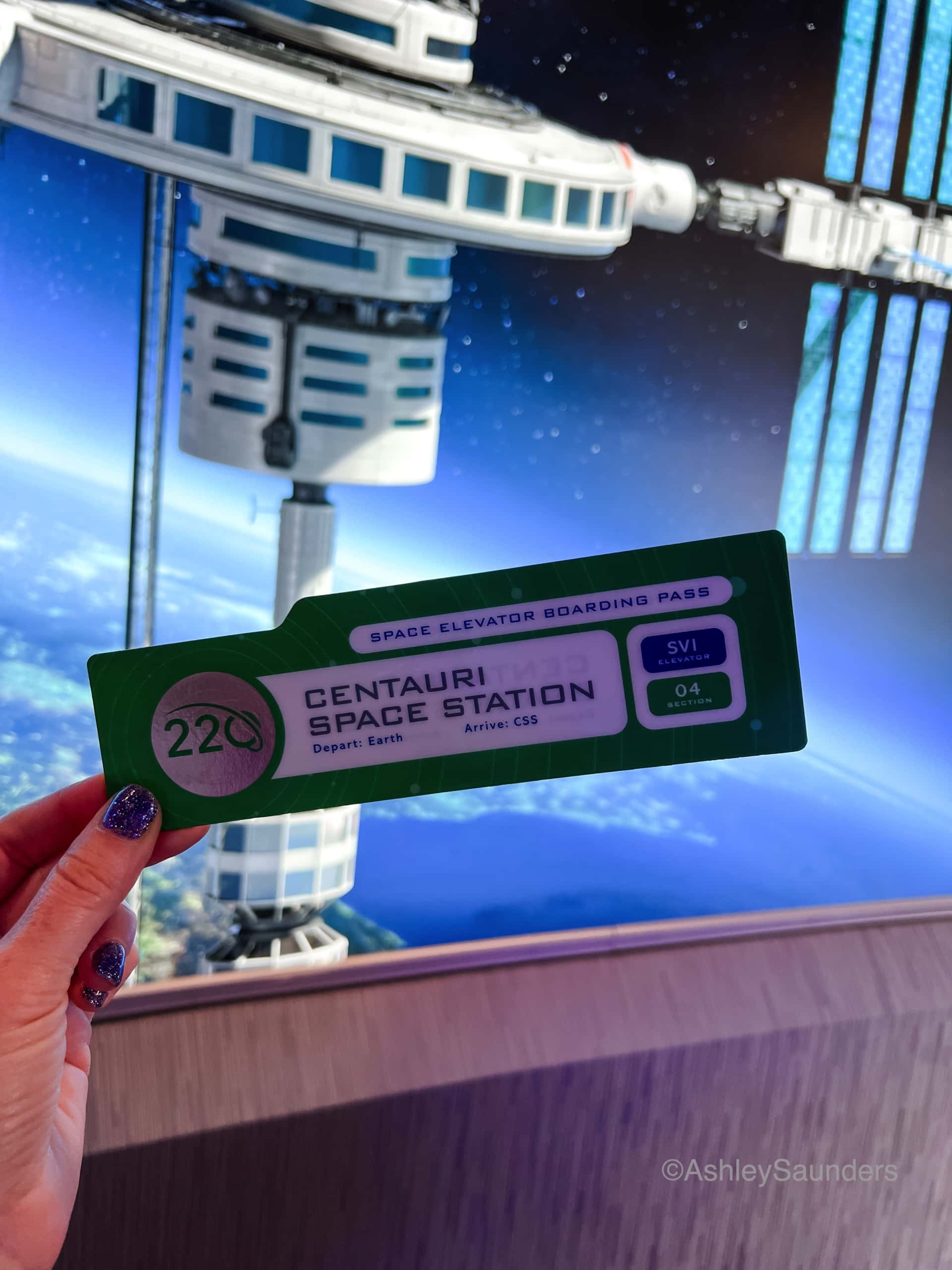 The ride lasts 75 seconds and includes views of EPCOT as Florida fades away below you or look up into the sky that gives way to space as you reach the restaurant. Opposite doors from the ones you entered through open revealing a spacious corridor that leads to the restaurant.
As you walk, crops are shown growing (which reminds me of Living with the Land) and even a collection of wine bottles are on display. The restaurant itself is split into two levels, and no matter your spot in the restaurant there is a good view of space. The upper level consists of half lounge seating and half reservation seating. All tables on the lower level are reservation-only. Immediately upon entering, a gorgeous view of Earth below can be seen and the atmosphere is set for this unique dining experience.
RELATED: Must Haves For Your Disney World Day Bag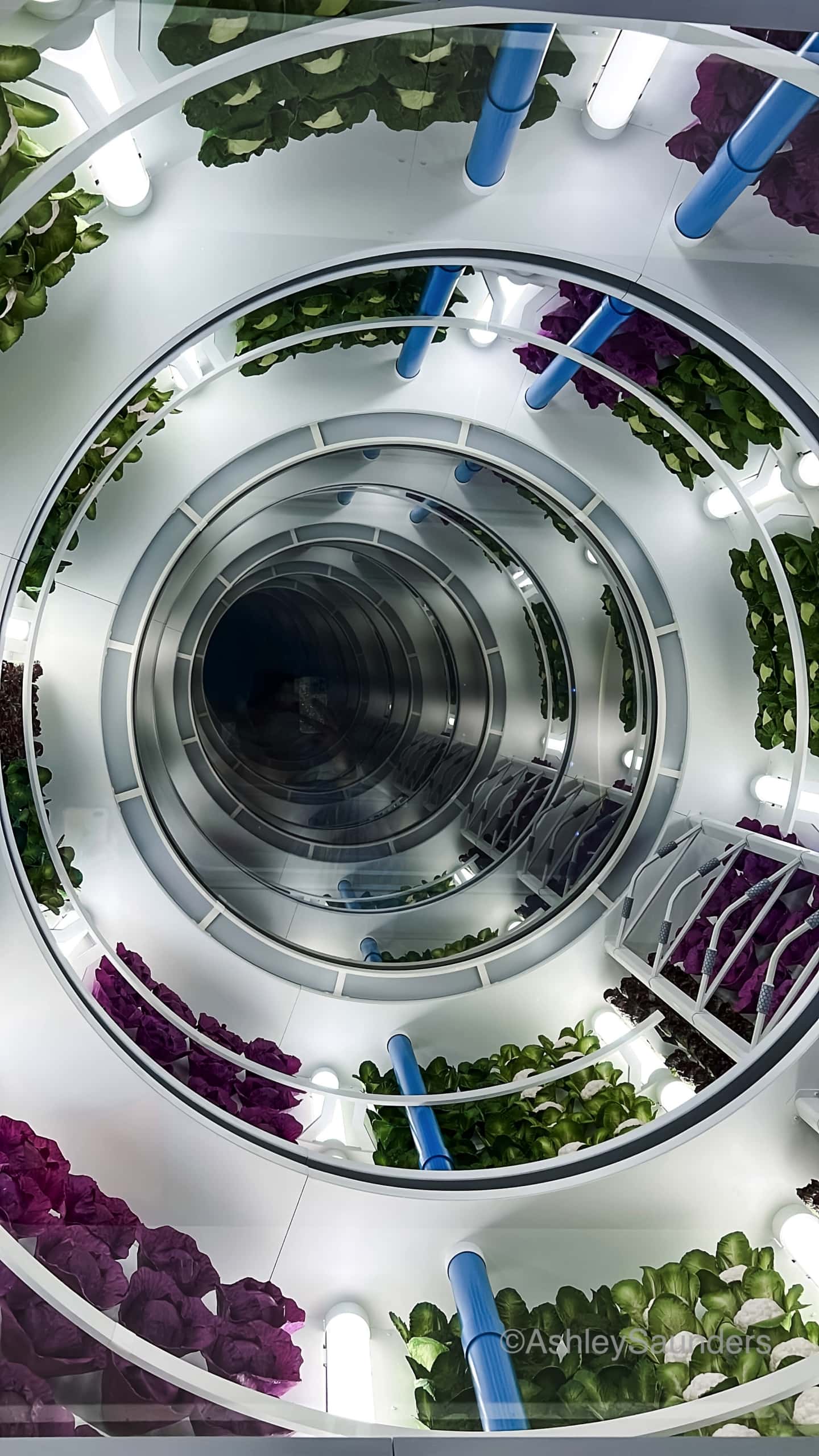 Space 220 Lunch and Dinner Pricing
Space 220 has a prix fixe menu that includes some add-on options.
Lunch pricing: $55 adult/$29 children 9 and under
Dinner pricing: $79 adult/$29 children 9 and under
Lunch consists of a two-course menu while dinner is a three-course menu. The price for the children's meal is the same at both lunch and dinner.
Centauri Space Station Story
Every restaurant on property has a story and Space 220 is no exception. Our server told us that essentially the Centauri Space Station is like a resort with Space 220 being one of its dining locations. The evidence of this is seen throughout your time there as the "hotel" guests spend time floating outside of the space station. Some are skateboarding while others are having lightsaber battles.
Okay, let's talk food.
Lift-Offs (Appetizers)
The lift-offs otherwise known as appetizers come in generous portions, with plenty to share. Some of these items are available at different meal periods as listed below. Unfortunately we did not get to try everything but that just means we have to go back right?
Big Bang Burrata (Lunch, Dinner)
Burrata di Mozzarella, Grilled Artichoke Hearts, Arugula, Sunflower Seed Romesco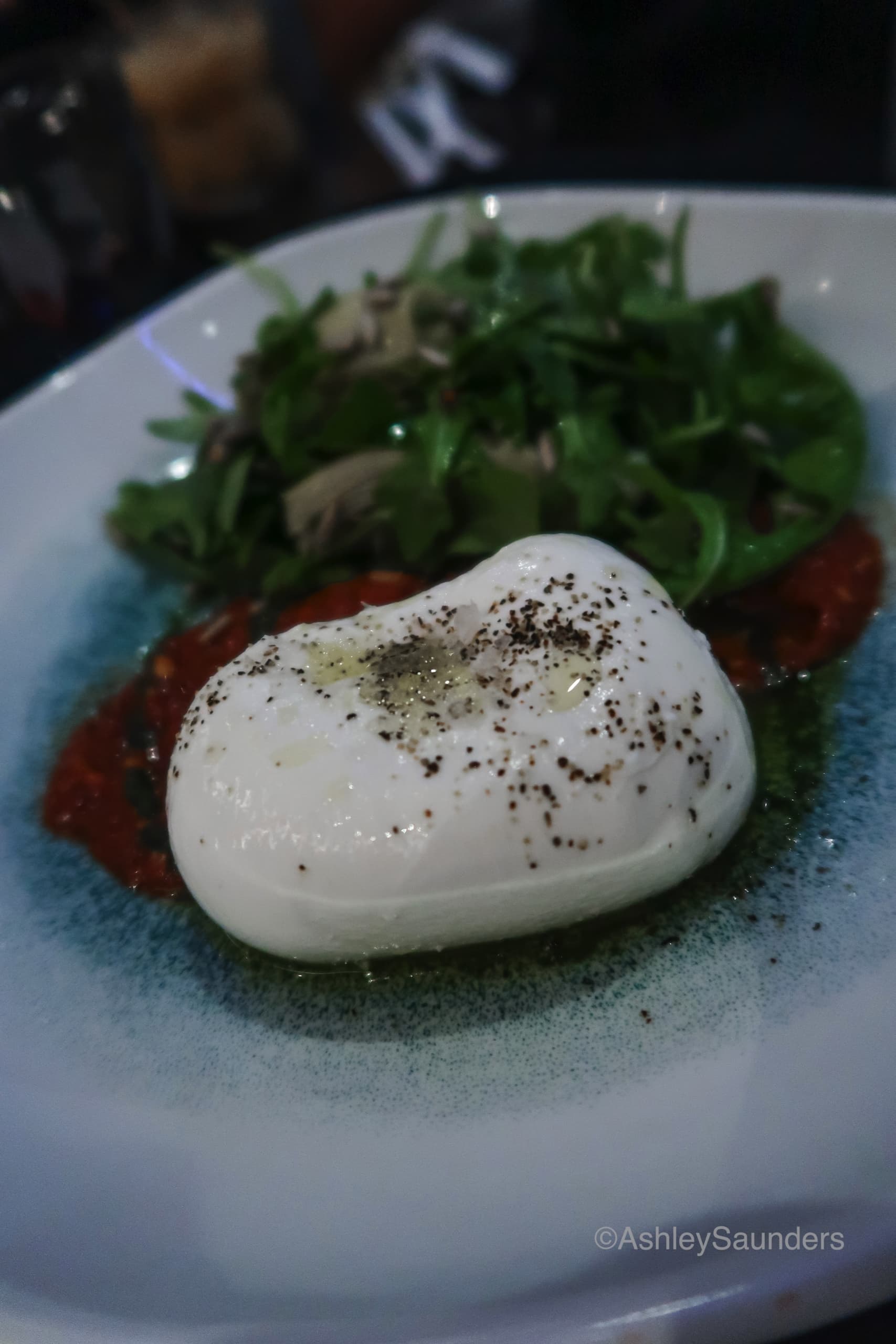 The Big Bang Burrata is a must for burrata fans. The mozzarella was perfection but I'm a big cheese fan. As with the other appetizers, it was large enough I did share even if I didn't want to.
Blue Moon Cauliflower (Lunch, Dinner, $17 Lounge)
Tempura Fried Cauliflower, Housemade Hot Sauce, Blue Cheese Dust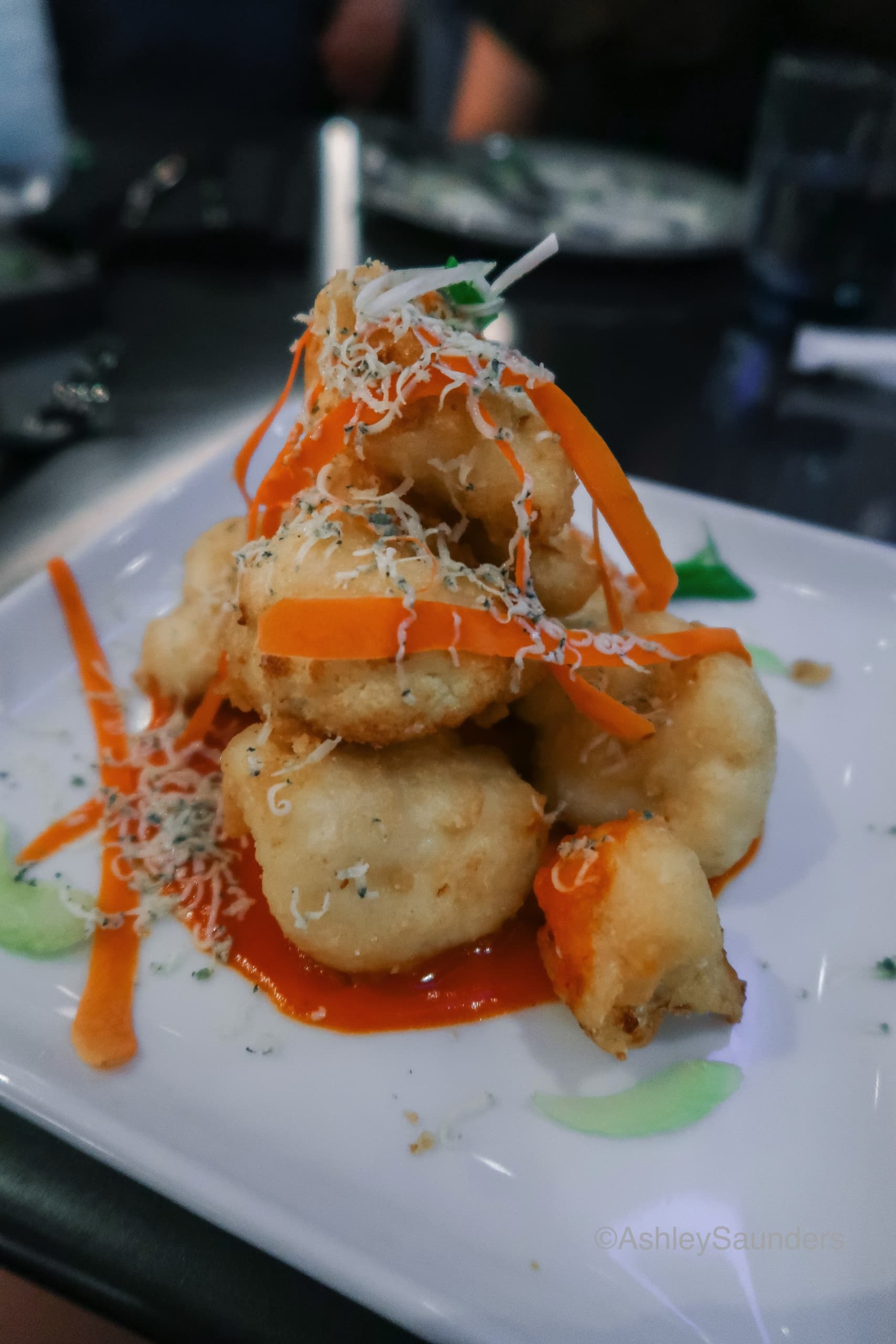 This might be the one you look past thinking oh it's just another cauliflower dish. However, this was my favorite thing we ordered on the appetizer menu. The tempura batter will make you forget it's covering cauliflower. For the record I like cauliflower most of the time but for those who don't this dish will convert you. It isn't too spicy so no worries there. If you're undecided on what to order, this is the one.
Starry Calamari (Lunch, Dinner, $19 Lounge)
Fried Calamari, Italian Cherry Peppers, Spicy Marinara, Roasted Pepper Citrus Aioli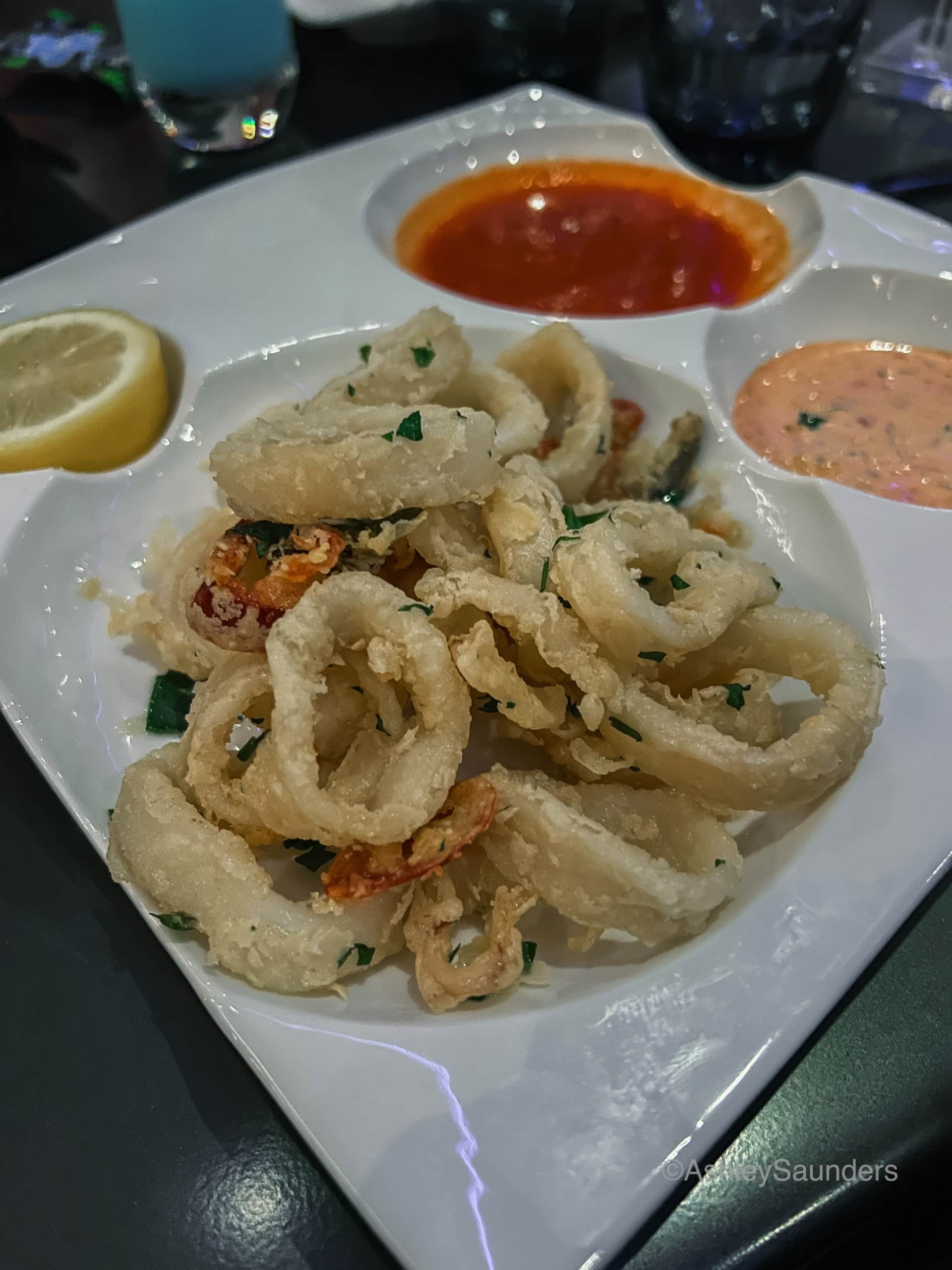 This was the one thing my husband was really excited about. I'm not a calamari fan but everyone else at the table said it was tasty and the sauces that came with it complimented it well. Massive portion size here so come hungry or bring other calamari lovers with you.
Star Course (Entree)
Like the Lift-Offs, the entree portions are also generous and there wasn't anything we got that wasn't delicious.
Seared Tuna (Lunch)
Spiced Yellowfin Tuna, Avocado, Marinated Egg, Brown Rice, Edamame, Pineapple, Radishes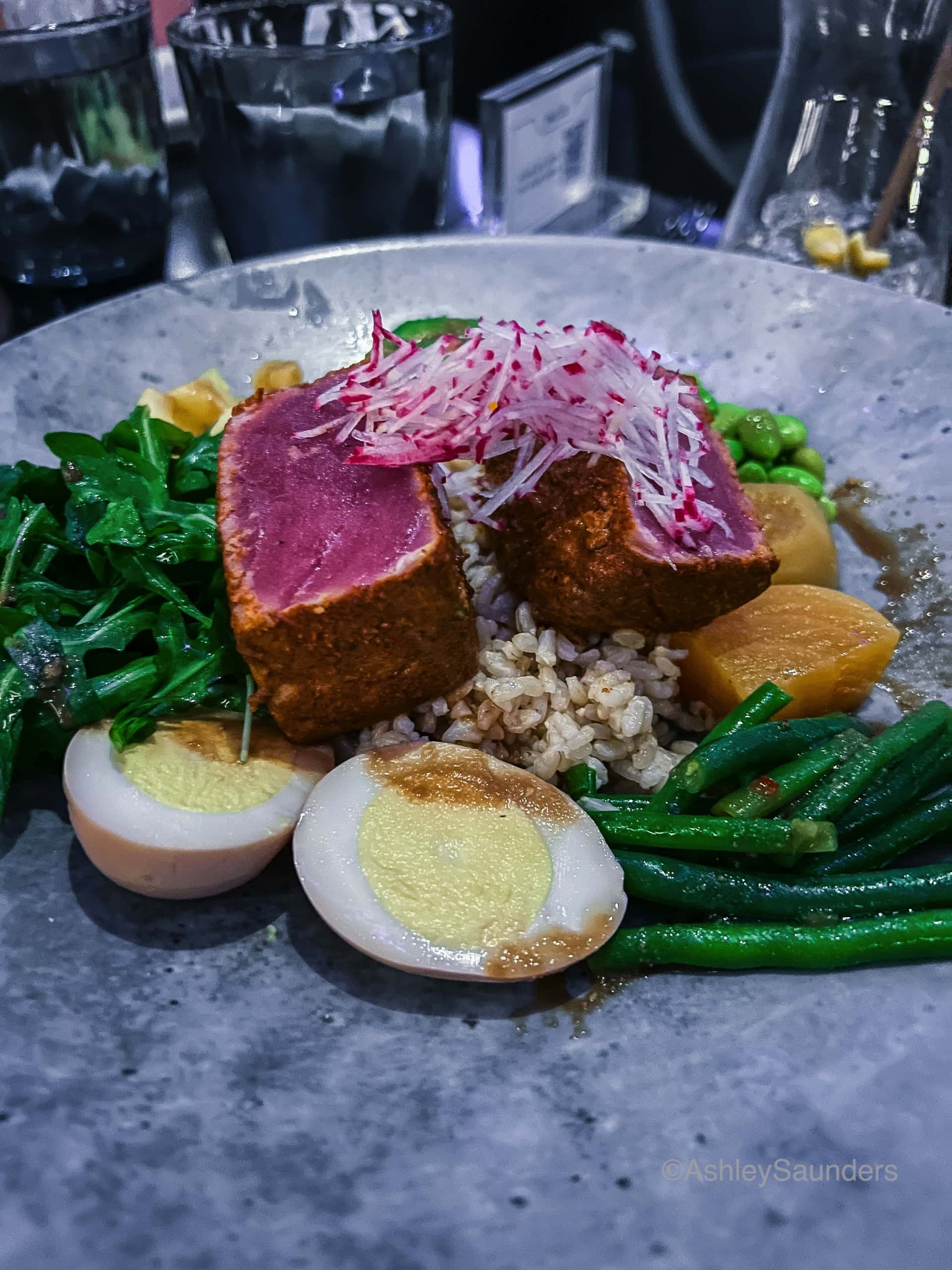 Like the calamari and the salmon (more on that below) the seafood at Space 220 is exceptionally fresh and well prepared. Two tuna pieces served on a bed of accompaniments.
Bluehouse Salmon (Lunch, Dinner)
Glazed Carrots, King Oyster Mushrooms, Baby Bok Choy, Ginger, Beurre Blanc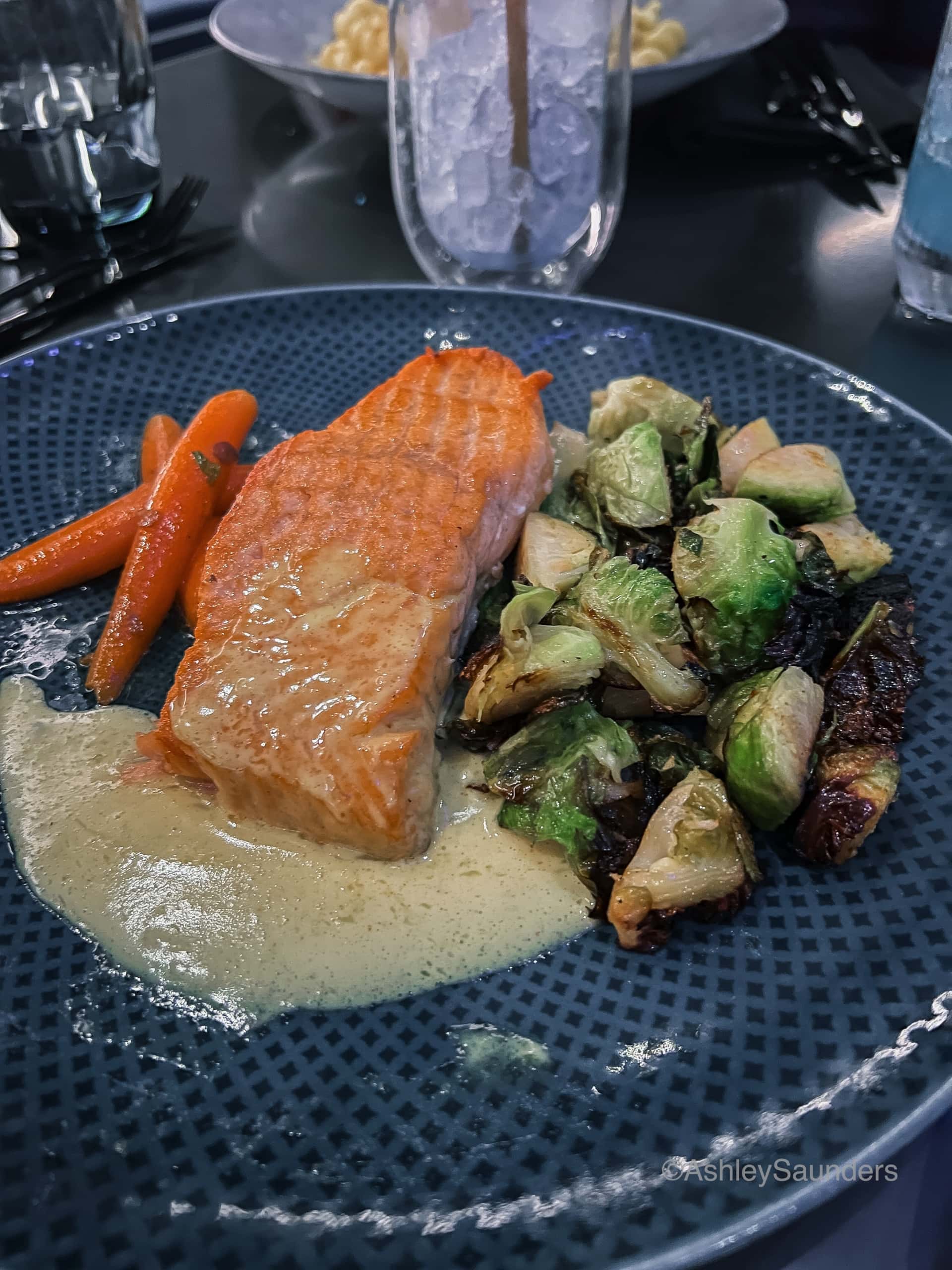 The salmon is delivered to the table in a smoked dome. I'm not a chef but I feel like that is not only for presentation but also to lock in the flavors. Maybe not, but this salmon is definitely flavorful and that Beurre Blanc sauce is just PERFECT.
Flat Iron Steak (Lunch)
Coffee Space Rub, Smashed Fingerling Potatoes, Cabernet Butter, Haricots Verts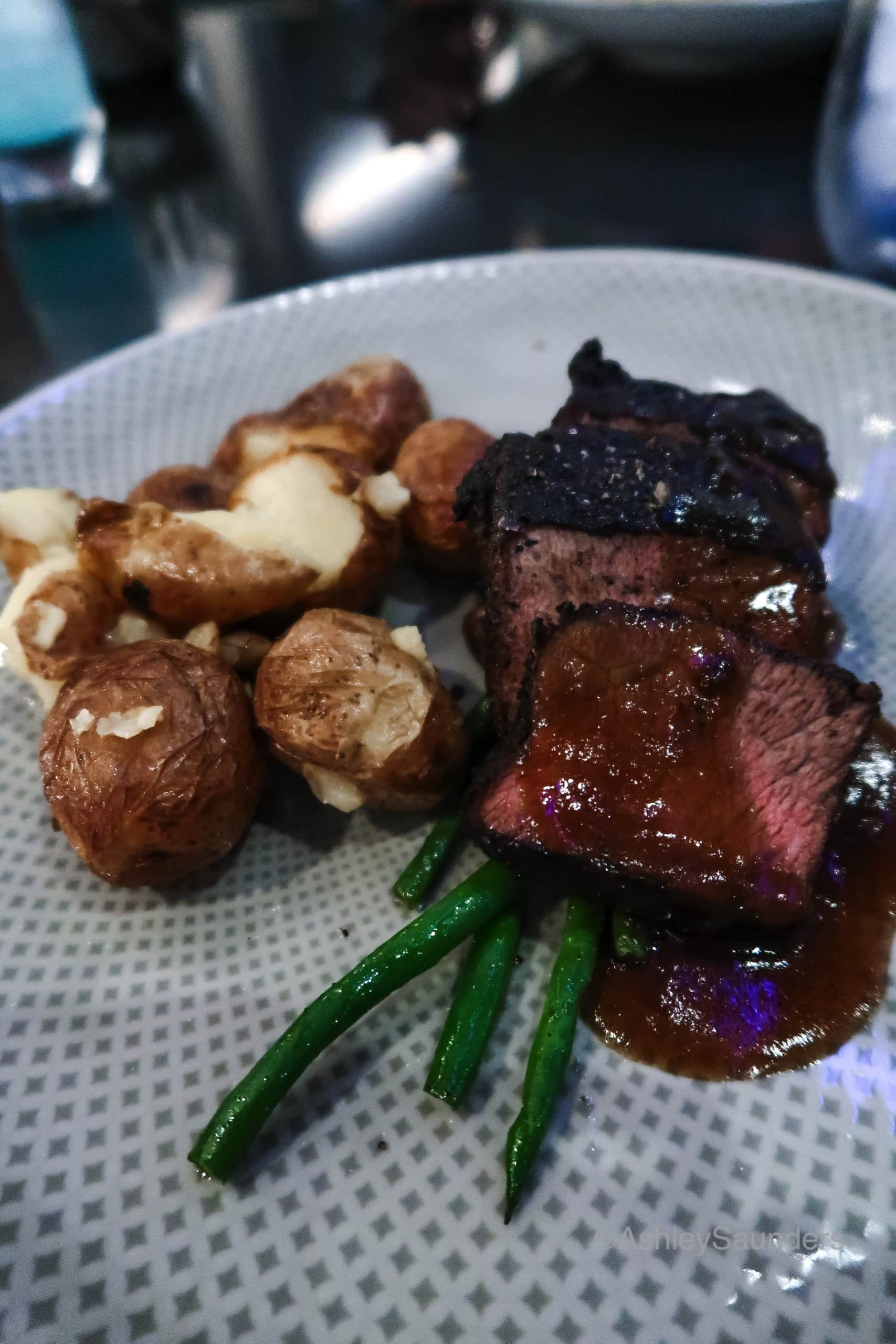 This was actually the meal I ordered because they had me at coffee space rub. I ordered my steak medium rare and it came out the right temperature and pinkness. Not as tender as filet mignon (that is to be expected) however it was soft and melted in my mouth. If you're not a coffee fan don't worry, the taste isn't overwhelming and my husband who does not like coffee liked the steak.
Centauri Burger (Lunch)
Signature Beef Blend, White Cheddar Cheese, Bacon, Shredded Lettuce, Tomatoes, Fried Potato Wedges, Sriracha Aioli
There isn't a lot to say about this one not because it wasn't good but it's a burger. If that is what you are after (like one of my kids) then it's a great choice. It was juicy, cooked just right, and the potato wedges were just the right level of crispy.
Baked Maccheroni (Lunch)
Candele Pasta, Sausage Ragu, Broccolini, Sheep's Milk Ricotta, Béchamel, Pecorino
Another choice of one of the kids, they liked it. The ratio of pasta to sauce was well balanced so no bite felt dry.
Flight Bites (Lounge Menu)
If you choose, you can order off the lounge menu even if you are there to dine for lunch or dinner. We only tried the deviled eggs but some of our other choices were on the same menu.
Astro Deviled Eggs ($12 Lounge)
Free-Range Eggs, Maple Glazed Bacon, Scallion, Pickled Shallots, Micro Cilantro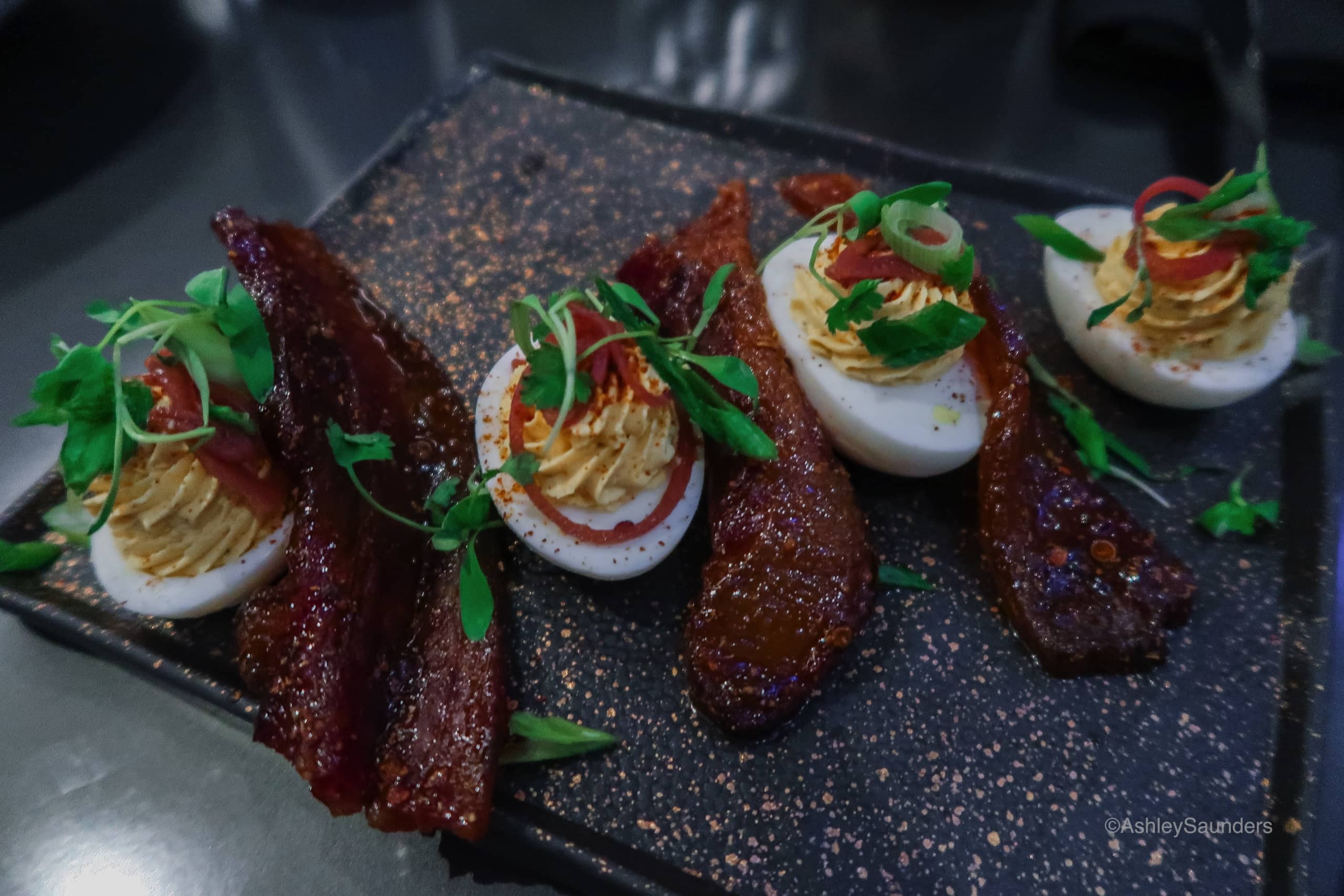 Four two-bite eggs and some out of this world maple glazed thick bacon. Deviled egg lovers, this one's for you. I could've and should've had more than one serving.
Supernova Sweets (Dessert)
And now onto the best part, the Supernova Sweets, the dessert portion of the meal. For the lunch menu we ordered these separately but if you are there for dinner, it is included with your meal.
Sticky Toffee Pudding Cake (Dinner, $14 Lunch/Lounge)
Dark Chocolate Sauce, Caramel Crunchy Pearls, Salted Toffee Drizzle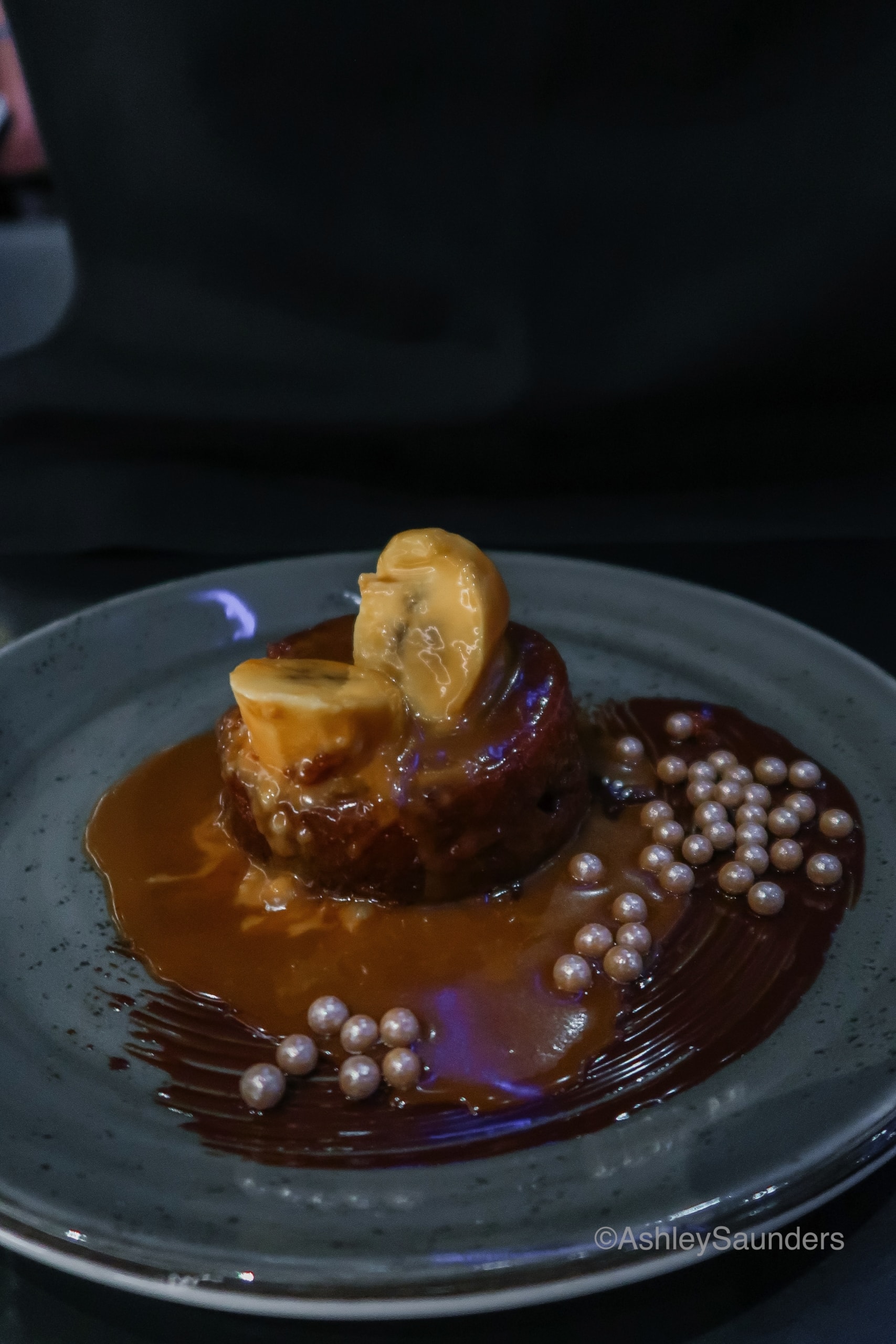 Light cake paired with a generous salted toffee drizzle. It definitely was a tasty option but not our favorite. That's not to say it was bad, it definitely wasn't, but I was eyeing a different dessert that proved to be the best.
Lemon Mousse (Dinner, $14 Lunch/Lounge)
Lemon Mousse Sphere adorned with White Chocolate Rings, Lemon Custard, Marinated Blueberries, Lemon Curd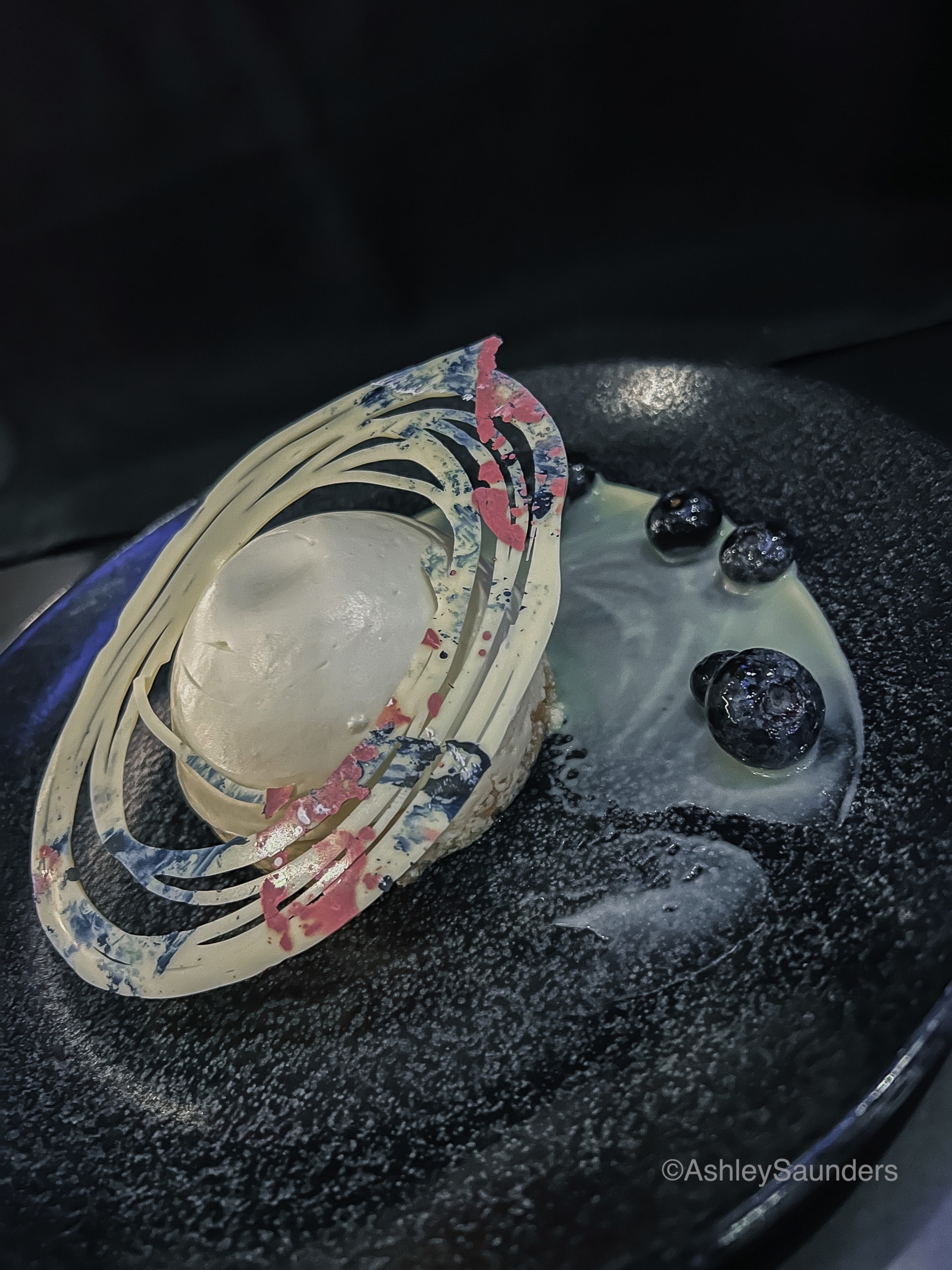 This is the only dessert we saw that actually came out "space themed." Not that any of that matters to hungry kids or adults. But if you're looking for social media worthy food, this is the dish. The Lemon Mousse looks like a planet complete with edible chocolate rings surrounding it. This mousse expertly balanced the tartness and sweetness for one of the best desserts I've had on Disney World property to date.
Atmospheric Spirits and Zero-Proof Cocktails
Wine and Beer are available at Space 220, but it is their unique cocktails that are the clear winners here. These are the drinks we ordered, there are more to be tried.
Let's start with alcoholic options.
The Big Tang – $16
Avion Silver, Grand Marnier, Tang-Infused Agave Nectar, Grapefruit, Strawberry, Served with Astronaut Ice Cream
Planetary Punch – $15
Bacardi Silver, Malibu, Blue Curacao, Guava, Coconut. Served over dry ice.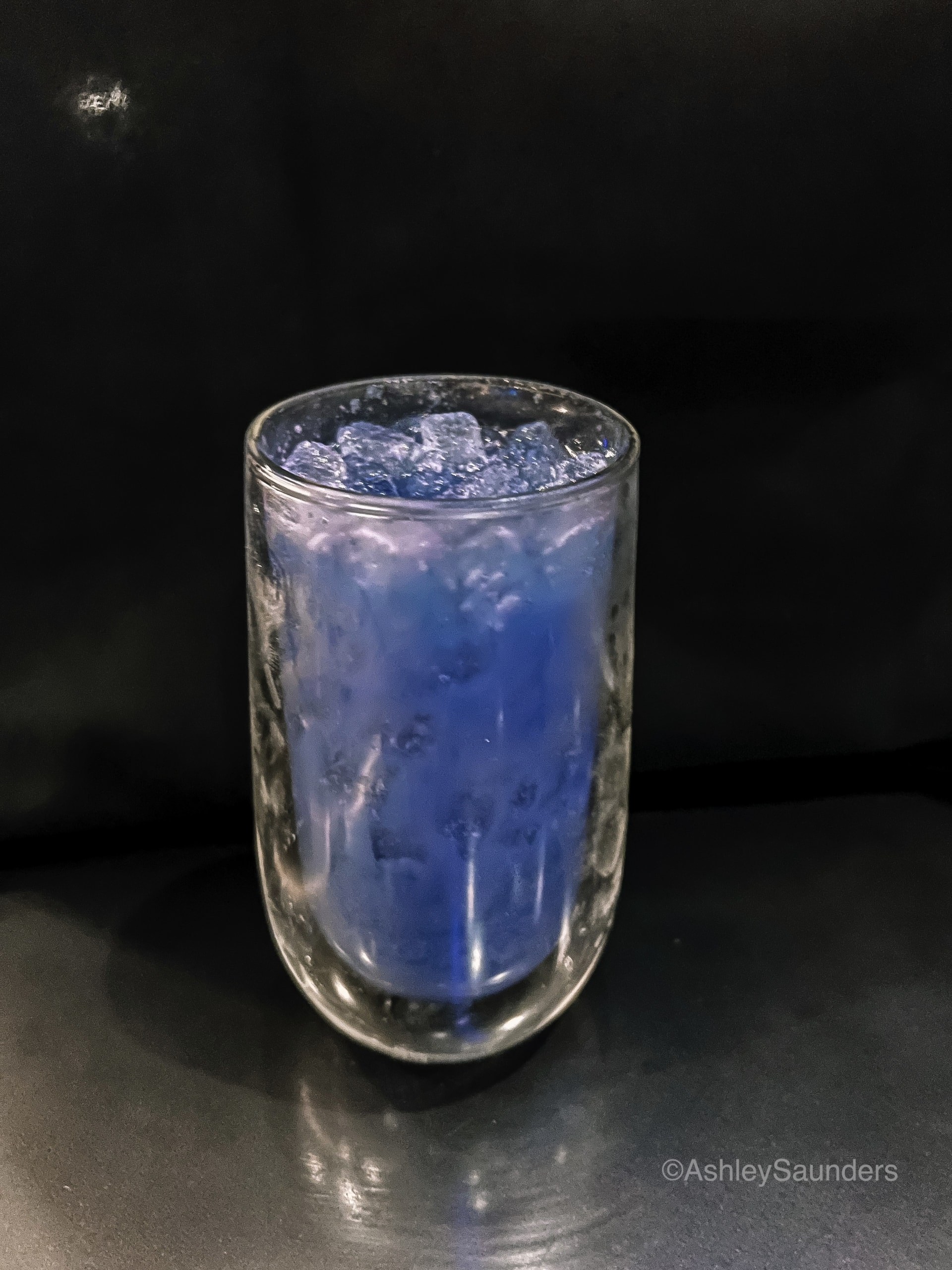 This is the one for me and you too if you like rum and fruity flavors, look no further than this one.
Jupiter Fizz- $17
Hendrick's Gin, Aperol, Grapefruit, Mango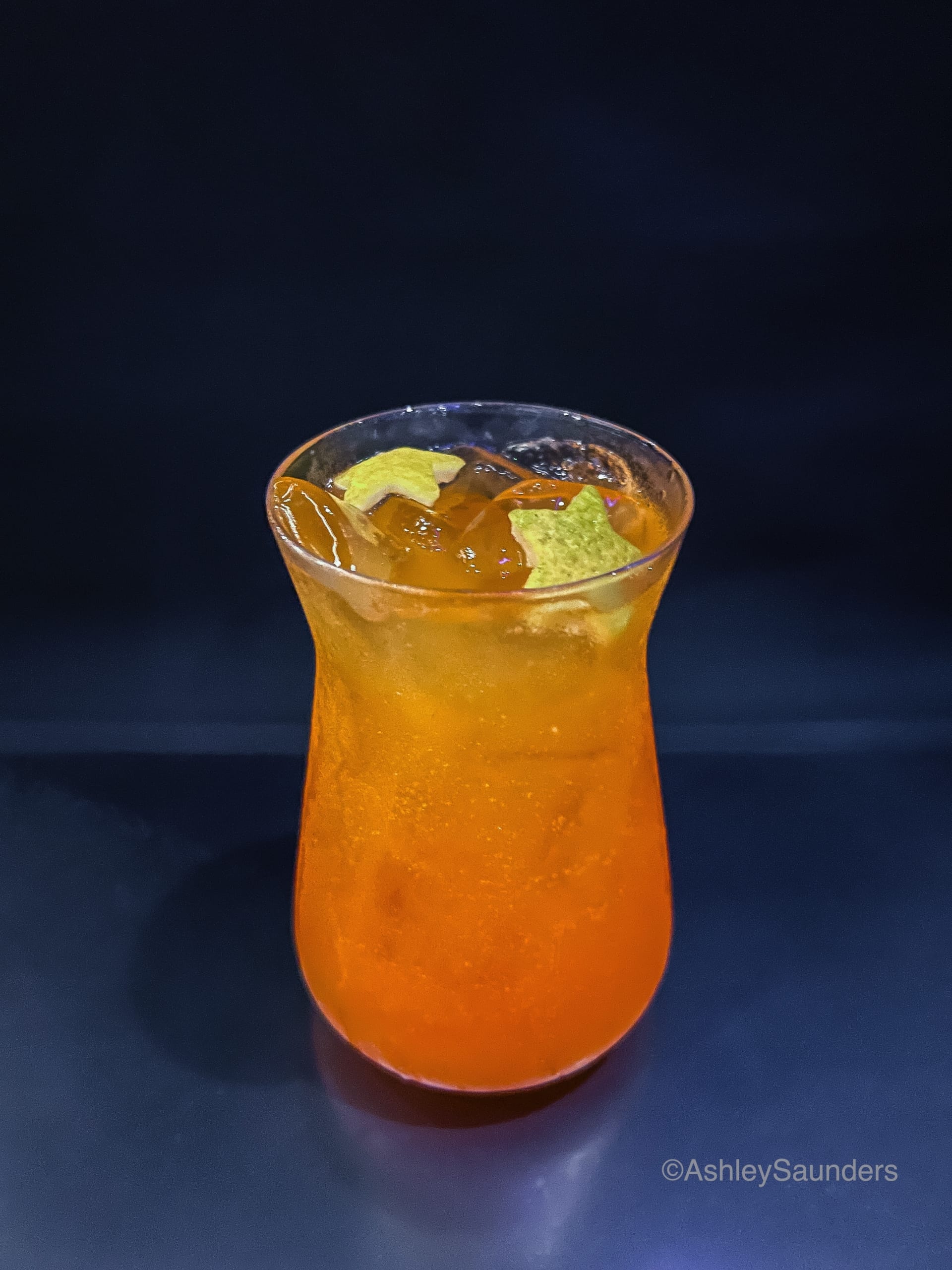 My husband's pick. Just the right balance between gin and fruit.
The Nebula – $15
Maker's Mark, Pineapple, Honey, Passion Fruit, Angostura Bitters, Moon Dust
For non-alcoholic options, these zero-proof drinks (both $12) are sure to please. Plus they come with their own pack of collectible trading cards.
Moon Rocks
Coconut, Blue Cotton Candy Syrup, Lemonade, Moon Dust, Moon Rocks
A big hit with all the kids at the table.
The Milky Way
Chilled Espresso, Spiced Brown Sugar Syrup, Caramel, Cream, Milky Way (fun-size)
Great afternoon pick me up without waiting in line at the Starbucks in World Showcase.
Each zero-proof drink comes with a limited-edition pack of trading cards. These cards feature original artwork, trivia, and special Space 220 facts. Not all the cards are the same and our server informed us that certain colored cards (especially the all white ones) are rare.
Space 220 Reservations
Space 220 is now available to book via Disney World's website and the My Disney Experience App. For those unable to grab a reservation, walk-up lounge seating is available. You will just have to wait in a line outside the restaurant until a table is available.
Is Space 220 Worth It?
TLDR: Yes we thought Space 220 was worth it. We knew it would be pricey which meant expectations were high. The food was delicious, with generous portions, and the drinks both alcoholic and nonalcoholic were tasty. But for this type of pricing everything needed to be out of this world. Pun intended. The atmosphere alone is worth at least checking out but alongside the food and drinks makes Space 220 a must do experience. Honestly my only complaint was Wall-E and Eve didn't float by during the meal but Disney still has time to add them in.
If the price makes you hesitant then we recommend the lounge option. This might mean you have to wait longer for a table but with the shareable sizes and reasonable prices it gives you the opportunity to test out Space 220 for yourself before committing to a larger bill. Honestly, either way you go it is worth it. I know we plan on visiting again in the future.
Space 220 is going to be a popular spot in the coming year and beyond. You should definitely try it at least once and I am pretty sure that one time will turn into multiple trips.