In January 1969, the Beatles wrote and rehearsed 14 new songs for their first live show in more than two years. Thanks to Oscar winning director Peter Jackson, footage that hasn't been seen by anyone in over 50 years has been restored and the real story of the Get Back sessions can finally be told.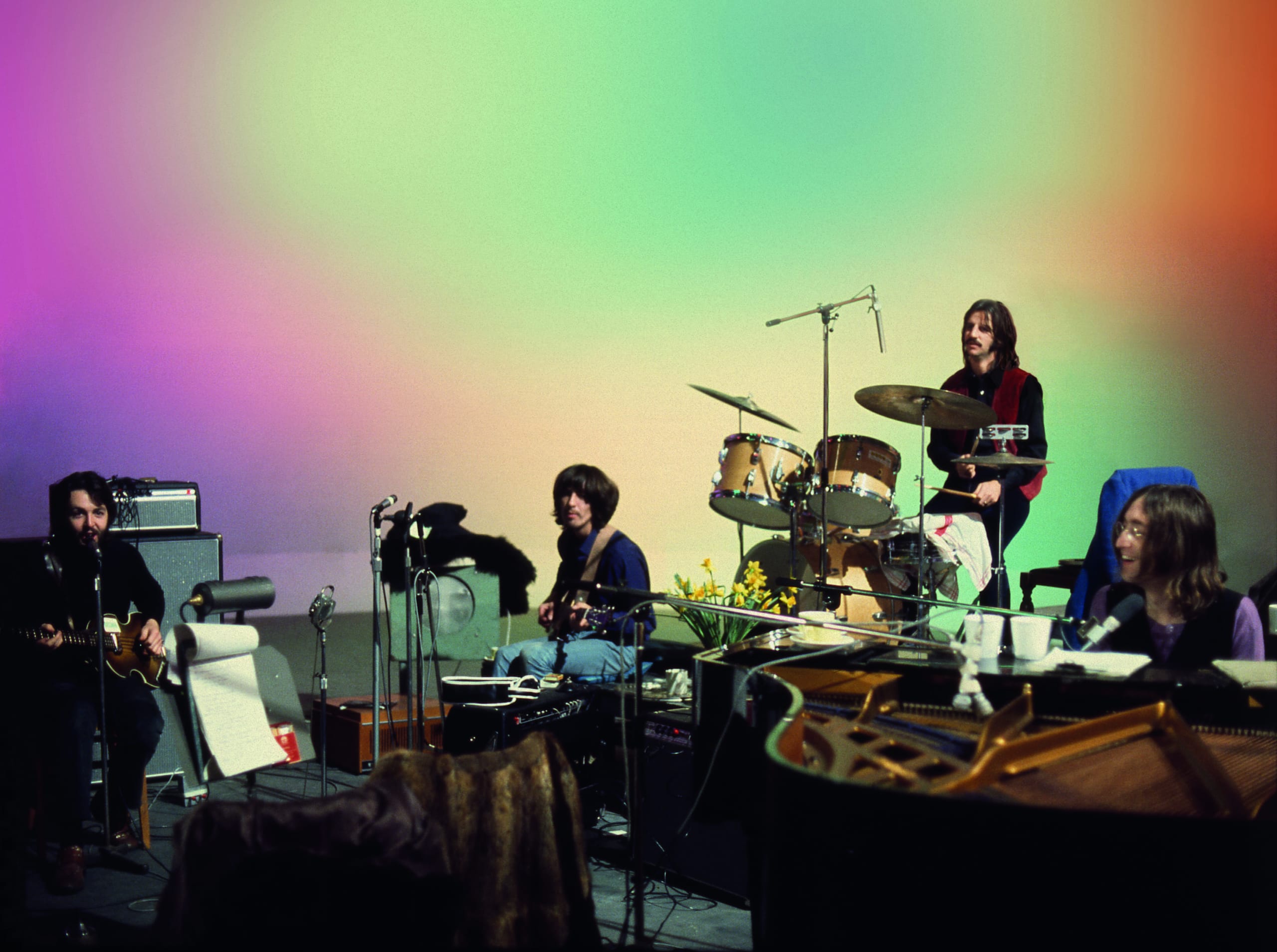 Peter Jackson On Making The Beatles Get Back
The 3-part docuseries, The Beatles: Get Back, is now streaming on Disney+. Visionary director and Beatles fan, Peter Jackson was granted unprecedented access to over 60 hours of video footage and 150 hours of audio all recorded as The Beatles came together to write new songs for their unforgettable rooftop concert at London's Savile Row.
I had the opportunity to hear from Jackson about what it took to bring this story to light and what he learned about this iconic band along the way.
You are the first person outside of The Beatles' family that has seen this footage. What was it about this particular moment in the Beatles' history that made you want to tell this story?
Peter: I had met Paul a long time ago at the premiere of Lord of the Rings The Two Towers. And he said he was a big Lord of the Rings fan. I asked him about The Beatles doing Lord of the Rings with Stanley Kubrick and how true that was, and it was true.
One of the things I'd always wondered about over the last 40 years is what happened to all the unused footage from Let It Be? I asked Jeff Jones and Jonathan Clyde and they said, "There's about 60 hours of film and 130 hours of audio. And we've got all that." I [said] "Oh my God, how do I get to see that?"
What started as a conversation about AR and VR started you on this path to be the filmmaker who oversaw this documentary about The Beatles. As a fan did you have any trepidations about digging into this footage that has its own reputation?
Peter: The Get Back sessions are notorious. There are accounts describing them as miserable. The Beatles were breaking up, they were squabbling, there were cameras filming the arguments, they couldn't be in each other's company, etc. So, I was obviously expecting to see [that]. I sat in a room, just playing it on a TV and I just waded through it. I'm watching it and I was laughing. I thought it was unbelievable, I'm seeing Paul compose Get Back. George leaves at some stage and things are going wrong but that happens. That's just life, that's not The Beatles breaking up.
The fantastic news is this incredible footage that The Beatles themselves have deliberately locked in their vault for 50 years and not wanted anyone to see it because they think it's awful. It's not. So Ringo goes, "Oh, it's not actually what we had thought it was."
RELATED: Rhys Thomas and Kevin Feige On Why Christmas Setting For Hawkeye
Can you explain a bit what the process was like directing this docuseries using footage and audio that was recorded so long ago? Was anything particularly challenging about it?
Peter: We tried to make it look as nice and modern as we could. Having this footage, I wanted everybody to feel it. That's the reason why I didn't film any modern-day interviews. I wanted us to travel to them. I wanted it to look almost as if we were in the room with them. The audio was the most depressing thing about this whole project at the beginning. "It's great, it's fantastic, but God, I wish we could hear what they're saying." Park Road Post developed an AI program where we could take this mono tape, digitize it, put it into the computer, teach the computer what a guitar sounds like, what a human voice sounds like, what a drum sounds like.
We developed this technology that allows us to de-mix, split all the audio components off these mono tracks. So, we are revealing 50 year old conversations that they deliberately drowned out that no one's ever heard before. By revealing all these conversations, clear, clean conversations, we're able to have them tell their own story through these 21 days.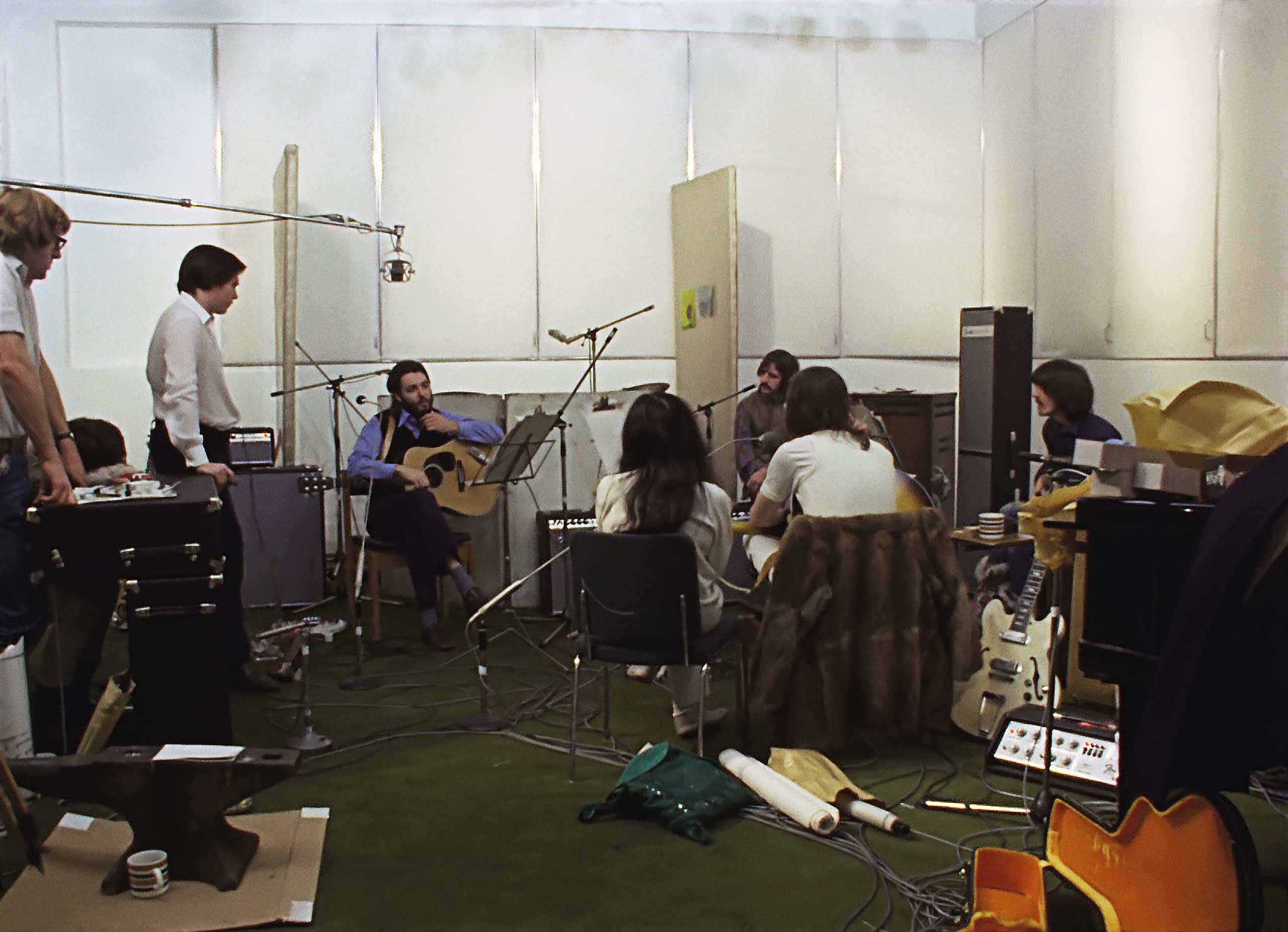 Was there anything that surprised you when you went through the footage? Anything that you think other Beatles fans will find interesting or shocking?
Peter: My perception particularly changed, it sort of surprised me. If you're a Beatles fan, you think I've read all the books, I've seen the film, [but] then suddenly things are different. For starters, talking about the conflict and arguing, in the entire length of the audio, 150 hours, no single Beatle says an angry word to any other Beatle. Their friendship just ultimately comes through.
The sections of Paul being the bossy one, [he] is not really being bossy, just responsible. Paul's the responsible one. He's carrying the stress of this, everything that the Beatles do has got to be fantastic. He doesn't want this to be another Magical Mystery Tour. So Paul's stressing about it. I was very surprised by John Lennon. He's funny, relaxed, wonderfully patient, really friendly, and just never raises his voice once. Not one angry word from John, which I would never have expected.
When Paul stresses out, it hurts John. You see the closeups of John, he wants to help him. He talked Paul through it. He's lovely and patient. McCartney has always said "oh, he was a lovely guy." I've heard that for years, I've never seen a lovely John. I've seen a funny John, sarcastic John, all that. I said to Paul, "I'm so glad we've got the lovely John on film." And he said "Yeah, that's the guy I've been talking about."
"Let It Be" has a reputation that John Lennon hated it, but you see George and John and Ringo thinking this is a great song. You see John and George totally committed to helping Paul lock down "Let It Be".
Ringo said he came away utterly exhausted at the end of each day, because he didn't know what was gonna happen, and he had to deliver them a beat. And I just loved the camera angles on Ringo. I've never seen [them] before. Normally, in all the footage of concerts, you get the cameras filming, you know, John and Paul and all that, but this time, we get to go over Ringo's shoulder. The camera's over his shoulder, and he's doing all these drum things, and you're right in there with Ringo, and I love that stuff. I've never seen Ringo filmed in that way, and it's just fantastic.
The Beatles: Get Back is now streaming on Disney+.