An underdog sports movie, Home Team tells the true story of former New Orleans Saints head coach Sean Payton's greatest season. It does it all while gracefully sidestepping the real reason Payton had the time to help his son's team reach the championship.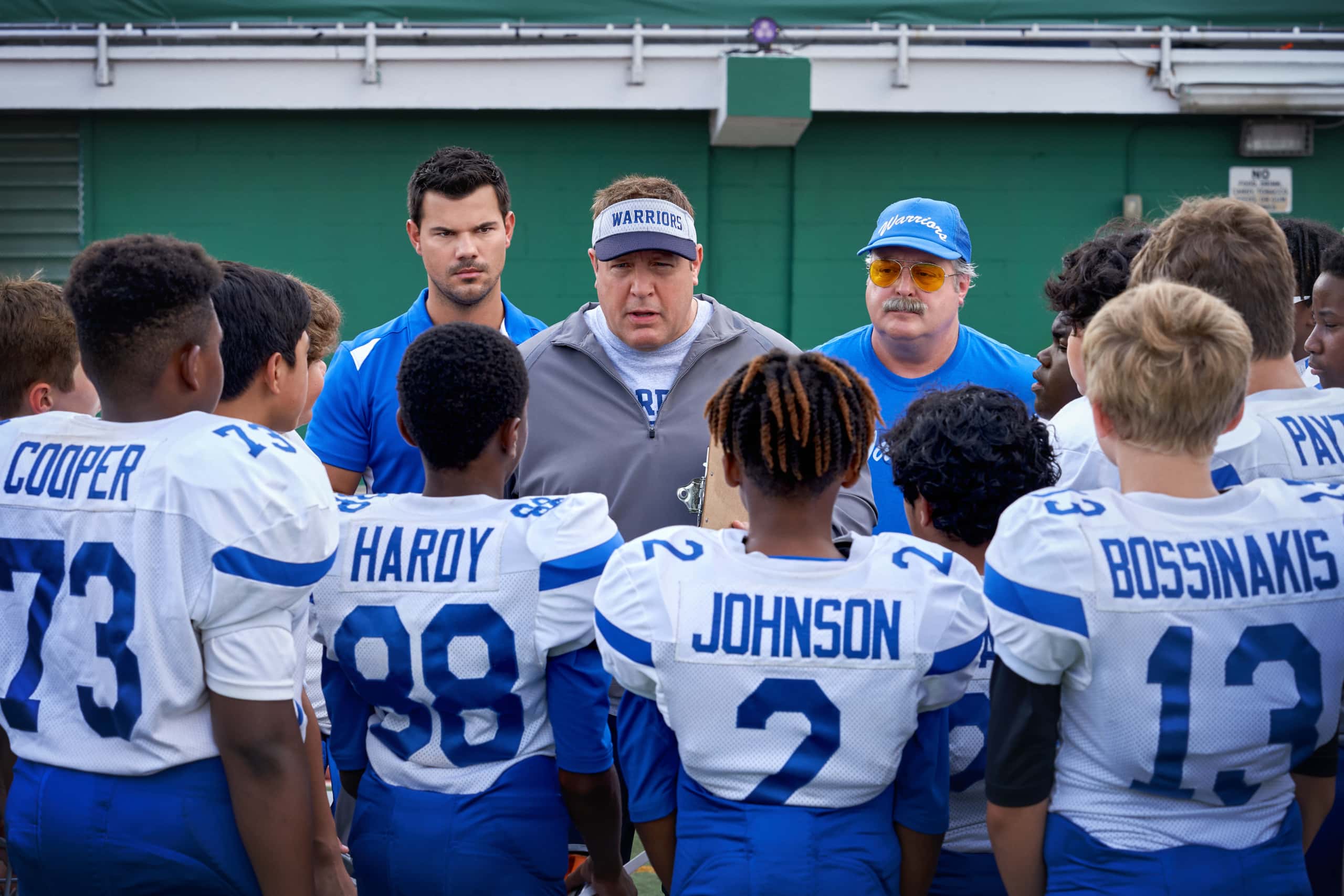 Home Team Movie Review
Home Team begins when Sean Payton (Kevin James) the head coach of the New Orleans Saints decides to return to his hometown after being suspended from the NFL due to the "bountygate" scandal. There, he attempts to reconnect with his 12-year-old son Connor (Tait Blum) by becoming an assistant coach of his football team, the Warriors. His presence helps the team's coach Troy Lambert (Taylor Lautner) rally the ragtag group of kids and turn them into championship material. But along the way Payton learns that having a relationship with his son is more important than any Super Bowl win.
Although it plays out like your typical underdog sports outing, Home Team is still worth watching even if you are not a Saints fan. It is a Waterboy-like story- a terrible team rallies together and turns it around all while someone tells them from the stands (and the sidelines) that they can do it. This one is something families can sit down and enjoy together while they wait for the big game in February.
RELATED: Interview: Kevin James Talks Home Team and Sean Payton
James gets to play the straight guy while the supporting cast of kids and adults deliver the laughs. It was interesting to watch him play this side of the field but it worked well, as he grounded the comedy with his sighs and grunts. Those familiar with the real Payton, will appreciate James' take. Knowing he worked with Payton to learn about this greatest season of his career makes the portrayal even more believable.
It is also apparent that directors Charles and Daniel Kinnane let the kids be themselves. The various scenes where the team comes together to play, practice, and hangout feel authentic, clearly this group had a good time on screen and off screen. Rob Schneider's Jamie, a zen-like reminder of his character Townie, plays the step-father to Connor and the cheerleader for the team. He does not say "You can do it" but he does hold up a sign that the adults will instantly recognize as a nod to that infamous line.
As far as camerawork goes, the games were shot well and added to the suspense of who is going to win and will the Warriors ever make it to the championship? Of course we know they will but it is always nice to feel as if there are some stakes even when the plot is predictable. However, there is one scene everyone could do without and honestly felt unnecessary, the puking. It is gross to watch and if you also hate being around even the thought of vomit, it is equally difficult to sit through. Maybe this happened in real life, maybe not, but regardless it did not need to have so much screen time.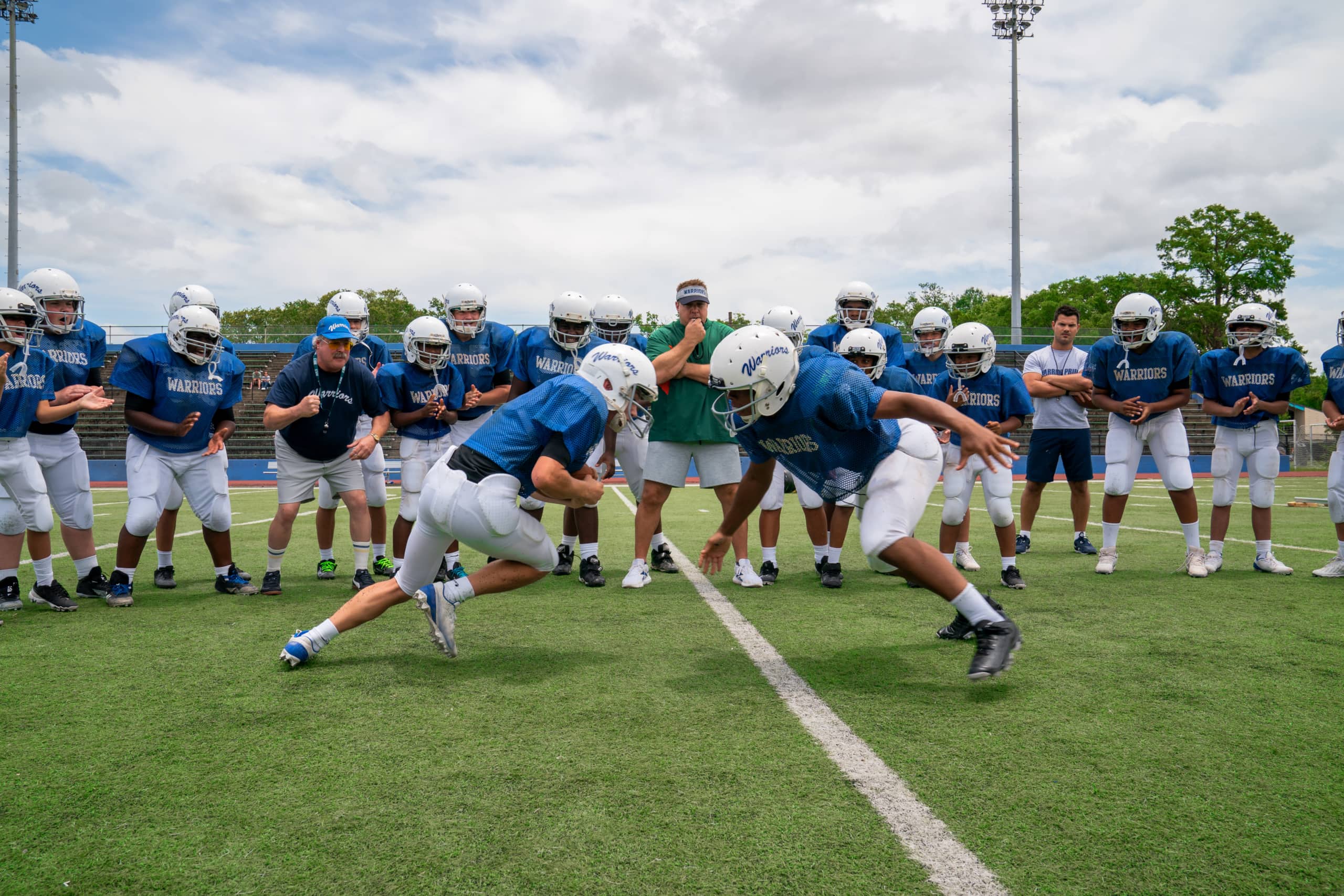 For those unfamiliar with "Bountygate," Home Team is not the place to learn about it. The film itself gracefully sidesteps addressing the issue beyond a brief snippet from the news and Payton getting a call from the commissioner of the NFL telling him he was suspended. Essentially, several members of the New Orleans Saints were accused of paying out bonuses for injuring opposing team players and Payton was suspended for an entire season once it came to light. The film itself offers no opinion on the scandal and chooses to focus instead on Payton as a father whose only goal is to strengthen his relationship with his son which he accomplishes by using his coaching skills to help Connor's team.
Some may grumble about this decision but truthfully, the implications and impact of the scandal truly have no place in this film. Home Team is meant to be a family-friendly outing that reinforces the lesson that anyone can be a champion if they work hard and believe in themselves. It is not here to be a documentary. The only major complaint here is that the father-son dynamic took a backseat to the team winning storyline. Perhaps with a slightly longer runtime they would have had time to flesh out their relationship more. Instead it is featured in only a few conversations between Payton and Connor.
Home Team is about a bunch of tween underdogs who finally learn to be a team thanks to a Super Bowl winning coach and a father realizes his greatest accomplishments have nothing to do with the Vince Lombardi trophy or the National Football League. It is not the most groundbreaking sports movie ever, but it does deliver a family-friendly fare that will especially entertain the young football fan in your home.
Home Team is rated PG for crude material, language and some suggestive references with a runtime of 95 minutes.
KEEP READING:
Mixtape Review: A Musical Love Letter to Millennials