Simon Pegg, Justina Machado, and Director John C. Donkin talk about The Ice Age Adventures of Buck Wild, the newest film in the franchise now streaming on Disney+. They share just how long Simon has wanted a Buck adventure, what it's like joining the herd, and more.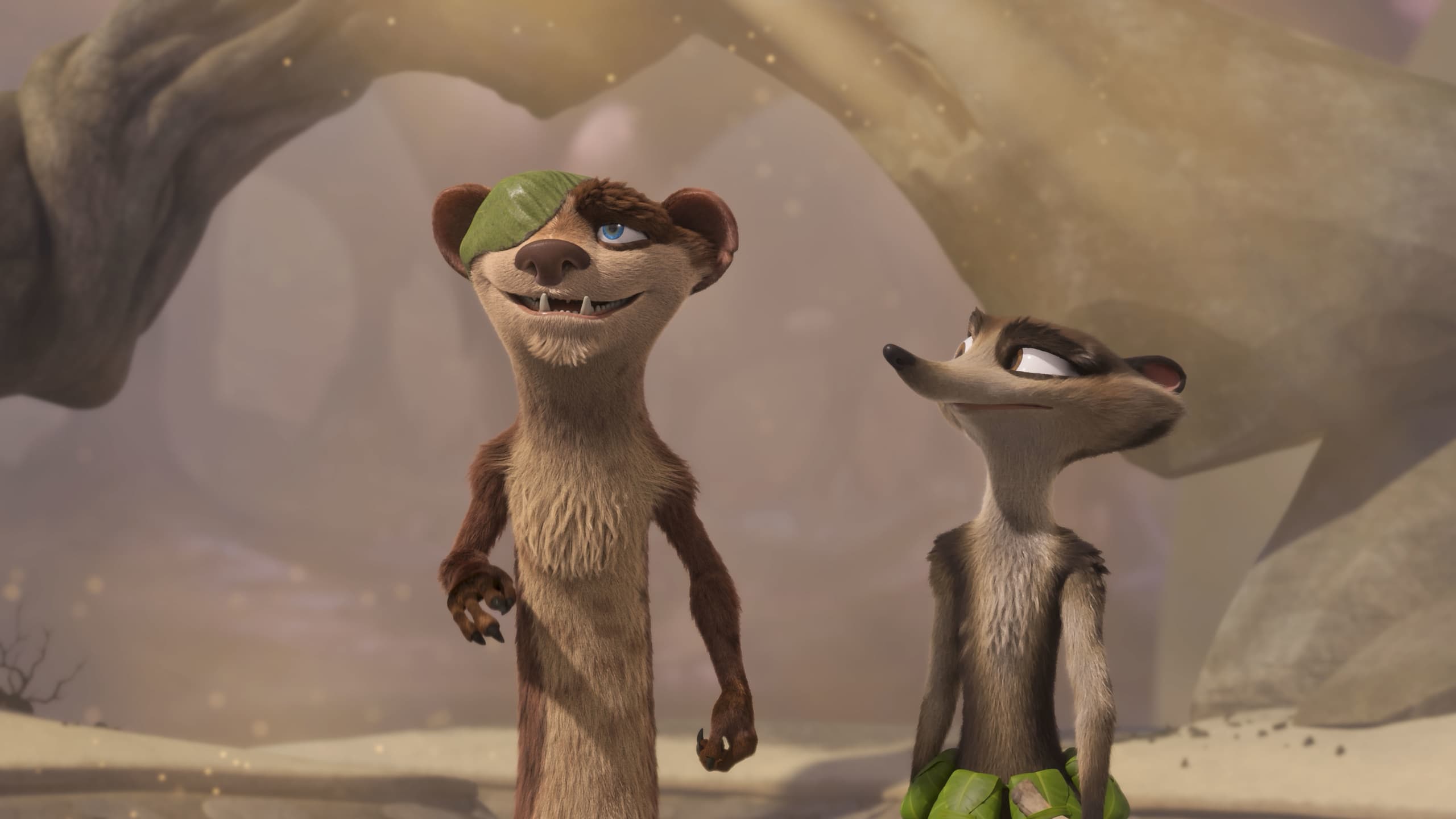 Simon Pegg and Justina Machado Talk Buck Wild The Newest Ice Age Movie
This all-new adventure, brings back fan-favorites Buck Wild, Crash, and Eddie and introduces a new animal to the herd, Zee. I had the chance to hear from director John C. Donkin as well as the stars of the film, Simon Pegg (Buck Wild) and Justina Machado (Zee), who shared some fun facts about the film and their work on it.
The Ice Age Adventures of Buck Wild sees possum brothers Crash (Vincent Tong) and Eddie (Aaron Harris) set out to find a place of their own, away from their big sister Ellie (Dominique Jennings). But they quickly learn they are out of their depths when they are trapped inside the Lost World. Luckily they are rescued by the adventurous, one-eyed weasel Buck Wild (Simon Pegg) but before they can return to their world they must help Buck and his friend Zee (Justina Machado) face a new evil that threatens the Lost World.
RELATED: The Ice Age Adventures of Buck Wild Review: Buck Is Back
This movie is Buck's movie. Simon, how thrilled were you when you learned they would be doing a story all about your character?
Simon: I've been dropping hints about this for 12 years. Every time we do it, I'm like, "Probably this Buck should have his thing. Maybe…" The great thing about this is that the Ice Age story has so many fabulous characters in it, this is the era of the cinematic universe. I don't think there is another animation, which is more suited to expansion like this. It's great. There are so many wonderful characters and in a movie you can only spend so much time with each one. So this is a lovely way to give some time to not only Buck and Crash and Eddie, but also Zee and these new characters, which are welcome additions to this fabulous group.
Justina, you voice the smart, funny, newcomer Zee. What was it like joining the Ice Age family? Were you a fan of the previous films?
Justina: Yes, I'm a big fan. I remember seeing the original one with John Leguizamo and Ray Romano. That's what's so exciting, and was a little scary, to come into this family and be as exciting as the other characters. But after seeing the movie, I'm really proud of what we did and how it came out. It was fun, exciting, and an honor to be a part of this franchise.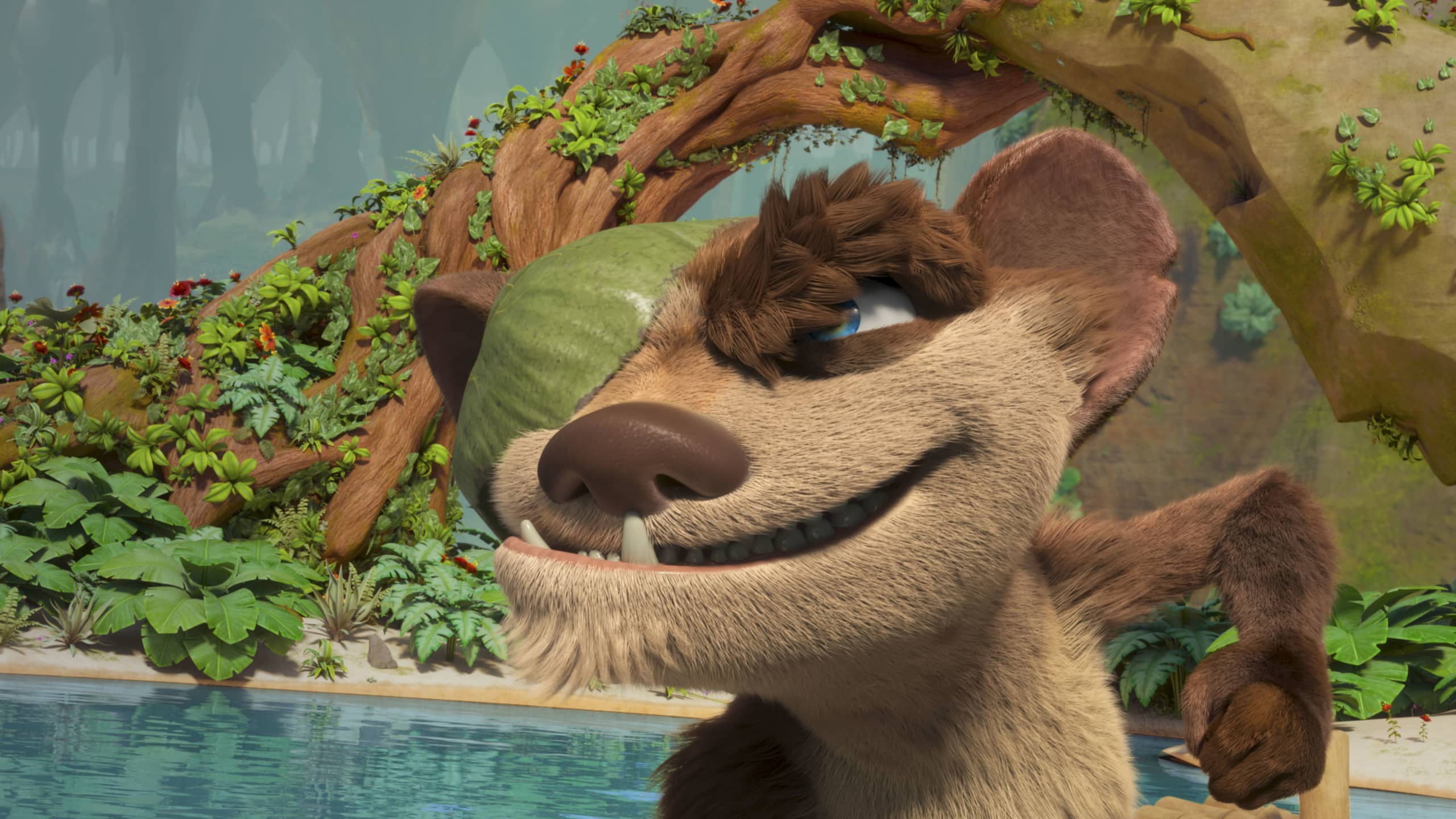 The Ice Age franchise has always been about family and I feel like that is very evident in this story as well. John, you've been around since the beginning, can you share a bit about continuing that legacy?
John: Family has been a central theme all the way back to the first Ice Age movie. There's that great Sid line, "We're the weirdest herd ever," because it's a saber-toothed tiger, a sloth, a mammoth, and a human baby. So it is sort of in the DNA of the whole franchise to look at family as first of all. And it's not necessarily bound by blood, but it's more a loyalty between people, or animals. And so that's just been thematic in all of the films.
So it is really fun in this one to sort of explore the idea of what happens if your family needs to grow? Crash and Eddie are yearning to be on their own and away from their adopted sister and clearly they're not the same species, but what does that do to you emotionally? And how do you get over that? [It's] exploring a little bit into Buck's family. He lives a solitary life, but now he's recognized the joy and the fulfillment you get from having a family of your own. So he starts to think about that with these relationships. So family is definitely thematic through all of the movies and it just was natural to see it in this story as well.
The importance of family and how they come in all shapes, sizes, and species has always been the biggest takeaway found in the franchise. And this time around Buck is beginning to realize that himself. Are there any other life lessons waiting for Buck and the audience in the film?
Simon: I think one of the things as well, for me personally, in terms of Buck as a character, which is a really sweet sort of sub theme in the film, is about… And it's quite a male issue, is the capacity to be able to ask for help. Buck is such a loner, and he's so used to doing everything by himself, that the idea of relying on his friends, or trusting someone to do something else, is a little bit uncomfortable for him. And in this movie, he learns that it's not only okay to ask for help, it's also okay to ask for help as a guy from your female friends, and to trust in them to take over.
Buck goes on a real journey for that. And I think a lot of guys growing up are taught not to ask for help because it seems unmanly, which is terribly damaging. I think for the film to address that is important. Buck understood that it's okay to lean on people, it's okay to ask for help. And you trust the people around you, your herd.
The Ice Age Adventures of Buck Wild is now streaming on Disney+.