The Ice Age Adventures of Buck Wild is the sixth installment in the Ice Age franchise that places its most daring character in the spotlight for a lighthearted, kid-friendly adventure in the Lost World.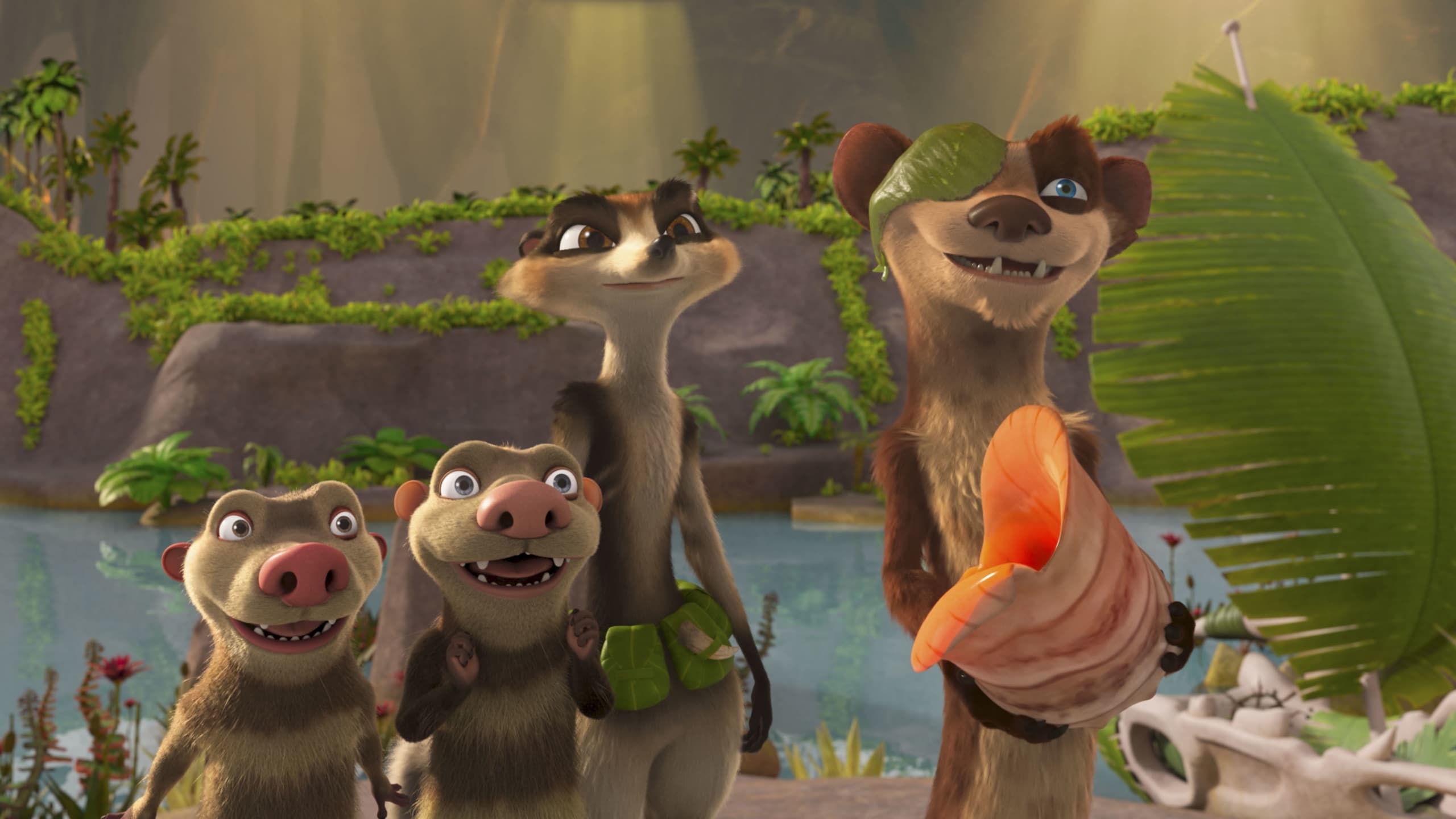 The Ice Age Adventures of Buck Wild Review
The Ice Age Adventures of Buck Wild sees possum brothers Crash (Vincent Tong) and Eddie (Aaron Harris) set out to find a place of their own, away from their big sister Ellie (Dominique Jennings). But they quickly learn they are out of their depths when they are trapped inside the Lost World. Luckily they are rescued by the adventurous, one-eyed weasel Buck Wild (Simon Pegg) but before they can return to their world they must help Buck and his friend Zee (Justina Machado) face an old enemy, Orson (Utkarsh Ambudkar) who threatens the harmony of the Lost World.
Buck Wild feels like Indiana Jones meets the Avengers as fan-favorite Buck joins forces with one very brilliant zorilla and two utter goofballs. It aims to feel like a prehistoric superhero team up, complete with action sequences and plenty of humor. The sixth film in the franchise stays true to the formula of its predecessors while delivering a more light-hearted adventurous fare ideal for younger Ice Age fans.
RELATED: Simon Pegg and Justina Machado Talk Buck Wild The Newest Ice Age Movie
The superhero vibe is comforting territory and Buck Wild almost immediately gets into it but first it spends some time reacquainting the audience with Crash, Eddie, and the core mammals of the franchise. Villainous Orson, the dinosaur version of M.O.D.O.K., is using his super intelligence to gain control over the other dinosaurs. His plan is simple: use their might to take over the Lost World by vanquishing all the mammals. Buck has dealt with this guy before, banishing him to the burning island to live out his days. This time around should be no problem right? Wrong. Last time Buck had the help of his team of specialized fighters and defenders of the innocent.
This is where Zee comes into the story, as the only surviving member of Buck's old crew. She is a great addition to Ice Age's female lineup and the perfect compliment to Buck's zany and bull-headed ways. Zee has it all, wit, fierceness, and patience, something she will need in droves thanks to Crash, Eddie, and Buck. The onscreen chemistry between Pegg and Machado sells the history between their characters, so it feels like Zee has always been part of the herd.
Becoming a family, or in this case a functioning superhero team, is something that has always been at the heart of these films. Just like before, a ragtag group must learn to resolve their issues, accept themselves and each other all while learning that teamwork is the key to succeeding on their mission. To ground this new outing in the familiar, the story frequently cuts back to Ellie, Sid (Jake Green), Diego (Skyler Stone), and Manny (Sean Kenin) as they attempt to find Crash and Eddie to bring them home.
Yes, die hard fans of the franchise, Pegg is the only returning original voice actor. Whether this is due to scheduling conflicts or the fact that Buck Wild was meant to be a series before a movie no one knows. With this in mind, it can be a bit jarring at first when certain characters speak, however since the majority of the time is spent in the Lost World with Buck and Zee it becomes less noticeable as the film goes on.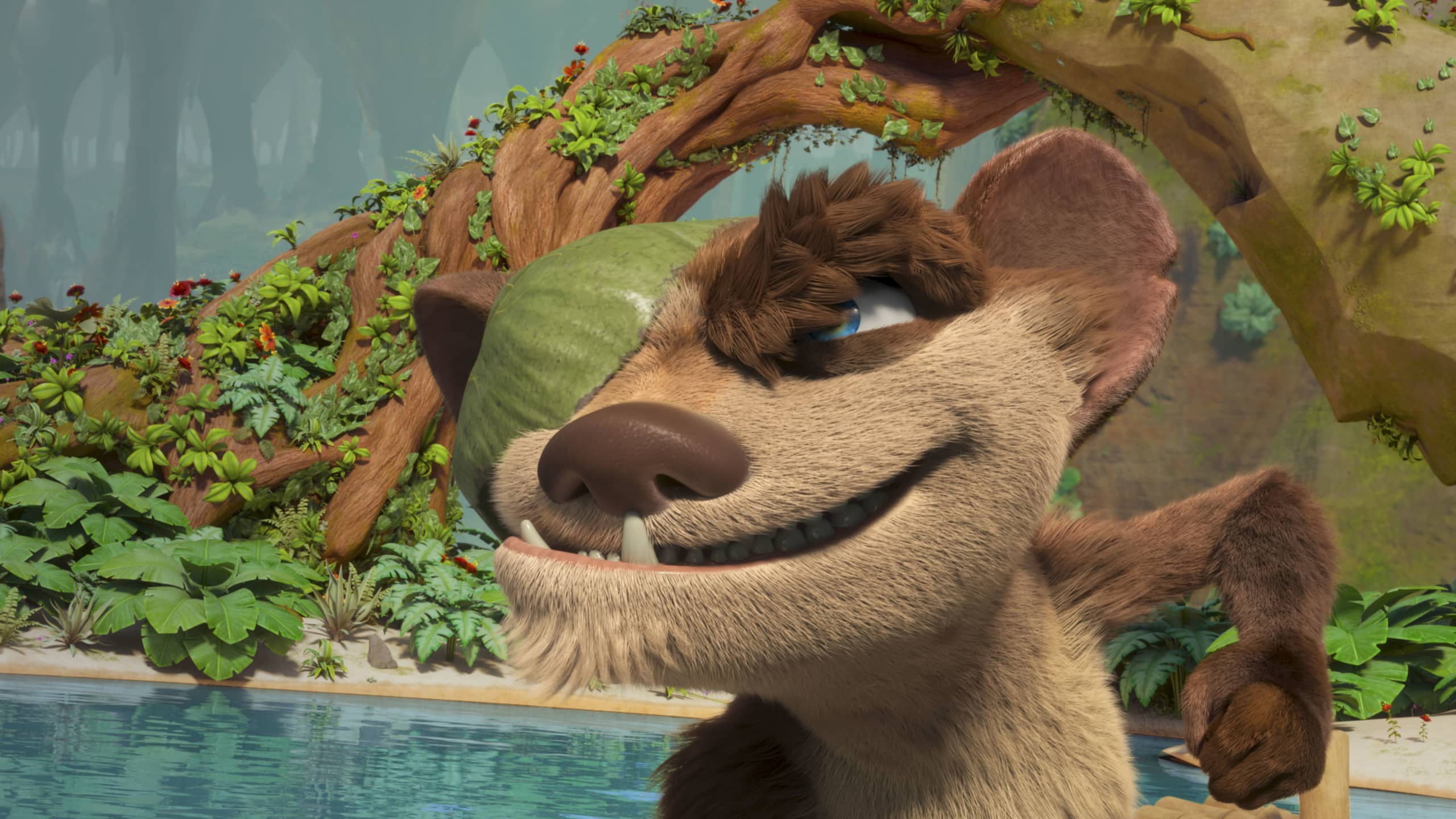 With a short runtime, the story quickly moves along all while providing enough action and physical gags to keep those with a shorter attention span entertained. With further spin-offs rumored, some of the lesser fleshed out aspects here might get their day in the sun which would benefit everyone involved. Plus, thanks to the performances of Machado and Ambudkar, audiences will want to see more of these new characters and how exactly they fit into Buck's world going forward.
The Ice Age Adventures of Buck Wild may have its shortcomings but the breadcrumbs left here point to an exciting and fresh future for the franchise. Younger fans won't care about any of that though, they will just enjoy it for what it is, a good-natured, light-hearted adventure with one eccentric weasel and his group of misfits.
The Ice Age Adventures of Buck Wild is now streaming on Disney+. It is rated PG for some action and mild language with a runtime of 82 minutes.