Pam and Tommy is a wildly entertaining, thrill-ride through one of the most notorious pop culture events ever. But for all its fun, the series takes special care in how it portrays the couple affected by the scandal, finally giving Pamela Anderson the respect she deserves.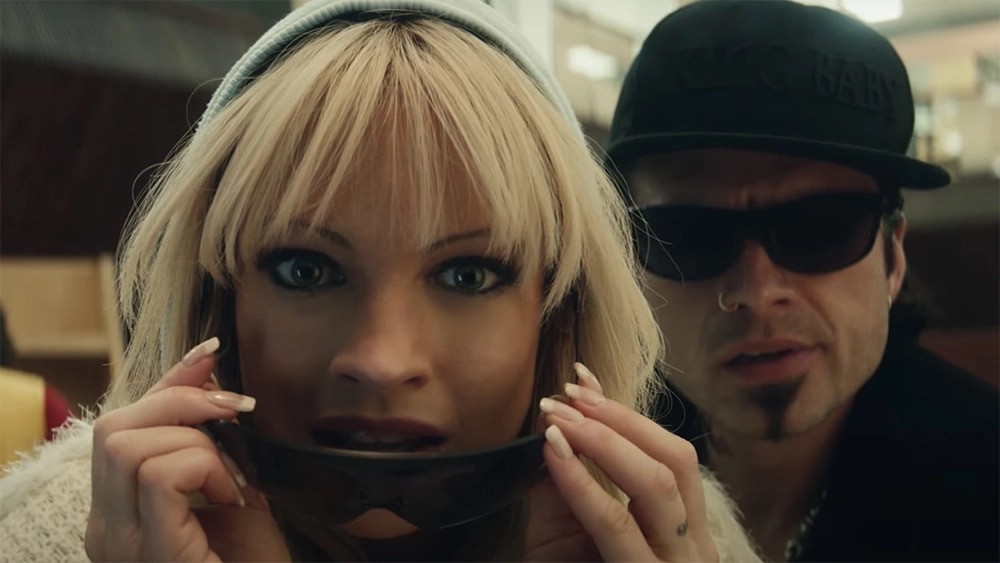 Pam and Tommy Review
In 1995, Rand Gauthier (Seth Rogan) is working as a contractor at the home of recently-married Baywatch star Pamela Anderson (Lily James) and Mötley Crüe drummer Tommy Lee (Sebastian Stan). As work continues on the love nest, it becomes clear Tommy is unsure of what he wanted. He constantly changes his mind and refuses to pay for the work before a volatile confrontation sees him firing everyone. After being threatened by Lee, Rand decides he is going to steal Tommy's safe but after he opens it he discovers it was not just full of valuables, it also contained a videotape.
Taking it to his friend, adult filmmaker Uncle Miltie (Nick Offerman), the two quickly learn that this is not just any tape, but a recording of Pam and Tommy's sexual encounters during their honeymoon. The men immediately decide to make copies of it in an effort to become rich and exact revenge on Lee without any thought given to Anderson. Released without the couple's permission, the tape quickly spread all over the world, being mentioned on late night TV, the news, tabloids, and the burgeoning internet. The consequences of this affected Anderson and Lee with the former bombarded with most of the backlash.
Pam & Tommy shies away from nothing, including a hilarious exchange between Tommy and his talking member (voiced by Jason Mantzoukas), g-strings, nudity, and just how madly in love the real-life couple truly was. However, it takes extreme care to show the people behind the tape and how this event was utterly devastating to them, particularly Pamela Anderson. This is Pam's show. Viewers will learn throughout the 8-part mini-series that not only does she deserve respect but also an apology from the world which took an intimate, private moment and used it to judge and ruin her.
RELATED: Fresh Movie Review: An Intense Thriller That Subverts Expectations
Craig Gillespie who has a penchant for tackling villains and true stories in captivating ways (see his work for I, Tonya and Cruella) helms the series as co-director. Those familiar with his work will recognize the importance the music plays in the show which functions not only as a nostalgia laden callback to the 90s but punctuates a lot of what is happening on screen. The camerawork is brilliant here, capturing the range of emotions portrayed by Anderson and Lee as well as maintaining an authenticity to the era itself.
All that stylization would be pointless without the perfection that is Lily James and Sebastian Stan's performances. Their physical transformations have been talked about since Hulu first teased the photos, but it is their actual portrayals of Anderson and Lee that will have everyone talking. They are not playing the caricatures the world has created of Pam and Tommy, but rather are showing that these are real people, with real feelings and reactions. Sure they had their wild moments, like their 4-day courtship that ended up with them getting married, but they also experienced loneliness, self-doubt, and heartbreak.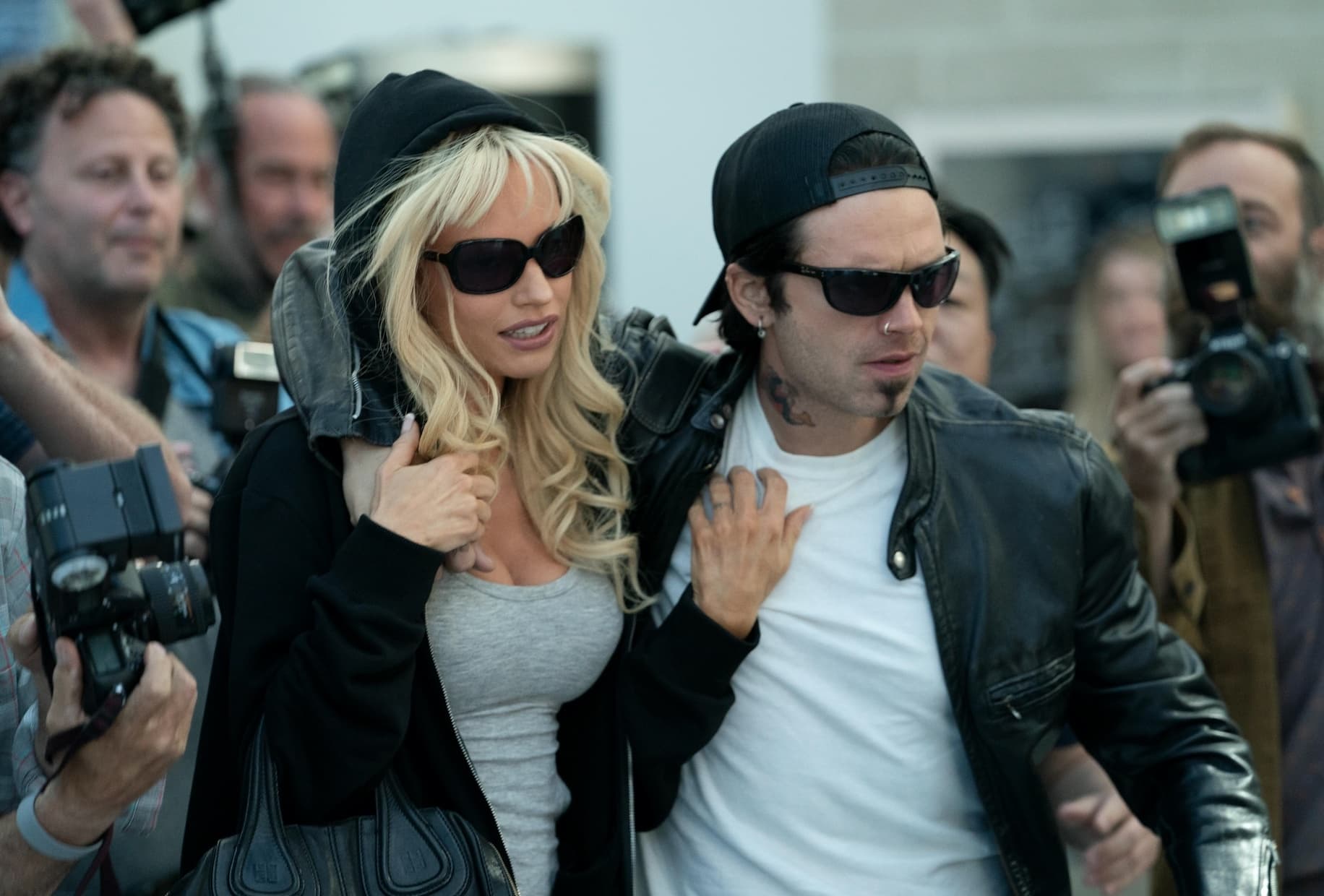 James' depiction of Anderson goes beyond the looks and actually focuses on who she is as a woman, an actress, and as a person who was consistently mocked and exploited by the Hollywood machine. Flashbacks of her life before stardom coupled with Pam-centered moments, help cement the fact that she has always been a positive, kind hearted, and intelligent individual. She has hopes to become a big movie star, to finally be taken seriously, emulating her idol Jane Fonda.
Throughout the entire series, James truly encapsulates what made Anderson so alluring not only to men but to everyone around her. Here is a woman who is trying to live her life and start a family being chased by paparazzi as she leaves the hospital after suffering a miscarriage. It is absolutely rage-inducing to anyone with a soul. When James lets loose Anderson's inner rage and sadness, you are right there with her in the anguish of it all. Nothing about this situation was fair.
Like many women, she happens to be attracted to bad boys. When she swears she's done with those guys for good, in swaggers Tommy Lee whose charisma and charm is too much to resist. Stan's version of Lee is a megalomaniacal, unhinged, intense, crazy, charming guy. It is not hard to imagine why Anderson (or any of his exes) fell for him in the first place. To the world he's a volatile jerk but to her he is her biggest cheerleader. Even Gauthier's ex-wife, Erica (Taylor Schilling) says he is "strangely kind of likable." Stan has always been exceptional with emotionally complex characters, nailing each nuance thrown his way. This part is no exception, he is Lee in all his multifaceted glory.
Their onscreen chemistry is burning hot and the relationship between Anderson and Lee is seen for what it was, a romantic whirlwind with a side of mayhem. Although the series does not really address the eventual downfall of their marriage, the cracks that began when the scandal hit are shown. Anderson was clearly more horrified by the notion of the tape being out there than Lee. She points out how she will look to the world a sex-crazed bimbo who is worthless beyond her bedroom abilities whereas Tommy will be seen as a king. Unfortunately she was right, that's exactly what happened. Pam & Tommy also shows the humiliation she faced both on TV thanks to Leno and in the courtroom. It was sickening to watch as a lawyer demands she views her video and grills her about the intentions she had when she made it.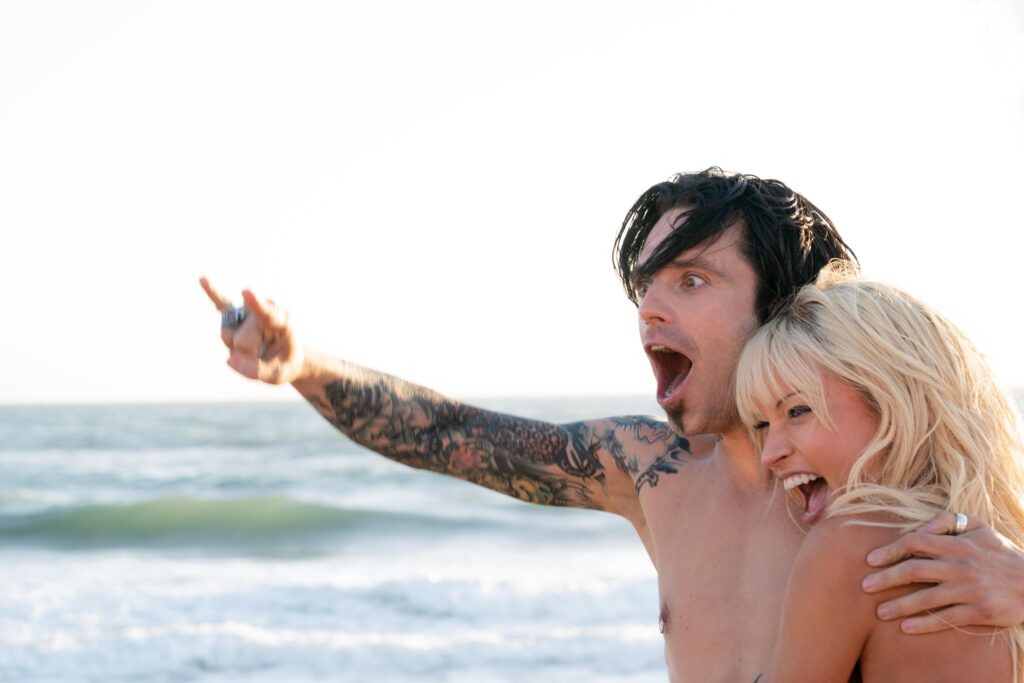 That is the thing though, this tape was not made with the intention for anyone other than Pam and Tommy to see it. They were victims of a burglary. And regardless of their celebrity status, no one has a right to that content without their consent. Pam & Tommy faces the consent aspect of the story head on, with several characters bringing it up aside from Anderson and Lee themselves. The public argues that the fact both had previously exposed themselves in one way or another meant that they did not have a say in the release of the tape.
Which is ridiculous. Previous instances of nudity were done because they chose to do it, in other words, they consented. This however was not the case. It was not made for the public, it was not made as a money grab. This was a private and intimate moment between two people very much in love which no one else had any business watching. Consent is something we are still dealing with in 2022 and it is refreshing to see a major show make it the headliner. Pam & Tommy is saying loudly it doesn't matter what you think, you cannot lie about or overlook the importance of consent.
Pam & Tommy goes beyond what we thought we knew to deliver something wildly entertaining while also honestly facing sexism, misogyny, and rape culture. That is a tightrope to walk but they manage it, making this highly-anticipated show a must see. Above all though it gave me a new respect for Anderson and by extension Lee. Love them or hate them, they are undoubtedly owed an apology, especially Anderson.
Pam & Tommy premieres on Hulu on February 2, 2022. The first three episode will be available with the rest released weekly.