Pokemon Legends Arceus is an exciting new entry into the world of Pokémon. The game is inventive in how it approaches the franchise and offers something truly worth playing.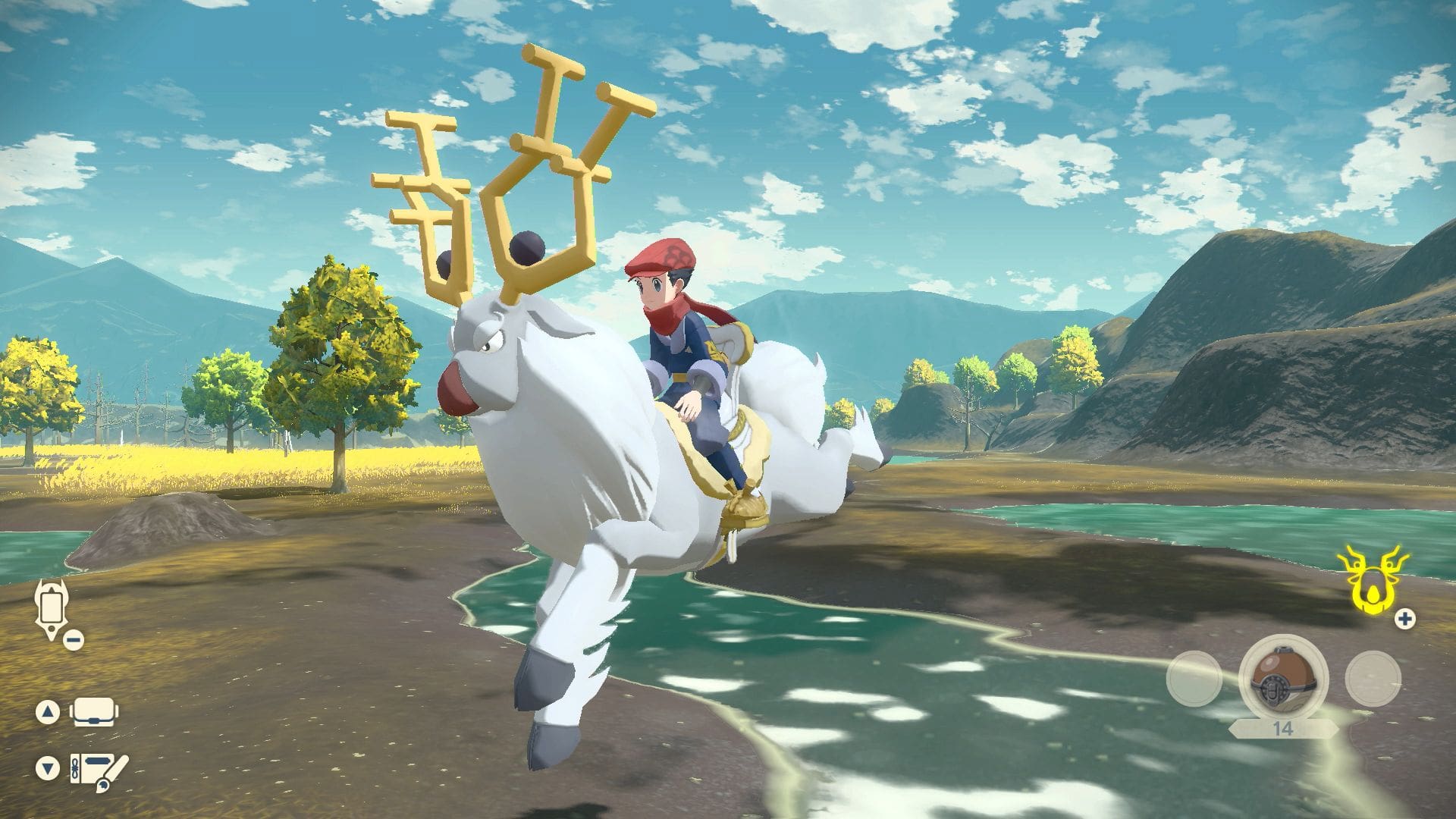 I received a copy of this game for the purpose of our review. All opinions are my own.
Pokemon Legends Arceus Review
Pokémon Legends: Arceus, set long before the other games, focuses on a time when Pokémon are not an integral part of human life. The Pokémon are treated as wild beasts that should be avoided by everyone but the Survey Corps. This group of scientists is interested in researching Pokémon and as soon as you drop into Jubilife Village, they recruit you to their team. The goal is simple: help build the first Pokedex, a notebook that holds all the information known about the Pokémon. To do so, you are tasked with going out into the world and capturing the 242 different Pokémon. Luckily the Corps knows how to catch them and can teach you how to build a PokeBall out of found materials.
Although technically a spin-off, Pokemon Legends: Arceus has reinvented and reinvigorated the Pokemon world by imagining what it would be like to go back to the beginning. Back to a time before trainers and stadiums, when there was just the Survey Corps and wild Pokemon. The result is an exciting journey through open spaces where it has never felt so good to catch Pokemon. This inventive take on the franchise offers something truly worth playing day after day.
RELATED: New Pokemon Snap Game Review: A Fun and Colorful Must Have
Developer Game Freak said what would it look like to go back to those first encounters with Pokemon? The result is Legends: Arceus. Here the Pokemon are wandering throughout an open world and you have several choices in how to approach them. Some run immediately and require stealth to capture, others can be lured with their favorite foods. Be careful though some can and will attack you. The only real defense moves you have if things go South are dodging and running away. If you play it just right though, toss your PokeBall and start collecting Pokemon. Once you have some, these too can be used in defense against more aggressive creatures. Toss them onto the field to initiate a battle. You will go through PokeBalls quickly so keep an eye on your inventory.
Simply catching a Pokemon is not enough to fill out its Pokedex entry unlike in previous games. This time around you are building the first Pokedex which requires completing several tasks. A Pokedex sheet will list out the tasks such as defeating a certain number of Pokemon or catching a number of them using stealth. Once these have been completed you are allowed to turn in all your info and the entry will be considered complete. The Survey Corps awards star rankings based on you completing these entries. Leveling up in star rankings is how you access new environments and major story points. In the beginning it can be difficult to get enough stars to proceed but once different mounts and environments are available, exploring and leveling up become easier.
One staple of Pokemon games are the battles and like everything else, Legends: Arceus takes a different approach to them. Two new additions are the Strong and Agile attacks where players can choose to sacrifice strength for a quicker turn or give up a turn for a bigger hit. One of the changes I like is that I do not need to memorize (read: google) the right combo moves to win a match because this game spells it out, literally with moves listed as Effective, Super Effective, Not Very Effective, and No Effect. Several of the memorable moves fans like me will instantly recognize have been altered slightly to better fit the faster-paced gameplay.
Boss Battles aka Frenzy Battles are particularly thrilling as these large scaled attacks tie into the bigger story. Pokemon Wardens teach you how to make special Balms to use against them in battle. So when the time comes to face these big creatures you must come up with combos that involve throwing Balms, using your Pokemon, and of course just battling it out. All of this makes for the most intense and exciting battles in a Pokemon game in years. As if that isn't enough to get your heart racing, battling in the middle of a crowd of Pokemon can result in a mega battle. Or you may just happen upon a Pokemon well above your level. Seriously, these things will chase you across the map if you aren't careful. If you do manage to catch them they will become your apex go-to in future encounters.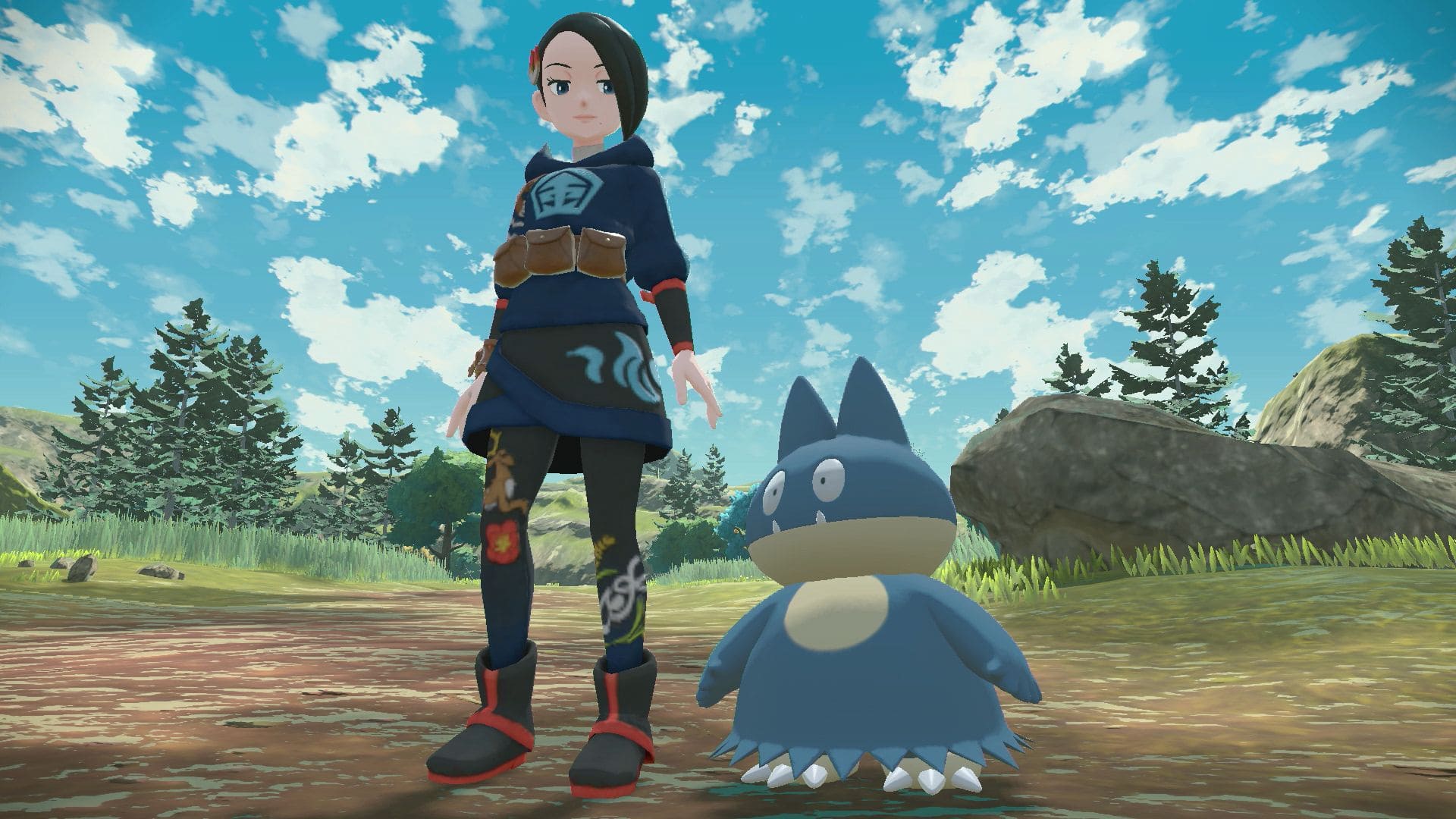 It is those encounters that really make Legends: Arceus something truly memorable. As someone who enjoys taking time to find and learn about the Pokemon in the game the way I love how flexible this gameplay is. I can choose to battle or not, I can wander around the open world and just discover who is waiting for me around the corner. The way the Pokemon react to you in the game and with their environment is also fun to see as each one has its own distinctive personality. I also appreciate that in order to evolve my new friends I no longer have to find rare items and trudge out to the Move Tutor. Evolving and changing a Pokemon's moves is accessible now from the menu (unlocked after a certain point).
With its open world concept and different regions, Legends: Arceus feels a bit like Breath of the Wild. It's not quite as expansive and visually falls short but there is that sense of being able to wander almost forever and the anticipation that something is out there waiting to be discovered. I played almost exclusively on the Nintendo Switch OLED and the visual lags were noticeable however they were easily overlooked because of how engaged I was with the content. Fans who love Easter Eggs will notice that there are places on the map referencing towns and landmarks in Diamond and Pearl.
Ultimately, Pokémon Legends: Arceus is just incredibly fun. Even after spending hours catching Pokemon, the way it approaches the franchise seriously ups the gameplay and makes it exciting. Although it is rough around the graphic edges, at its core Legends: Arceus is a bold and innovative foray into the world of Pokemon.
Pokémon Legends: Arceus is now available in stories and online through the Nintendo Store.