The Batman is more a gritty crime drama than a comic book movie that sees Robert Pattinson as the conflicted and moody Bruce Wayne. It is dark, visually and tonally, with a few exciting action sequences sprinkled throughout the otherwise bloated runtime.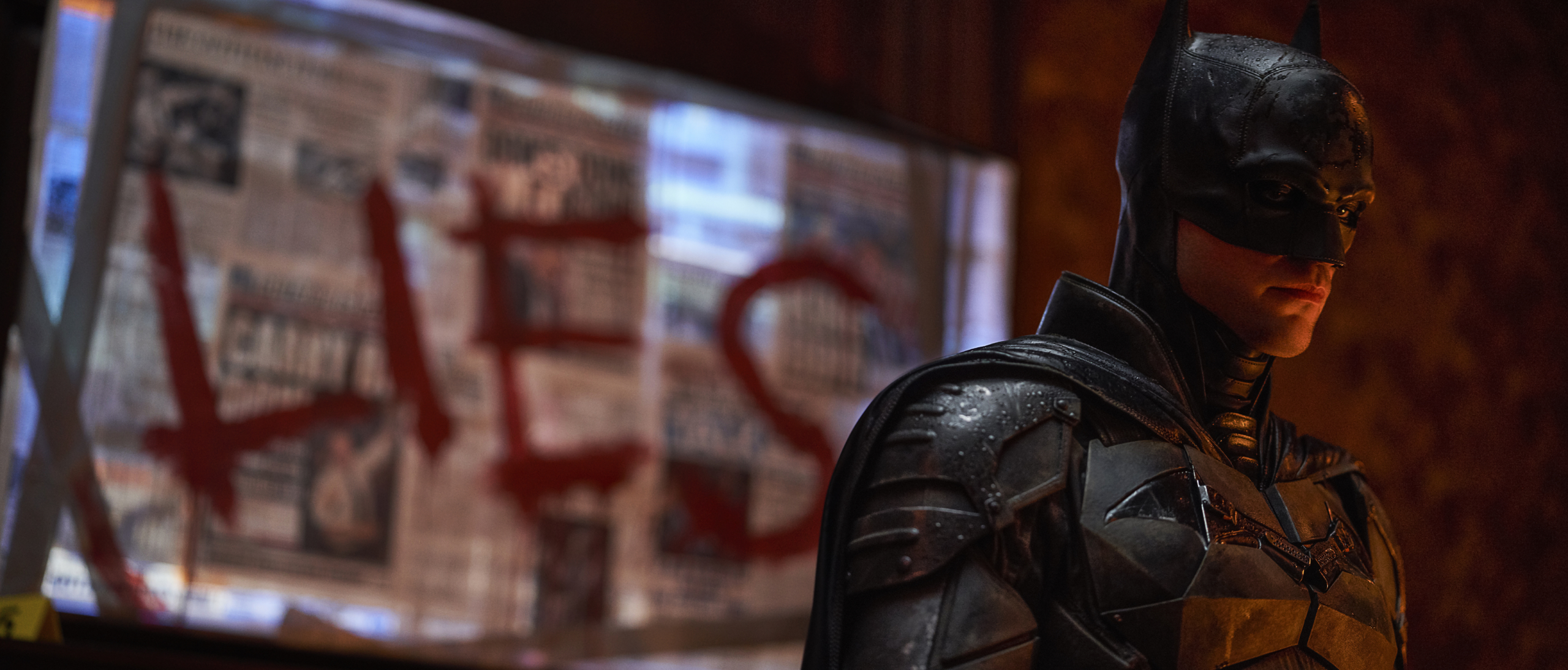 The Batman Review
Two years into his time as Batman (Robert Pattinson), Bruce Wayne continues to be at odds with the people of Gotham. Feared by criminals and loathed by those sworn to protect the city, he struggles to figure out where he belongs in the hierarchy. The only one who trusts him is Lieutenant Jim Gordon (Jeffrey Wright) who calls him for help when the mayor (Rupert Penry-Jones) is found murdered by The Riddler (Paul Dano). They soon discover this killer as a penchant for games and he leaves behind a greeting card for The Batman at each crime. He finds an unlikely ally in Selina Kyle/Catwoman (Zoë Kravitz). Together they try to find the Riddler before it is too late but in doing so they realize just how corrupt Gotham City truly has always been.
The Batman is a dark, intense crime drama that grounds itself firmly in the realistic, seedy underbelly of Gotham. Direct Matt Reeves' take on a moody Bruce Wayne is intriguing but not without pitfalls. When there are action and fight sequences they are deftly executed, with the trailers not doing them justice at all. Unfortunately a bloated runtime greatly drags down the pacing, undermining the suspense Reeves works hard to build.
RELATED: No Exit Review: A Thrilling Nail-Biter Of a Whodunit
DC fans will be relieved that Pattinson's Batman is a big improvement over Affleck's, in fact this role should finally get people to stop calling him the Twilight guy. He fully embodies the conflicted, stoic Bruce who despite his stiffness really is looking to make his own path in this world. Spending most of the film in the Batsuit required Pattinson to emote almost solely through his eyes. And he succeeded. The audience could feel his anger, remorse, and excitement by simply watching his eyes. Unlike previous versions of Bruce Wayne who are suave playboys, this Bruce is an angsty, emo outsider who hides away from the other citizens of Gotham.
The standout performance though goes to Zoë Kravitz. She does Michelle Pfeiffer's Catwoman proud and her chemistry with Pattinson makes their scenes together fun to watch. Her sly, take charge, act first think later attitude pairs well with his broody, more cautious ways. When they are paired up it energizes the story in a way that leaves you wanting more. If there are future outings with this Batman, Selina better be a major player. Wright's Gordon is calm, calculating, and observant, everything one could ask for in one of the few uncorrupted cops in Gotham.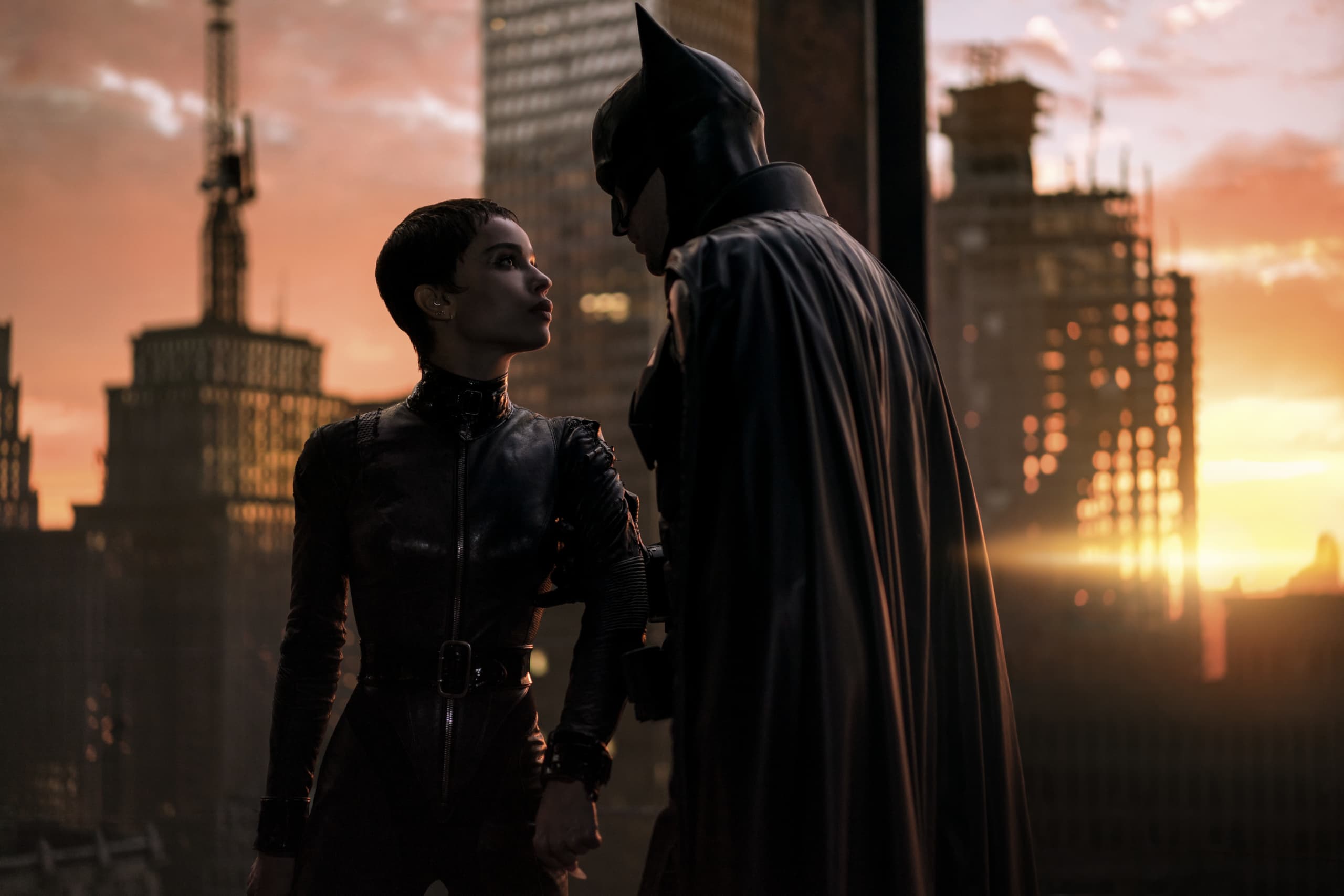 Sadly, the villains do not make much of an impression with The Riddler becoming quite the joke by the end. But instead of maniacally laughing with him, I found myself laughing at him. John Turturro's Carmine Falcone was the best, most believable of the bunch, Reeves would have done well to give him more focus instead of adding in the Penguin (Colin Farrell). Speaking of Oswald, the unrecognizable Farrell was essentially a spin-off of Tony Soprano but with worse luck. This could have been forgivable had Dano's Riddler not been so disappointing. Once his schemes started to play out, The Batman started looking more like Saw with the Riddler as Jigsaw complete with horrific ways to die, though these happened mostly off screen. It was not his methods but rather his line delivery that left me underwhelmed. To convey his unhinged mind, Dano mostly yelled or smiled but not in a way that came across creepy. And by the time he begins to sing Ave Maria during his final monologue, forget it, the cheese factor is overwhelming.
DC is known for its dark scenes and The Batman is determined to have viewers begging for a bump up in the brightness. Sure things happen mostly at night but does the moon never shine in Gotham? It is a city, where are the street lamps? Sometimes the play with shadow and light makes for a beautiful aesthetic that really fits into the scene such as the car chase and club fight. The former is a highlight of the entire film even if it ends almost exactly like the one in Captain America: The Winter Soldier. Spoiler alert, Bucky does the death strut better than Batboy. Other times though, everything is dark for the sake of being dark, even when it is daytime. One would think Gotham is located in a Seattle type area and not New York.
Ultimately, The Batman is a slow paced, gritty crime drama that had the potential to be great but suffered at the hands of its runtime and writing choices. Fans of the comics will likely find something to love here though and enjoy seeing nods to specific characters, places, and times throughout. Ending with a promise to explore more villains of Gotham, one can only hope Reeves trims the fat next time and beefs up his baddies. I will say at least they changed up how they portrayed Bruce's backstory because like the LEGO movie pointed out it has been done at nauseam.
The Batman is in theaters March 4. It is rated PG-13 for strong violent and disturbing content, drug content, strong language, and some suggestive material. It's runtime is 2 hours 55 minutes.