No Exit is a thrilling, nail-biter of a whodunit that keeps viewers on the edge of their seats from start to finish. Faithful to the source material, Director Damien Power delivers plenty of twists and shocking moments, punctuated by the outstanding lead performance of Havana Rose Liu.
No Exit Review
Darby (Liu) is a college student currently in rehab for drug addiction. When an unexpected call comes in, Darby begs the facility to let her leave so she can see her mother one last time before she dies. The rules however keep her from leaving and from calling her sister to get more information. Desperate to make it to her mother's side, Darby escapes but is soon waylaid by a blizzard that forces her to shelter at a nearby mountain rest stop. Just when she thinks her personal issues are the biggest problems she has to worry about, she quickly realizes that not everything is as it seems at this rest stop. Locked in with four strangers, Darby soon learns that in order to survive the night she must fight for her life.
Based on the best-selling novel of the same name, No Exit is an intense thriller that keeps viewers gripping their seats until the very last moment. It subverts expectations thanks mostly to how the entire cast gives their all for every twist and turn the script offers up. Power pares down the excess often found in most survival thrillers, truly embodying the essence of less is more. The result is an absolute nail-biter perfect for fans of this genre.
RELATED: The Cast Of No Exit On Bringing The Psychological Thriller To Life
Sometimes when a book is adapted into a film there are missteps and overcorrections are taken in an attempt to fix those issues. Andrew Barrer and Gabriel Ferrari did a remarkable job at tackling the source material and adapting it for the film. Instead of adding onto the original story in a way that seems excessive, they pulled the necessary bits from the novel and adjusted as needed. What they came up with is something that is both clean and concise. Despite some differences, fans of Taylor Adam's work will find this film is faithful to its source material and enjoy the ride along with those in the dark about this group of strangers.
When a film is almost exclusively confined to one location, the performances of the actors carry the weight of keeping the audience invested in the story. The ensemble picked for this task went beyond expectations. Every single one of the main cast gave a memorable performance, eliciting several strong emotional reactions from the viewer ranging from anger to fear to pride. Liu takes on her first lead role, proving she is one to watch in the future. The way she approaches the multi-faceted Darby is nothing less than impressive. Her layered performance will not only endear her to audiences but also give them chills, instantly leaving a lasting impression. She is joined by Danny Ramirez (Ash), David Rysdahl (Lars), Dennis Haysbert (Ed), and Dale Dickey (Sandi) who each command the screen in ways that build upon the suspense. The way Ramirez plays Ash is a far cry from Torres on Falcon and Winter Soldier, proving he can be more than just comedic relief. Rysdahl ensures that Lars is not only detested but also sympathized with, arguably a tough gamut to run, but he pulls it off without any issues.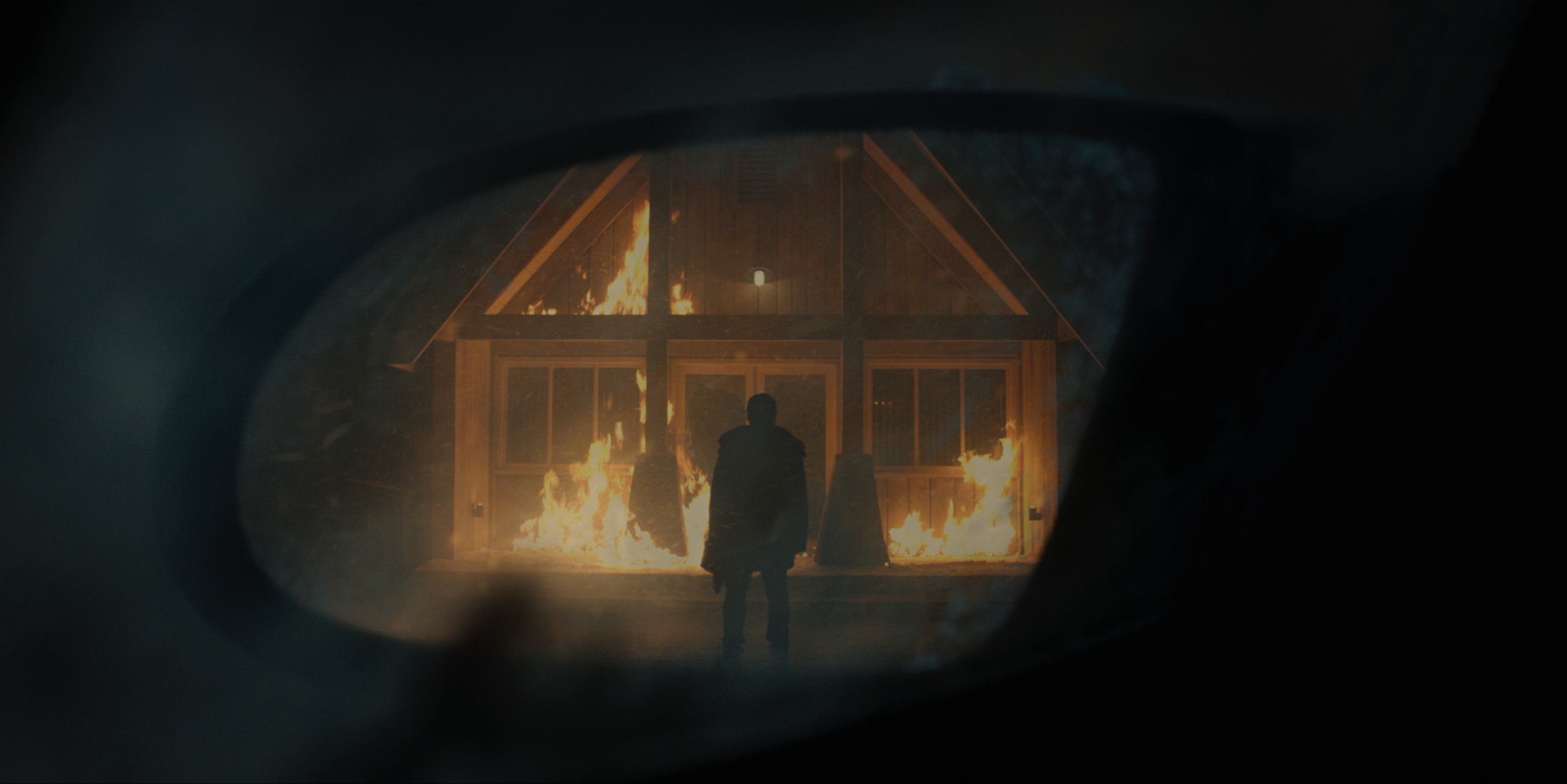 With those solid performances every other aspect of No Exit just serves as icing on the thriller cake. Everything from the camera work which includes some visual sleight-of-hands to the score work in tandem to heightened the suspense and keep the audience, and Darby, guessing. Though only 95 minutes, Power makes the most of it alternating between quick movements and slow burns to capture the terror felt by those stranded inside that mountain rest stop. Which means the danger feels real leading to a massive payoff when the big acts of violence occur.
Ultimately, No Exit maximizes on its one location, no frills script, and stellar performances. The way it is able to keep you in a constant state of trying to figure out what could possibly happen next is exciting. Fans of the novel will not only be pleased with this adaptation but will enjoy a few surprises too thanks to some subtle changes that work to service this telling of the story. It is a must see for anyone who enjoys a good whodunit, especially one that locks in on the intensity and turns it up at just the right second.
No Exit will be available in Hulu in the U.S. and on Disney+ internationally starting February 25. The film is 95 minutes long and rated R for strong violence, language and some drug content.