Kirby and the Forgotten Land is not only visually adorable, but it is ridiculously fun to play. In fact, this latest adventure with our favorite pink guy may be the best Kirby game yet.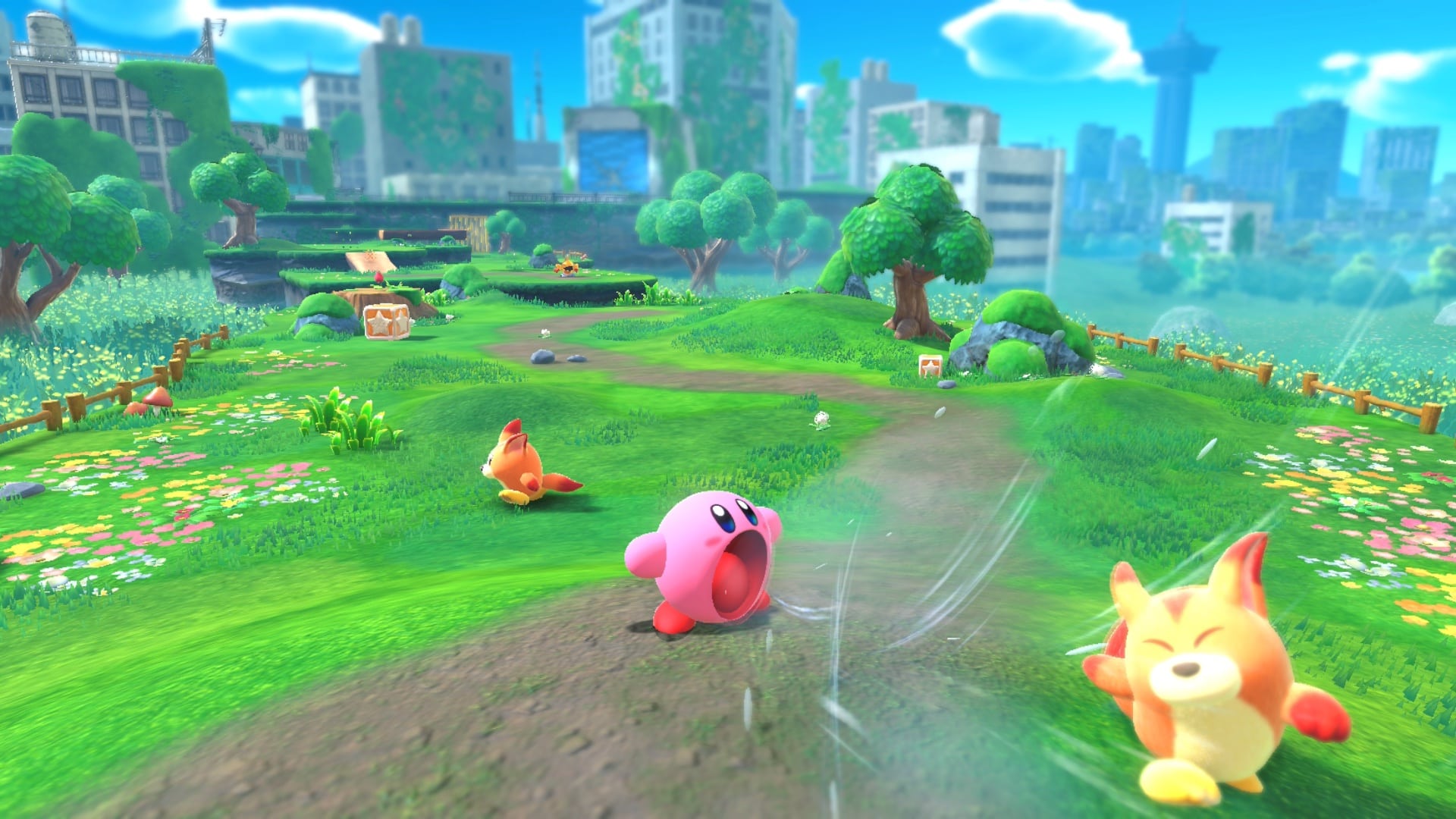 I received a copy of this game for the purpose of our review. All opinions are my own.
Kirby and the Forgotten Land Review
When a wormhole opens above Dream Land, Kirby and his friends are transported to a post-apocalyptic world. After Kirby washes up on a beach, he finds himself amongst the ruins of human society. The Waddle Dees have decided to settle into this new home and make it their own. Unfortunately they are almost immediately kidnapped by monsters. Now, it is up to Kirby to explore this world, rescue as many Waddle Dees as he can, and help them rebuild their town.
Kirby and the Forgotten Land wastes no time showing off its expansive set-pieces, colorful world, and impressive graphics. It is unlike anything seen in previous Kirby games. Put all that aside, the gameplay itself is ridiculously fun and engaging, making it close to impossible to walk away. What HAL Laboratory has created here is something that is a must-play for fans.
RELATED: Pokemon Legends Arceus Review: An Exciting New Entry For Pokemon Fans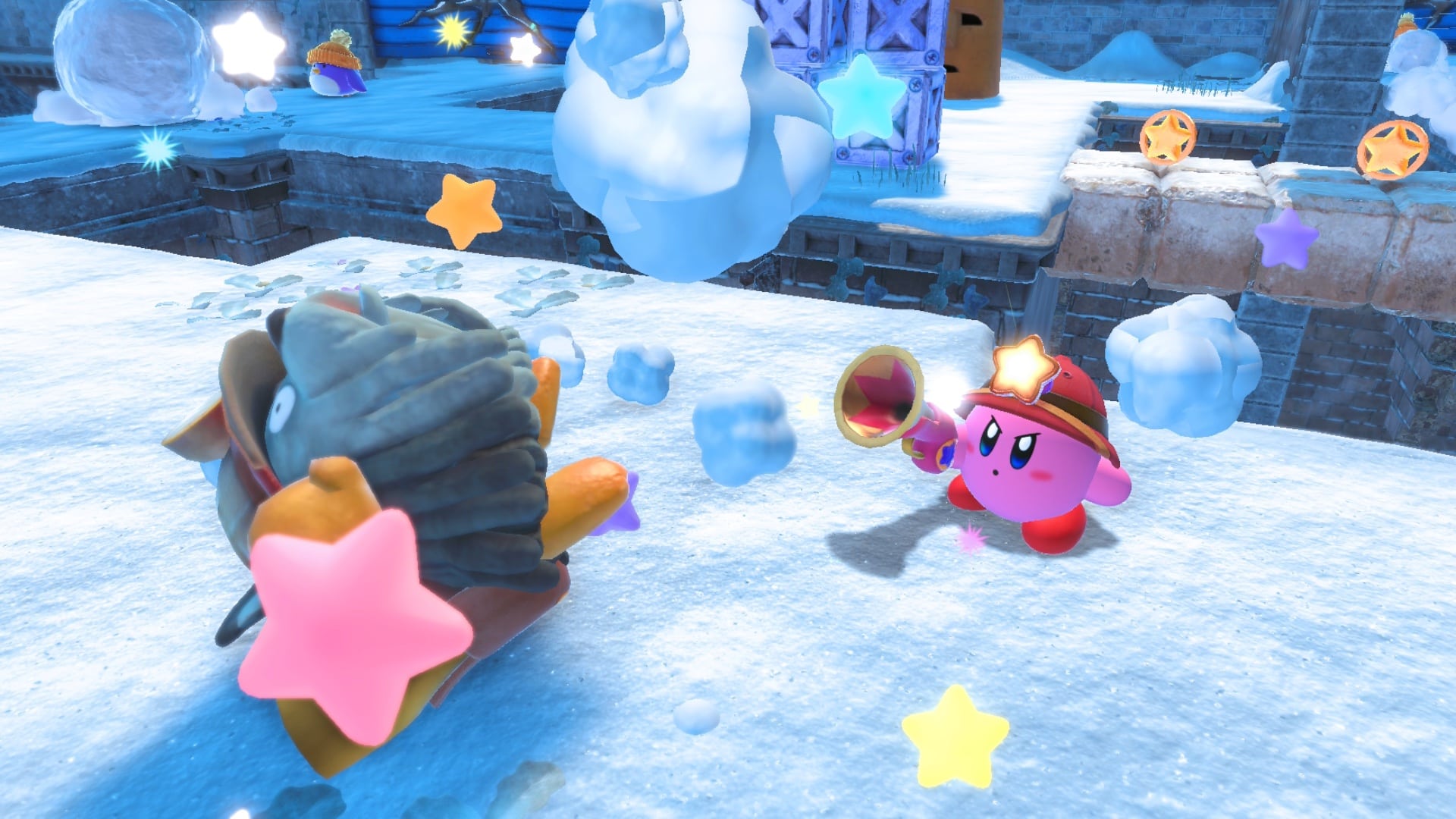 Kirby and the Forgotten Land is comprised of linear levels with mini games and the option to unlock ability upgrades. Even though players are not exploring an open world game like Breath of the Wild, each level is full of secret paths and hidden gems waiting to be discovered. Those details along with the overall look of the levels makes them feel big despite being contained within a set parameter.
Within the levels, Kirby sucks up enemies to steal their powers, using those to defeat other baddies and unlock secrets. Although this game shifts from 2D to 3D, Kirby still feels familiar. The way he moves, fights, and interacts with his environment will still be familiar to fans of the franchise. Hal Laboratory has deftly blended puzzles and combat throughout each level. The copying abilities add a little something extra satisfying to each level as they aid the player in different ways depending on the situation. For example, in combat it can be easier to take out a foe when you also have fire abilities. But that fire can also help Kirby progress through the level when he uses it to ignite a rope fuse and blast off to the next section. Certain levels can be played through using different powers, ensuring you want to go back and play to discover all the mysteries.
Each world ends with a boss fight against a member of the Beast Pack. Some will seem familiar as they clearly draw on past Kirby bosses, but there are also unique designs as well. Kirby and the Forgotten Land allows players to set the difficulty level between Wild Mode and Spring Breeze Mode with the latter being easier but rewards you with less coins. Having played through using both modes, I didn't find there to be a big difference in terms of difficulty. I rarely died and when I did it was more from a careless jump than a boss' well placed blow to Kirby.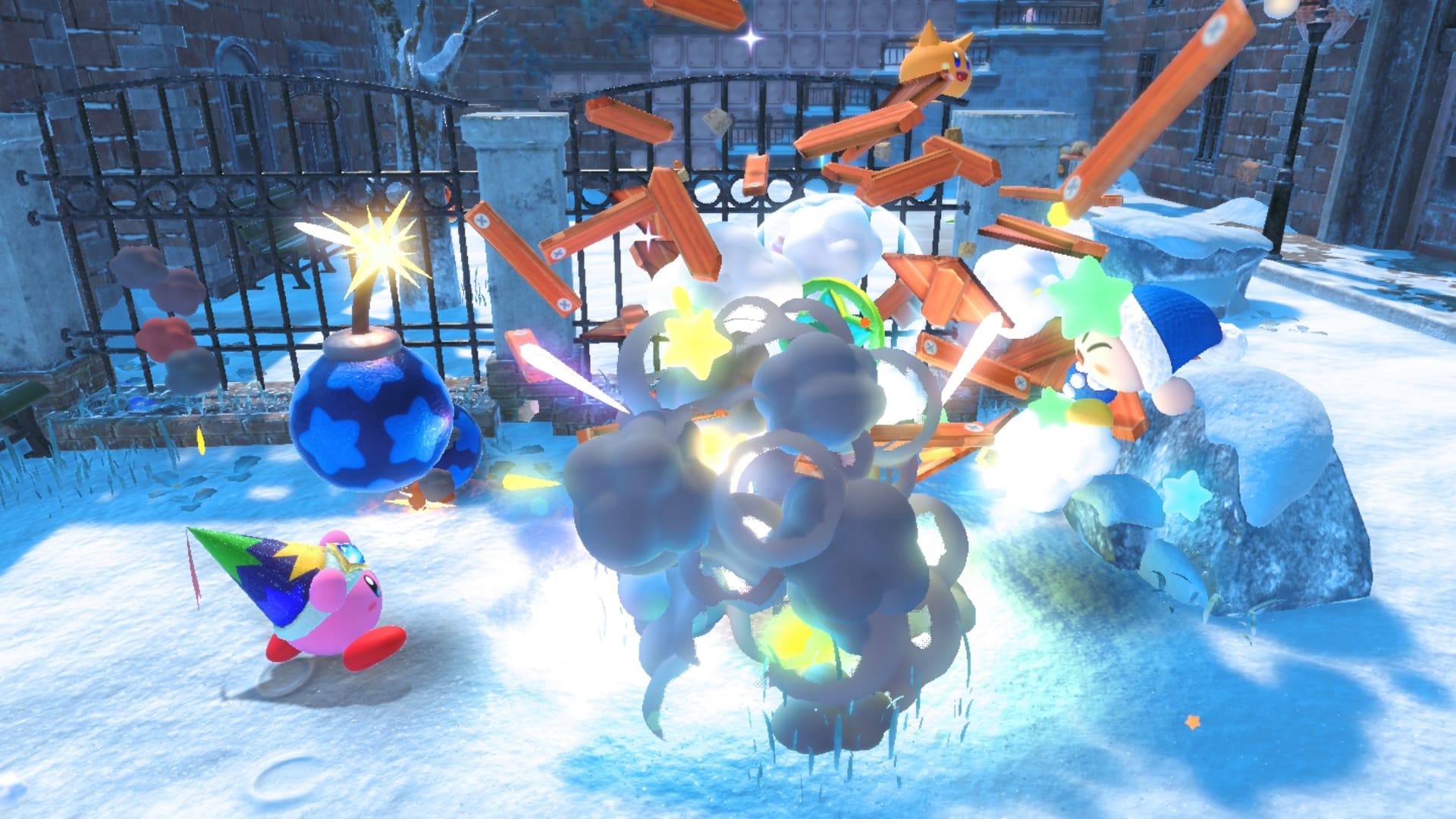 Goals are revealed prior to starting a level with some spelled out while others are a mystery. One is constant however, and that is to track down the Waddle Dees. Some are trapped in plain sight while others are hidden in secret alcoves and other areas. Not only do you want to find these friends to check off your to-do list but also because it benefits Kirby. The more Waddle Dees that are saved and sent back to town, the more new buildings and opportunities to unlock items, upgrades, and play mini games become available.
One of the greatest aspects of this game though is Kirby's "Mouthful" abilities which includes the infamous car and vending machine transformations. Yes, both of those are just as amazing to play with as they sound and look in the gameplay videos. Essentially, there are objects Kirby can't quite swallow so he simply alters his body to wrap around them. Each item is useful to a particular section ahead of you. Need stairs? Become one with the stars and hop along until you put them in the right place. Traffic cones are extremely handy when needing to punch through broken pipes and land to release a geyser. I would argue that up there with the car and vending machine is the circular object that turns Kirby into a giant wind tunnel. With that in his mouth he can steer boats, knock over all types of enemies, and spin objects to unlock special areas. If you had told me I would find traffic cones and stairs entertaining, I would have laughed in your face. But here we are, somehow Hal Laboratory pulled it off.
Bonus Treasure Road challenges occur between levels and reward you with a special star and coins. These can be used along with blueprints (found within levels or received after a big fight) to upgrade specific copying abilities in the Weapons Shop located in the Waddle Dee Town. For example, you go from shooting one fireball to essentially becoming a volcano of fire power. If you are like me and your goal is to complete every level at 100% then you won't find yourself short on coins, stars, or blueprints.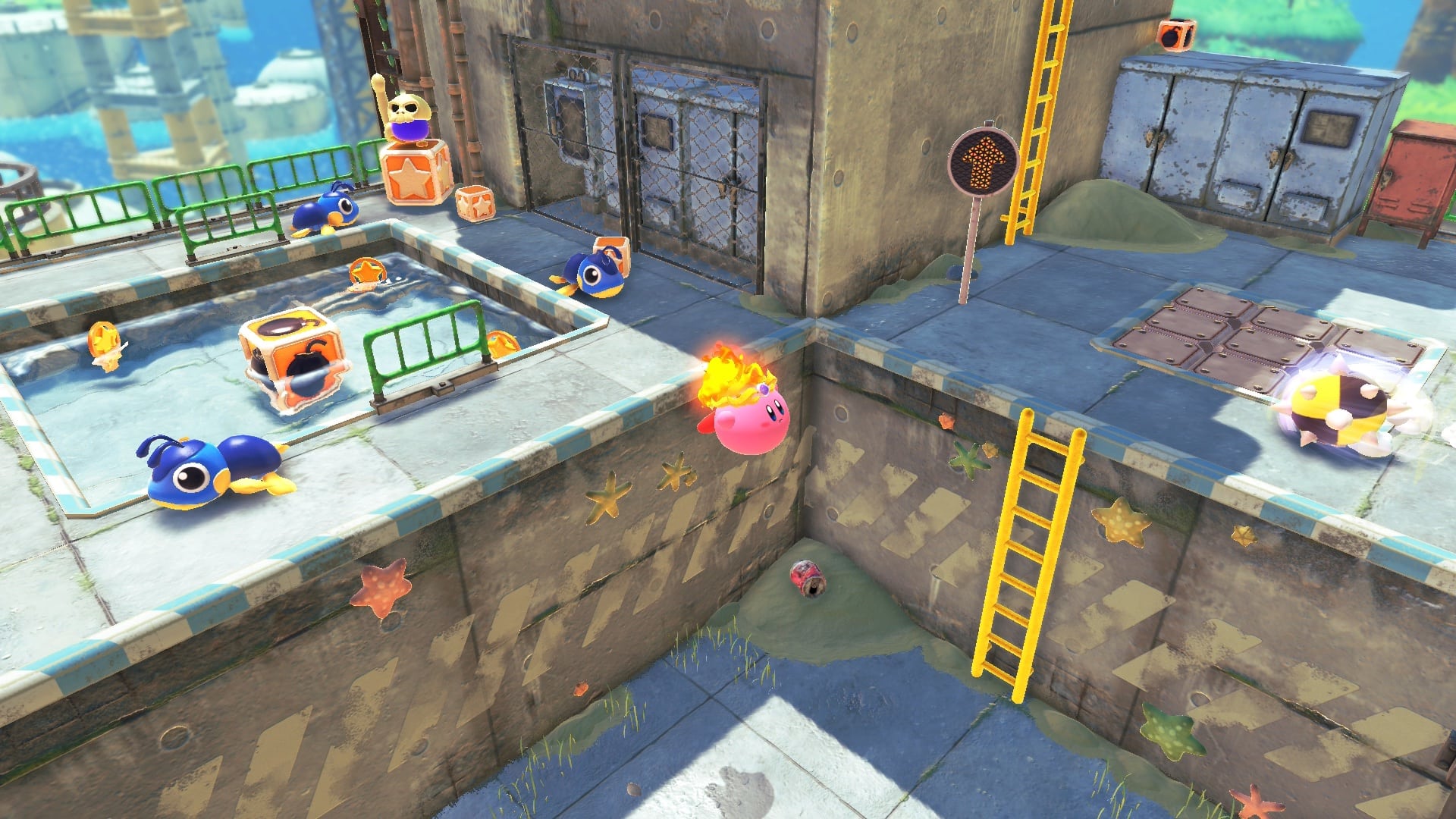 Visually, Kirby and the Forgotten Land is vibrant, detailed, and adorable. It takes the traditional stages we are used to in games (water, forest, etc) and turns them into something fresh and enjoyable to explore. Even the cut-scenes are amusing and something that not only did I gladly sit through but would even go back to watch in the Waddle Dee Town theater.
Another fun feature is the Co-Op mode. When co-op mode is enabled, a second player can take control of Bandana Waddle Dee. While he doesn't have Kirby's copying abilities, he does do some damage with his spear attacks. The issue here is the camera stays with Kirby, forcing Bandana to stick close. So cooperation is key, but having that second player come-on handy for certain bosses and levels.
It is the 30th anniversary of Kirby and after playing this game, I feel the future is bright for this hungry pink puff of awesome. Kirby and the Forgotten Land is a refreshingly creative game that will keep players engaged from start to finish. It is visually adorable and ridiculously fun to play, making it the best Kirby game yet.
Kirby and the Forgotten Land is available now wherever Switch games are sold.