The highly anticipated Lightyear is set to fly into theaters this summer with Chris Evans lending his voice to Buzz Lightyear. When it came to casting the human version of the beloved toy, Pixar wanted someone who could be both dramatic and comedic. Evans was the perfect person for the job.
Casting Chris Evans As Buzz Lightyear
In 1995 Andy asked for a toy from his favorite movie, Lightyear. Lightyear follows the legendary Space Ranger Buzz Lightyear (Chris Evans) as he attempts to finally escape the planet he and his crew have been stuck on for years. Trial after trial prevents Buzz from finishing the mission, but when there is finally some hope another obstacle stands between him and home. Buzz will have to team-up with some unlikely allies and face off against a robot army led by none other than Emperor Zurg (James Brolin).
Director and screenwriter Angus MacLane and producer Galyn Susman knew that in order to help differentiate between Buzz the toy and Buzz the person they would need to find a new voice for him. And not just any voice. This is an iconic character that is beloved by fans all over the world. Whoever they chose had big space boots to fill. Lucky for them and us, Chris Evans was up for the challenge. Who better to play a space ranger captain out of time than the man who played a different type of captain out of time?
RELATED: All About Sox the Robot Cat In Lightyear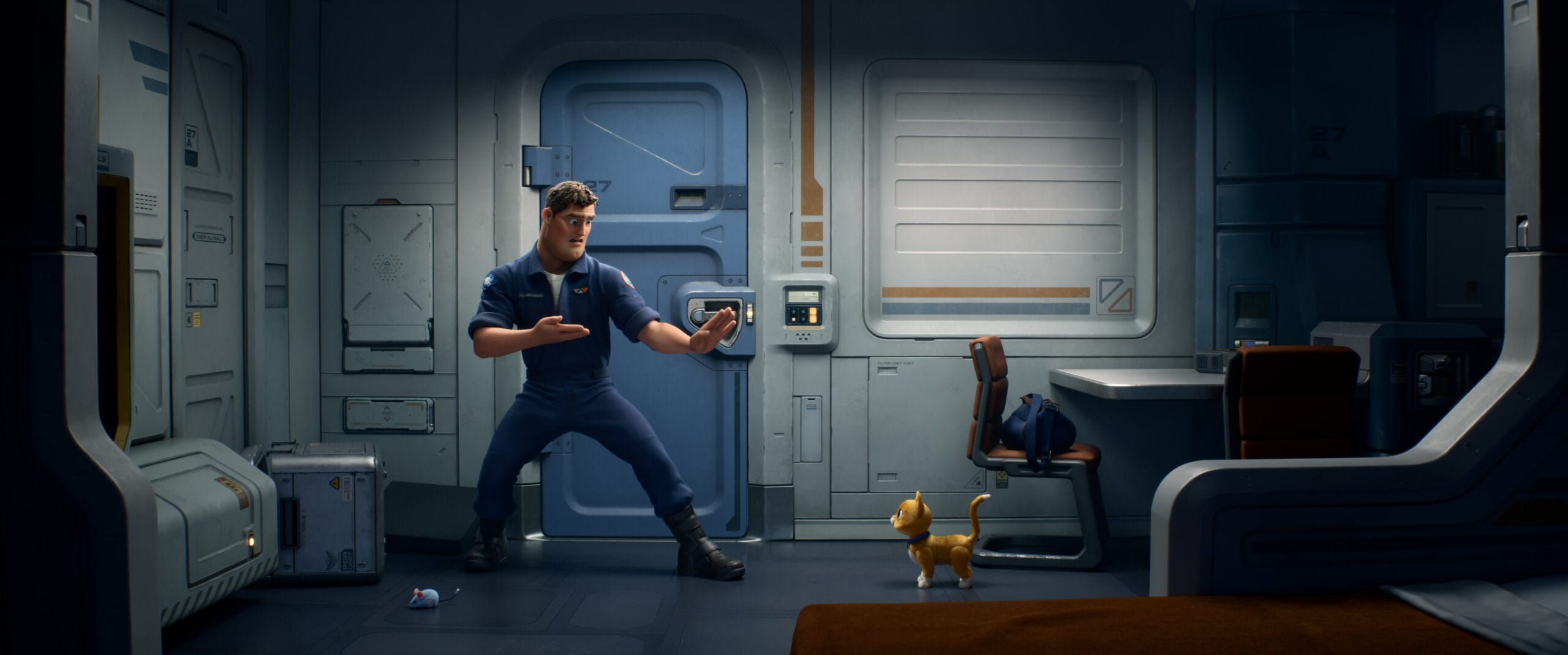 Galyn: When casting Buzz, it was important to differentiate our hero Buzz from the toy that's made on his character and represented in the Toy Story movies. So that meant we needed a new voice for Buzz. He needed to have that nice rich sound, able to be both dramatic and comedic. And most importantly, he needed to be heroic without coming off as arrogant or dense. That's a tall order. We immediately knew we had to ask Chris. What we didn't know is that he is a huge animation fan and would bring that love and passion into the project, as well as his myriad acting talents. He even attended an animation dailies and gave the team a pep talk. It's really been a wonderful collaboration, and we couldn't be happier.
Angus: Because the voice is so iconic, you run the risk of imitation. I never wanted someone that was gonna imitate that character's voice. I imagined this was a movie [Lightyear] that later there was a spinoff cartoon. And then the Toy Story toy was made off of that cartoon design. I knew that the character was iconic enough that you needed someone with the gravitas and seriousness. And balance comedy and drama. [There's a] very narrow window of actors that could do it. There was a lot of comedy and serious action stuff that we'd seen Chris Evans do, and I was always impressed by his ability to not seem too goofy but be able to laugh at himself. I think that's really essential for the character.
He had played a character that was a square lantern jawed hero that was out of time. This is a different character, but [being] trapped in a future he doesn't recognize, he plays that very comedically well. Chris was our first and only choice. We were so thrilled that he warmed to the project immediately, and has been such a wonderful partner for us.
Lightyear is coming to theaters June 17, 2022.