The race to find the tomb with Ammit's statue leads to a discovery and a big showdown that sees Marc gravely injured. Or is he? A lot of familiar faces show up, including Gus the goldfish. But when reality and fantasy become blurred, everyone is left wondering what exactly is real and what is fake. Let's get into "The Tomb" with this Moon Knight episode 4 easter eggs and breakdown.
This is your spoiler warning if you haven't watched episode 4 of Moon Knight.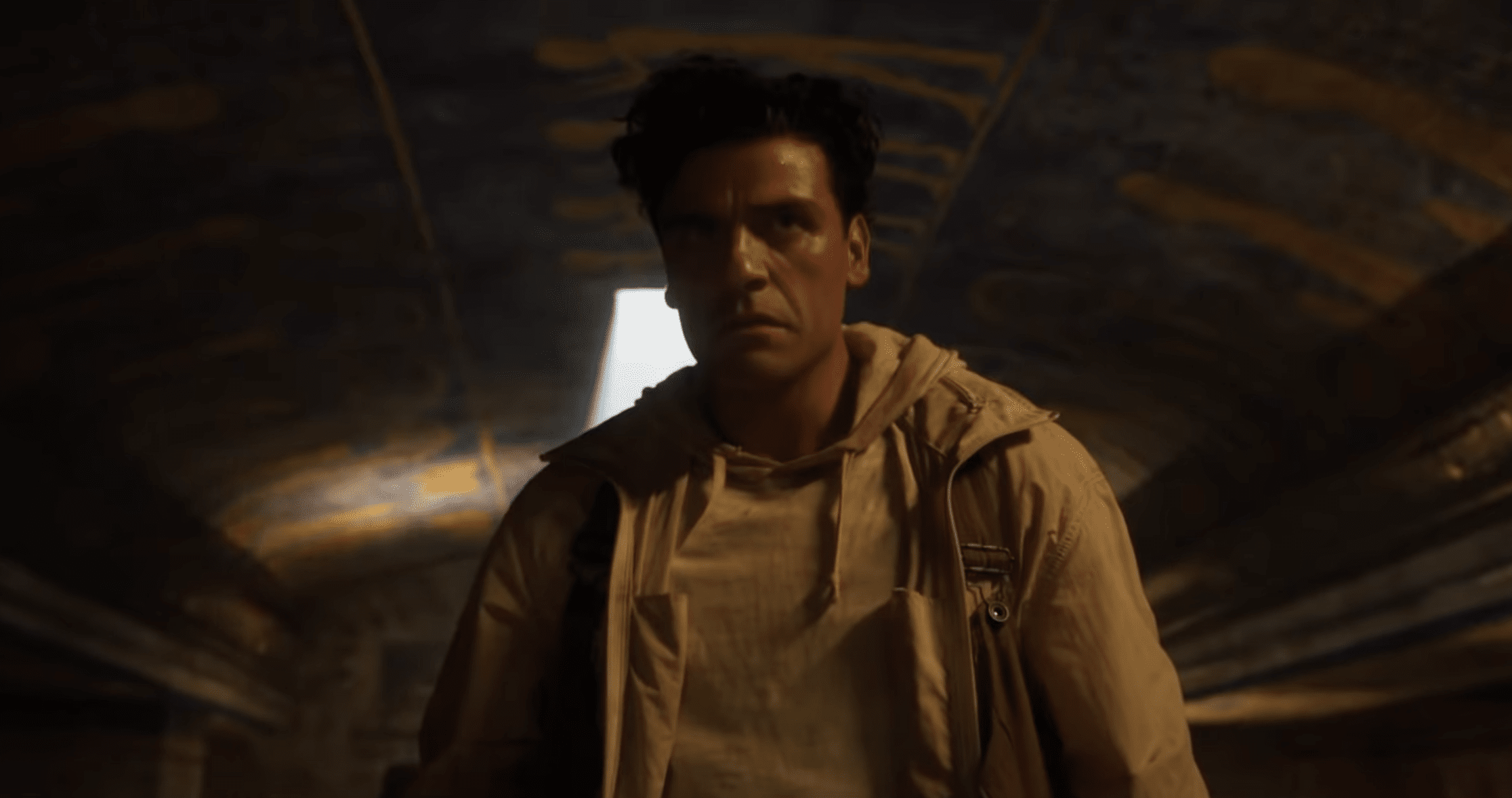 Moon Knight Episode 4 Easter Eggs & Breakdown
Horus' avatar places Khonshu's statue amongst other imprisoned gods including other members of the Ennead, the most recognizable being Anubis. In the Lemire Moon Knight run, Marc gets aid from Anubis when he is trying to escape the mental hospital illusion created by Ammit. Crawley stays behind with Anubis as payment for safe passage. Marc returns to free Crawley but Anubis will only let him go if Marc rescues Anubis' other half, Anput.
There are 10 gods' stone statues in the shot including Anubis and Khonshu. Who else has the remaining members of the Ennead imprisoned?
RELATED: Moon Knight Episode 3 Easter Eggs & Breakdown
Steven still lays on the sand unconscious. They are being pursued by Harrow's men. Layla blows up their truck and Steven awakes. Layla wants Marc to take back over but Steven refuses since Khonshu is now out of the picture.
They arrive at the tomb but Arthur's men are already there. Taking supplies, they miss the various bloody mummification tools and boxes in the camp.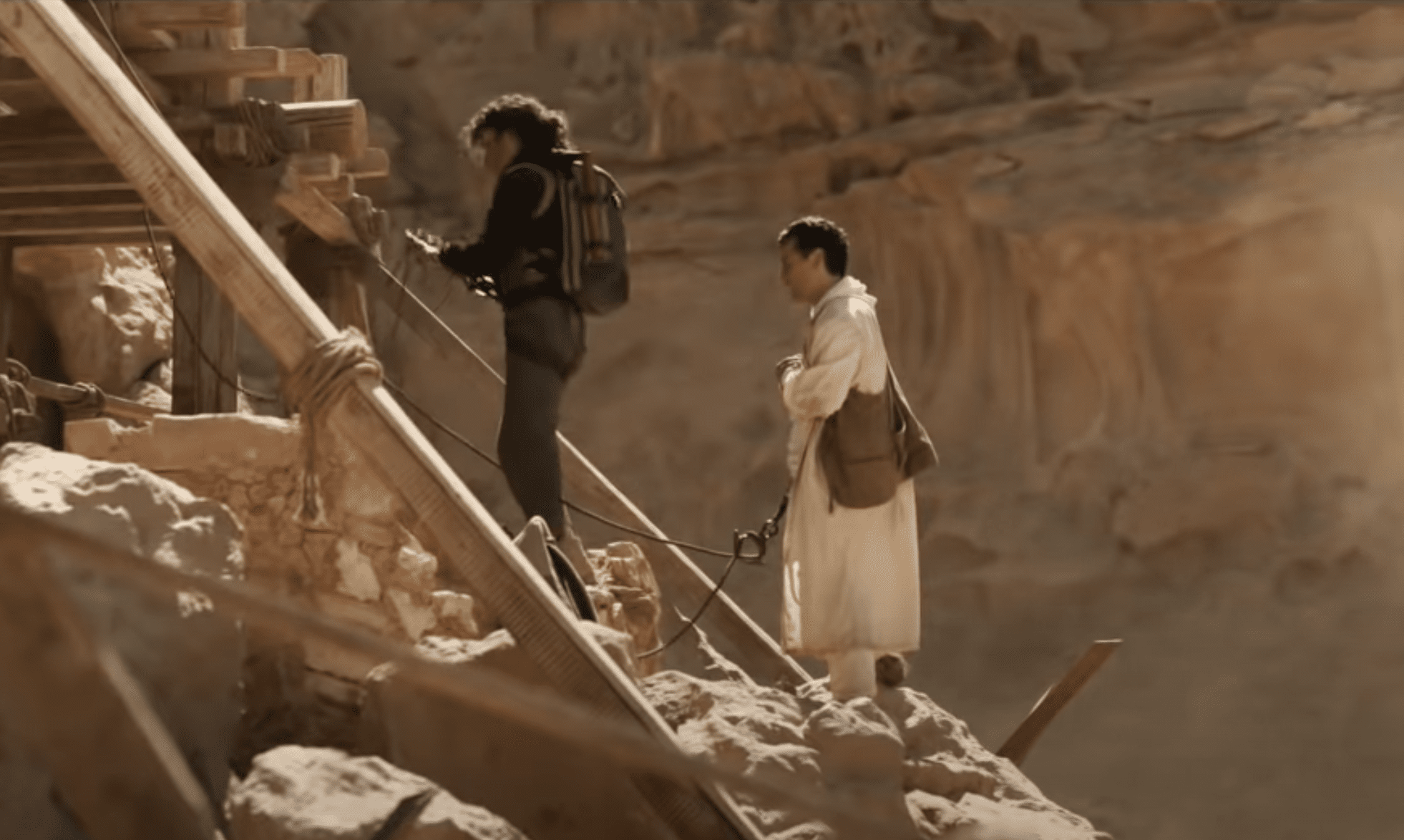 Steven reveals that Marc is trying to protect Layla from Khonshu who wants her as his next avatar. Steven and Layla kiss. Marc takes control long enough to punch himself in the face.
Inside the tomb, Layla tells Steven that her father died during an archeological mission.
Layla finds bullet shells in the sand.
Steven figures out the maze of the tomb is in the shape of Eye of Horus and that Ammit's avatar was a Pharaoh.
In the next room they find an altar as well as Canopic jars covered in fresh blood. Heka Priest drawings are on the walls. Heka is the god of magic and medicine
Heka-Nut in Marvel Comics was a sorcerer who had frequent dealings with Atum aka Amon Ra who long story short is the father of Khonshu, they didn't get along, and his avatar is the Sun King (Patient 86) who happens to be an enemy of Marc Spector. The Sun King even teams up with Bushman. Six ways to Kevin Bacon here.
While they look for an exit, a mummified Heka Priest appears, dragging Harrow's follower, the cop Bobby Fitzgerald, to the altar where it removes his organs.
Steven tells Layla to run. She ends up in a part of the tomb with crumbling pathways over an abyss. This reminded me of the Leap of Faith moment in Indiana Jones and The Last Crusade. She is grabbed by another mummy and fights free. Arthur Harrow is standing on the other side of the chasm, apparently watching the whole thing.
In the throne room Steven figures out who Ammit's avatar was: Alexander the Great.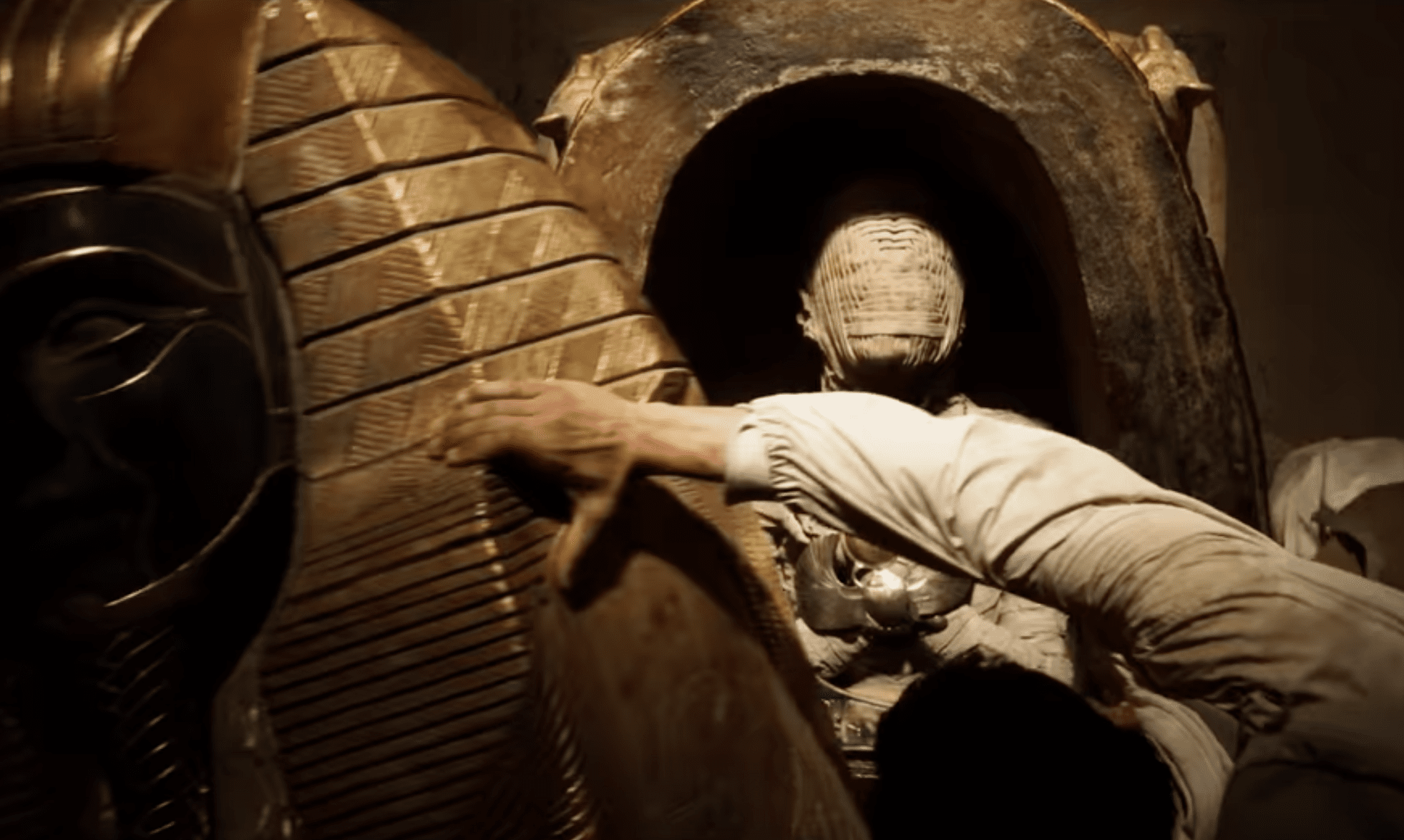 Arthur commends Kayla in a condescending way for how she handled the mummy. She walks off but is drawn back when Harrow calls her "my little scarab," something her father, Abdullah El Faouly, called her as a girl. Harrow insinuates that Marc is responsible for her father's death and that Marc carries the pain of that night with him.
Steven opens Alexander's sarcophagus and finds Ammit's ushabti inside his body.
Layla demands to speak to Marc who confirms he was there the night her father died. Marc didn't kill her father but he was there when he died. When Marc's partner (in the comics it was Bushman) got greedy, he executed everyone at the dig site. Marc tried to save her father, but he was also shot and left to die. This aligns with his comic book origin story when he was left for dead and brought in front of Khonshu's statue who saved his life.
Harrow shoots Marc twice. Marc's body falls into the water to drown.
Marc floats away into the light. Everything fades to black and then a light. We are now watching an old adventure movie called Tomb Buster in 4:3 ratio. The movie stars Dr. Steven Grant (complete with British accent), the young boy's name is Rosser, and the skeleton is the remains of someone called Montalban. They find the statue of Coyolxauhqui, the lunar god of the Aztecs.
The camera pans out and it is a mental hospital. Everyone Steven has interacted with and props from each episode are in the hospital.
Crawley is calling out BINGO Numbers
Rubik's Cube
The waiter from the restaurant.
Donna is holding a plush scarab
Bobbi Kennedy is the orderly who gives Donna meds
Bek has a cart of cupcakes
Lagaro, the forger is drawing a picture of Khonshu
Gus the goldfish is swimming in a bowl
Billy Fitzgerald is the orderly who parks Marc in his favorite spot.
The pictures on the white board are places Steven and Marc have visited.
Layla appears, eating the same white candy from Episode 3. She seems to be another patient. Early screeners have her designated as nurse though in the closed captioning.
Marc is tied to the wheelchair by ankle restraints.
When he falls, Marc is holding a Moon Knight action figure.
This all relates to the 2016 Moon Knight #1-14 where Marc believes he is in a mental hospital and has been for almost his whole life. However, it turns out to be an illusion created by Ammit. Steven Grant believes he is a movie director in this comic run as part of her illusion. Bobbi and Billy being in this scene further tracks with the comics.
In therapy, Marc is listening to Dr. Harrow. Arthur is saying that Marc has formed some of his delusions around the film Tomb Buster. Harrow is dressed differently, and resembles more of a doctor than a cult leader, which is his original comic origin. Harrow's office looks just like Dr. Emmet's (Ammit) in the 2016 Moon Knight run. Inside the office there's a picture of the town in Episode 1, Canopic jars, and other Egyptian artifacts. In the mirror Arthur is revealed to be wearing the same clothing as before and his cane is the staff of Ammit.
Where have we seen this office before in the show? Episode 2 when Steven talks about dying in an evil magician's man cave.
Marc's sedative begins to wear off and he remembers he was shot by Arthur. Running through the hospital he hides in a room with a sarcophagus that is laying on the floor shaking and with Steven inside. The two stare at each other as this shouldn't be possible. Steven is wearing the pajamas we saw him in in episode 1.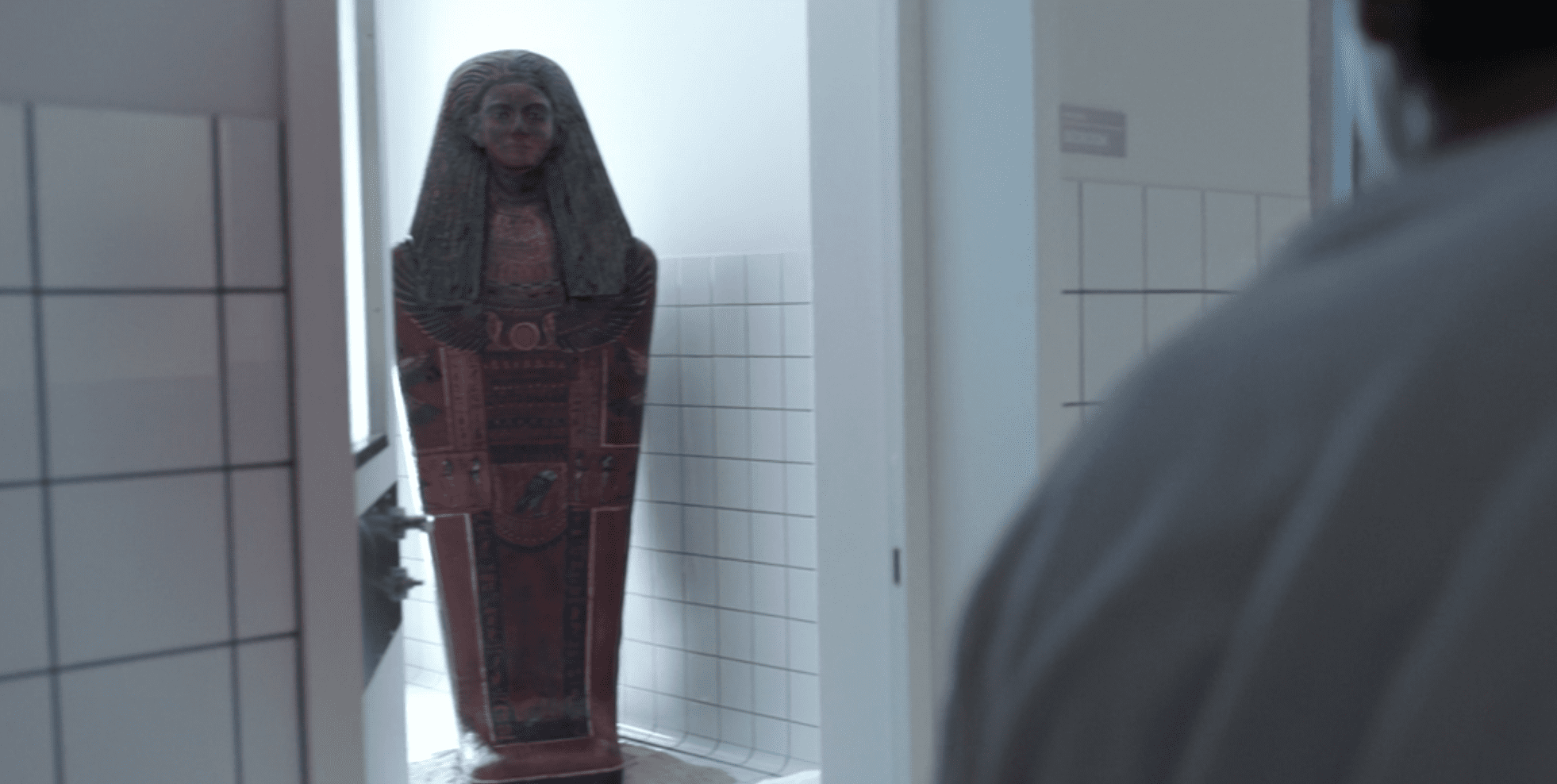 In the hallway they pass by another room. This time the sarcophagus is standing up and someone is knocking , they choose to ignore it. This is likely Jake Lockley wanting to get out.
They turn and find the goddess Taweret, who resembles a hippo. They scream. Taweret is the goddess of childbirth and fertility. She seems friendly which means she could help Marc on his journey to heal himself and reconcile his various identities.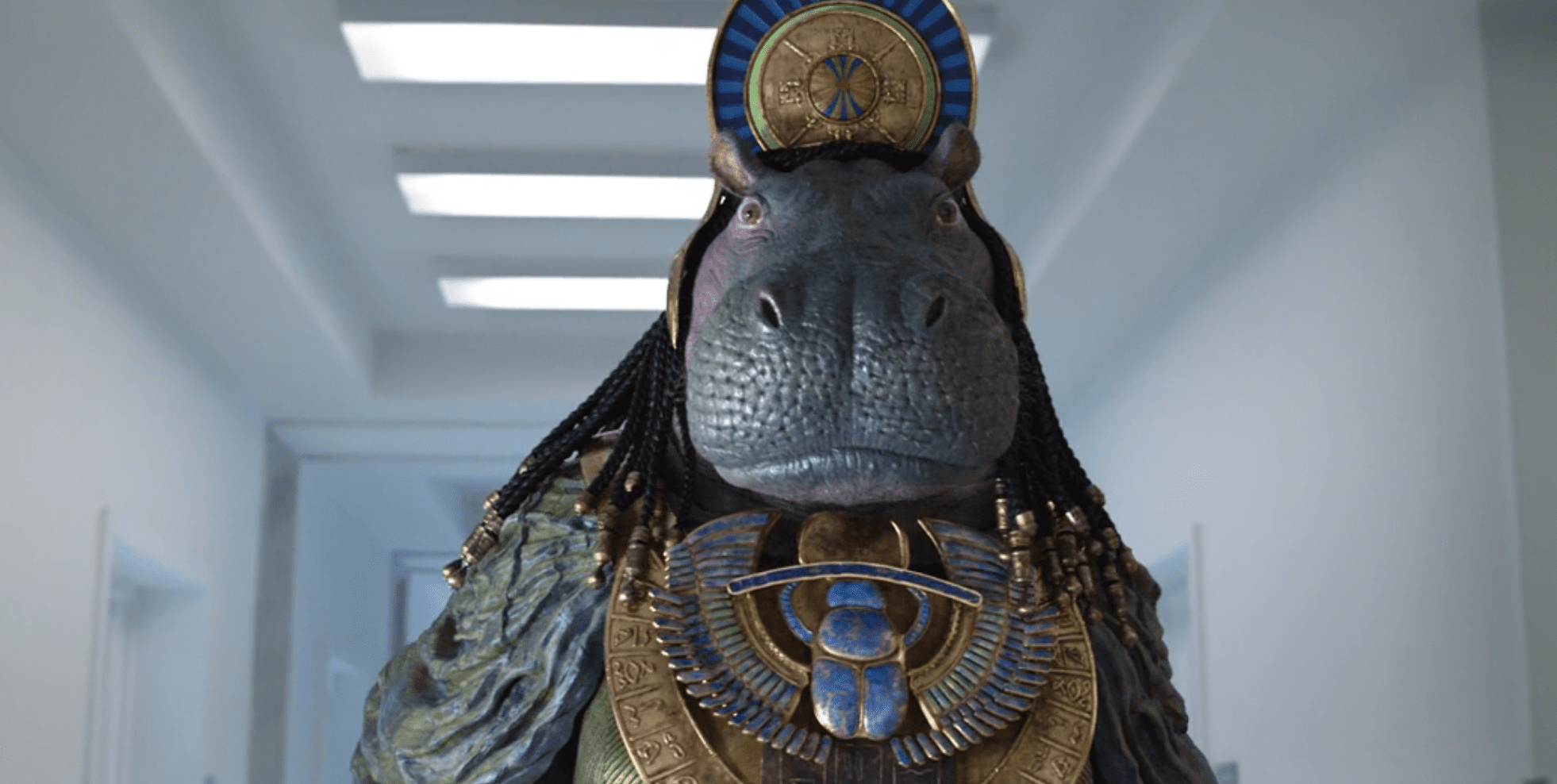 Episodes 1 through 4 of Moon Knight are now streaming on Disney+.