Light & Magic, a new six-part documentary series debuting on Disney+ this Summer, showcases the game changing power of Lucasfilm's Industrial Light & Magic (ILM). I had the chance to hear from some of ILM's greatest about the new series and learn more about what happens off camera at ILM.
Behind The Scenes of Light And Magic
Star Wars Celebration 2022 debuted a lot of exciting looks into new Star Wars content fans can expect to hit Disney+ in the next two years. However, we wouldn't have Star Wars anything if it wasn't for George Lucas' vision and the team he put together to bring it to life. Fans of the Imagineering Story on Disney+, Star Wars, or just movie making in general are going to be fascinated at this exciting, one-of-a-kind look behind the scenes at Industrial Light & Magic.
Academy Award®-nominated filmmaker Lawrence Kasdan takes viewers behind the curtain of ILM, the special visual effects, animation, and production power house of Lucasfilm. He also interviews some of the most legendary filmmakers in Hollywood to learn more about what inspired them and how working with George on his vision changed their lives. Following the panel at Celebration, executive producer Ron Howard, along with Dennis Muren, Phil Tippett, Joe Johnston, Rose Duignan, and Lynwen Brennan sat down to answer more questions about Light & Magic. They also shared some hilarious stories that have happened during their time at ILM.
RELATED: Ahsoka Show: Star Wars Rebels Sabine & Hera Plus Everything We Know So Far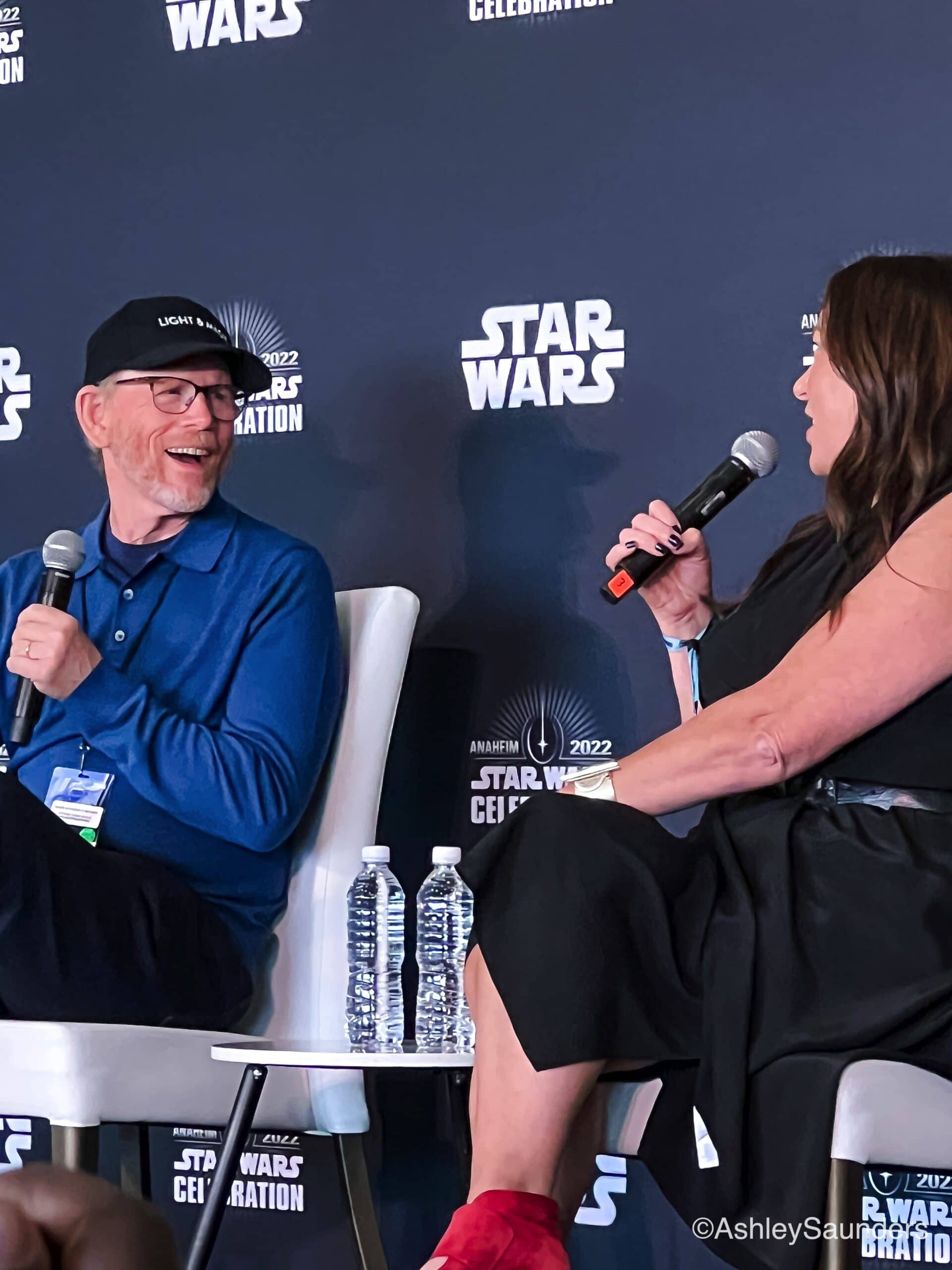 When asked what made him want to tell the story of ILM Kasdan replied, "I've been around these movies for a long time. I've known some of these people in that time, but I never in 40 years really understood how it happens. What I did know is that ILM is a house of geniuses, and somehow George Lucas had the vision to bring these people together."
Many of the creatures' names had interesting origins. Tippett shared how Lucas would stop in to inspect the creature designs at the end of week. One of those visits, Lucas spotted a fish-like creature and asked "What's this?" Tippett replied, "Well that's a calamari man." To which Lucas responded "Okay, that's Admiral Ackbar."
Tippett continued sharing tales about the naming process in the press junket that followed the larger panel. How the laughing Kowakian monkey-lizard came to have the name Salacious Crumb was especially funny. "We went to a Mexican restaurant for lunch," recalls Tippett. "My tennis shoes were untied, and I leaned down to tie them and kept saying, 'My shoolaces! My shoolaces!' We told George and that turned into Salacious Crumb."
That iconic Millennium Falcon design? It came about in part to the dirty dishes in Johnston's sink. No really. Johnston was given the task to redesign Han Solo's ship after the original one was too similar to the one in Space 1999. Timing was crucial and Johnston needed to hurry.
"I was feeling a little bit of pressure, and I went home and was sitting there at two in the morning … and I'm looking in the kitchen and there was a stack of dishes that seemed to have always been there," Johnston shared. "And I was thinking, if you took a plate here and put another exactly like it on top, that's sort of like a flying saucer. But if you put engines in the back, that implies it's going to go that way and if you put a cockpit in front, well that gives it a nose."
He drew up several drawings based on this dirty sink inspiration, with one of them ultimately evolving into the Falcon we all know today.
One of my favorite moments came when Duignan reminded everyone who Star Wars was created for and what it has and will always be about. Speaking about the creation of Star Wars, Duignan said "If you read anything about Star Wars and the whole legacy, he wrote all of this for 12 year olds. That was his target, because he wanted to teach people about selfishness versus selflessness." Later in the press conference she added to that saying "He made this film [A New Hope] to teach people about the difference between good and evil. And he made this film so that children could realize that there's a force greater than them."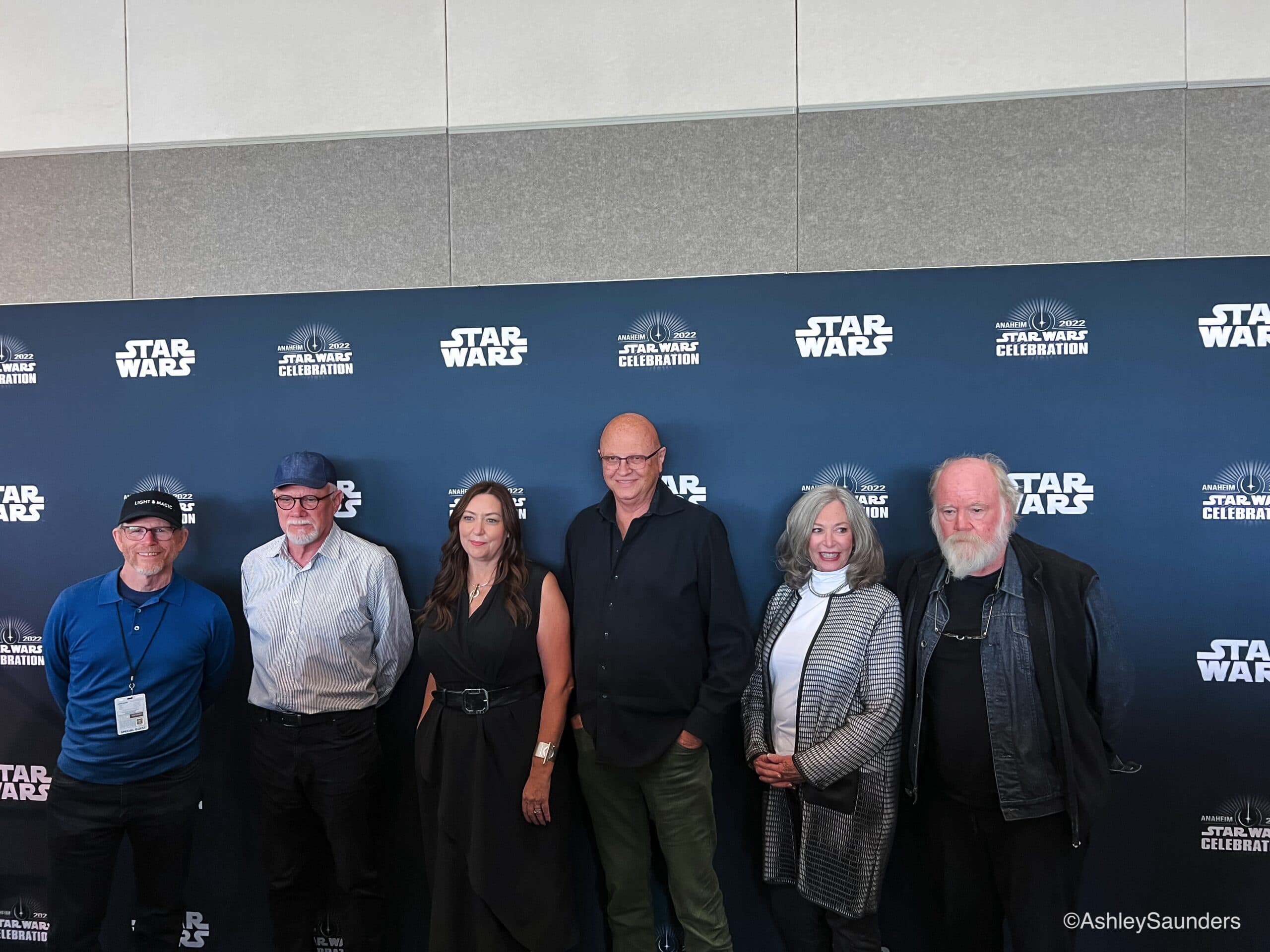 Light & Magic will premiere exclusively on Disney+ July 27, 2022.