A bloody, twisted, wild ride from start to finish, Bullet Train absolutely never gets boring.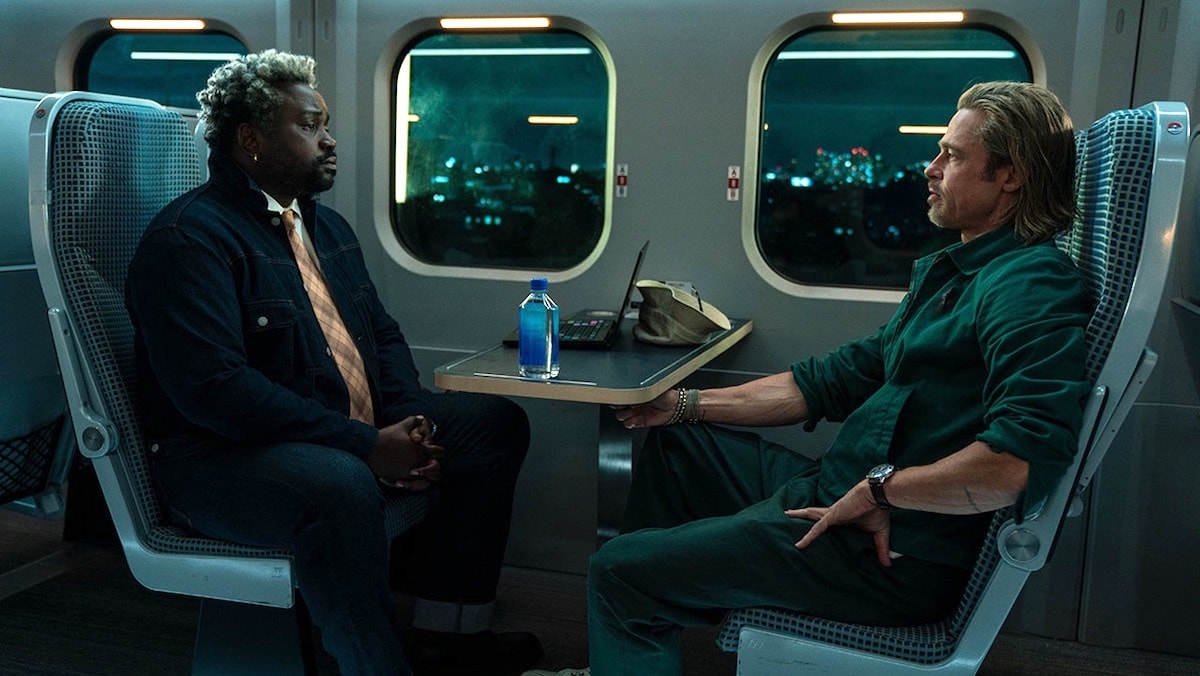 Bullet Train Movie Review
Based on the novel Maria Beetle by Kōtarō Isaka, Bullet Train follows Ladybug (Brad Pitt) who has just returned to work after some time off for soul-searching and anger issues. Filling in for a coworker, he boards a bullet train for what should be a simple job – steal a briefcase and get off at the next stop. Ladybug quickly realizes he is not the only contracted assassin and thief on the train, making this easy job one hundred times more complicated. As the train heads to Kyoto, Ladybug faces off against one attacker after another, all while trying to figure out who brought all of these hitmen together and why.
Bloody, twisted, wild, and hilarious, Bullet Train takes off without ever slowing down. It never gets boring which is thanks mostly to the charismatic, brilliant cast who are packed together in a single location. But not to be counted out is the over-the-top action sequences that spark with energy and plenty of gore. Sure it has something to say about fate and luck, but it never tries to be heavy handed or melodramatic when teaching anything. Rather it is simply presented as something everyone thinks about occasionally. Besides, what better time to muse over life's mysteries than when you are on a train full of assassins.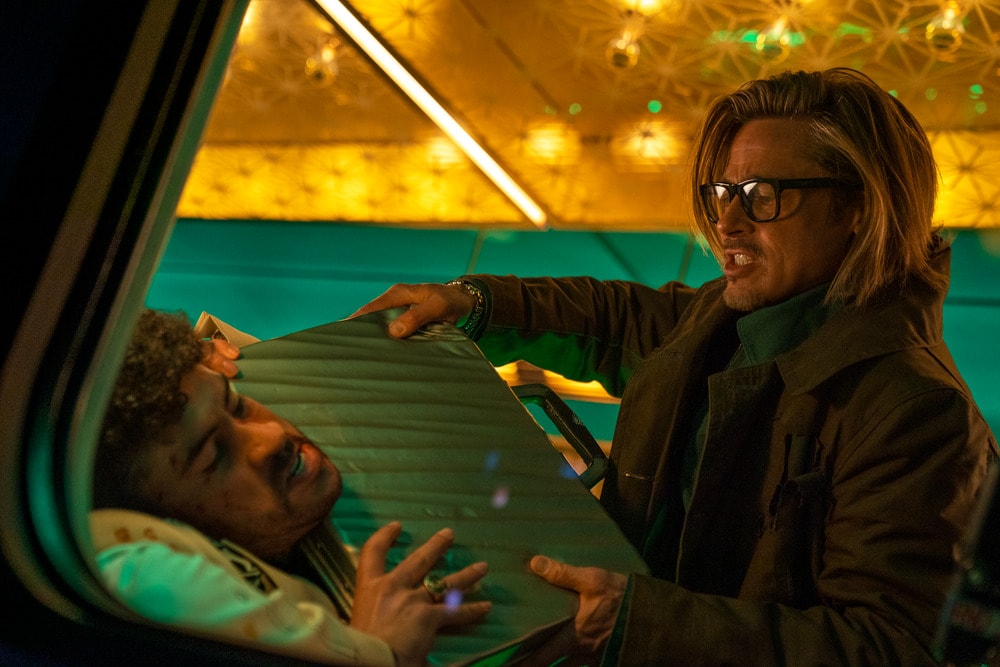 Armed with witty dialogue, oddball names and over-the-top stories, and the most random impromptu weapons around, the gem of Bullet Train is the cast. Brad Pitt is the best we have seen him in years as the unassuming and almost reluctant thief. He is instantly likable and even relatable for anyone who has ever felt bad luck follows them around like a dark cloud. Pitt is funniest when Ladybug resigns himself to the absurd situations he finds himself in. He truly represents the Average Joe amongst the super hitmen and it's comedic gold.
In an ensemble like this it can be hard to stand out but Bullet Train manages to make each of these hitmen memorable, no matter how much or how little they grace the screen. If I had to choose though, Lemon (Brian Tyree Henry), Tangerine (Aaron Taylor-Johnson), and The Prince (Joey King) stole each scene they were in. Henry and Taylor-Johnson were the duo you didn't know you needed. Their chemistry was so perfect that if spin-offs are a thing, I hope these two characters get their own. Also, you will never think about Thomas the Tank Engine the same way ever again. King holds her own thanks to her looks-can-be-deceiving style. She chews the scenery no matter the situation making her an absolute delight to watch.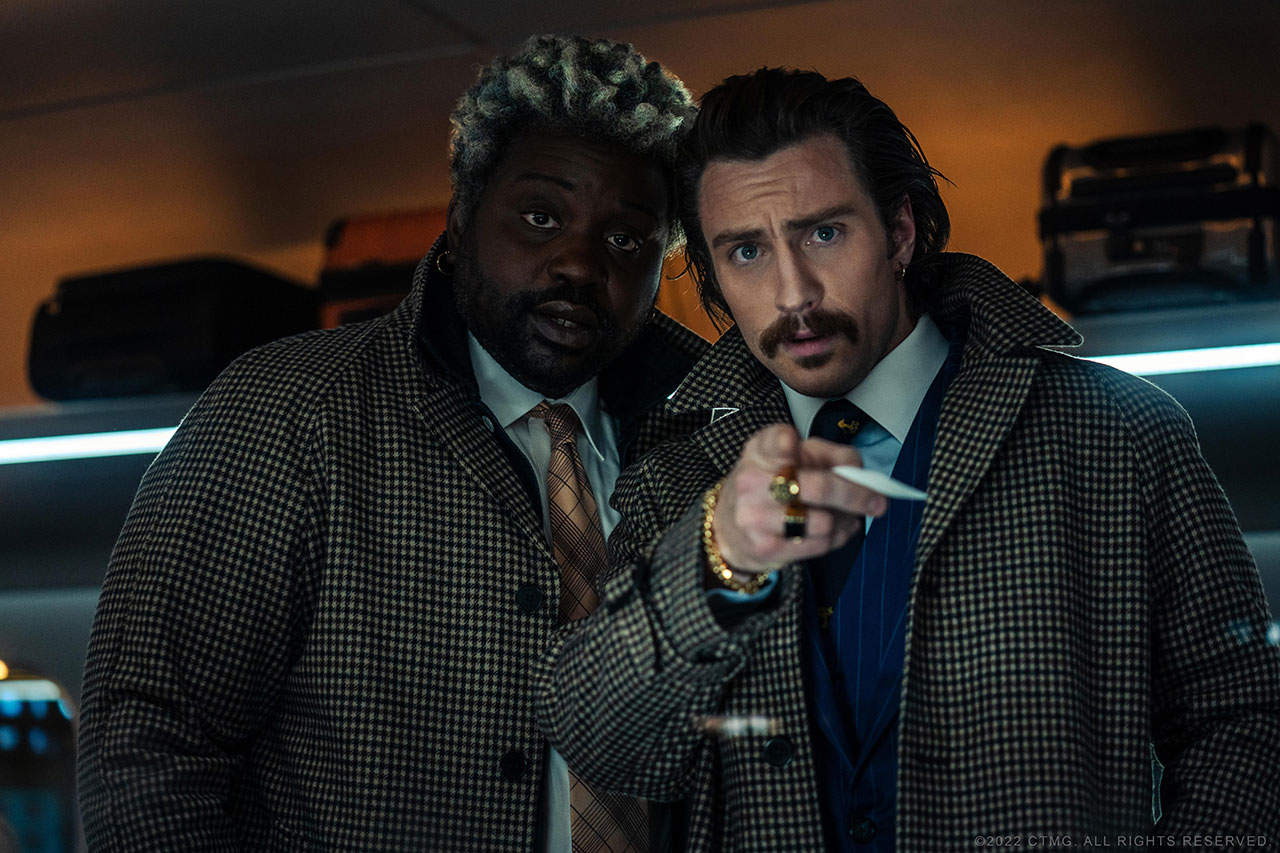 Andrew Koji's Kimura and Hiroyuki Sanada's The Elder are not given as much of a presence which is sure to disappoint fans, but when they are on screen they make the most of it. Sanada also steps into the role of mentor for a minute with some timely wisdom for his would-be students, even if they are, at times, dumber than a bottle of water. Another notable player in the game is Michael Shannon, who gets to play The White Death, an infamous, ruthless killer. Other cameos are sure to delight and offer more than a few gasps and laughs as they come and go throughout the 2 hour runtime.
Director David Leitch is known for his stylized violence woven together with dark humor. With films like John Wick and Deadpool 2 in his arsenal, it is no surprise Bullet Train draws on what fans love about those stories and puts it all on a fast moving train. As I sat there watching it I couldn't help but feel that it was a mash up of anime, Kingsman, and Snatch, with a dash of a r-rated Clue whodunit mystery. Which sounds arguably crazy in a sentence but Leitch made it work, and work well. It never got boring and the audience I screened it with was surprised more than once by the twists and turns the story took as it barreled toward its satisfying conclusion.
In the end, Bullet Train is one helluva ride that is bloody, twisted, and hilarious from start to finish. This is all due to the rare combination of an excellent cast, creative camerawork, stylish action sequences, and a witty script. It never tries to be anything that it's not, rather it chooses to focus on the spectacle with little one-liners about life that punctuate the insanity happening on screen. As one of the most entertaining movies of 2022, I know I won't be alone when I say I'll take another ticket to ride.
Bullet Train is in theaters August 5, 2022. It is rated R for strong and bloody violence, pervasive language, and brief sexuality with a runtime of 126 minutes.