It feels like it has been forever since someone understood Jon Hamm's appeal and comedic range. Thankfully, Confess, Fletch allows Hamm to shine as the witty and charming investigative journalist.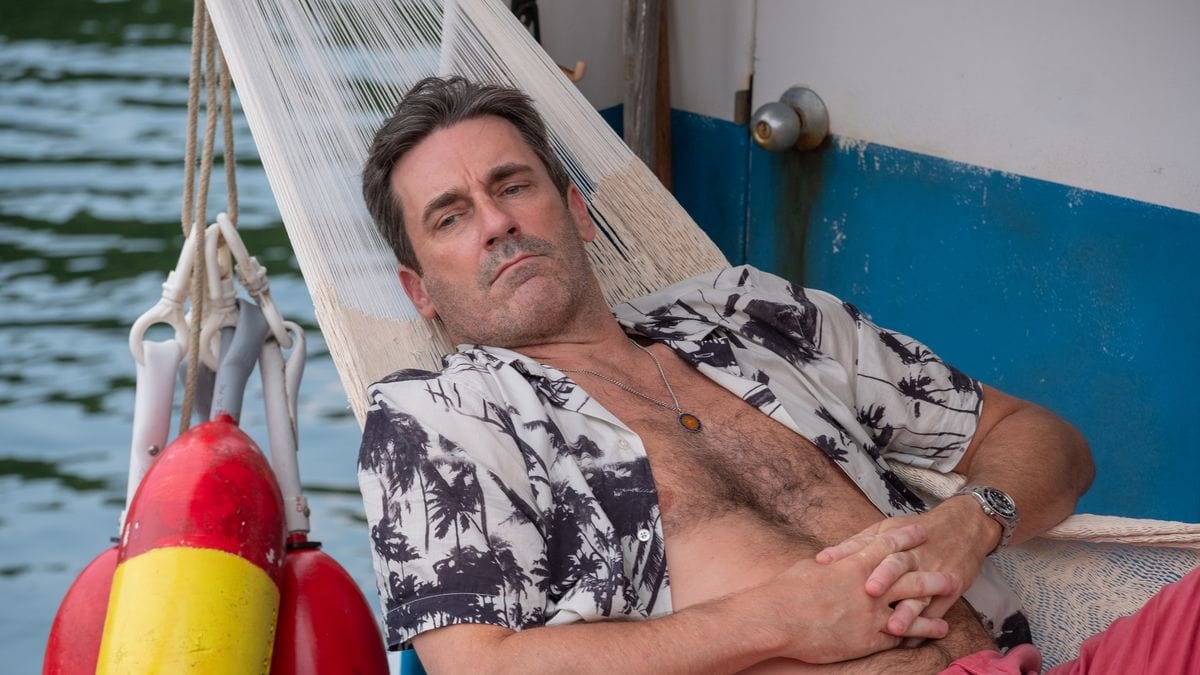 Confess, Fletch Movie Review
Based on the second novel from Gregory McDonald's Fletch series, Confess, Fletch follows retired investigative reporter Irwin Fletcher (Jon Hamm) as he heads back to the States from Italy. His girlfriend Angela (Lorenza Izzo) has tasked him with figuring out the mystery behind her family's stolen art collection. Before he can solve that mystery another pops up. When arrives home he discovers a dead body in his rented townhouse. Despite reporting it right away, he is, of course, considered the prime suspect. Now Fletch must find the missing art and clear his name while dealing with one chaotic turn after another. But this is Fletch and it'll take more than this to make him lose his cool.
Confess, Fletch is entertaining and amusing with enough intrigue to keep viewers invested. It is a refreshing, fun to watch grown-up comedy that is swimming in a sea of dramas and action films. It draws inspiration from other Hollywood favorite whodunits and heist movies, taking what audiences love about those and adding the essence of Fletch. Plus, and maybe most importantly, it understands its leading man, allowing Jon Hamm the room to show off his comedic chops and effortless charm.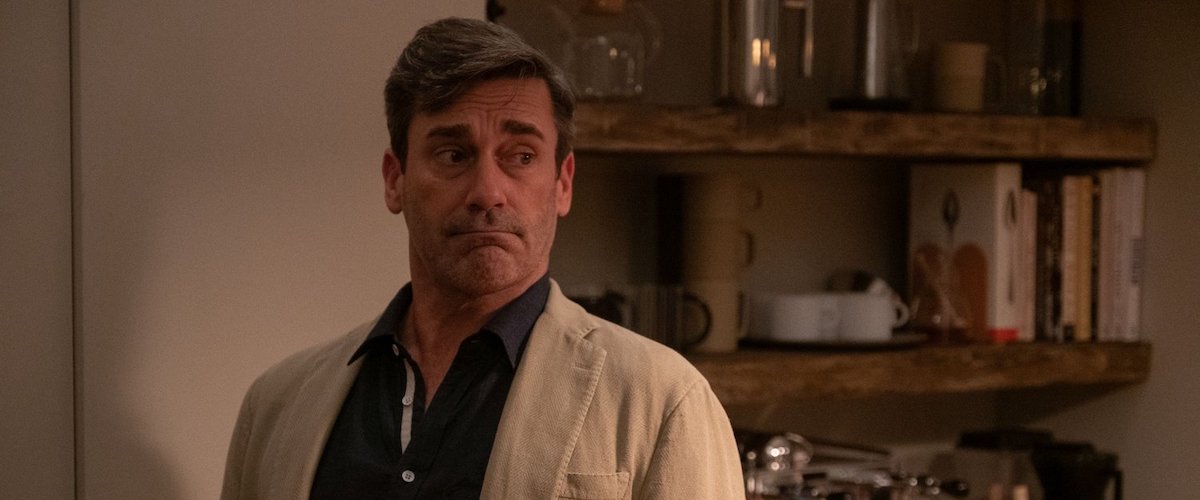 Director Greg Mottola, whose work includes Superbad, is adept at making sure Fletch comes across as charming instead of smarmy, something not every director or actor is able to pull off. As mentioned, Confess, Fletch features little nods to various films in the genre including Knives Out, Ocean's 11, and even Austin Powers. Fletch himself comes across as a stark contrast to more serious investigators like Hercule Poirot and Benoit Blanc. Mottola and his co-writer Zev Borrow are able to bring all those references together without turning the story into a haphazard mess of random plot lines and dialogue.
Mottola and Borrow are also able to take what made McDonald's Fletch novels fun to read and translate that to the screen. We all know book adaptations are iffy, but thankfully this one works. And no, you do not need to be familiar with the old 1980s Chevy Chase versions of Fletch to appreciate this one. Some could argue that Hamm's portrayal of the titular character seems more fitting for the novel version than Chase. Whether that is the magic that finally made a Fletch reboot possible, all we know is that Mottola has finally succeeded in introducing this character to a new generation, when others could not.
While Hamm does get to show off his playfulness, his drama skills are also put to work here to add a level of mysteriousness to Fletch. How smoothly he pulls it off will leave viewers guessing what his motives are as he plays all sides to his benefit. The seriousness never overstays its welcome, much like any shoes Fletch is forced to wear, letting Hamm fully embody the comedy of it all. It is a delight to watch Hamm chew up the scenery and the dialogue with his signature flare.

Additionally, the supporting cast has charisma and chemistry for days. Izzo leaves her mark as Fletch's girlfriend, while Roy Wood Jr. and Ayden Mayeri are almost scene stealers as the cops who begrudgingly find themselves forced to work alongside Fletch. Sometimes they like his insight, other times he is just a bit too extra for their liking. Kyle MacLachlan as the seedy art dealer and Annie Mumolo's crazy neighbor are also welcome sights when they share the screen with Hamm. My only complaint is Marcia Gay Harden's Countess fell a little flat for me sometimes.
Fans of John Slattery and Jon Hamm's chemistry in Mad Men will absolutely be thrilled with their scenes in Confess, Fletch. Slattery plays Fletch's former LA newspaper editor, Frank and when these two get together it feels like the world is somehow right for a minute. They play off each other and trade barbs back and forth just like in their Mad Men days.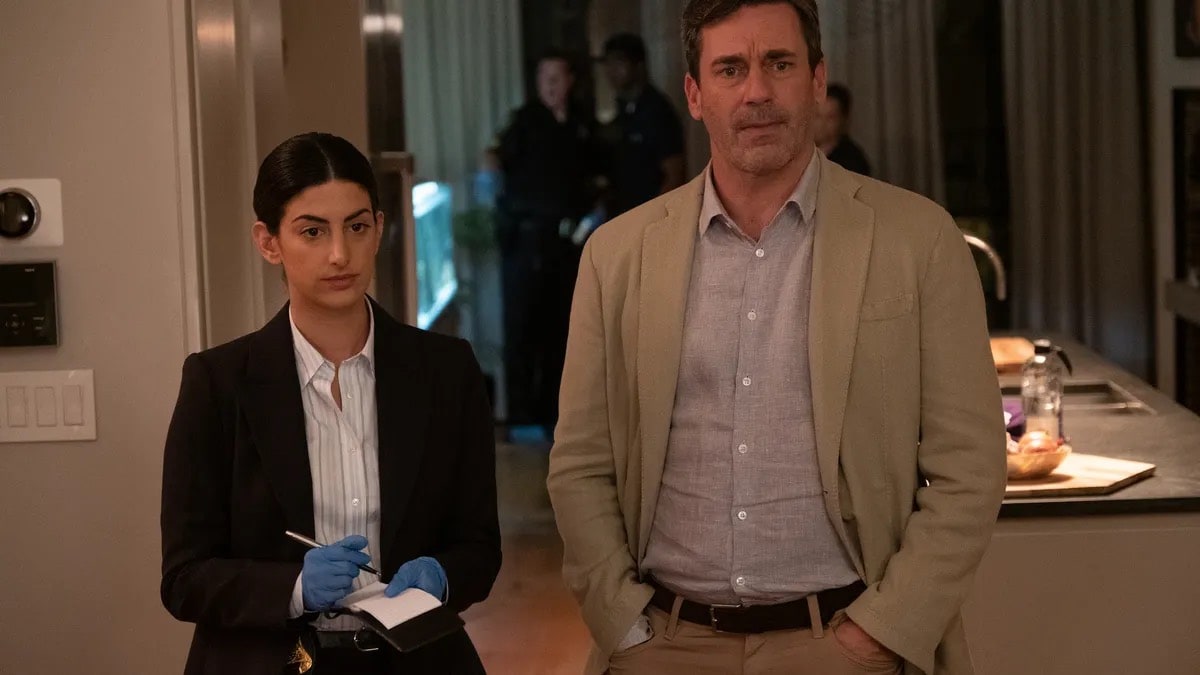 At the end of the day, Confess, Fletch is a comedy mystery that introduces audiences to an entertaining new detective that they will love almost instantly. After all, Fletch has it all, good looks, charm, brains, and a whole lot of luck. This man doesn't need fancy gadgets or clothes to solve a crime, but a few Negronis and perfect timing. With more books to draw from and just how addicting Hamm's performance is in this, one would hope this could be the start of a new movie franchise. At least, I wouldn't complain if they decide to continue his story.
Confess, Fletch is in select theaters now and also available on demand. Beginning October 28, it will be available to watch on Showtime. The film is rated R for language, sexual content and drug use with a runtime of 98 minutes.