Andor Episode 7, the fallout from the successful heist is being felt across the galaxy. Everyone is being watched and no on is safe, especially Cassian as foes appear on all sides. Is that a familiar droid we see at the end? Let's get into this Andor episode 7 Easter eggs and breakdown.
Spoilers ahead if you have not watched Andor episode 7.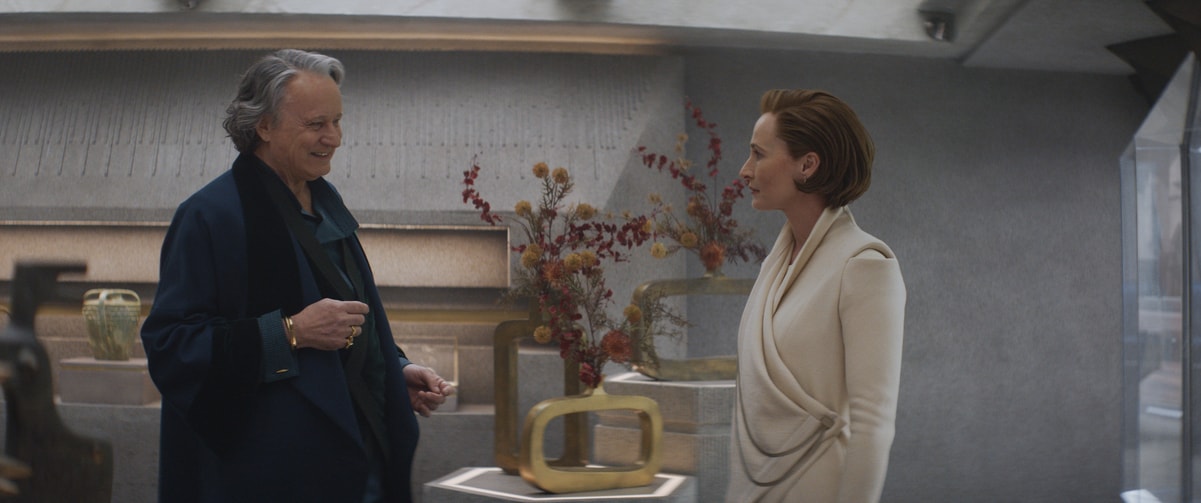 Andor Episode 7 Easter Eggs & Breakdown
Syril prepares for a job interview that has been set up thanks to his Uncle Harlo. While he argues with his mother about his suit, a news report comes on about the attack on Aldhani.
Wullf Yularen, known from A New Hope, The Clone Wars, and Star Wars Rebels, makes his Andor debut. He tells the ISB officers what measures will rollout Empire wide thanks to the attack on the garrison:
tribute tax 5x the amount of what was stolen on Aldhani on any sector harboring partisan activity
Using local customs, festivals, or traditions to cover Rebel activity will result in permanent revocation of Imperial tolerance
Public Order Resentencing Directive: anything deemed an attack on the Empire will be deemed a class one offense
Yularen tells them he spoke with Emperor Palpatine who will be clearing the way for the ISB to do whatever needs to be done.
Dedra Meero doesn't agree with these measures. She thinks by doing all of this the Empire will further encourage people to rebel.
RELATED: Andor Episode 6 Easter Eggs & Breakdown
Luthen and Mothma meet at his gallery. Mothma wants to know if Aldhani was Luthen's idea. He doesn't admit to anything but she doesn't believe him to be innocent. They disagree on his methods, but this is what he has planned all along.
"We can't hide forever." – Luthen
Syril is having his interview at the Bureau of Standards. A mouse droid rolls by. The interviewer edits Syril's info and gives him. job in Fuel Purity.
On Aldhani, Cinta is working on her escape as an Imperial Star Destroyer appears.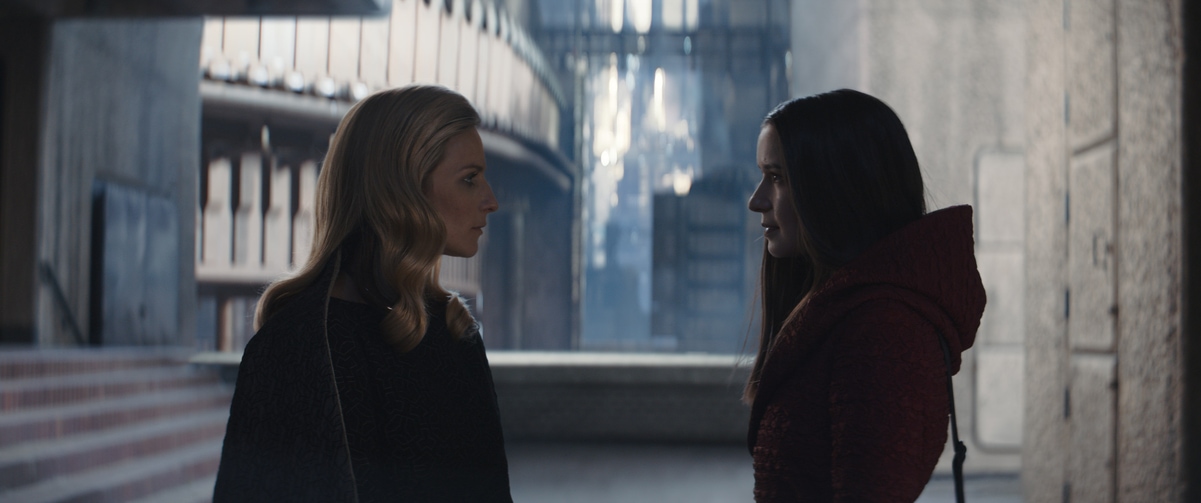 Vel meets with Kleya to discuss the money. Kleya wants Vel to kill Cassian.
Cassian returns home to Ferrix and goes to see Maarva and B2EMO. Maarva warns him about the troopers and how it is unsafe for him to be on Ferrix. He tells her he has enough money to take her and Bee somewhere warm and easy. They agree to leave first thing in the morning.
Mothma speaks with an old friend, Tay Kolma during her husband's party. She wants his help accessing her family funds in order to continue to fund the Rebellion.
Cassian sneaks out to visit Bix. She wants him to leave Ferrix and he tells her he will. But before he goes, he wants to know more about Luthen Rael. He leaves her with all the credits needed to pay his debts to everyone.
A flashback of Clem (Cassian's Father) telling Cassian not to worry about all the Stormtroopers. Clem tries to keep the people calm but the soldiers see him as a threat.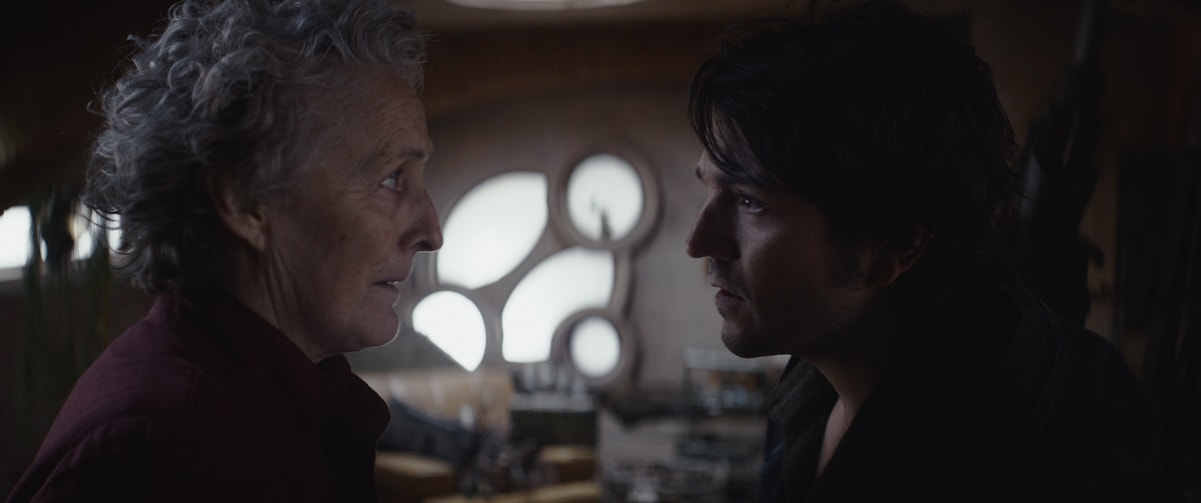 Back in the present, Maarva tells Cassian she isn't leaving. She is going to aid the Rebellion with all the life she has left. Like Meero said in the ISB office, Maarva and the others took the attack on Aldhani as a signal that it was time to standup to the Empire.
In the ISB office there is mention of Ord Mantell. This is the system the Black Sun operated out of this area. In the Bad Batch, Clone Force 99 went here to retrieve Muchi.
Partagaz sides with Meero on her argument with Blevins. She has presented evidence the Rebels are coordinating their attacks.
Cassian left Ferrix and went the Niamos. He was taken by shore troopers and a KX-series droid which looks like his friend from Rogue One, K-2SO… it's not. He is sentenced to a 6 year prison sentence for the false charges of civil disruption, anti-Imperial speech, and fleeing the scene of anti-Imperial activity.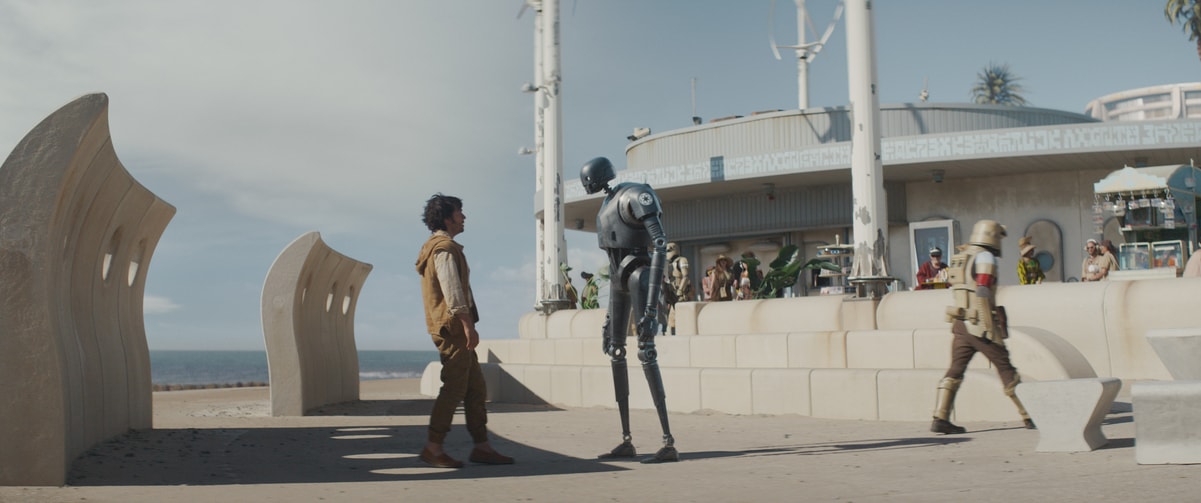 Episodes 1-7 of Andor are now streaming on Disney+.