Just in time for Halloween, Marvel Studios' first special presentation, Werewolf By Night, is a bloody, shocking, helluva good time.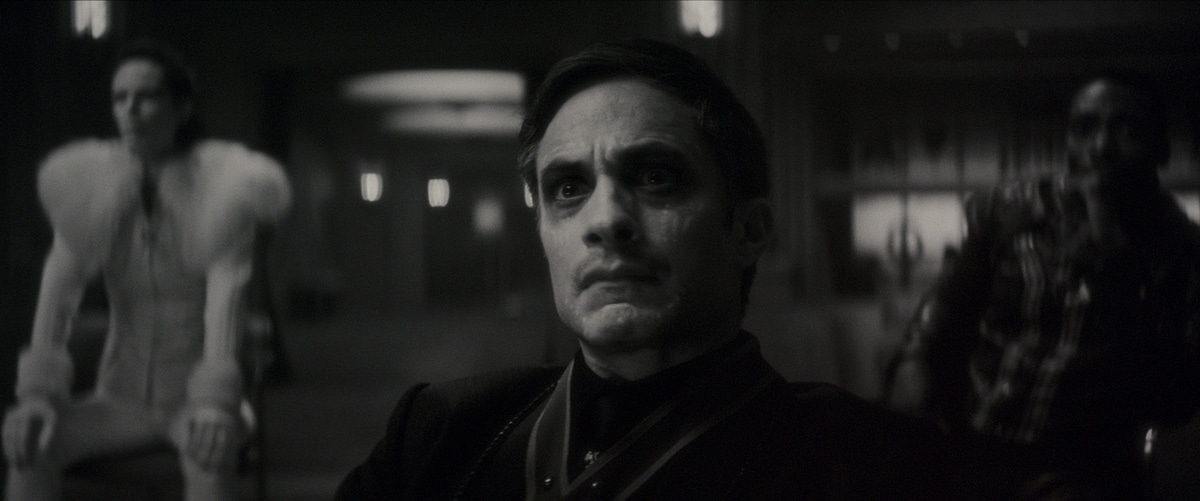 Werewolf By Night Review
It is a dark night when the best monster hunters from all the world gather to pay their respects to the late, great Ulysses Bloodstone. With the passing of this infamous hunter, a new keeper of the Bloodstone must be chosen. His widow (Harriet Sansom Harris), proposes a brutal competition in order to decide who should guard the gem. Among those in the room are Ulysses' estranged daughter Elsa (Laura Donnelly) and Jack Russell (Gael García Bernal), a bit of an odd duck compared to the rest of the group. In order to be declared the winner, one of them must kill a monster lurking within the garden. One little detail though, they are also allowed to hunt one another. The night quickly turns deadly for more than one involved. But, to the victor go the spoils.
Werewolf By Night is the most unique Marvel Studios show to date. It is a bloody, shocking, helluva good time that stands on its own. No greater MCU connections needed here. Director Michael Giacchino has killed it, pun intended, by making this feel like a classic horror film. He has channeled the tone of an era when Universal monsters and The Twilight Zone reigned supreme with wickedly fun results.
RELATED: She-Hulk Episode 8 Easter Eggs & Breakdown
The most obvious aspect setting this special apart from other Marvel projects is the use of black and white cinematography. Fans were given a taste of what this type of filming could look like in modern times thanks to Thor Love and Thunder. But as beautiful as it was there, this is where it shines. Giacchino doesn't stop at just the color. To fully invoke the tone of the 1930s films he goes a step further. Fake cigarette burns signify reel changes, there are pops and cracks in all the right places, plus Giacchino's score exudes horror. He knows when to pull back on the audio, letting trembling breaths be heard and when to let the creepy gramophone play until it becomes unsettling to people onscreen and watching at home.
Keeping with the visual and audio commitments to the past, Werewolf By Night opts for practical effects over CGI, including the highly anticipated werewolf transformation. The creature design of Jack's werewolf form allows for the man to shine through the wolf. Much like "An American Werewolf in London" or "The Howling," Jack retains many of his human elements even in full beast form. Which Bernal takes advantage of, communicating Jack's emotions, even in werewolf form, through his eyes and expressions. Another Marvel creature favorite also makes an appearance and steals scenes while he is at it. Man-Thing. His bond with Jack is both endearing and comical. For a creature who doesn't really speak, he gets his point across.
Despite Man-Thing stealing the show, Bernal and Donnelly equally wow. Bernal is fascinating as he transforms from a seemingly mild-mannered man into a ferocious werewolf. Yet as mentioned, Bernal is able to still maintain Jack's humanity thanks to the practical effects. Sure he is ripping someone apart but his eyes tell you it's not by his choice. Donnelly embraces Elsa's role as the daughter who left the toxic household and only returned to claim what was rightfully hers. She goes from being cold and amused to rightfully terrified, but never loses her resolve. This damsel can save herself.
Taking a cue from some of the more gruesome fight scenes in Moon Knight, Werewolf By Night ups the ante while skirting that TV-14 line. Giacchino has his hunters and monsters deliver graphic kills, maiming, and blood sprays that will delight horror fans. But thanks to his clever camerawork and the overall storytelling, no nightmares should follow a viewing of the film.
Ultimately, Werewolf By Night, balances the fun with the horror for a bloody, twisting good time. It explores what it means to be a monster and points out how humans are perfectly monstrous on their own. Plus at 52 minutes there isn't much time to explore characters' backgrounds which is fine. It leaves you wanting more and that's the idea right? A new Halloween must watch for sure and something comic fans will love. If this is the dawn of a new era of what Marvel will bring to life then sign me up. I don't think I'm alone when I say, more of this please Marvel.
Werewolf by Night is coming exclusively to Disney+ October 7, 2022. It is Rated TV-14 with a runtime of 52 minutes.