Gather round MCU fans, Taika Waititi once again transcends expectations in Thor Love and Thunder to deliver an epic adventure that is visually spectacular with incredible performances, a killer soundtrack, and screaming goats.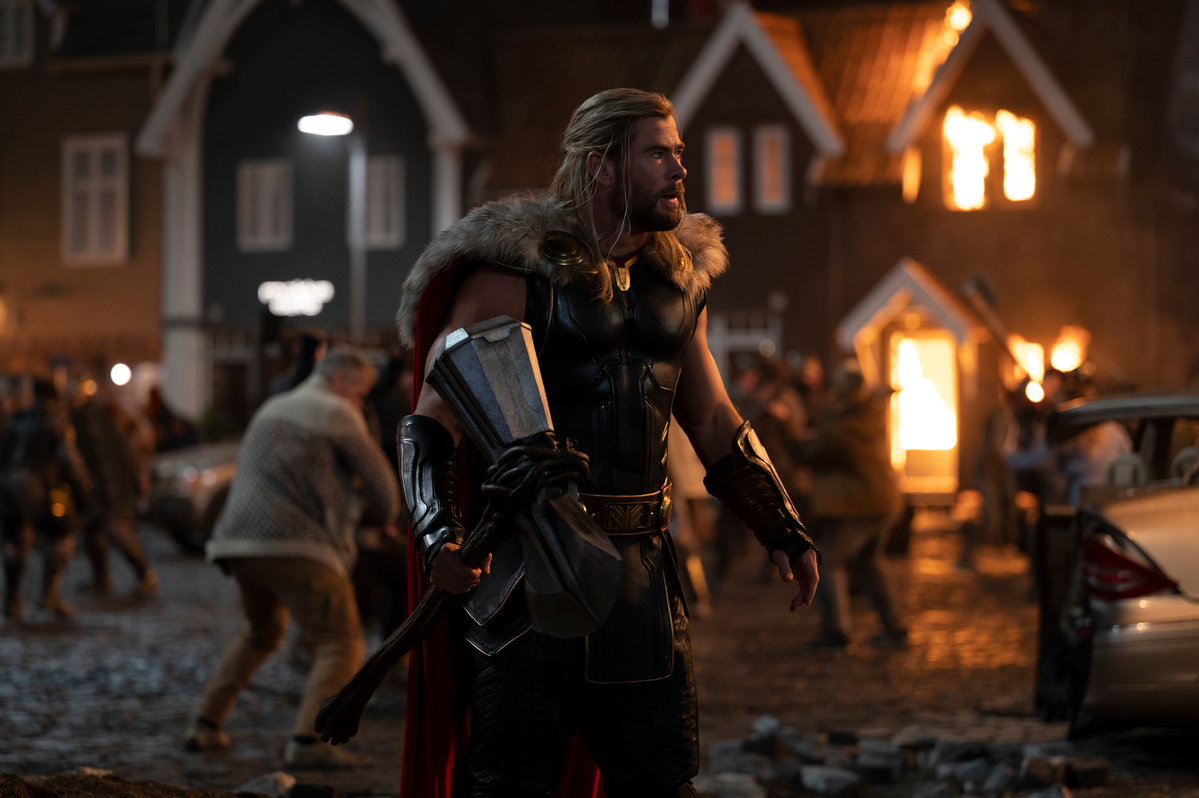 Thor Love and Thunder Review
Thor Love and Thunder sees Thor (Chris Hemsworth) attempting to find purpose now that Thanos has been defeated. At first he and Korg (Taika Waititi) travel around with the Guardians of the Galaxy, seeking out those who could use their help. But when he discovers that Gorr the God Butcher (Christian Bale) is out killing off gods all over the galaxy he and the Guardians go their separate ways. In order to defeat the powerful Gorr, Thor travels back to New Asgard to get help from King Valkyrie (Tessa Thompson) where he meets Gorr who steals the children of Asgard. There he also reunites with his ex-girlfriend Jane Foster (Natalie Portman) who is now wielding the previously broken Mjolnir. Together the four of them must face Gorr before he can bring about the end of all gods.
Thor Love and Thunder is a master class in what makes the Marvel Cinematic Universe exciting. This fourth solo outing for the god of thunder hits all the right notes: it's emotional, thrilling, beautiful, and hilarious. It is also a refreshing return to the pre-multiverse life, not that there is anything wrong with exploring variants and other universes. But there is something to be said about a more contained adventure that traipses across this galaxy rather than through various timelines.
RELATED: Chris Hemsworth On Relating To Thor & Working With Taika Waititi
Thor might not be flying through the multiverse but that does not mean the spectacle for Love and Thunder is lacking. Like Ragnarok before it, this Thor adventure has its own breathtaking visuals. Some, like the death of Falligar the Behemoth come straight from the comic panels while others are just director Taika Waititi showing he knows what makes an iconic shot. The Shadow Realm imagery alone makes this one worth watching on the biggest screen possible. He also takes Thor's lighting powers (and those of his weapons) and takes them to the next-level. After all, he is the god of thunder not the god of hammers. If you thought his Wakanda entrance in Infinity War made you want to cheer, you have not seen anything yet. Plus this time he has Toothgnasher and Toothgrinder who deserve their own Marvel One-Shot.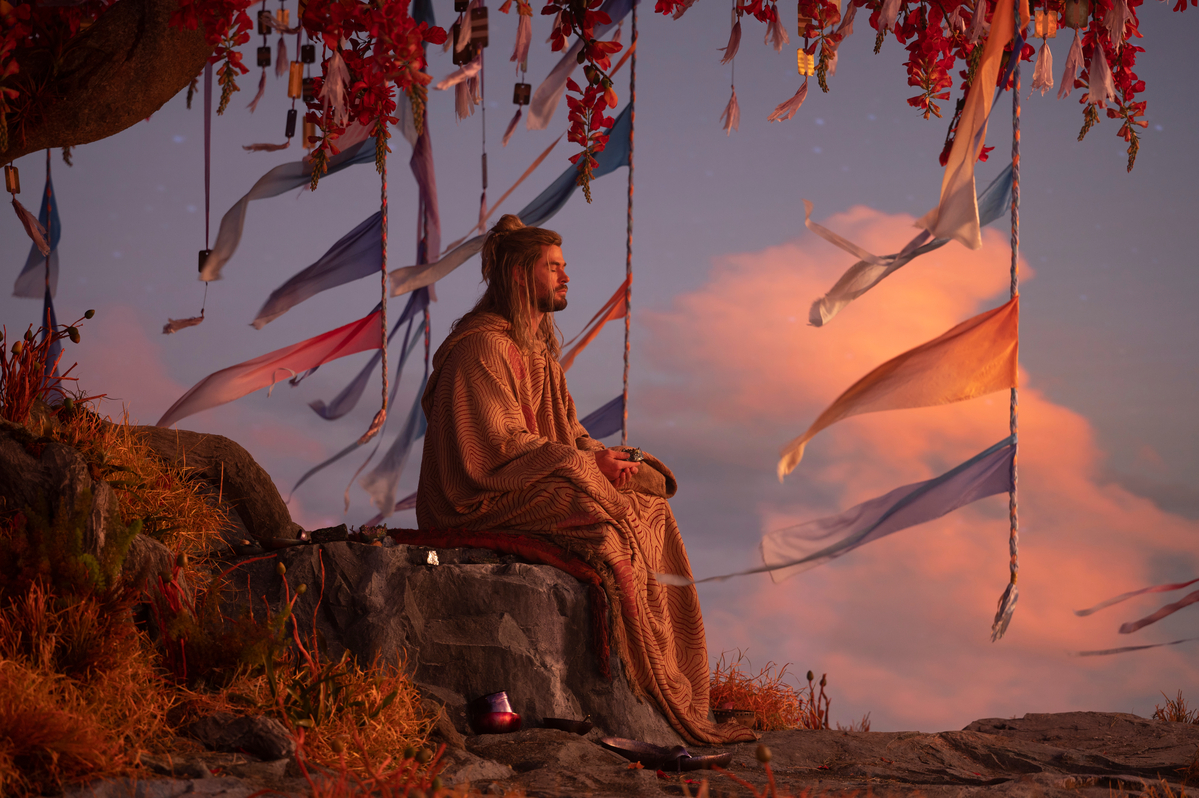 Taking what made Thor Ragnarok such a standout, Waititi gives fans even more to feast on visually and tonally. He stays true to his comedic background, with more rapid-fire lines hitting in all the right spots, but he also learned something from his previous Thor outing. Instead of undercutting a dramatic moment with a gag, this time Waititi lets his characters and the audiences sit and digest the very real feelings happening during the film. Love and Thunder is definitely funny as hell complete with screaming goats, but it also carries a heavier emotional load that examines how we deal with love and loss.
Hemsworth sheds his Bro Thor bod and his guilt over Thanos to give his best Thor performance to date. In fact this Thor is far more vulnerable than we have ever seen him. In Love and Thunder, Thor has a duality to his nature, an all-powerful god with very real feelings, and Hemsworth is exceptional at displaying this throughout the film. He is equal parts mighty (pun intended), gentle, hilarious, and wise. In terms of action, Thor's god bod and confidence has returned as well as a renewed focus on the fact that he can use his powers without a weapon. All of this makes for impressive fight sequences, where our favorite Norse deity kicks some serious bad guy butts.
RELATED: Taika Waititi On The Music of Thor Love and Thunder
Despite no Tom Hiddleston, Love and Thunder is host to plenty of familiar faces. Starting off with the Guardians of the Galaxy. When we last saw Thor he was leaving with the Guardians on the Benetar at the end of Avengers: Endgame. Thor's interactions with this group once again deliver laugh-out-loud moments. They don't stay long however, but their time together felt just right. Fan favorites Korg and King Valkyrie are also on hand with the former hanging out with Thor and the Guardians before they make it back to New Asgard. Thompson is not given the same depth to her character that she was given in Ragnarok, but she still commands the screen and shows why she is the king. Jane Foster returns as well, this time wielding Mjolnir as Mighty Thor.
Russell Crowe makes his MCU debut as the arrogant, self-indulging Zeus. This is no Maximus from Gladiator, Crowe instead goes for the exact opposite, playing Zeus in a way that makes audiences think Gorr may have a point. Thor needs his help but he is too busy sticking his head in the sand and enjoying the gluttonous nature of god life to care.
Speaking of Gorr, Christian Bale has officially jumped from DC to Marvel and he immediately makes his mark. He is equally terrifying and relatable which may be the most creepy thing about him. Bale gleefully chews the scenery making his Gorr not only everything comic fans could ask for but also an instantly memorable MCU villain. When he is not scaring everyone, Bale plays the emotional beats set out by Waititi so well you cannot help but feel for the guy, as twisted as he may be.
Thor Love and Thunder is an exhilarating romp through the galaxy that is marked by its distinctive visuals, incredible performances, killer soundtrack, and the perfect assemblage of characters. Waititi expertly wove comedy with heart, delivering a message on life, love, and loss that is sure to stay with audiences well after the second credit scene finishes. A return to the pre-multiverse world, this epic adventure has everything it needs to satisfy both MCU diehards and casual moviegoers alike.
Thor: Love and Thunder is in theaters July 8. It is rated PG-13 for intense sequences of sci-fi violence and action, language, some suggestive material, and partial nudity with a runtime of 119 minutes.