The sequel we have been waiting 15 years for his finally here. Disenchanted has it all, our favorite characters, Alan Menken songs, and plenty of Disney Easter eggs including Snow White, Cinderella, Beauty and the Beast, The Little Mermaid, and even Wicked. Here are all the Disenchanted Easter eggs you may have missed.
Spoilers ahead if you haven't see Disenchanted.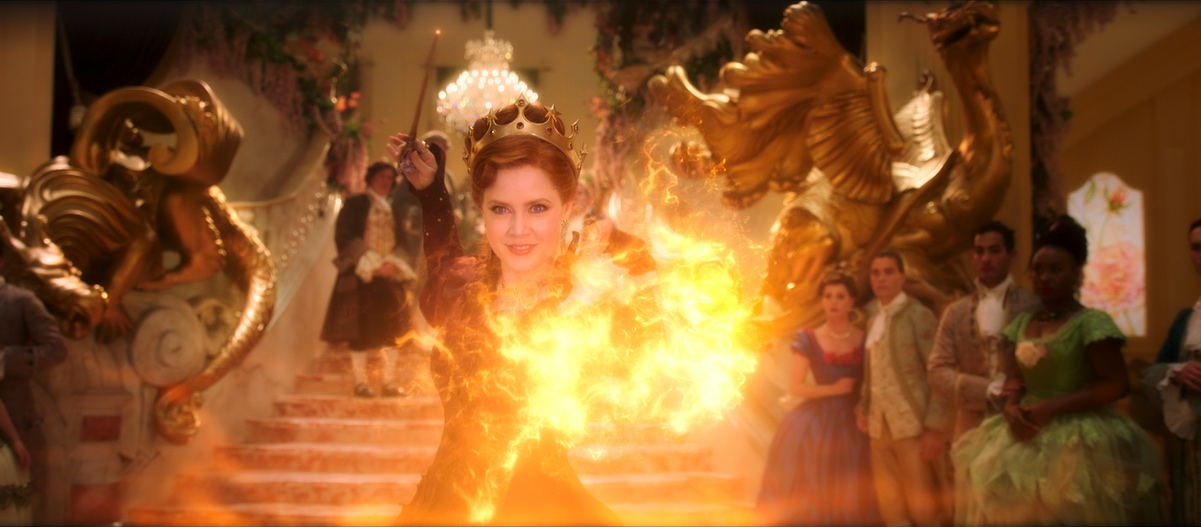 Disenchanted Easter Eggs
"When You Wish Upon A Star" from Pinocchio is heard during the castle logo shot before the Andalasia theme begins.
The castle switches to an animated version. A young Edward is seen running in front go his parents.
A bird flies over the town that looks a lot like Belle's Village. There is even a girl sitting on the fountain reading a book to her sheep.
The ogre from Enchanted can be seen sitting to the side of a house right before Pip starts to speak.
RELATED: Hocus Pocus 2 Easter Eggs You May Have Missed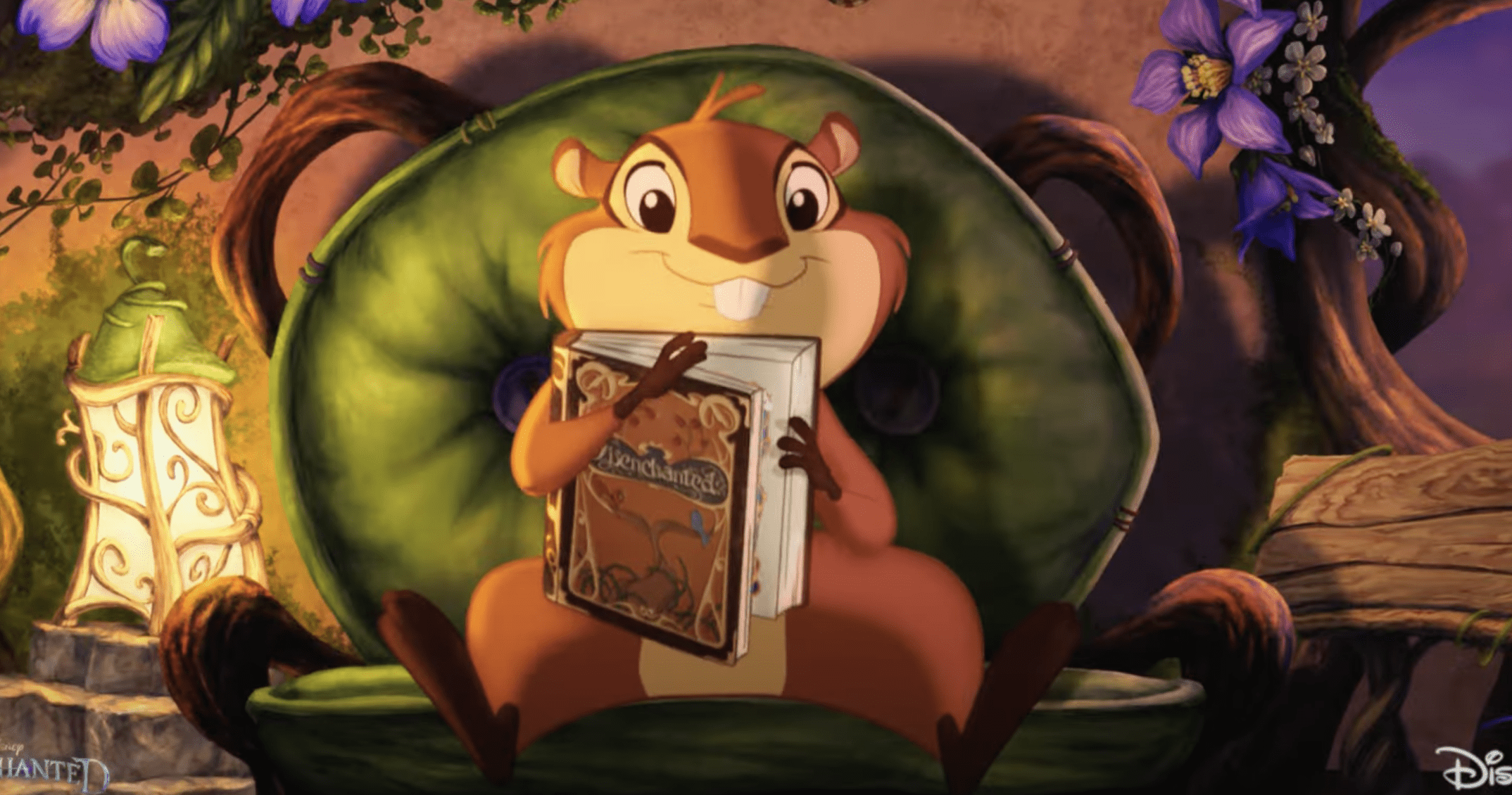 Pip narrates the story of Giselle, who was left in the forest as a baby and was raised by animals. The book he is using is modeled after the storybook in the original film. As he continues her story, scenes from Enchanted are shown.
True Loves Kiss
Meeting Edward
Pushed through the portal to New York City
The firefly in the room is a nod to Ray from Princess and the Frog.
Giselle and Robert's new house is located on 18 Honey Bee Trail Monroeville, NY 10960. This is the real zip code of the New York town of Nyack.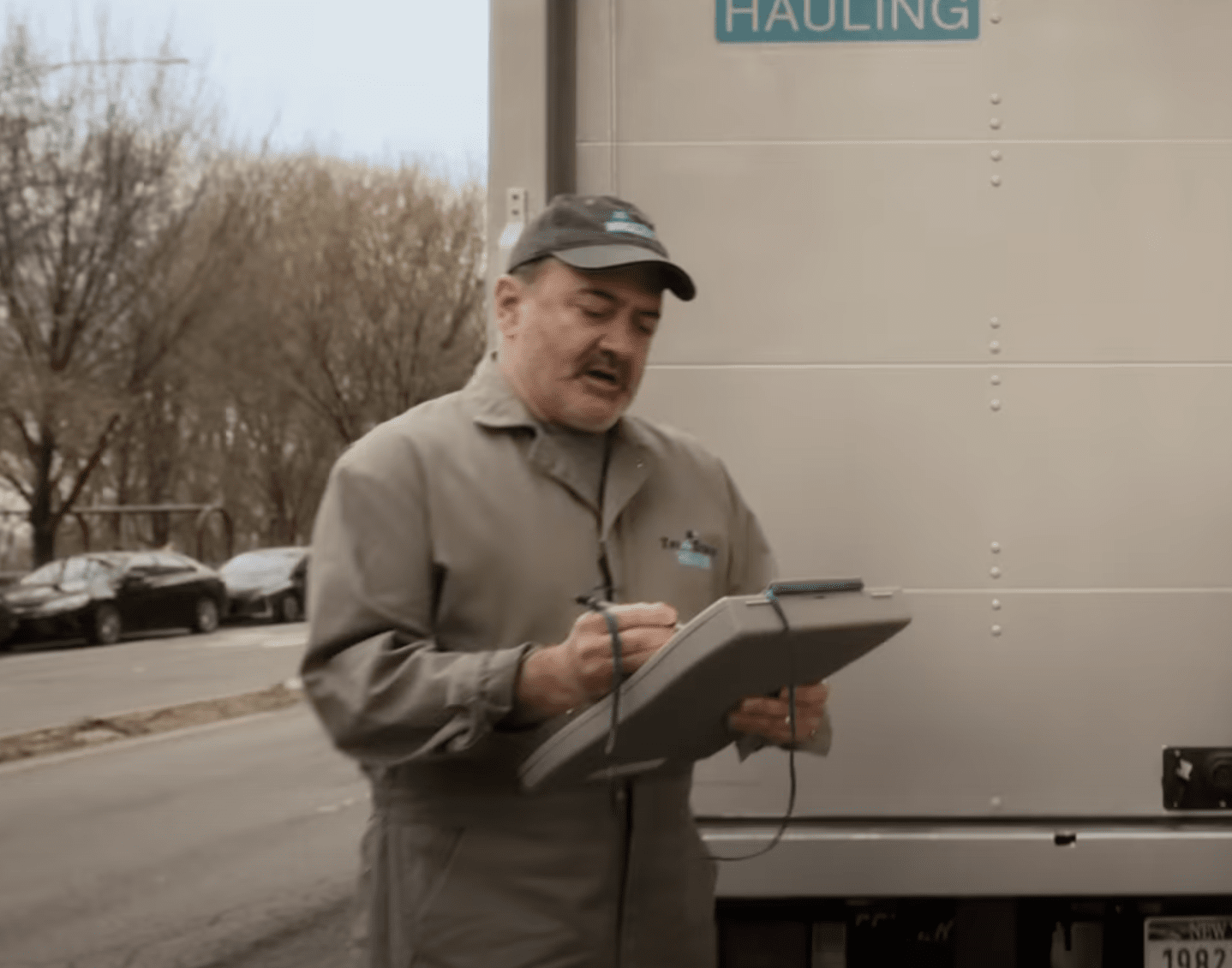 The animation turns back into real life and Arty (Matt Servitto) is the mover in charge. In Enchanted, Artie worked for the city and had to deal with the manhole the Andalasians kept coming out of.
Giselle is saying goodbye to her animal friends. One of the pigeons is eyeing a cockroach but doesn't eat it. She sings the ah ah ah lines from Happy Working Song.
When they arrive at their new house, they are greeted by three women who are gardening. They are each wearing the colors of the fairies from Sleeping Beauty: Flora, Fauna, and Merryweather. One of them even remarks if they knew a baby was coming they would have brought gifts. Another mentions they are great with naps.
During Giselle's song she goes out into the backyard. There she meets new animal friends, a deer, raccoon, and skunk. She also plays croquet which is what the Red Queen plays in Alice in Wonderland.
Those song lyrics include a line about "flying kites," a nod to Mary Poppins.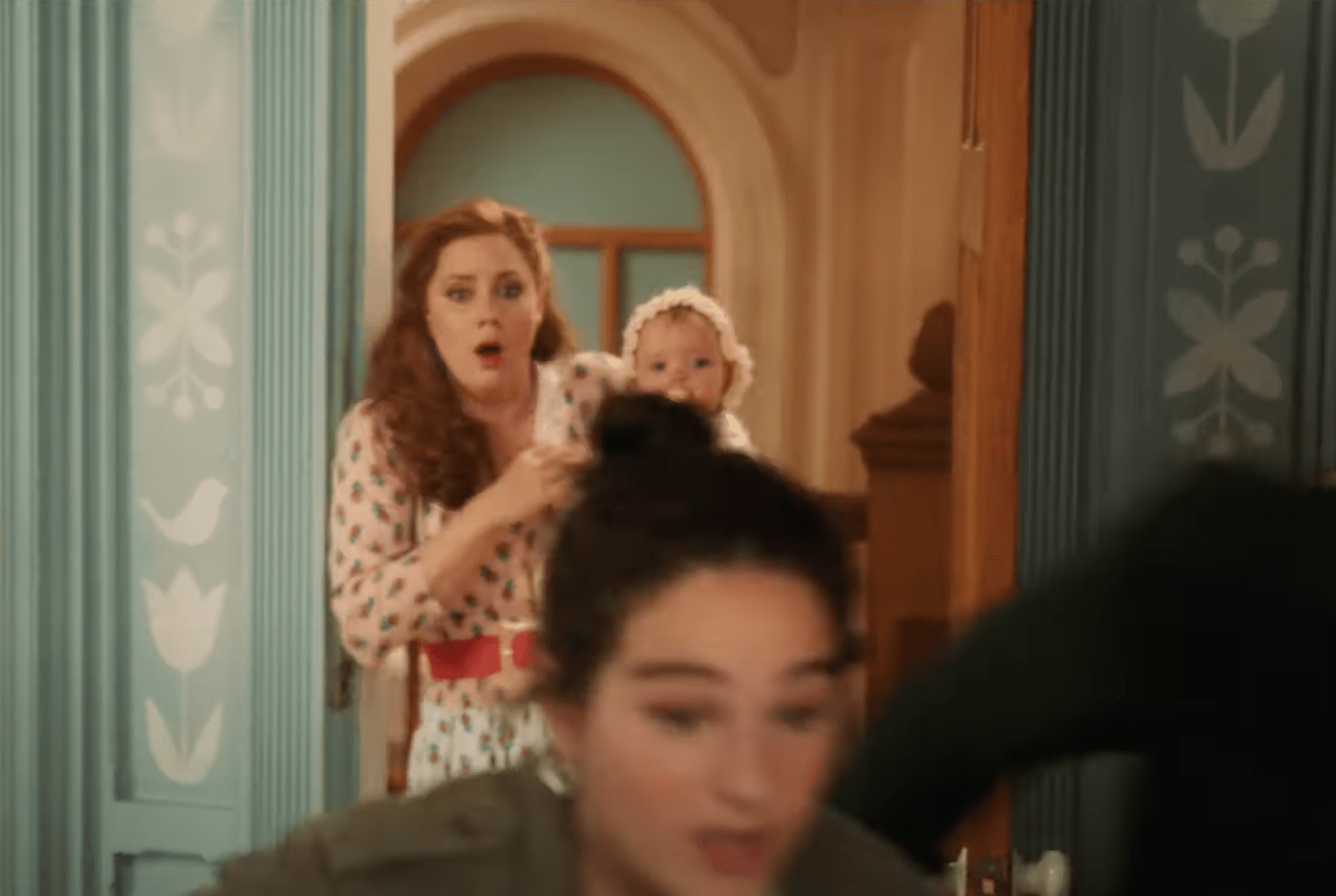 The door frame around Morgan's door is painted like the one in Frozen. Also in Morgan's room is a Hidden Mickey in the pom pom decorations.
On the wall is Morgan's Memory Tree that includes pictures from Enchanted.
Malvina Monroe is making a comment about the color scheme of the house as Giselle and Robert walk down the stairs. She says "what are they? Fish?" Maya Rudolph, who plays Melvina, was the voice of Daniela Paguro in Luca. Daniela is a fish woman.
In the kitchen there is a Hidden Mickey on the canister.
Nancy and Edward built a portal to their home through the Wishing Well. They give baby Sophia an Andalasian Wishing Wand.
Pip comes out of the wishing well during Giselle's song Fairy-tale life and is talking to her in his high-pitched squeaky voice.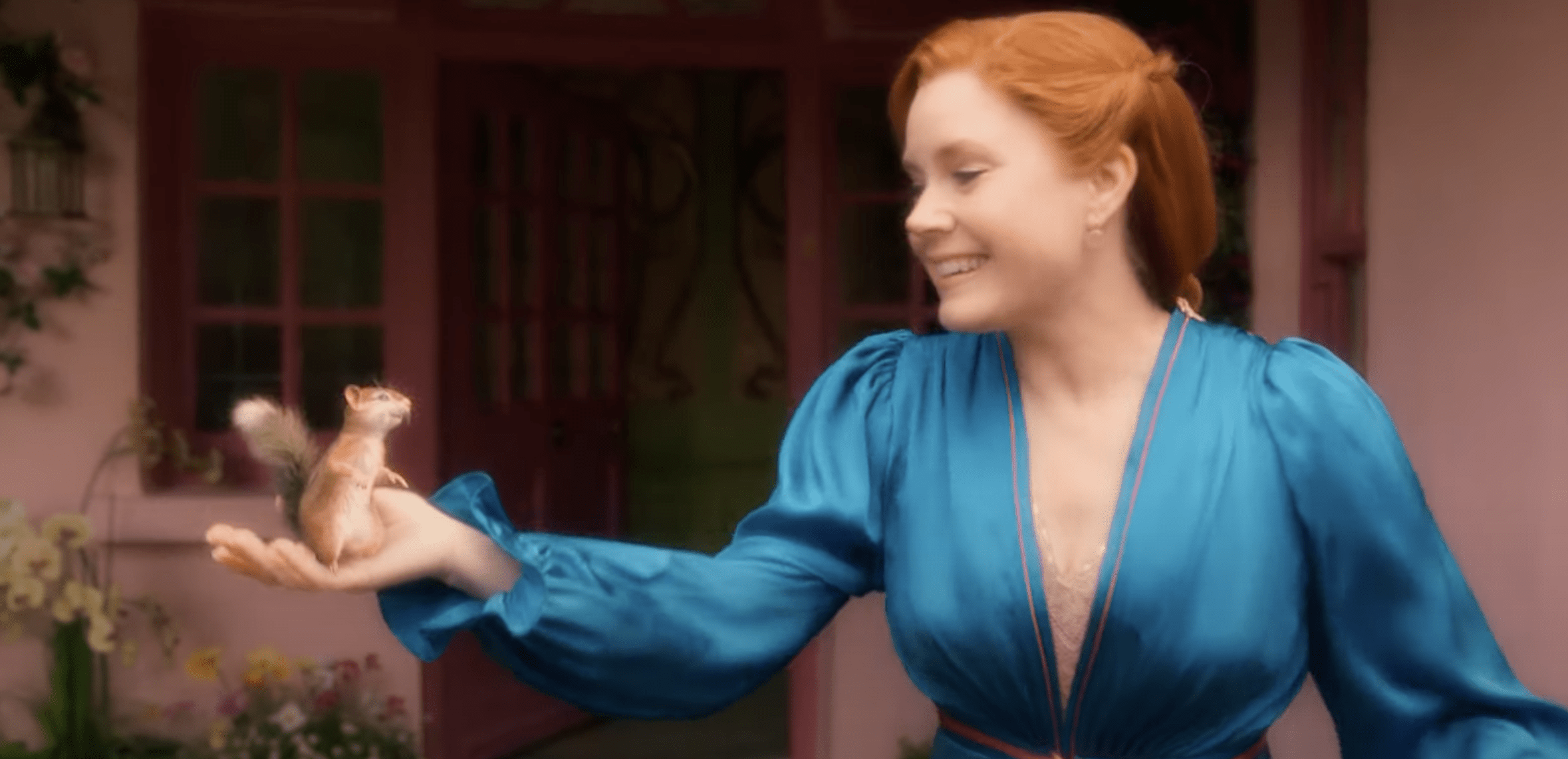 The magic transforms Monroeville. When Giselle wakes up all the animals can talk. Her gown is blue and pink like the one she made in the original movie.
In the kitchen, all the appliances are alive like in Beauty and the Beast.
Morgan is dressed in similar clothing and colors as Briar Rose aka Aurora in Sleeping Beauty.
Robert is dressed in a blue tunic, a variation to his outfit at the ball in Enchanted.
The broom is walking like the ones in Fantasia.
Sophia's dollhouse has transformed into a castle.
The women are working in the garden and have been transformed into Fairies.
During the song number, there is a reference to Fantasia, Be Our Guest, and Brothers Grimm. The townspeople are wearing colors of other Disney characters including Belle, Rapunzel, and Dolores Madrigal.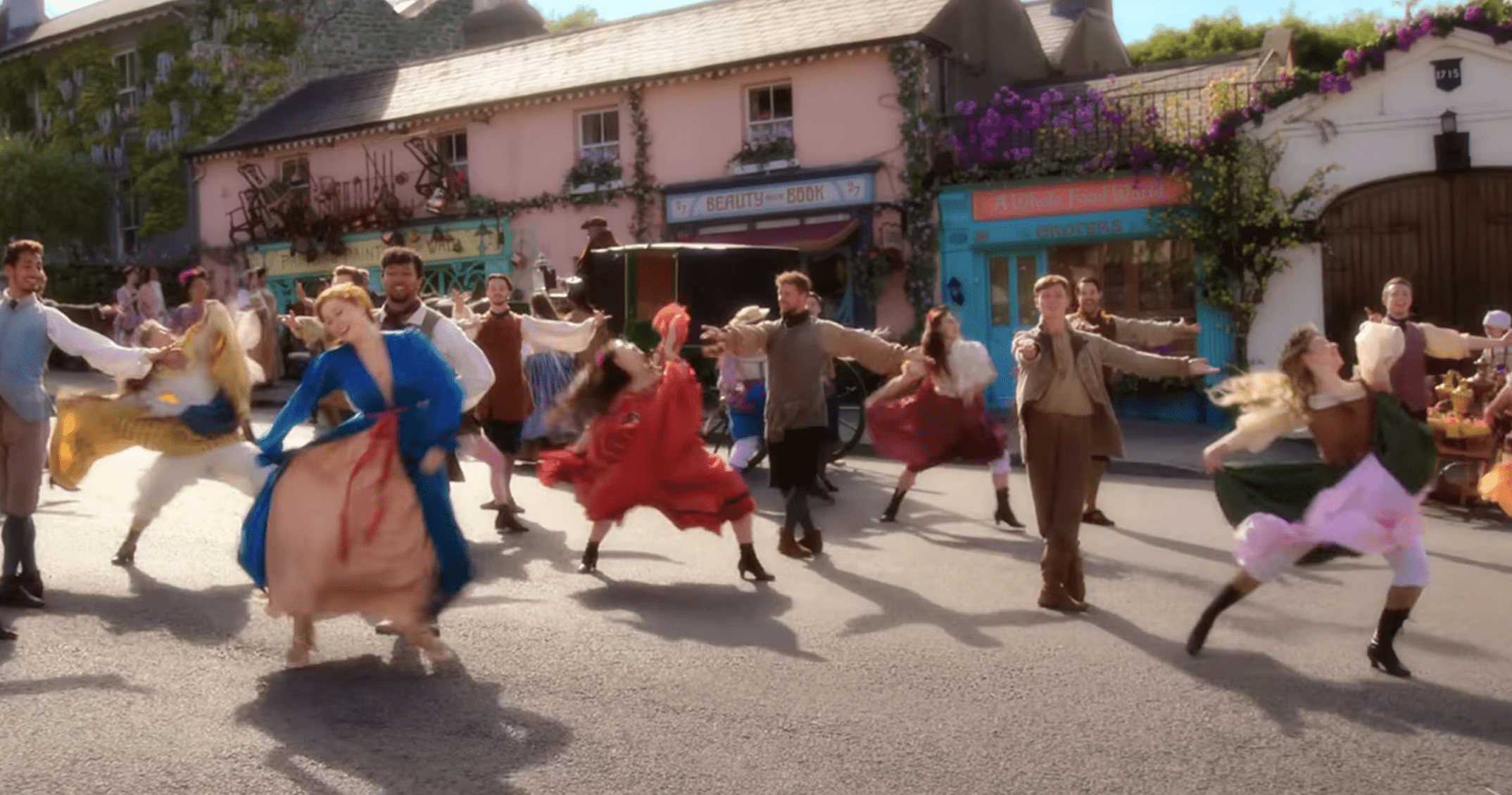 The business names in town are all Easter eggs.
Smee's Cheese
Le Chapeau Magique
The Royal Sip
Mary Popover's Bakery
Beauty and the Books
A Whole Food World
Painting Painting On The Wall
Bibidi Bobidi Butchers
Malvina is dressed like the evil queen from Snow White: pointed crown with a black outfit.
The Bell Tolling to signify Giselle's changing is a callback to every fairy-tale with a clock counting down, like Cinderella according to Director Adam Shankman.
Malvina goes to visit Edgar who has transformed into the Magic Mirror. Edgar's design is just like the original Magic Mirror from Snow White and the Seven Dwarfs. She calls out Mirror, Mirror, on the wall.
The fans surrounding Malvina's throne look like the ones from Emperor's New Groove.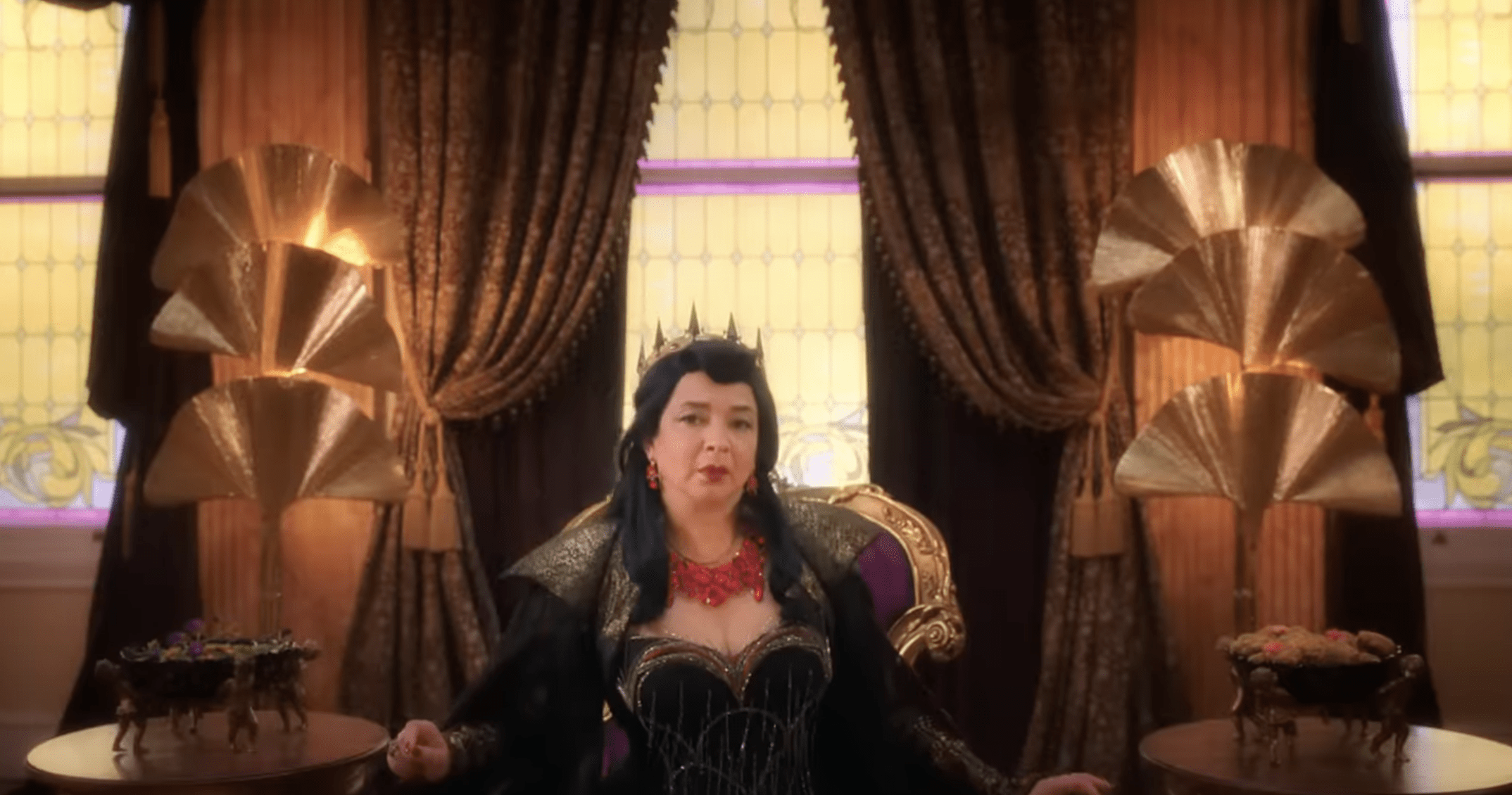 Giselle takes Morgan dress shopping for the festival. Morgan's dress is a nod to Cinderella's blue dress. In the shop there is a yellow dress for Belle, and an apple in a glass container.
Tyson is dressed like a cross between Prince Phillip and Snow White's Prince.
The flags in the village are a nod to the ones in Corona in Tangled.
Morgan's dress is torn and cut up, apparently destroyed by Giselle herself. In Cinderella, the stepsisters also destroyed Cinderella's pink gown. Giselle acts shocked and says it's hardly fit for a maid. Another Cindy nod.
Giselle realizes she is turning into a Wicked Stepmother. Morgan's room is in the tower, just like Cinderella and Rapunzel.
Pip transforms into a cat, a nod to Lady Tremaine's pet, Lucifer.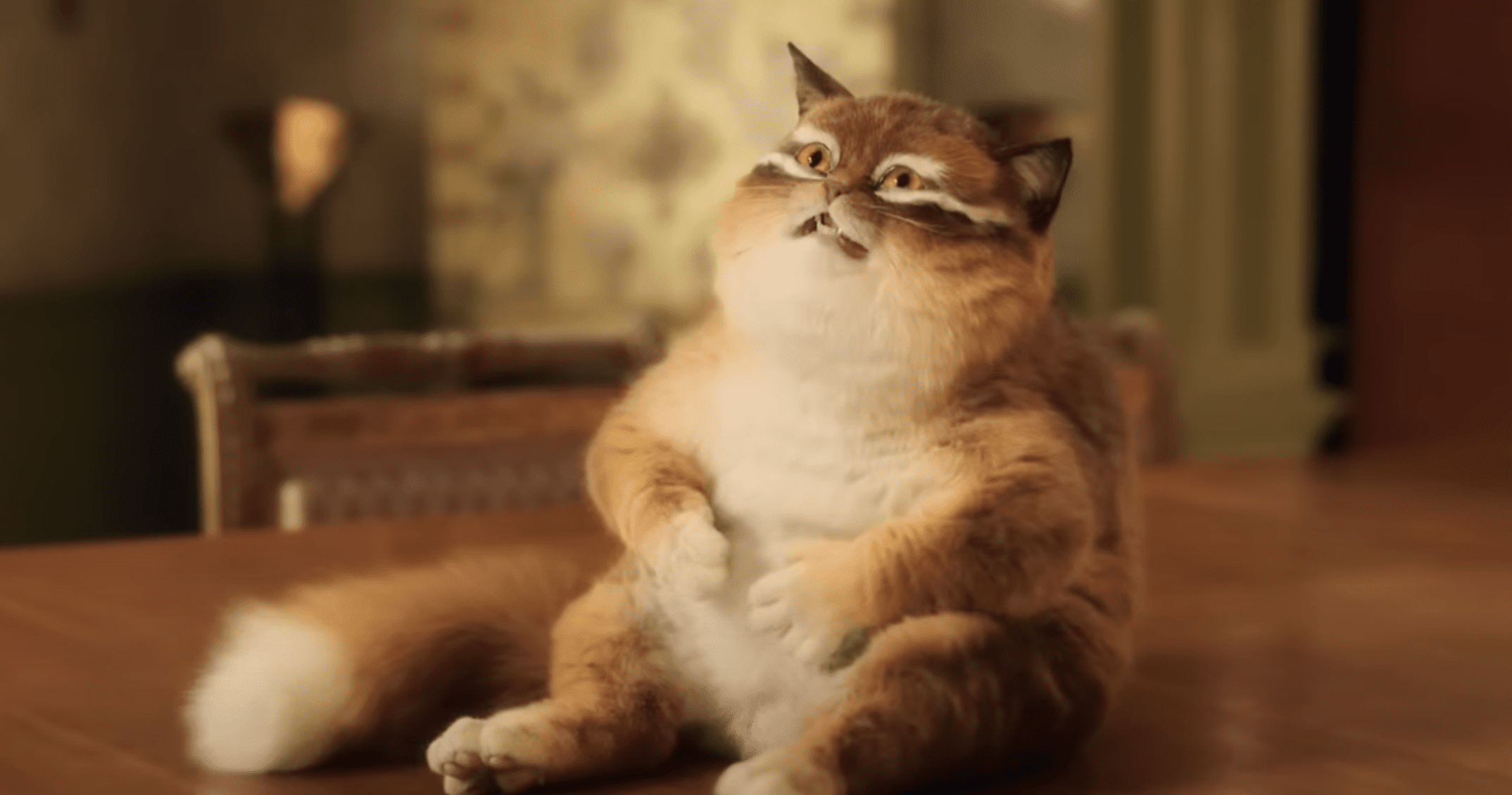 Meanwhile, Robert has found a dragon to slay. One of the women standing there is dressed like Esmerelda from The Hunchback of Notre Dame.
A boy asks if Robert has done this before. He says that he has although it was Giselle with an assist from Pip who slayed the previous dragon.
Alan Tudyk is the voice of the Scroll. He sounds very similar to his King Candy character from Wreck-it-Ralph.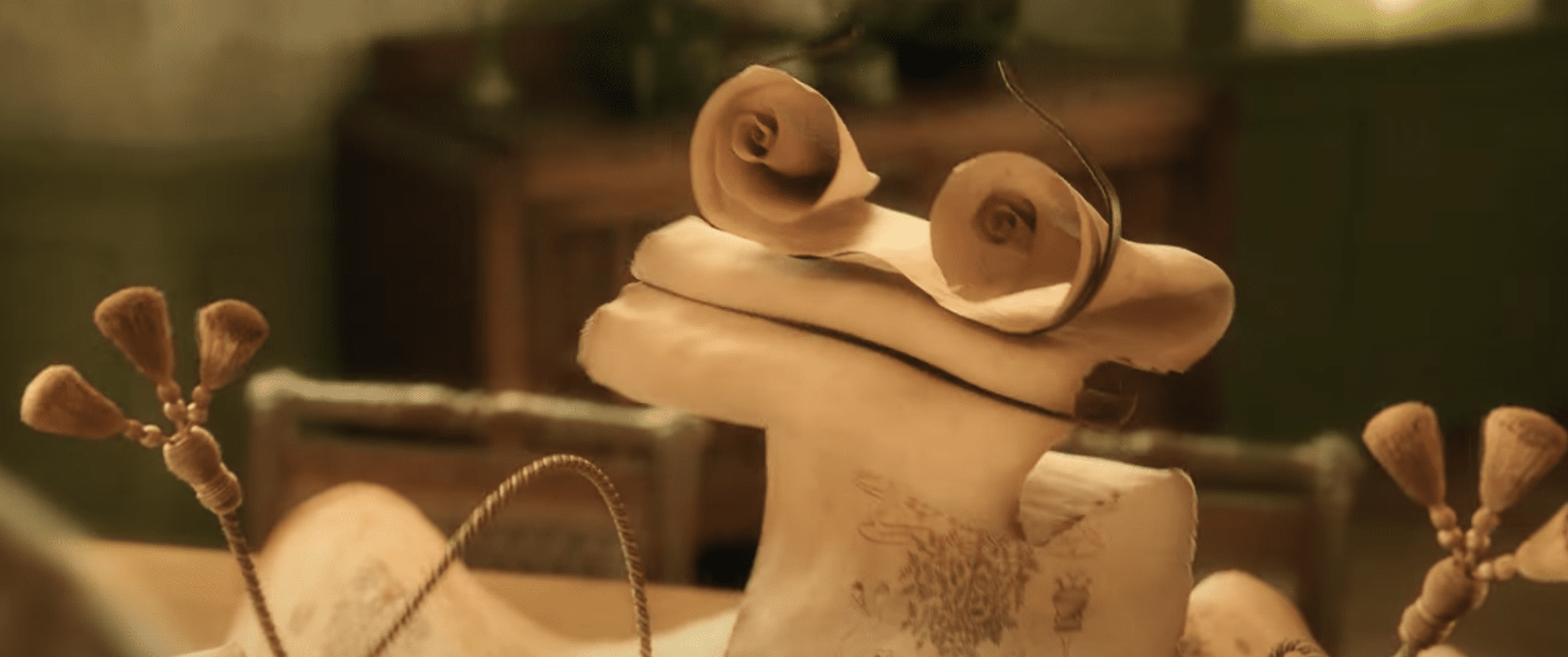 He warns Giselle that her clock is running out. Pip asks what kind of clock and he says it could be anything like a flower dropping petals (Beauty and the Beast) or a clock counting down to midnight (Cinderella).
More businesses can be seen as Giselle walks:
Lumiere's Candle Works
Maid Marion's Dairy
Magic and Mend
Goldi Locksmith
Potions and Elixirs
Peter Peter Pumpkin Eater
During Morgan's I Want song she pays homage to several Disney Princesses.
People stop as she continues to move like during the song Belle.
Water splashes behind her like Ariel in Part of Your World (reprise).
Anna on the cart in For The First Time in Forever.
She walks up an incline like Moana and Elsa.
A kid hands her flowers like Rapunzel.
Giselle sounds like Lady Tremaine as she lists all the chores Morgan still needs to do before the ball. She then locks Morgan in the tower room.
When the giant attacks there is a sign for Barry's Bushels of Apples (a nod to producer Barry Josephson).
Morgan climbs out of the tower using clothes tied together like Belle.
After Giselle pushes Morgan into the well, she has the three fairies take care of baby Sophia.
During Malvina and Giselle's song the lyrics reference villains Maleficent and Cruella, jumping down a rabbit hole, climbing a beanstalk, dropping a house on someone
In Malvina's home there is a dusty spinning wheel, the Beast's rose in glass, a drink me vial, and a poisoned apple.
Morgan awakens in the animated world of Andalasia. The fairy flying next to Nancy is dressed like Tinkerbell.
The garden fairies warn Robert he might be thrown off a roof, this is another nod back to the original film.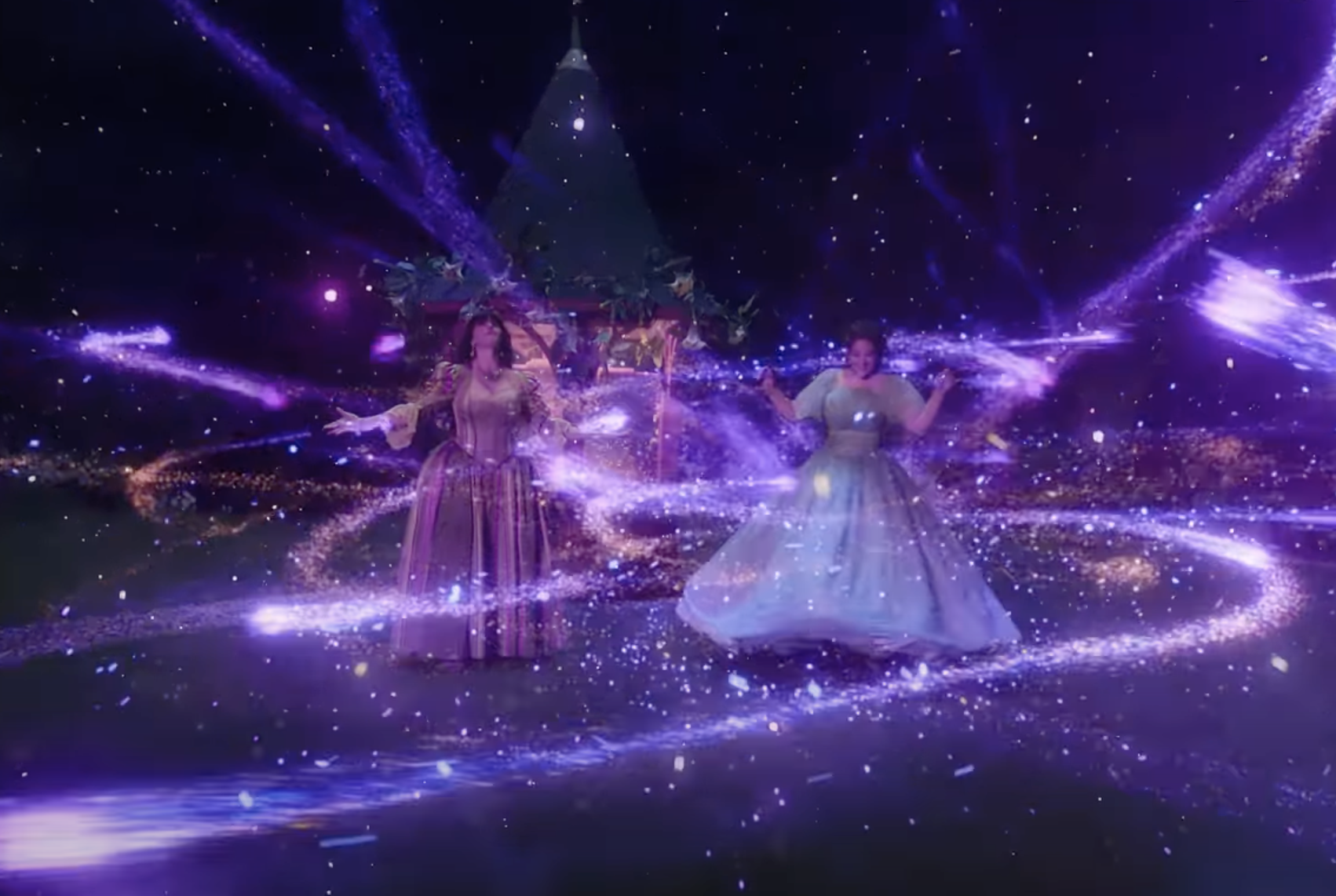 During Nancy's song Morgan's dress transforms like Cinderella's. Nancy also sings about soaring on a magic broomstick a nod to Idina's role as Elphaba in Wicked. The memories swirling around Morgan are mostly from the first film.
At the ball, Tyson is dressed like Prince Charming. The dancing mimics that during the ball scene in Enchanted.
Malvina's minions are dressed like the stepsisters Anastasia and Drizella.
Pip hits the superhero landing.
Thorns overtake the castle like in Sleeping Beauty.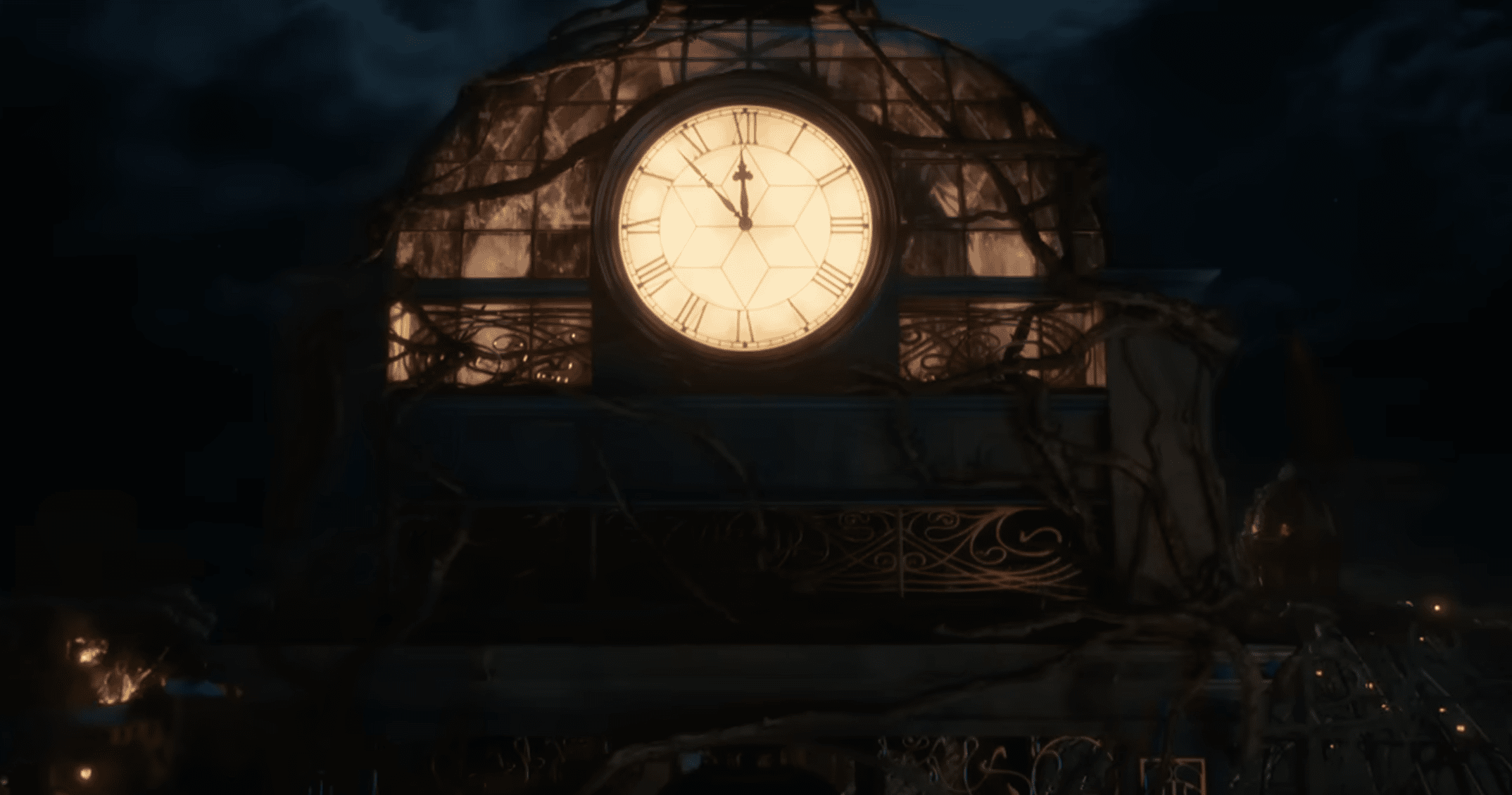 Evil Giselle's ball dress is a dark red instead of the light pink dress she wore at the ball during Enchanted.
Morgan's memories swirl around Giselle, dialogue from Enchanted can be heard.
Malvina uses a Sleeping Potion on Morgan.
During the final scenes, Edward's outfit resembles that of Prince Adam aka The Beast. Then Giselle and Robert dance like they did during the ball scene.
Disenchanted is now streaming on Disney+.