I may say this every year but seriously, if you haven't visited Hersheypark during Christmas time you gotta fix that. All around Hershey Pa there is a lot of holiday fun to be had. Here are 6 things to do at Hersheypark during Christmas.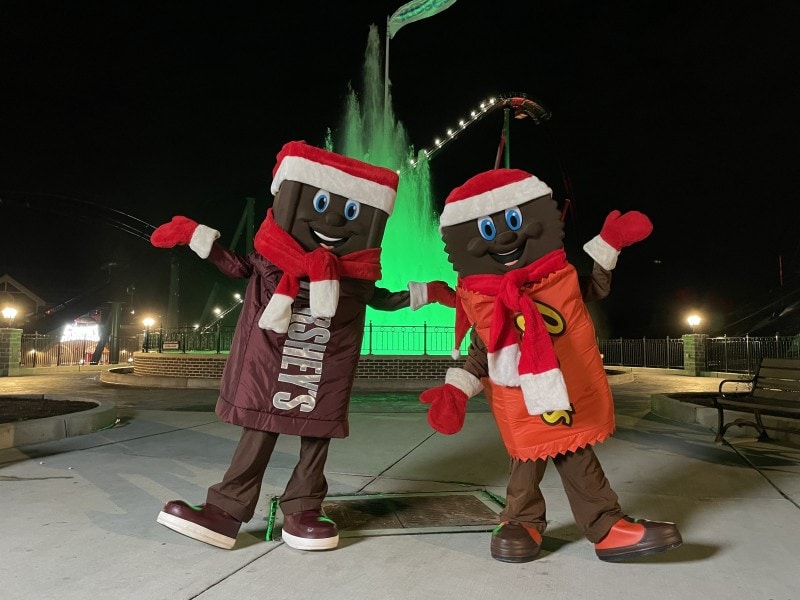 6 Things To Do At Hersheypark During Christmas
Hersheypark Christmas Candylane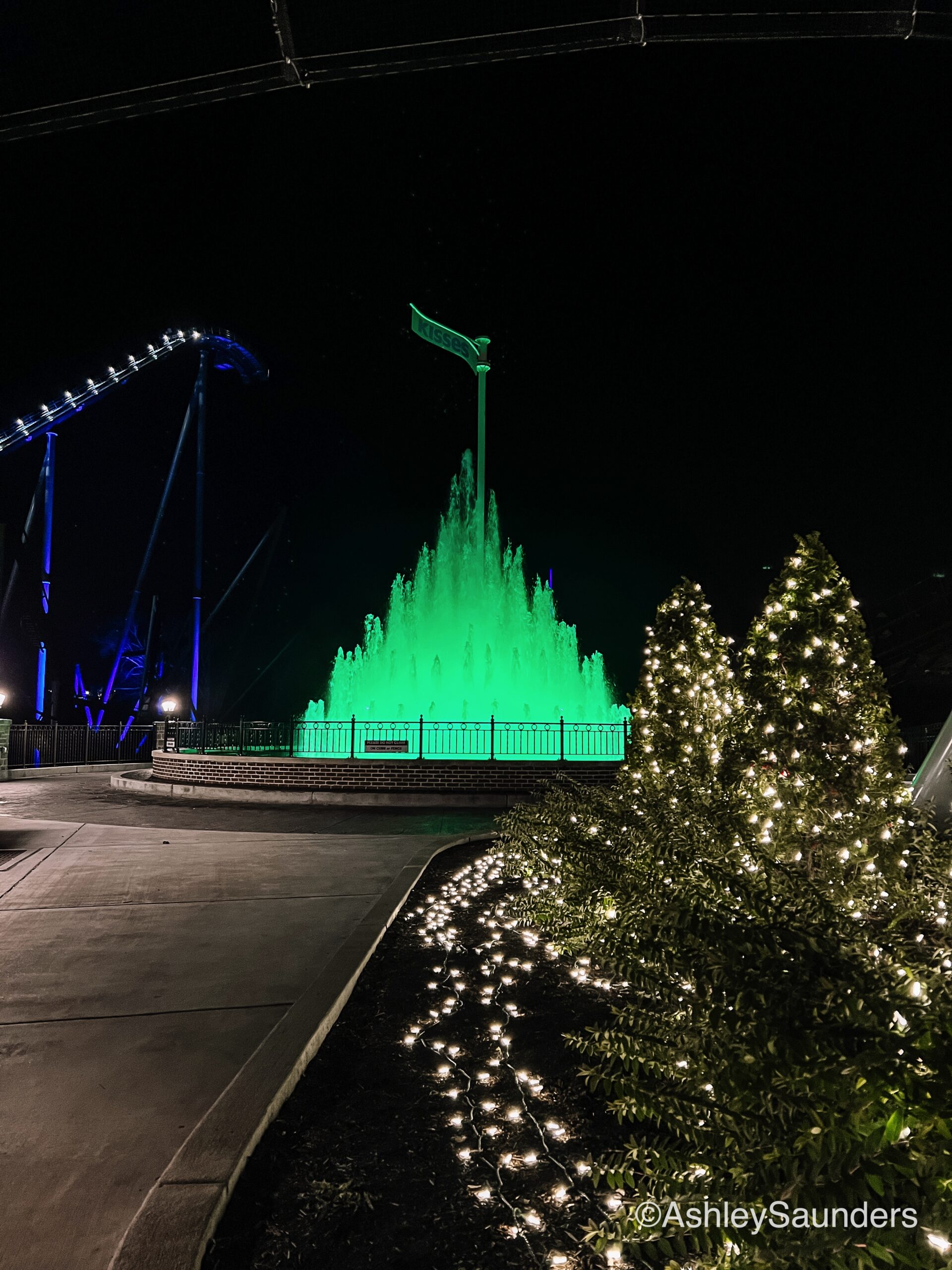 Fridays through Sundays until January 1st, Hersheypark is open for Christmas Candylane. This is a must do event for our family and here are a few reasons why.
Number one: REINDEER! All 9 of Santa's reindeer are hanging out in Santa's Stables near Fahrenheit. Yes Rudolph is there too although his nose doesn't glow, that's saved for special occasions only. Visitors can get up close and personal to the animals while learning more about what makes reindeers unique from the trained staff who are on hand to care for them.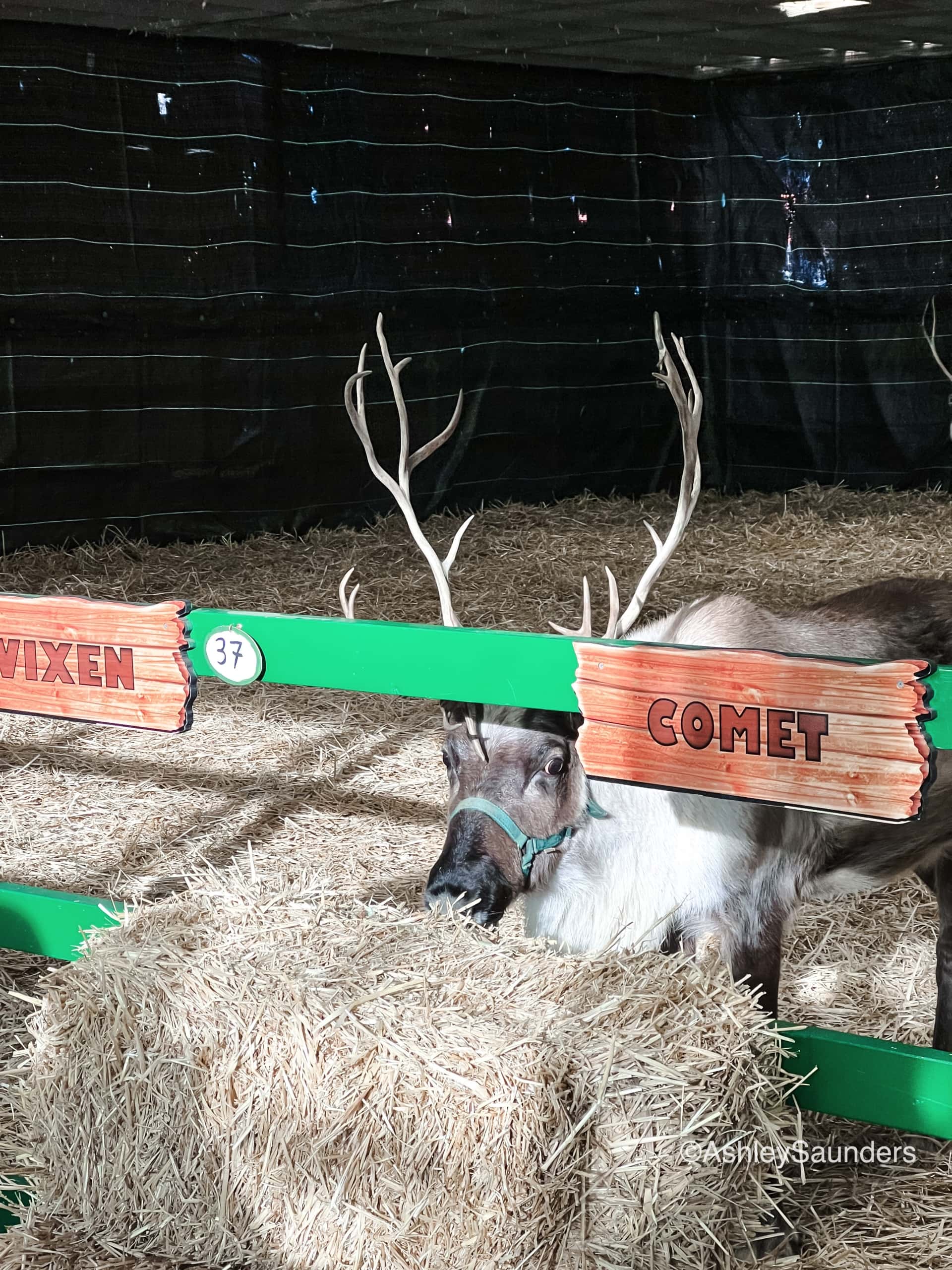 Two: Select rides are open during Christmas Candylane. Check the Hersheypark app for the official list as it does change depending on the weather. This past weekend for instance, Candymonium wasn't running but Jolly Rancher Remix was going at full flavor. I personally like to stick to the ground when it's cold but you do you friend. Laff Trakk has a fun holiday overlay and since it is inside you won't freeze when you ride it!
Three: Starting at 5pm, guests can enjoy a choreographed light show, NOEL, featuring over 250,000 dancing lights. The best place to view the show are on any of the bridges in The Hollow. We normally head to the bridge leading towards Kissing Tower Hill but this year we watched from right in front of the Kisses Tree and it felt like we were in the show.
Hersheypark Season Passholder Tip: Christmas Candylane is included with your Hersheypark Season Pass! Plus your discount still works on merchandise, food, and more.
RELATED: 5 Tips For Christmas Candylane at Hersheypark
Hershey's Chocolate World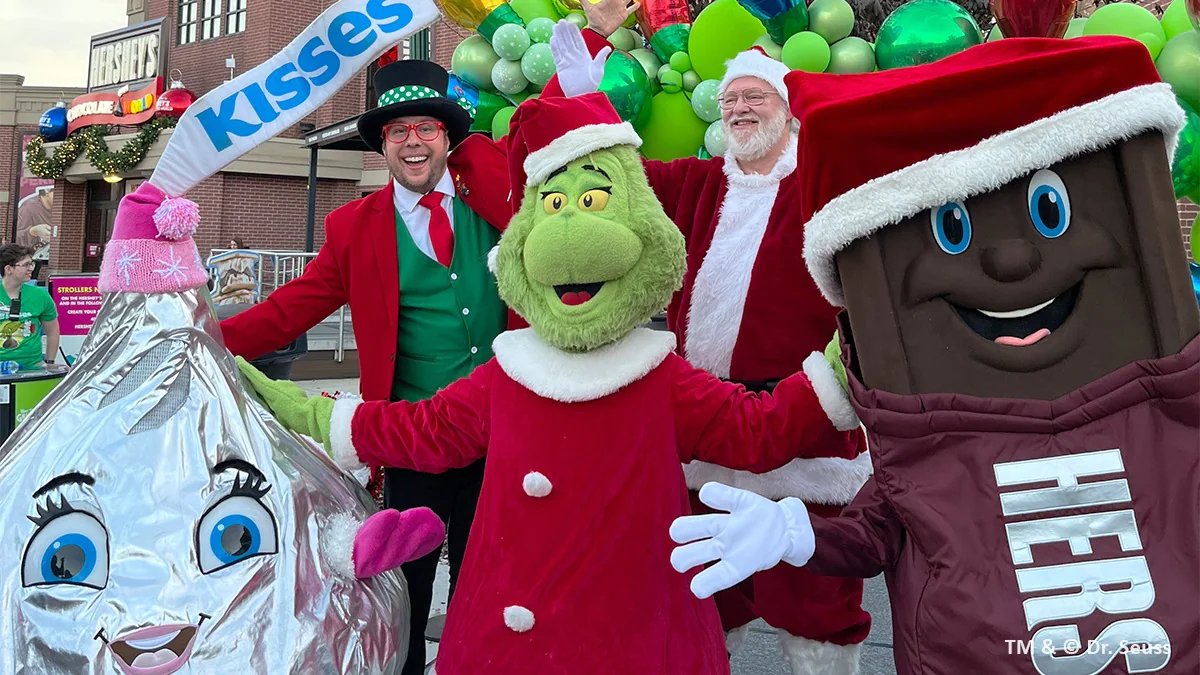 Open daily, Hershey's Chocolate World is the place to get your candy fix, purchase gifts for your family, and even see Santa and the Grinch. During select dates and times, Hershey Characters and the Grinch will make special appearances throughout the day. While you're there, look for the Hershey's Holiday Chocolate House, the Holly Jolly Trolley, and other great experiences.
It wouldn't be the holidays without Santa and this year Breakfast with Santa is back! Join Mr and Mrs. Claus for a tasty buffet breakfast, special activities, portrait with Santa, and more. Tickets are required and this event definitely sells out FAST. If you miss out on breakfast don't worry, the big man is also around for photos throughout the day.
Or if cookies are your thing, like mine, Mrs. Claus is hosting a cookie and ornament decorating event along with Hershey characters. Tickets are available for purchase online or at the ticketing booth inside Chocolate World.
For a complete list of events and to get your tickets now, visit Chocolate World's Website.
Hershey Sweet Lights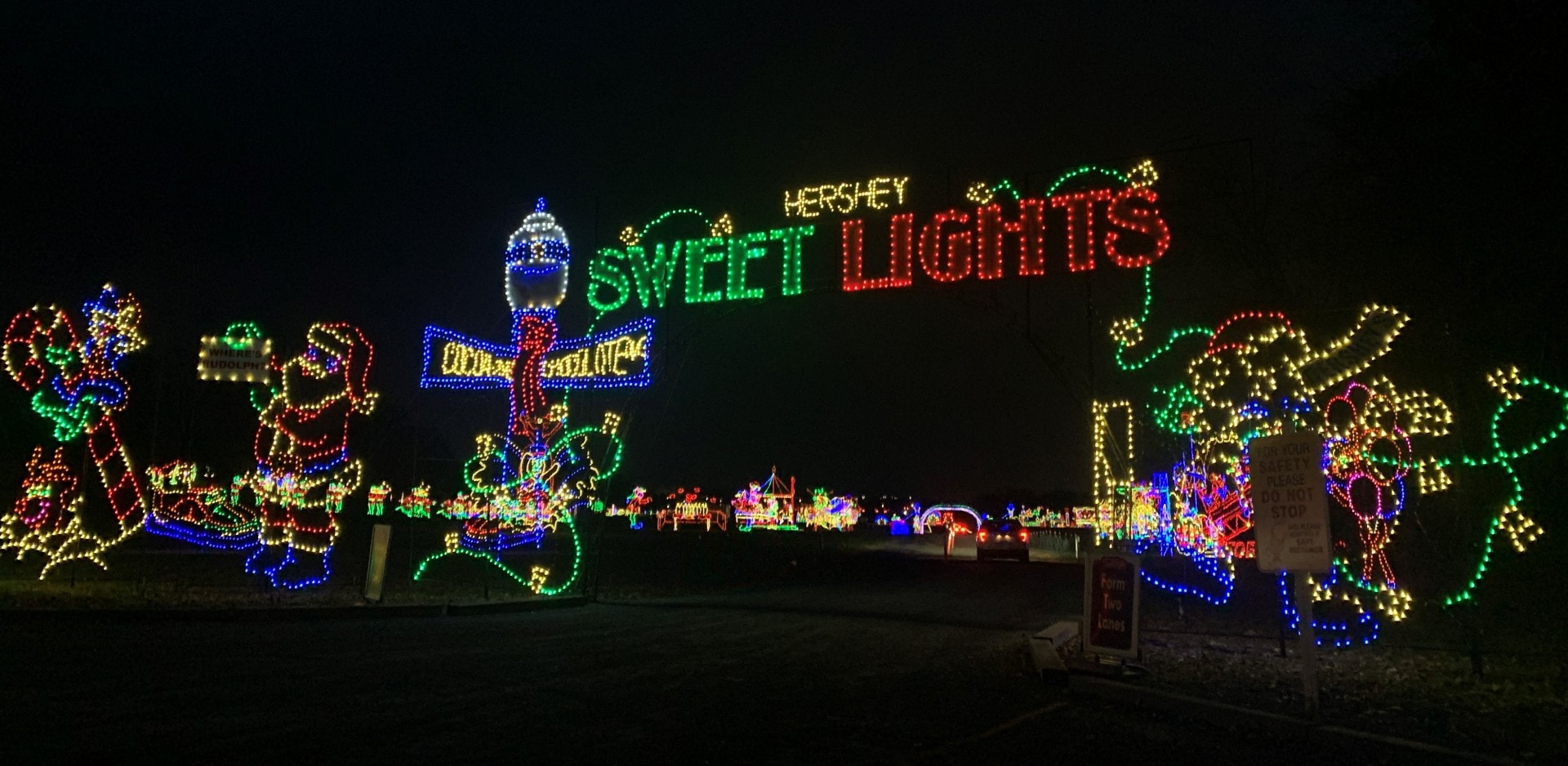 A drive-thru light up spectacular, Hershey Sweet Lights is open daily from about 6pm to 9pm for your family to enjoy. From the warmth of your car, drive through over 600 illuminated and animated light displays while listening to Christmas music. This is another must for our family in Hershey during the holidays.
The drive itself takes about 40 mins to complete so get comfy. Bonus fun can be had with the special glasses Hershey includes with your tickets.*
Buy Hershey Sweet Light tickets online before you go to save money on admission. Only one ticket is needed per vehicle!
*2 included with ticket price
Hershey Gardens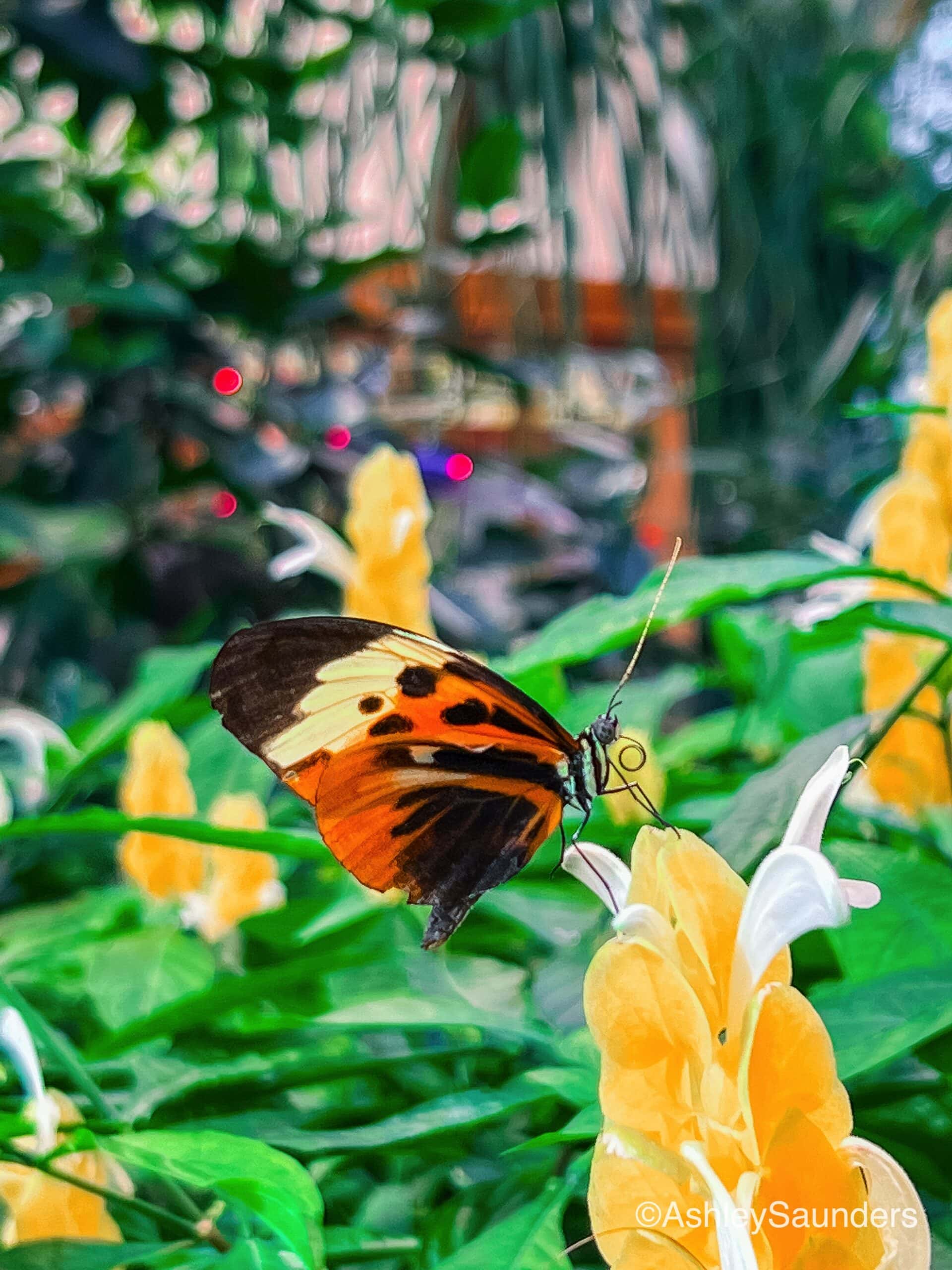 Did you know when you stay at an official Hersheypark resort admission to the Hershey Gardens is included? Open daily, year-round, from 9am-5pm, the gardens are beautiful no matter the season. Outside winter foliage is in full bloom and there are activities for the family to do together throughout the gardens. Then when you are ready to warm up, head back inside to the butterfly atrium.
The Hershey Story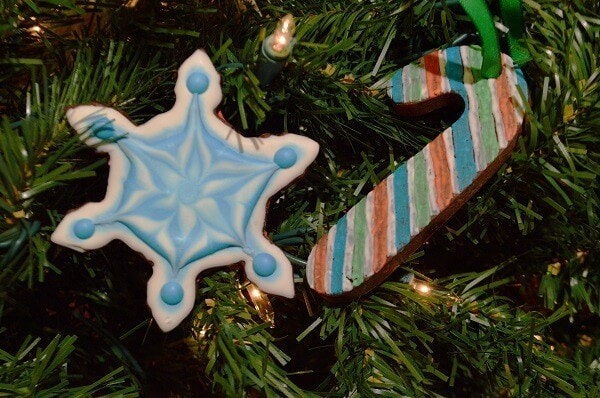 Also included with your Hersheypark resort stay is The Hershey Story, a museum that tells the story of Milton S. Hershey and the town that bears his name. Aside from the interactive exhibits and chocolate knowledge, there is a lot of other things to experience inside the museum. During the holidays, your children can head downstairs to the Little Elves Workshop where they can create a unique ornament for only $8. It's a great keepsake for your own tree or as a gift to someone special.
The Hershey Story is open daily from 9am-5pm.
Eat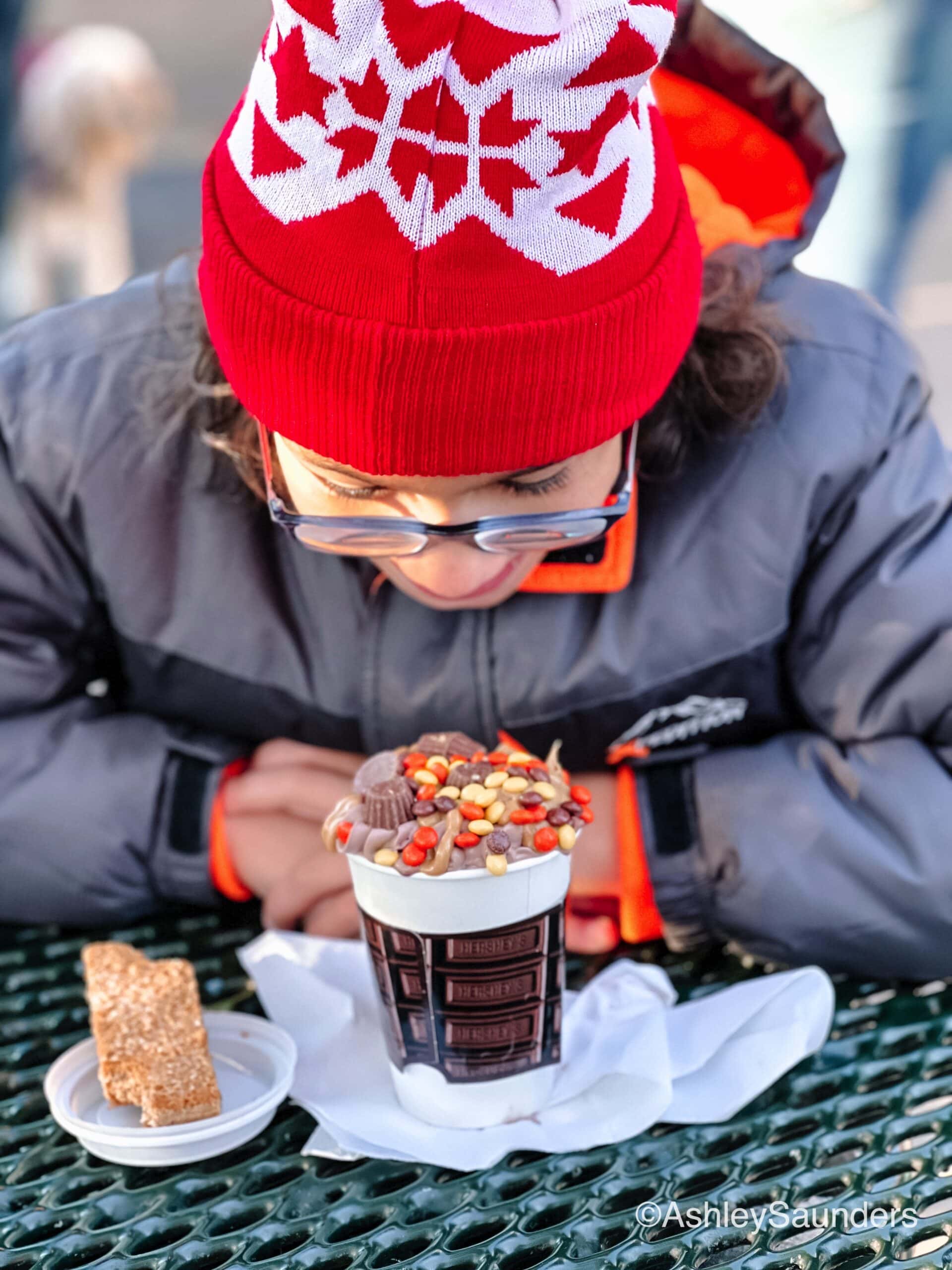 Hershey goes all out for the holidays with special seasonal treats located from The Chocolatier to Milton's Ice Cream Parlor and all around the park. Hot Chocolate and King Sized Shake fans need to hit Simply Chocolate for their winter selection. We highly recommend the Reese's Extreme Hot Chocolate. You're welcome.
After exploring all the things Christmas Candylane has to offer (or before you even get started) grab a delicious meal at The Chocolatier. They just debuted their winter and holiday menu with festive cocktails, mocktails, desserts, entrees, and appetizers. That Sugar Cookie Martini looks divine oh and the Chocolate Peppermint Milkshake, and the… you know what, it's all calling to me so looks like I need to get back there asap.
Learn more about Hersheypark's Resorts and start planning your next trip.