Stuck on a planet after The Marauder was stolen, Clone Force 99 needs to figure out a way home. Omega figures out how to track their ship which leads them on a daring mission to rescue one of their own. Let's get into "Retrieval" with this Bad Batch Season 2 episode 10 easter eggs and breakdown.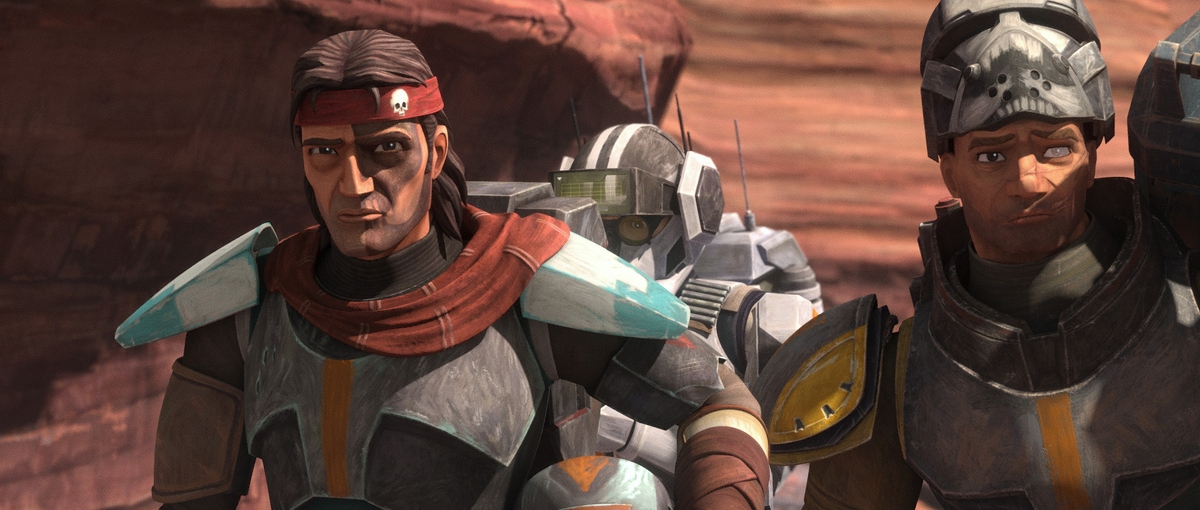 Bad Batch Season 2 Episode 10 Easter Eggs & Breakdown
The Batch is trying to fix a skiff in order to get to the other side of the planet, where they hope to find help.
Omega realizes they can track Gonky in order to find their ship using his binary reference code.
Gonky is on the ship with Benni Baro (Yuri Lowenthal, Peter Parker in Spider-Man games), the thief, who is taking the ship to Mokko. The kid is a scavenger and is indebted to Mokko (Jonathan Lipow) who mistreats him and all the others he "employs."
The water container Mokko is using has the Imperial Crest on it.
What species is Mokko? He is likely either a Klytonian or a variation of a Zygerrian.
RELATED: Bad Batch Season 2 Episode 9 Easter Eggs & Breakdown
Omega finds Gonky. They get the skiff running and make their way to Gonky. They find him with Benni, who tries to escape. It doesn't work, so he tells them where to find Mokko and their ship.
Mokko's territory was formerly run by the Techno Union. The Techno Union played both sides of the war, with Foreman Wat Tambor allying with Count Dooku while other subsidiaries produced starships and weapons for the Galactic Republic. At the end of the war it was absorbed by the Galactic Empire.
Tech develops a plan that will get them into the facility. It's dangerous but they are confident it will work. Hunter repels down and takes out a droid that spots him.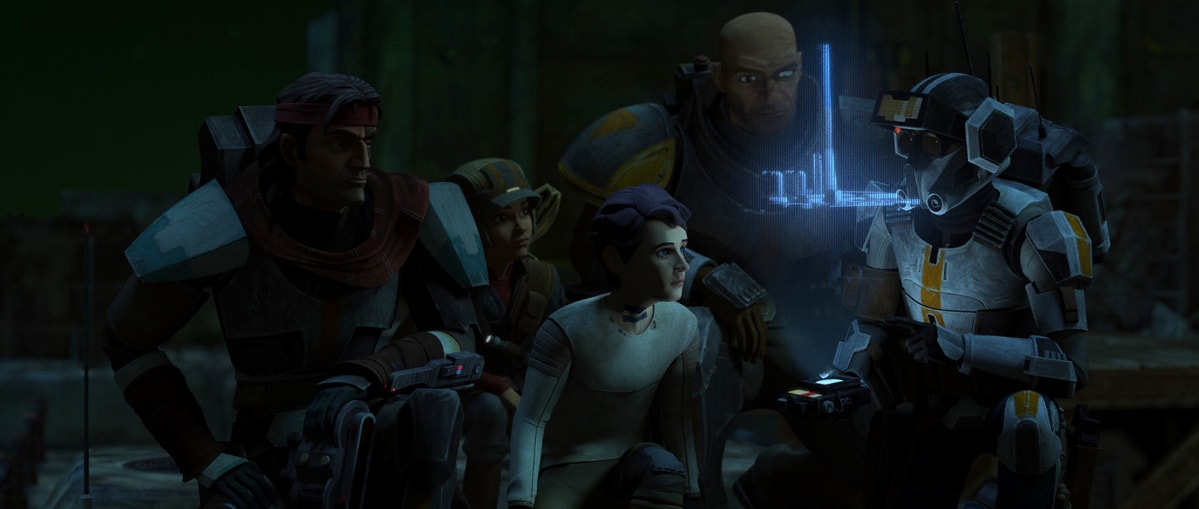 They find The Marauder but unfortunately the hyperdrive has been removed. They need to shut off the ray shield in order to escape.
Benni and Omega work together to get an access card to the control room. He gets one off of Drake (Aleks Le, Demon Slayer) who Mokko names the top earner, making Benni angry. The top earner gets food while the others are given nothing but scraps.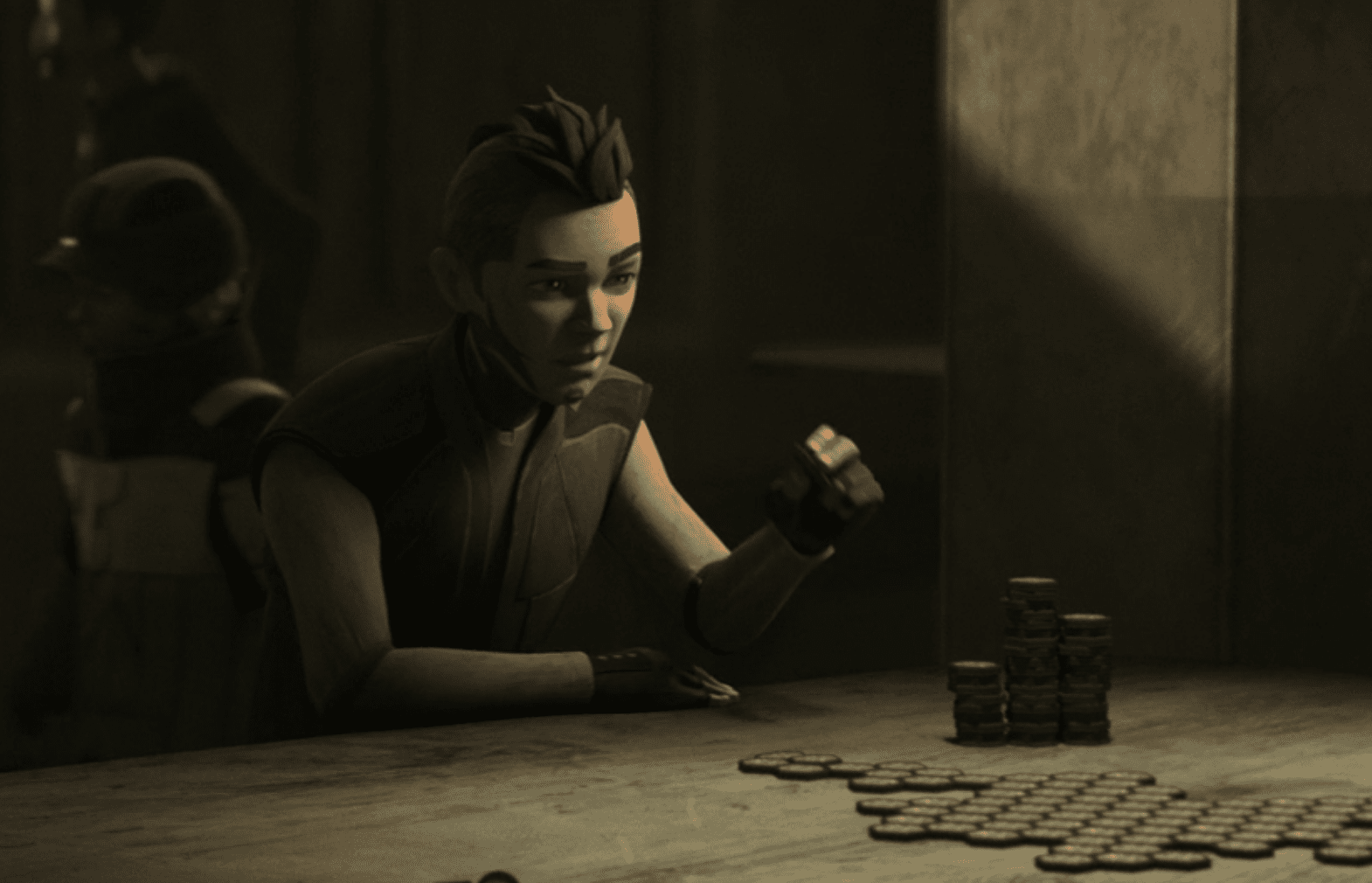 Tech makes a comment that Mokko is using his power and means as leverage over his workers. It's a similar tactic used by the Empire.
In the control room, Omega discovers that Mokko has been lying about the ipsium and the profits. Benni alerts Mokko and he shows up.
Mokko finds the Batch, he has Omega as a prisoner. Benni confronts Mokko. He and Drake reveal Mokko has been lying about the profits Mokko's crew turns on him after they realize the truth.
Omega frees herself and is brought to safety by Hunter.
Mokko's crew stays to mine ipsium, enjoying the food Mokko had been hoarding. Benni says his goodbyes and lets them know if they ever need a thief he owes them.
Wrecker, Hunter, Tech, Omega, and Gonky leave on The Marauder. All their stuff has been returned including Lula.
Episodes 1-10 of The Bad Batch Season 2 are now streaming on Disney+.