Marvel Studios' thrill ride through the Quantum Realm– Ant-Man and the Wasp Quantumania is now in theaters. We may be visiting a new place but that doesn't mean there aren't Marvel easter eggs, callbacks, and even a cameo or two. Let's get into these Ant-Man and the Wasp Quantumania Easter Eggs, cameos, and callbacks.
Spoilers ahead if you have not seen Ant-Man and the Wasp Quantumania.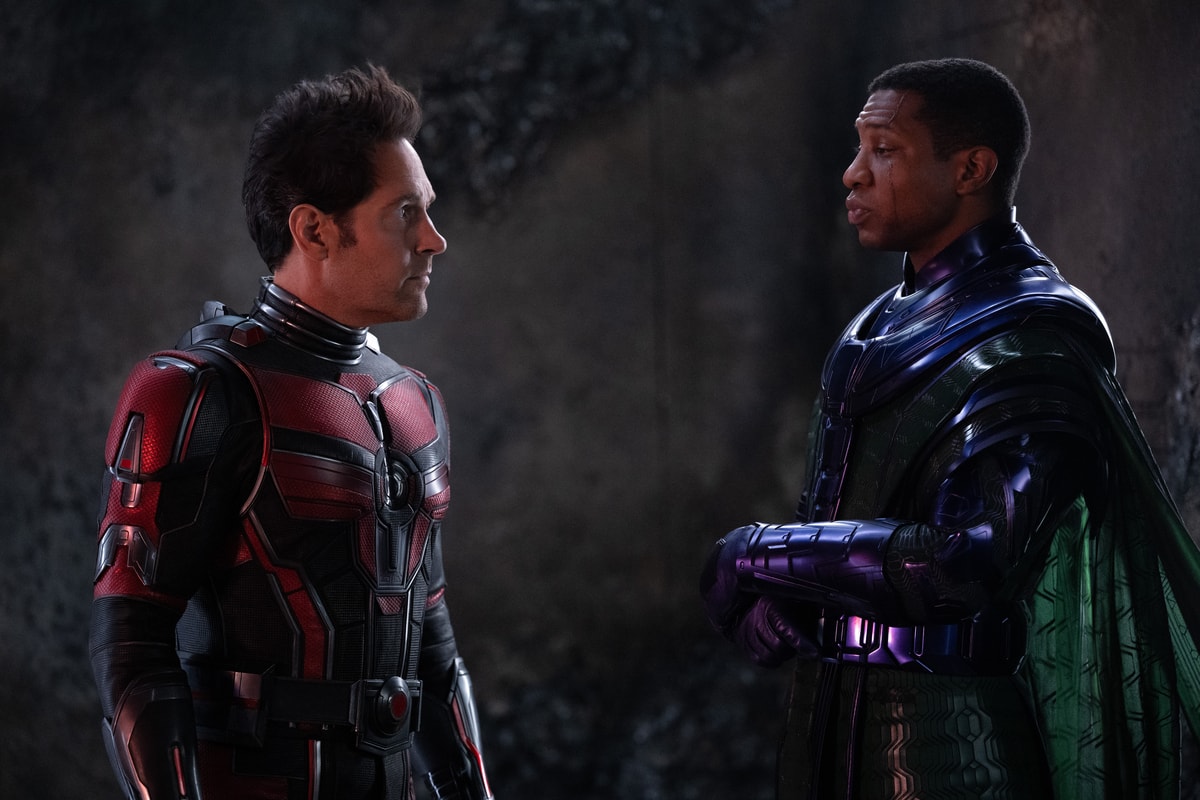 Ant-Man and the Wasp Quantumania Easter Eggs, Callbacks, & Cameos
Kang can be seen in the Marvel Studios logo. He's in the "A."
Scott walks into the coffee shop and is mistaken for Spider-Man. The cafe owner is Ruben Rabasa. Rabasa played Mr. Cardozo on Agents of S.H.I.E.L.D. His name in the movie is also Ruben.
Agent Jimmy Woo (Randall Park) last seen in WandaVision makes a brief appearance here. In Ant-Man and the Wasp, Woo was tasked with keeping an eye on Scott during his house arrest. Scott also performs a magic trick by taking Jimmy's credit card.
He high-fives a kid holding an Ant-Man lunchbox.
Scott gets awarded Employee of the Century by his former Baskin-Robbins manager Dale (Gregg Turkington).
RELATED: Ant-Man and The Wasp Quantumania Review: Welcome To The Kang Dynasty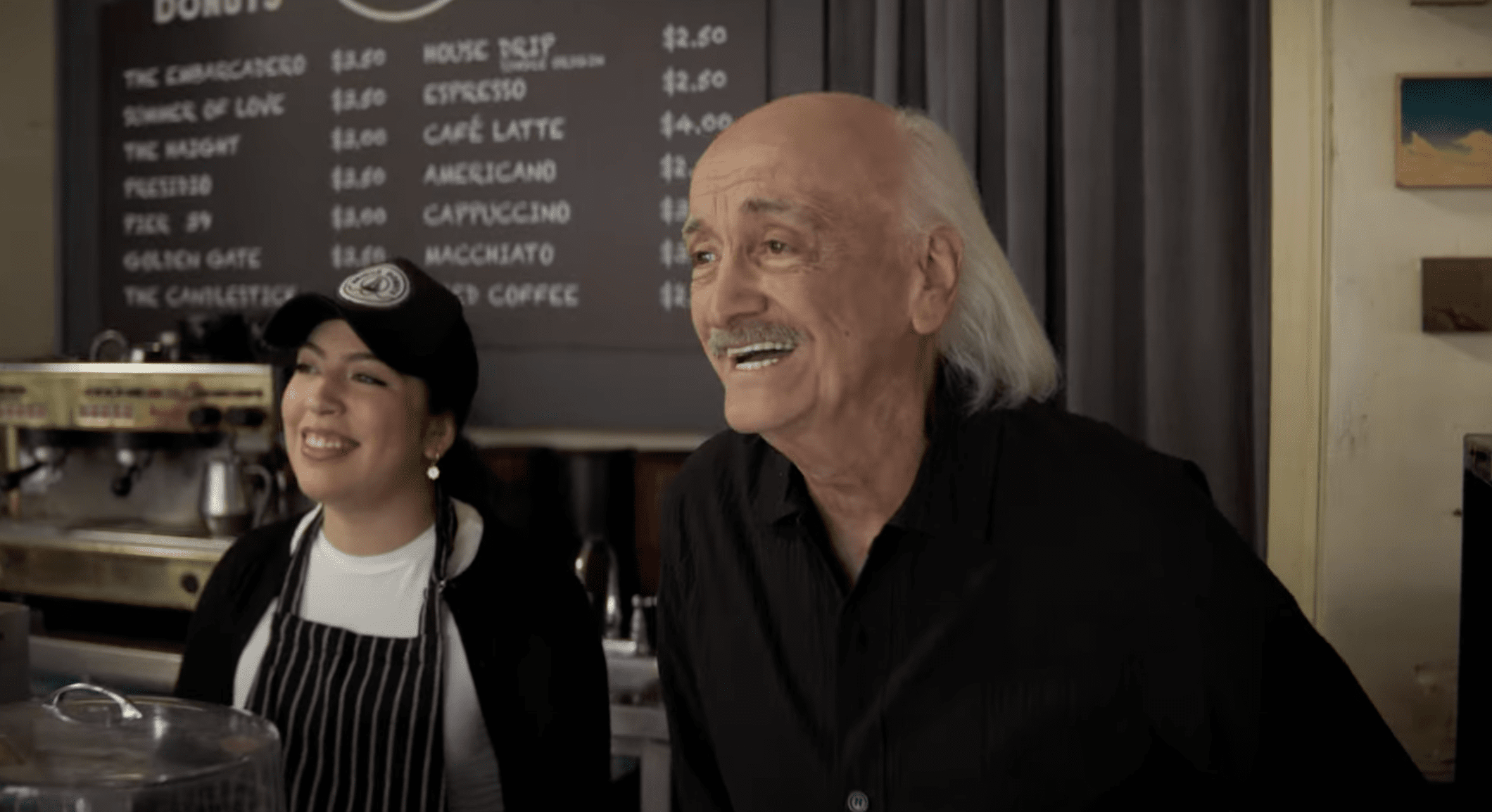 Hope is receiving a Humanitarian Global Services Award for her work to help combat crisis all over the world from deforestation to climate change.
At the City Lights Bookstore (a real bookstore in San Francisco), Scott is reading from his book "Look Out For The Little Guy." Yes, Look Out For the Little Guy is a real book that can be preordered on Amazon.
He gets a phone call from Cassie who is in jail. After he bails her out, one of the officers demands she returns something. She pulls out a shrunken cop car #5138.
Cassie was arrested for trying to help the homeless who lost everything after The Blip. This issue is also explored in Falcon and The Winter Soldier.
Scott lecturing Cassie about the tech and what if she lost the suit sounds very similar to when Hank, in Ant-Man and the Wasp, was upset with Scott about actually getting arrested after the events of Captain America Civil War.
When Scott says he wishes she could have a normal life, Cassie replies saying "a guy dressed like a bee tried to kill me in my room when I was 6." She is referring to Yellowjacket from Ant-Man.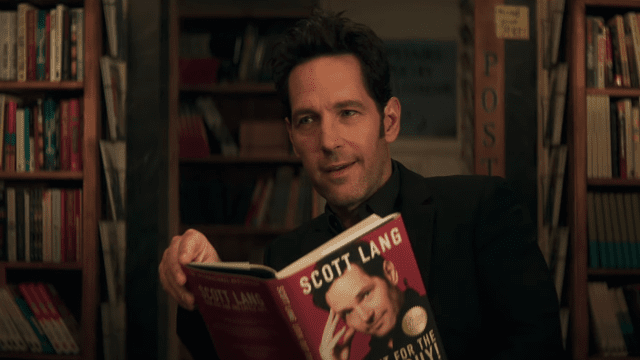 To lighten the mood Hope plays some music which is actually an audiobook. Scott's audiobook "Look Out For The Little Guy." He mentions the part in Avengers Endgame when the Hulk turned him into a baby and that he met a Raccoon from space aka Rocket.
At Hank and Janet's home, it is mentioned Janet was in the Quantum Realm for 30 years.
Hank tells Cassie he could've "broken you out with ants." In Ant-Man he broke Scott out of jail using the ants and Scott did the same for Hank and Hope in the sequel.
Cassie wants to help people. She claims Scott is doing anything now. She reminds him of what he did to VistaCorp and his time spent in Germany (Captain America Civil War).
The machine goes haywire and pulls everyone and Hank's ants into the quantum realm. Scott turns into Giant-Man to save Cassie.
Janet tells Hank and Hope that the quantum realm is outside of time and space. A nexus. In the comics, the Nexus of all Realities is a gateway to any and all possible realities.
She also mentions Sub-Atomica. This is a deep comic cut. Sub-Atomica is a star system located within the Microverse.
She calls Hank Ant-Man. Hank Pym is the original Ant-Man both in the comics and the MCU.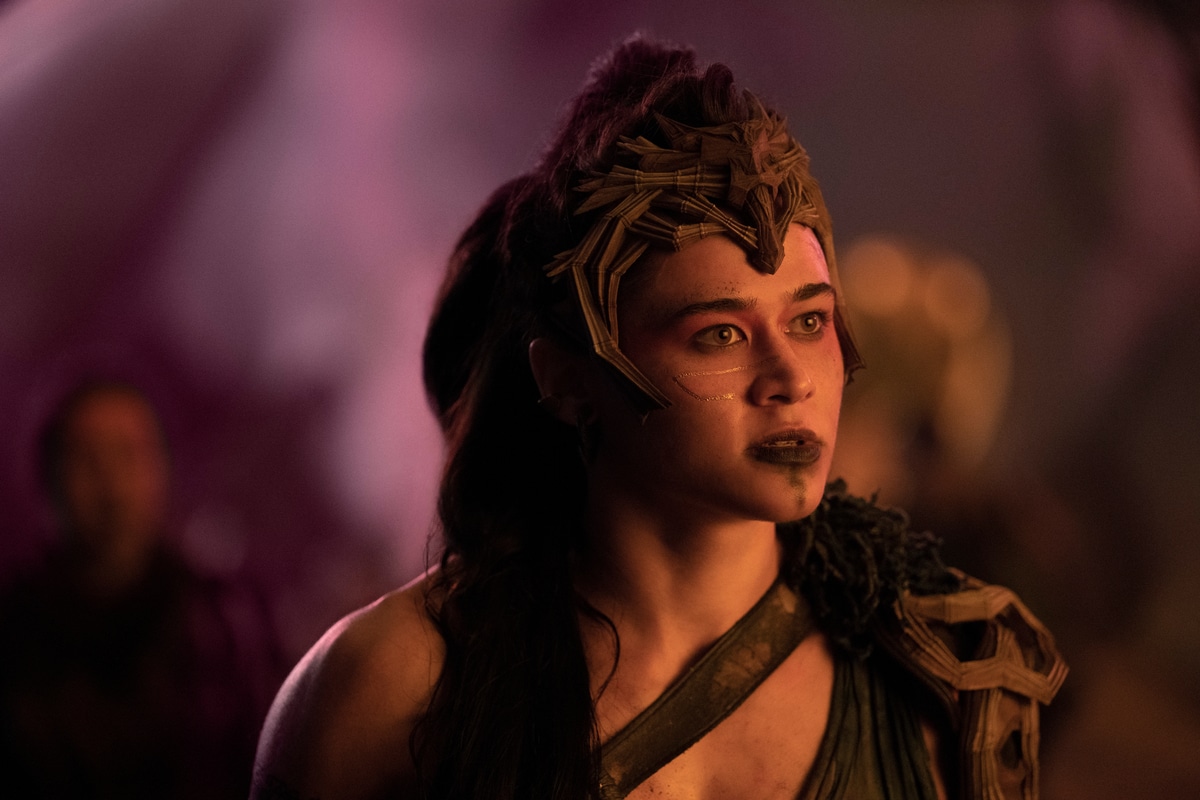 Scott and Cassie encounter Jentorra (Katy M. O'Brian) and the Freedom Fighters. She is their leader. The Freedom Fighters are residents of the Quantum Realm that have been displaced by Kang. In the comics she is the niece of the late Queen Jarella of the planet K'ai and part of the Micronauts, a superhero team in the Microverse (also known as the Quantum Realm).
Her right hand guy is Quaz (William Jackson Harper). He is a telepath. No direct comic book character link here but he could be a nod to Quasar or Arcturus Rann, a notable telepath and leader of the Micronauts in the comics.
Veb, the ooze looking creature is voiced by Antourage member David Dastmalchian who played Kurt in the other two films.
Janet takes them to a Star Wars style Cantina to meet her friend Krylar (Bill Murray). In the Marvel Comics, Krylar was also from the planet K'ai. He lived on the isle of assassins, Pitll Pawob. He was part of a plan to overthrow Queen Jarella before he was eventually killed by his leader Visis.
Hank and Janet have an awkward conversation about what they did while apart. Hank mentions seeing Linda. This could refer to Linda Carter the Night Nurse, an obscure character from the comics who briefly spent some time with Hank albeit in an illusion.
Cassie suits up in her Stinger Suit. In the comics Cassie also goes by the name Stature. But the Stature suit is red and black like her father's whereas the Stinger suit is purple like we see here.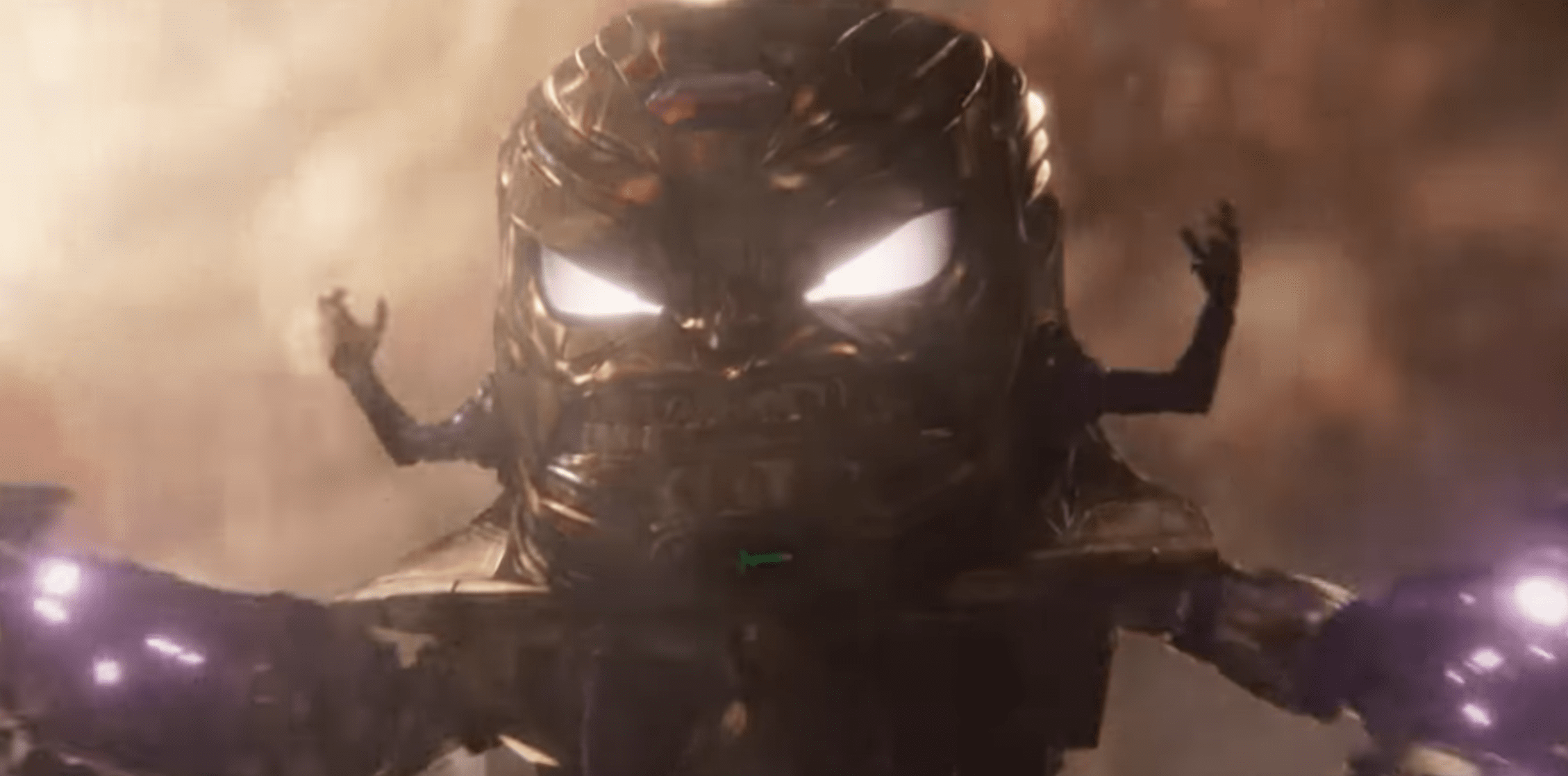 M.O.D.O.K. appears. He is "the hunter" Kang sent after them. MODOK stands for Mental Organism Designed Only For Killing.
It is revealed that Darren Cross aka Yellowjacket is M.O.D.O.K. There is a flashback to the scene in Ant-Man when Darren disappears into the quantum realm.
He takes them to Chronopolis, Kang's city.
Flashback to Janet meeting Kang for the first time. He claims to have crashed into the quantum realm and needs her help restoring his time chair. Kang's Time Chair allows him to travel through time and space. It also contains advanced laser weapons and a powerful force shield to protect it and its user from attacks.
Kang also talks to Janet about Incursions. In Doctor Strange In The Multiverse of Madness we learned that incursions are when two universes in the Multiverse collide.
When Janet helps him fix the chair she touches it and sees his memories of how he traveled the timelines, leaving death and destruction in his wake. This is the same graphics we saw in Loki whenever timelines were discussed. She destroys the power core, trapping him in the quantum realm.
Kang puts on his green and purple suit.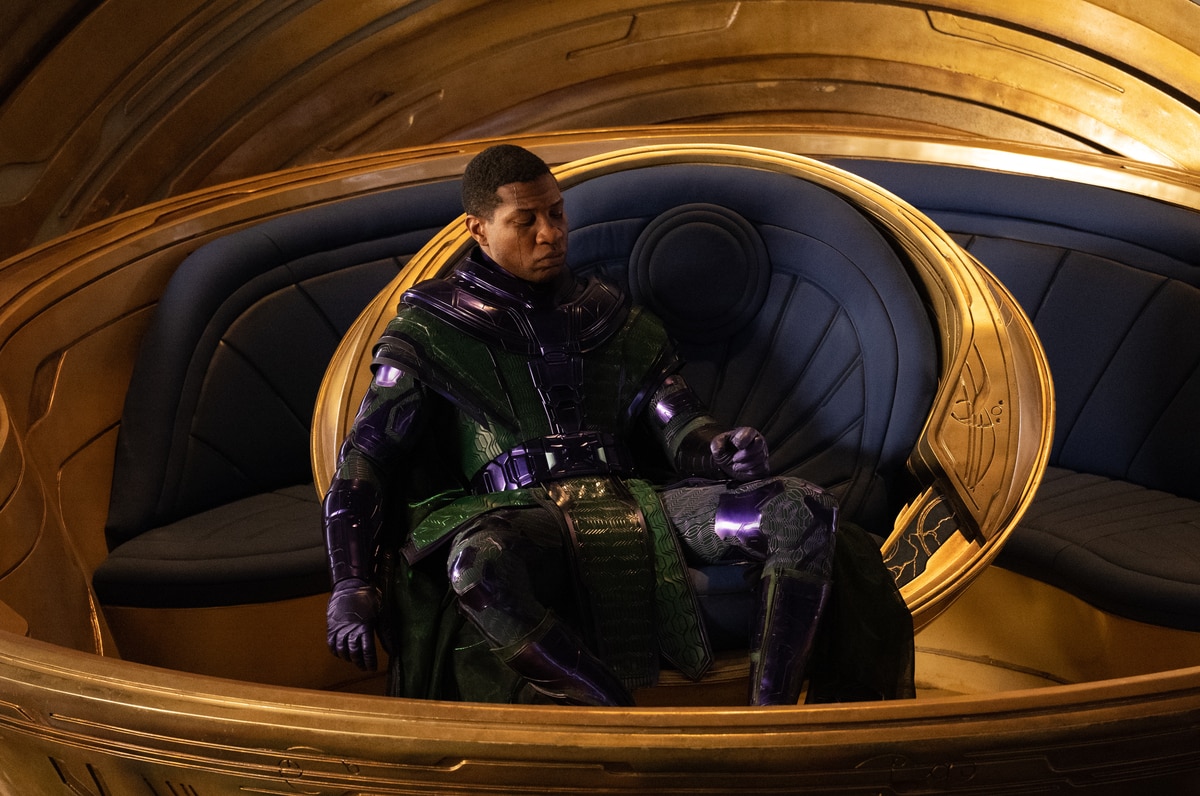 In the present: Kang approaches Scott who claims to have told the Avengers about Kang. "Have I killed you before?" Kang asks if he's the one with the hammer?
Kang needs Scott's help to fix the multiversal engine core that Janet destroyed. Scott needs to help him to stop what is coming– the unleashing of himself. Kang variants that will destroy the multiverse. He Who Remains warned Loki and Sylvie about this in Loki episode 6.
"I love you Peanut."
Scott shrinks down to help Kang (to save Cassie's life). He enters a probability storm where there are infinite versions of himself. MODOK calls it Schrödinger's box and Scott is the cat. Inside the storm Scott sees Giant-Man and his Baskin-Robbins self. The Baskin-Robbins Scott wears the nametag Jack. Jack is Paul Rudd's son.
Cassie calls out to her dad, like in the first Ant-Man, Cassie's voice is what helps him to pull together. Literally in this case. The millions of Scotts all work together, like ants, to get him back to Cassie.
Kang calls Hope Jellybean, the term of endearment Janet used in Ant-Man and the Wasp.
Hank is saved by the ants.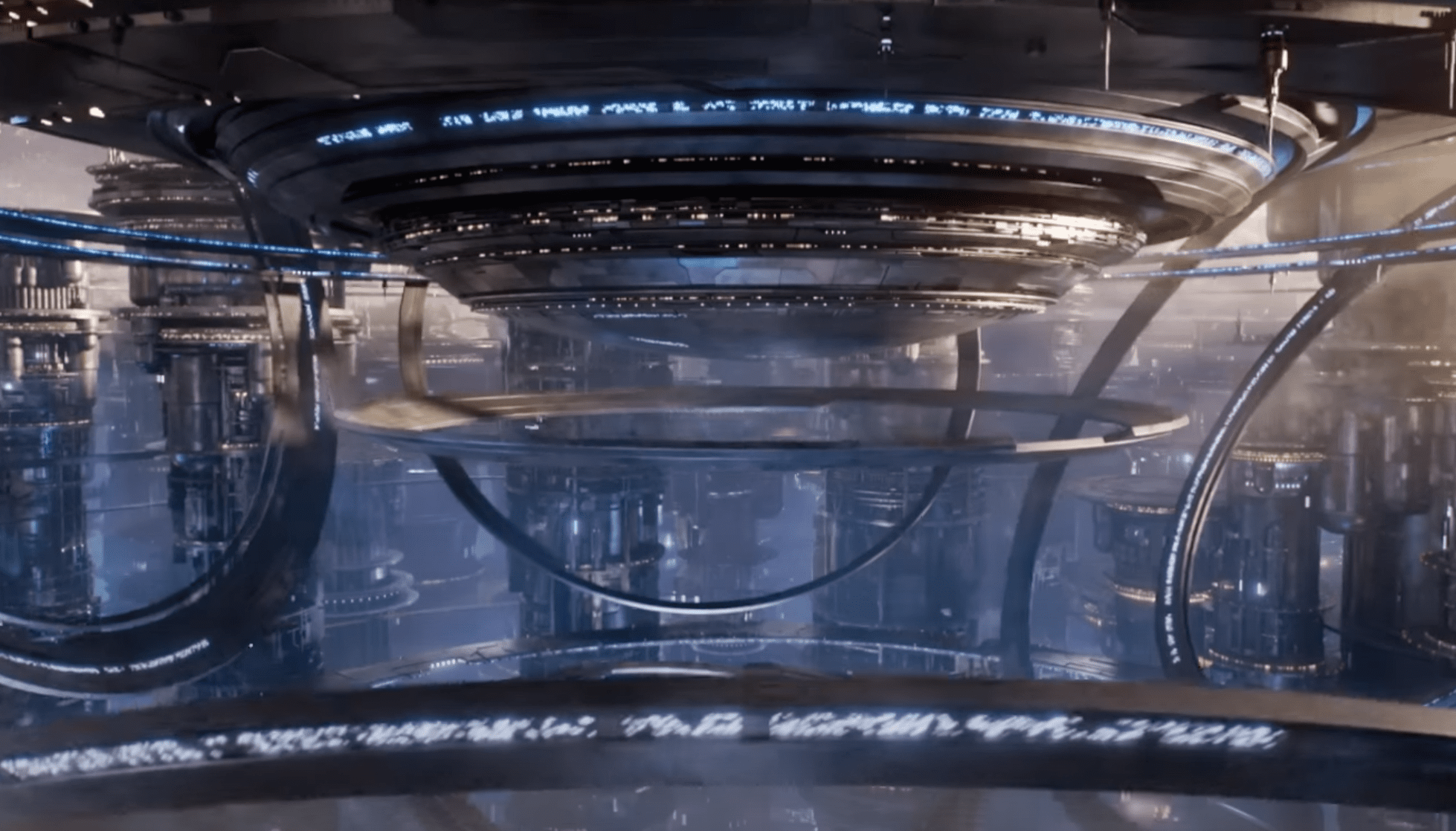 Kang powers up the city and it looks like the same pattern and color style as the Quantum Bands seen in Ms Marvel and Shang-Chi.
His speech to his army ends with him saying The Dynasty of Kang. This current saga of the MCU will include The Kang Dynasty as one of the culminating films.
The bridge code is 18147.
Scott uses a shield like his buddy Cap– Captain America.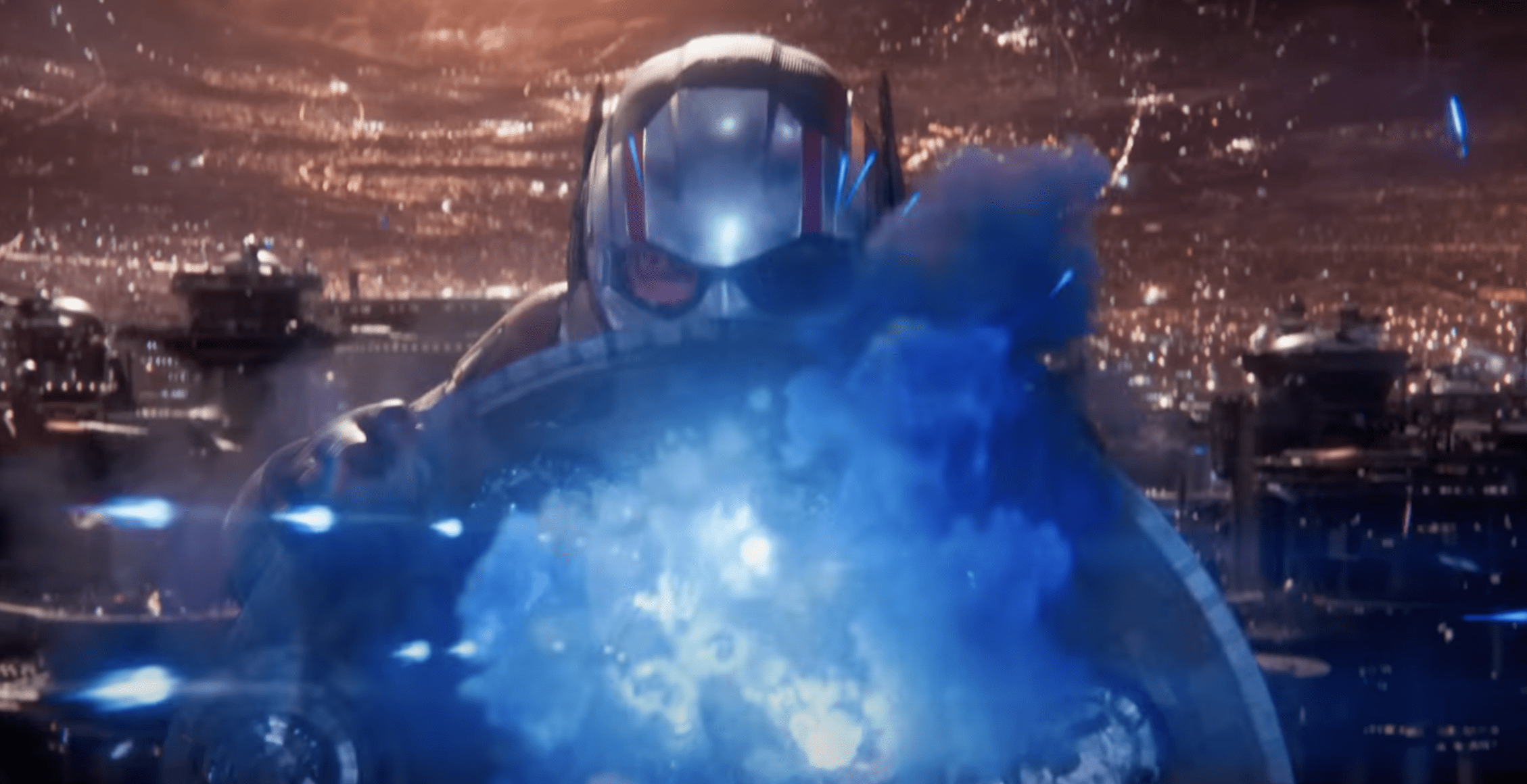 Cassie grows into Giant Cassie. She fights MODOK and swings him around like Hulk does to Loki in Avengers or Hulk does to Thor in Thor Ragnarok.
Hope and Scott defeat Kang the same way Scott defeated Yellowjacket, although with more Pym particles this time.
Scott is back to narrating and walking down the streets of San Francisco. On the wall there is a heart with Ant-Man in the middle.
Ruben is now charging him for coffee.
Unbirthday Birthday Party for Cassie. Dale made the cake.
"Everything is probably fine."
Ant-Man the Wasp Post Credit Scenes
In the mid-credit scene, millions of Kang variants are gathered together. Their leaders, The Council of Kangs is comprised of Rama-Tut, Immortus, and Kid Immortus (or Iron Lad). The various Kangs also appear using the same technology as Reed Richards aka Mr Fantastic in Doctor Strange in the Multiverse of Madness.
The final post credit scene is actually a scene from Season 2 of Loki. Set in the past, Loki and Mobius are attending a magic show held by Victor Timely. Loki tells Mobius this is the one he has been warning him about. "It's him." Victor Timely is another Kang variant.
Ant-Man and the Wasp: Quantumania is in theaters now.