After making its start in Washington DC, Beetlejuice the musical is back in town at the National Theatre. Thanks to charisma of the ghost with the most, Beetlejuice is a bawdy, hilarious, wickedly fun death party.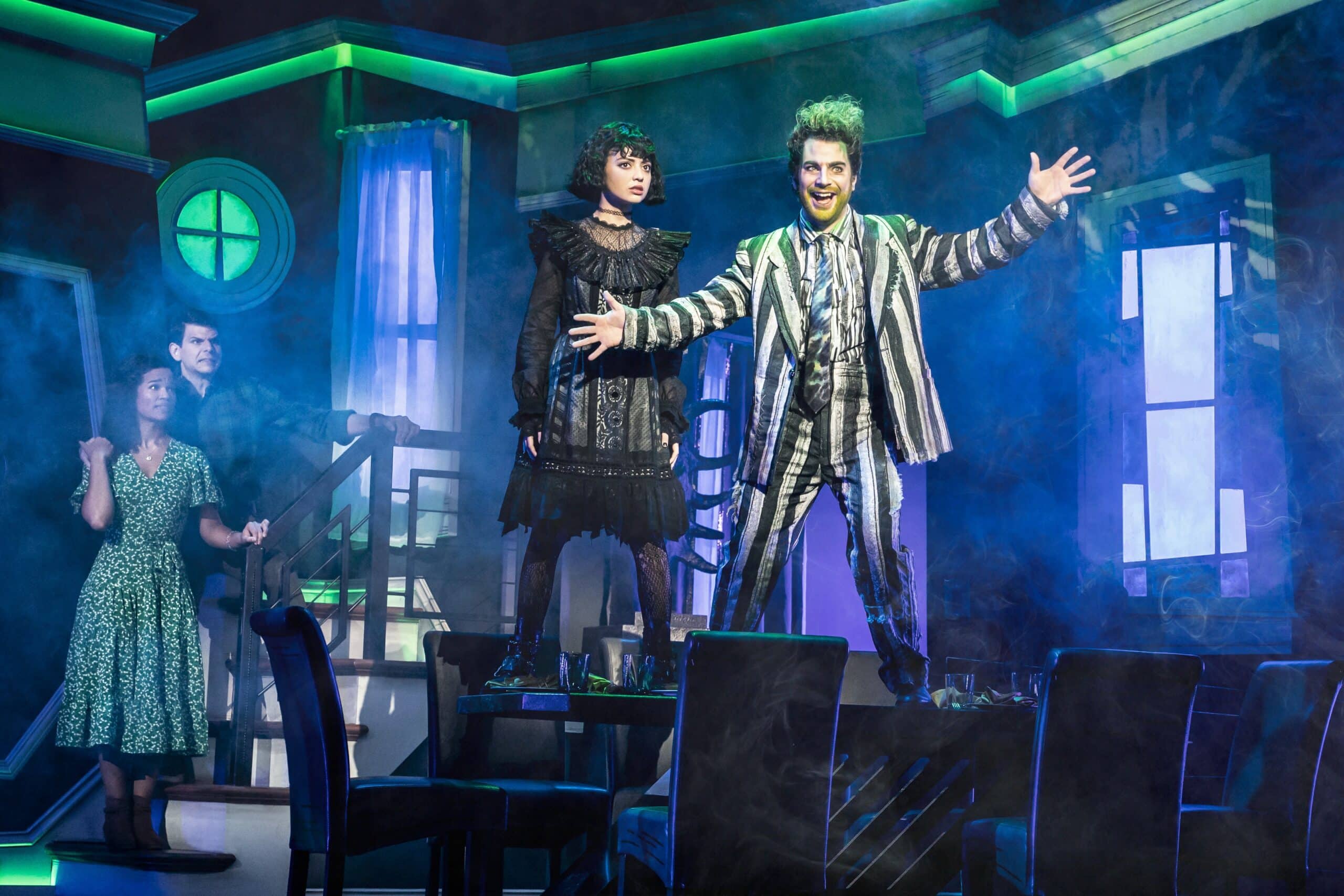 Beetlejuice The Musical Review
A stage-musical adaptation of Tim Burton's 1988 classic of the same name, this Beetlejuice begins with Lydia (Isabella Esler) as she mourns the death of her mother. Her father Charles (Jesse Sharp), along with his new lady love Delia (Kate Marilley), move Lydia into the home of the recently deceased Adam and Barbara Maitland (Will Burton and Britney Coleman). Lydia is desperate to see her mother again and the Maitlands are eager to be rid of the humans in their home. Enter the ghost with the most and the narrator for the evening, Beetlejuice (Justin Collette). He is desperate to join the land of the living and decides to use their naivety to his advantage. If they just say his name three times he will be freed from his purgatory prison.
From the second you step into the theater, it's clear that you have now entered the curious and peculiar imagination of Tim Burton. Green and purple lights swirled around and a giant "Betelgeuse, Betelgeuse" marquee promises that just beyond the curtain your favorite demon lurks. Soon the lights go out and the show begins with a mournful ballad, "Prologue: Invisible," sung by Lydia. But it isn't long before Beetlejuice makes his entrance and the show really gets started. Beetlejuice is a bawdy, hilarious, wickedly fun death party that makes for one helluva good night at the theatre.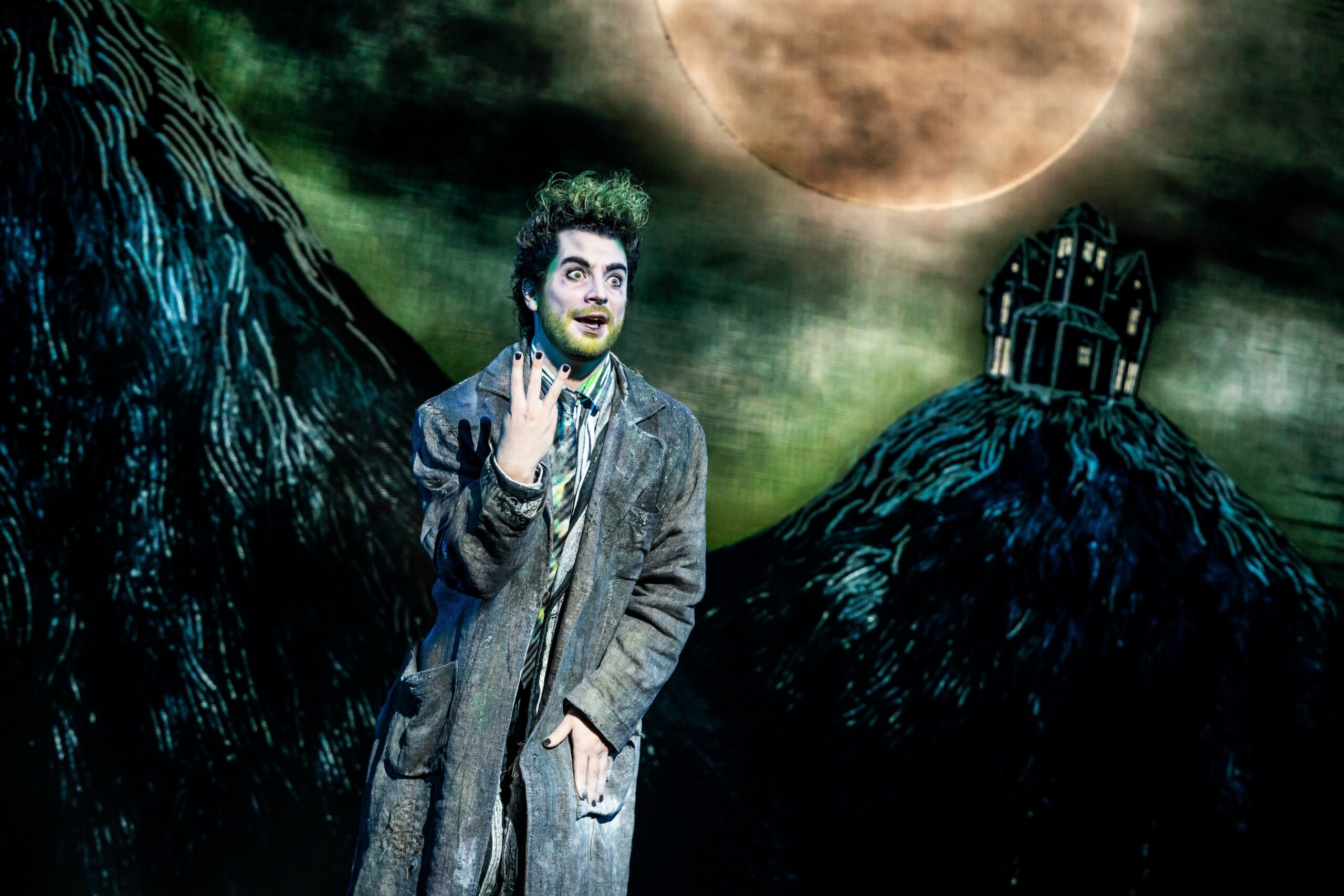 Beetlejuice isn't your typical movie turned musical. It is a wild, chaotic romp that honors everything fans love about the film while dialing it up to 11 with boundary pushing stage effects, witty songs, and the charm of its cast. Collette is absolutely amazing. Everything he does whether it is fast-talking or fourth wall-breaking he steals every scene. His fourth-wall breaks are comedic gold, especially as he feeds off the audience's reactions. Every joke lands, which is a feat all in its own, while he dances, jumps, and fake cartwheels across the stage. Not to mention the vocal acrobatics that go along with how he changes his voice for various lines, it's truly stunning to watch. Even if the rest of the cast wasn't great (spoiler: they are) Collette's performance is worth the price of admission alone.
Esler, with her beautiful voice, emotions, and presence makes for the perfect on stage Lydia. Fresh out of high school, this role marks her professional debut, and once you watch her perform you know she is destined to be a mega star. Two Broadway vets, Coleman in the Tony Award-winning production of Company and Burton in Hello, Dolly!, play the well-meaning, sometimes too nice Maitlands. They are the heart of the show with their sweet demeanors, hilarious missteps, and the tender, loving moments they spend with Lydia. These two also act as the perfect opposites to Beetlejuice's chaotic evil nature. Adam and Beetlejuice's relationship is one of the many things that make this show laugh-out-loud. Finally, Marilley glides across the stage playing Delia less like an artist with questionable tastes but more so a well-meaning if not quite smart step mom. She delivers her lines with a Moria Rose-esque flair which is fitting considering Catherine O'Hara originated the role of Delia. Marilley gets the laugh every time even if she is saying nothing and only awkwardly bowing.
The show — nominated for eight Tony Awards, including Best Musical — has made various changes from the movie's plot, but still pulls in key moments that are sure to have longtime fans grinning and/or singing along from their seats. Of course the most iconic scene, the late Harry Belafonte's "Day-O The Banana Boat Song," instantly had everyone clapping. The whole sequence is just as fun as the film with the cast more than capable of handling a possession dance challenge.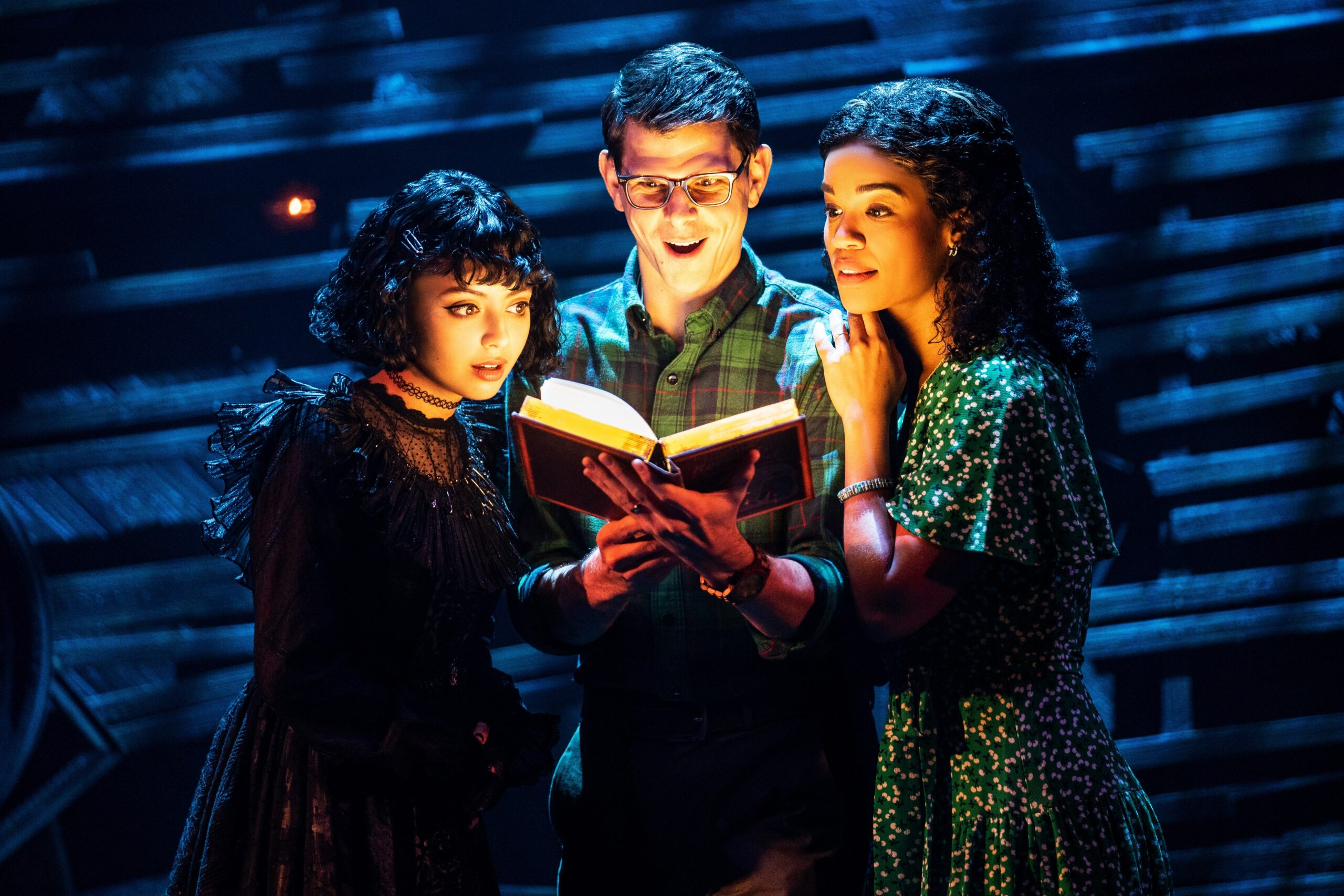 Outside of the clever and catchy songs by Eddie Perfect, the choreography of Connor Gallagher contributes to the amped up energy of the night. While David Korins scenic designs, especially the ever-changing Maitland house, are characters of their own. Combined with William Ivey Long's costumes, Michael Weber's magic, Jeremy Chernick's special effects, and all the other unbelievably talented people behind this show, make for a night where surprises and delightful frights await around every corner.
Beetlejuice is more than a show about a demon trying to con his way into the world of the living. It is a show about death, grief, and feeling truly seen in a world where many feel overlooked. Which may make you more than a little emotional. I laughed until I cried and teared up and then laughed some more. From start to finish I was thoroughly engrossed in what was happening on stage and found myself disappointed that it was over. If there was a way to get a copy of this show for in-home viewing I would buy it in a heartbeat.
Ultimately, Beetlejuice is a bawdy, riotous, delightfully wicked, wild ride that is guaranteed to entertain whether you are a fan of the film or not. It won't take long sitting amongst the spectacle of lights and effects, taking in every second of the casts' powerhouse performances before you find yourself completely enthralled, chiming in along with Lydia as she says Beetlejuice, Beetlejuice, Beetlejuice. Whether you have seen it before or going in completely blind, it's showtime, and you do not want to miss it.
Beetlejuice continues at The National Theatre through May 28, 2023 for tickets visit Ticketmaster or go to Broadway at the National. The show is recommend for 13+, parental discretion is advised. The show runs for two hours and thirty minutes and includes one intermission. Beetlejuice opened to a packed house last night and tickets are already limited for certain performances during its run here in D.C. I would suggest getting your tickets asap.