Before Apple's iPhone dominated the marketplace there was RIM's BlackBerry. But how quickly it disappeared from memory is the focus of Matt Johnson's latest BlackBerry, a fascinating, entertaining, and witty look at the rise and fall of the original smartphone.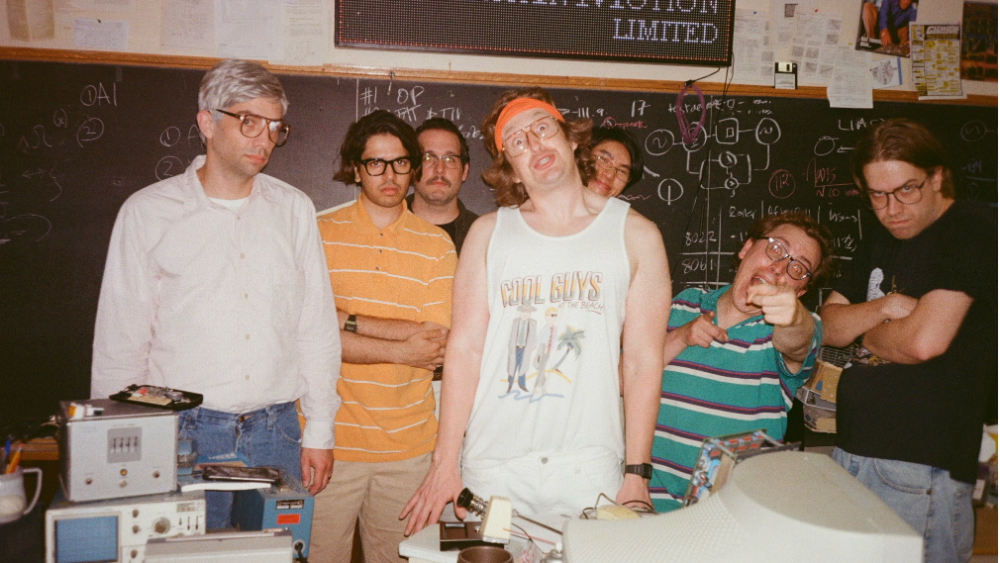 BlackBerry Movie Review
The docudrama begins in 1996. A time when smartphones weren't really on anyone's radar, that is except visionary engineer Mike Lazaridis (Jay Baruchel). Lazaridis figured out how to revolutionize the way people communicated on the go by marrying an email machine with a cell phone. Despite his genius and the encouragement of his best friend and co-founder of RIM (Research In Motion) Doug Fregin (Matt Johnson), Lazaridis is unable to get any traction on his new phone. When RIM finds themselves screwed over by US Robotics, a reluctant Lazaridis agrees to let ruthless salesman Jim Balsillie (played by Glenn Howerton) join the company as Co-CEO. Soon RIM finds themselves skyrocketed out of obscurity to become the biggest name in smartphones across the world.
BlackBerry is an entertaining, witty, and altogether fascinating look at the meteoric rise of RIM's smartphone and the fall that followed not too far behind it. It is as much a story about the company's success and failure as a warning about the dark side of hubris. Howerton and Baruchel give excellent performances and the script, written by the director Matt Johnson is sharp, creative, and full of surprises to keep you fully engaged whether you have ever used one of BlackBerry's QWERTY keyboard phones or not.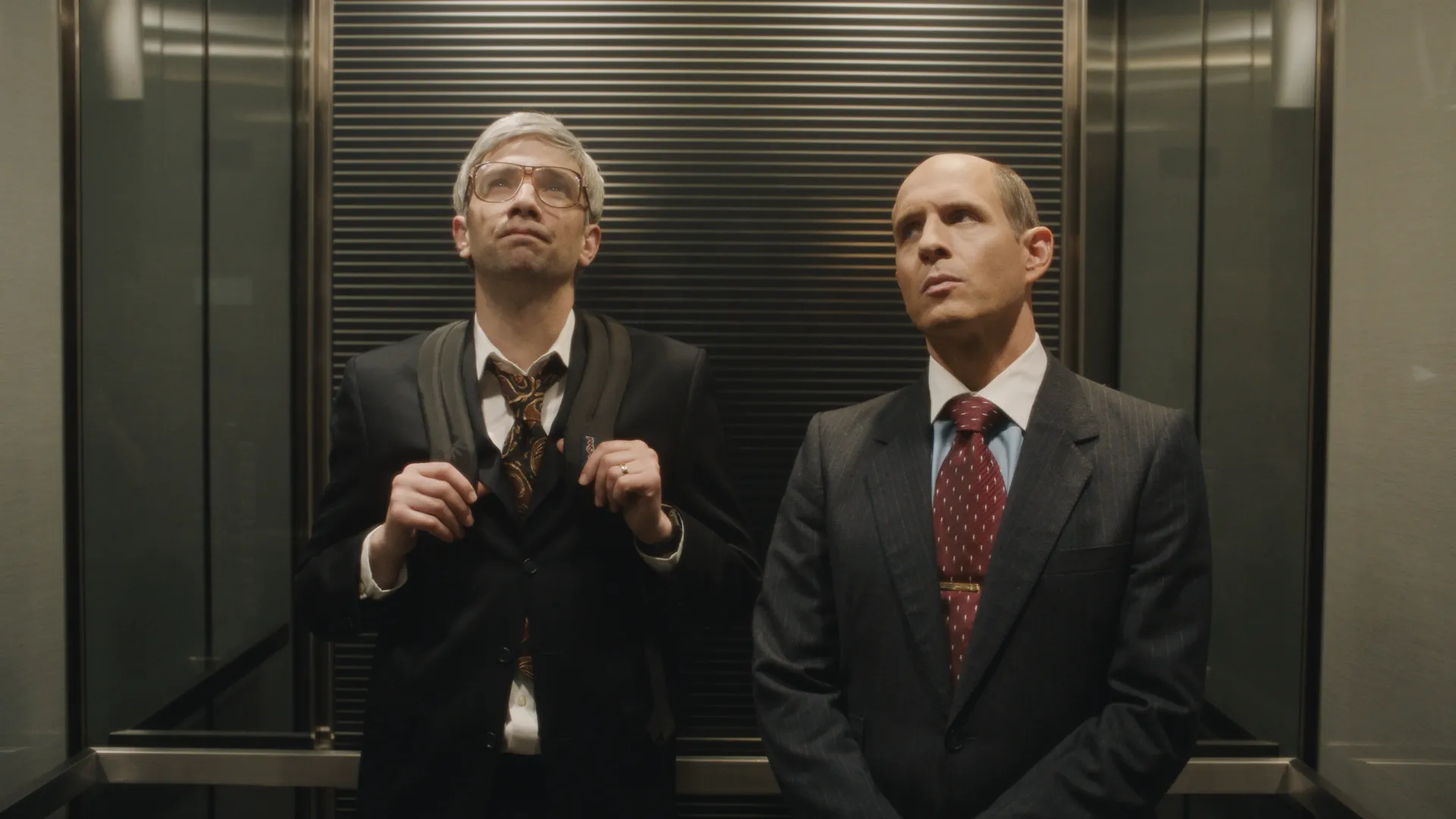 What is instantly obvious about this story and what makes it unlike others in the genre, think Social Network and Steve Jobs, is that Johnson chooses to keep his leads unremarkably human. Other films place their tech geniuses on platforms making it hard to believe they were ever low level employees working in a garage. Lazaridis and Balsillie are real people who made very real mistakes. Sure they changed the game of cellphones as most people know it but that doesn't make them gods. By staying grounded with the story, Johnson makes you care about this corporation. You can't help but be drawn into this world and even knowing how it ends doesn't make it any less intriguing. If anything, the knowledge that there are many who have no idea who BlackBerry is makes it all the more tragic.
Howerton is a force as the ruthless, demanding, and conniving Balsillie. For fans of It's Always Sunny In Philadelphia, there are glimpses of his more sadistic side of Howerton's Dennis Reynolds. But that's where the similarities end, because Balsillie is an intelligent man, who has zero remorse or cares for who gets destroyed on his way to the top. He is unequivocally the bad guy without a hint of a redemptive arc. Sure without him BlackBerry likely would not have existed in the capacity that it did but that doesn't make him any more likable. By the time the other shoe drops, you are rooting for him to finally get what's been coming to him. Karma is a you know what.
Baruchel is equally compelling as Lairdis, who in every way is the opposite of Howerton's Balsillie. Lairdis is an awkward genius who is more at home soldering motherboards and creating revolutionary devices than in a boardroom. This is the guy you want to root for, someone who is unassuming and a seemingly decent person. Which is why it is fascinating to watch Lairdis evolve over the years, slowly losing one ideal after another as inside and outside forces threaten RIM. Baruchel plays it all perfectly, adjusting his speech and body language to subtly reflect the changes. He makes you care about Lairdis so that in spite of his shortcomings, audiences can't help but feel bad for the way it all turned out.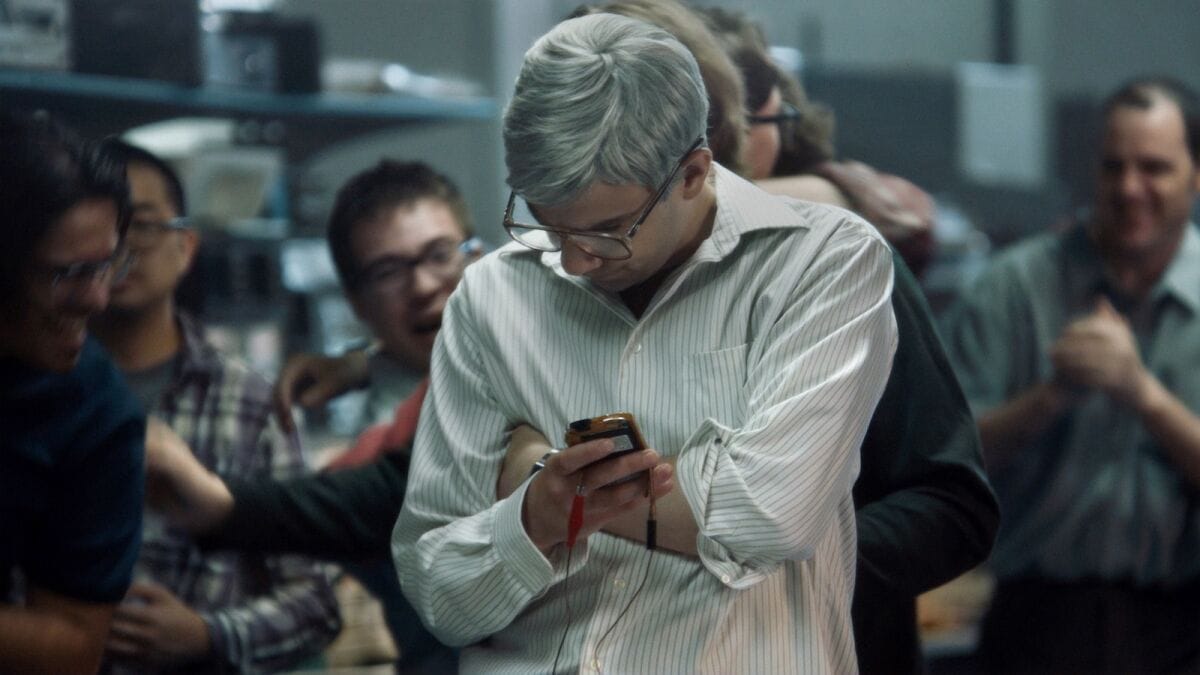 The cinematography of BlackBerry also makes it a unique entry in the genre. Johnson applied his trademark style to take Jacquie McNish's book "Losing the Signal: The Untold Story Behind the Extraordinary Rise and Spectacular Fall of BlackBerry," and make it into something worth watching. The camerawork mimics that of an old documentary or rather a mockumentary, setting the stage for a story about the not so distant past. It has a handheld feel to it, something Johnson also used in his previous works The Dirties and Operation Avalanche for a similar effect. Johnson plays Doug as a stand-in for the audience . He is someone who continually tries to save Lairdis from himself. Often the comedic relief, Doug also serves a Jiminy Cricket type conscience, reminding everyone that somethings aren't worth losing ourselves over.
BlackBerry is a fascinating, entertaining, and witty look at the rise and fall of the original smartphone. On the surface it is an homage to Lazaridis' revolutionary technology that changed our lives forever but it also works as a film about the pressures to stay relevant, staying true to yourself, and the brutality of always seeking the next shiny thing. It is not a story a lot would immediately think they would be interested in, but Johnson has put together a must watch film that is both entertaining and thrilling. My plea to studios– more films like BlackBerry please.
BlackBerry is in theaters now. It is rated R for language throughout with a runtime of 2 hours.