Available now on Digital and coming to 4K, Blu-ray, and DVD May 30 is the entertaining, riotous fantasy adventure, Dungeons & Dragons Honor Among Thieves. Read on to see what exciting bonus features are available including a gag reel and deleted scenes and enter our Dungeons & Dragons Honor Among Thieves giveaway. Dungeons & Dragons Honor Among Thieves
Honor Among Thieves picks up two years after Edgin (Chris Pine), an ex-Harper turned thief and his best friend Holga (Michelle Rodriguez), a barbarian, have been imprisoned for attempting to steal gold and a magical artifact. The two successfully escape and make their way back to Edgin's daughter Kira (Chloe Coleman). However, she isn't happy to see him, since his old friend Forge (Hugh Grant) has filled her head with the lie that Edgin values wealth over her. Edgin and Holga recruit old and new friends–the sorcerer Simon (Justice Smith), druid Doric (Sophia Lillis), and paladin Xenk (Regé-Jean Page) to help them retrieve an artifact that will save Kira and everyone else in Neverwinter from Sofina (Daisy Head), a Red Wizard of Thay.
Directors John Francis Daley and Jonathan Goldstein have managed to do the impossible– capture the creativity and fun of a RPG as well as the feeling you have when playing such games with friends. Dungeons & Dragons: Honor Among Thieves is an epic fantasy adventure that is wholly entertaining whether you have played D&D or not. While there are plenty of Easter eggs for longtime players, the script Daley and Goldstein wrote with Michael Gilio is accessible to everyone. At its heart, Honor Among Thieves is a thrilling journey to steal something, right wrongs, and fight dragons all while having an absolute blast.
RELATED: Dungeons & Dragons Honor Among Thieves Review: Epic Fantasy Adventure
Dungeons & Dragons Honor Among Thieves Bonus Features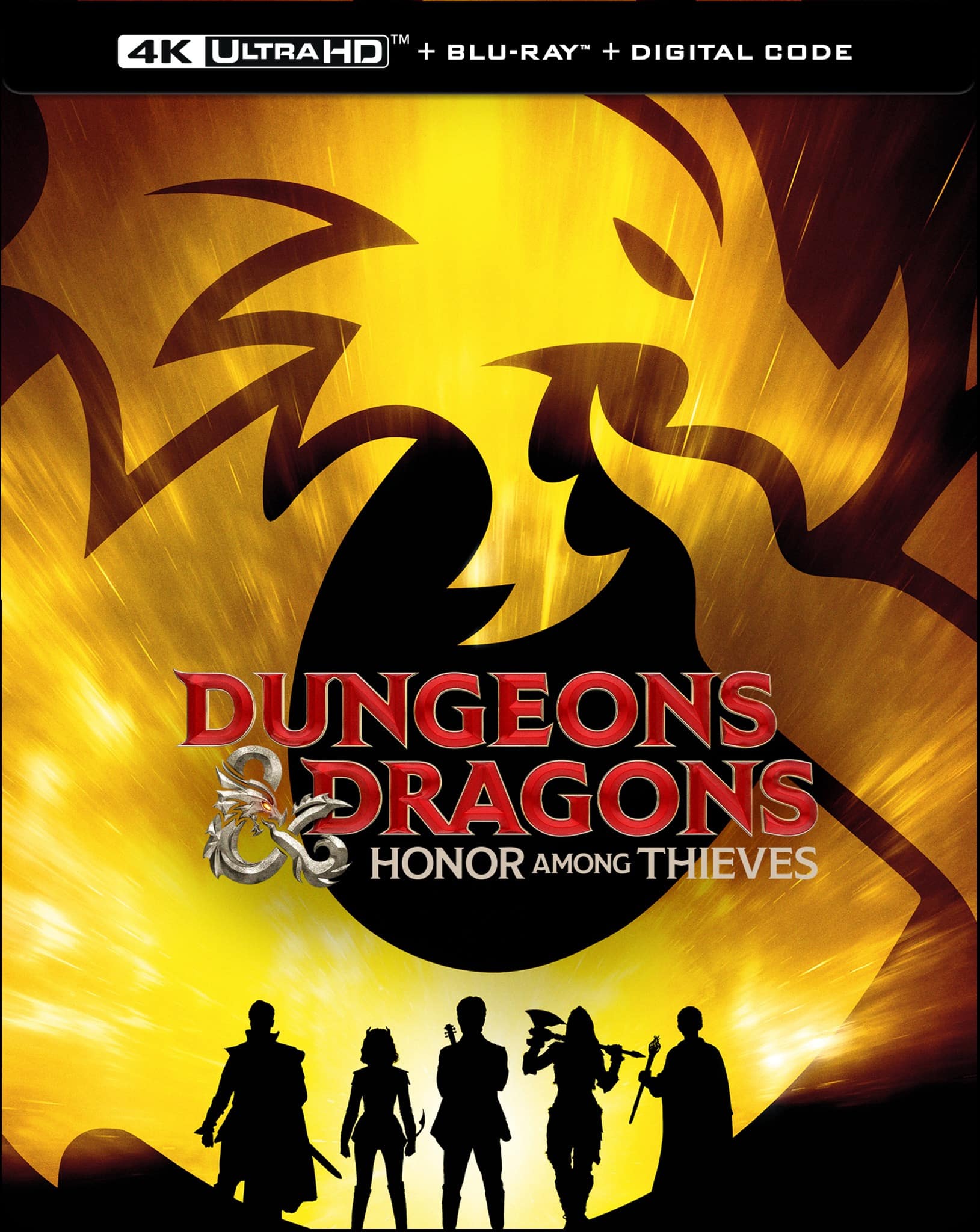 From Dice to Dragons: Honoring the Lore— Go behind-the-scenes with Chris Pine, Michelle Rodriguez, and the cast and crew to witness the thrilling journey of bringing the classic board game to life in the ultimate D&D experience.
Rogues' Gallery: The Heroes of Dungeons & Dragons— Get an in-depth look at the heroes of the film as the cast delves into their characters and reveals the secrets behind bringing them to life on screen.
Fantastic Foes— Explore the dark side of D&D with a look at the film's complex and fascinating villains.
The Bestiary— Check out the cutting-edge visual effects, prosthetics, and intricate costumes that went into the creation of the movie's magical beings and fantastical beasts.
Forging the Forgotten Realms— Discover the secrets behind the exciting sets and breathtaking locations in far away lands!
Broadswords, Battle-axes & Badass Brawls— Dive into epic fight sequences with a behind-the-scenes look at the mind-blowing stunts and powerful weaponry that went into this heart-pumping action adventure.
Gag Reel— Don't miss the hilarious gag reel with bloopers and outtakes.
Deleted and Extended Scenes— Uncover even more of the action with deleted & extended scenes not seen in theaters!
*Bonus Features may vary by retailer/format.
Dungeons & Dragons Honor Among Thieves Giveaway
One lucky fan will win a copy of Dungeons & Dragons Honor Among Thieves. Winner will be contacted via email and must respond within 24 hours before another is chosen. Good luck!